Workshop on Transforming Humiliation and Violent Conflict
List of Participants
(in all NY workshops so far, with some personal messages to the other participants)
• Morton Deutsch, Director Emeritus & E.L. Thorndike Professor Emeritus, Morton Deutsch International Center for Cooperation & Conflict Resolution (MD-ICCCR), Teachers College, Columbia University, New York City, USA. Morton Deutsch has a Principle Host Place on the HumanDHS Global Advisory Board.
His paper for our 2004 workshop, Oppression and Conflict, was first presented at the Interrupting Oppression and Sustaining Justice Working Conference at ICCCR, NY, February 27-29, 2004. Please see here his Foreword to Lindner's 2006 Book on Humiliation.
• Danielle Coon is the Associate Director of the Morton Deutsch International Center for Cooperation and Conflict Resolution (MD-ICCCR) since 2015, succeeding Claudia Cohen.
• Beth Fisher-Yoshida is the Academic Director of the MS in Negotiation and Conflict Resolution program at the School of Professional Studies, the Director of the Youth, Peace and Security program at AC4 (Advanced Consortium on Cooperation, Conflict and Complexity), and she also consults with organizations in the areas of negotiation, conflict resolution and change management. She is the former Associate Director of the International Center for Cooperation & Conflict Resolution at Teachers College, Columbia University, New York, USA. Beth Fisher-Yoshida is a Member of the HumanDHS Global Advisory Board.
• Claudia E. Cohen, Ph.D.: Dr. Cohen's career – as an educator, conflict resolution practitioner and organizational consultant – has spanned several domains: academia, Fortune 50 companies and the nonprofit world. Currently, she is engaged as a community educator, directing community-based anti-racism educational programming and interracial dialogues in New Jersey. She continues to write and to speak about practicing "Everyday Dignity", i.e., small acts of validation and inclusion as antidotes to microaggressions and other acts of humiliation. She believes that it as a necessary component of functioning democracy.
Dr. Cohen is Founder and President of The Third Alternative, LLC, a consulting group with expertise in dialogue and facilitation, organizational justice, mediation, and conflict management. Dr. Cohen has consulted to non-profit and Fortune 100 organizations and to universities. An Ombudsman at AT&T, she coached executives and employees, facilitated high-conflict meetings and reported trends about employee well-being. Until recently she was on faculty in the Social-Organizational Psychology Program at Teachers College, where she had been the Associate Director of the Morton Deutsch International Center for Cooperation and Conflict Resolution until 2015.
Before joining TC, Dr. Cohen had been on faculty at Rutgers University and taught at Stevens Institute of Technology. Her research interests have included the cognitive basis of stereotyping and Participatory Action Research (PAR.) While at TC, she led a 5+ year PAR project with the Fortune Society exploring the organizational philosophy and practices that support successful reentry after prison in both housing and wrap-around services.
Current interests include the power of dialogue to promote individual and societal change. How do dialogic practices reinforce the enactment of interpersonal dignity? When dialogues span racial or ethnic divisions, can they be a tool in promoting anti-racist understanding? Dr. Cohen serves on several Racial Justice committees and boards in Union County, N.J. She co-directs Dialogue Circles on Race, which bring Black and White citizens into conversations about race. Dialogue Circles combine an unflinching curriculum re: the history of racial oppression with listening across racial differences to others' stories with empathy and respect. She works with others toward the goal of creating a statewide network of community-based anti-racism organizations.
Please see:
• Emotional Awareness: Can It Mitigate Against the Experience of Humiliation and Promote Constructive Conflict Resolution?, contribution shared at the 2009 Workshop on Humiliation and Violent Conflict, Columbia University, New York, December 10-11, 2009.
• Welcome to the 2014 Workshop on Transforming Humiliation and Violent Conflict, 2014 Workshop on Transforming Humiliation and Violent Conflict, Columbia University, New York City, December 4-5, 2014.
• Everyday Dignity - Blog Entry: An Illuminating Act of Justice, 2016.
• Is Dignity Possible During War Time? A Small Act of Humanity..., contribution shared at the 2016 Workshop on Transforming Humiliation and Violent Conflict, Columbia University, New York City, December 8-9, 2016.
• Dignity As a Practice: The Nonhuman Rights Project (Video), contribution shared at the 2017 Workshop on Transforming Humiliation and Violent Conflict, Columbia University, New York City, December 7-8, 2017.
• Confronting Narratives of Hate with Stories of Dignity (Video | Powerpoint), contribution shared at the 2018 Workshop on Transforming Humiliation and Violent Conflict, Columbia University, New York City, December 6 -7, 2018.
• 'This is Civity' Radio Show podcast, 2018.
• Becca Bass is the Project Administrator at MD-ICCCR. She is currently a MS student in Columbia University's Negotiation and Conflict Resolution program (NeCR). She graduated from Haverford College with a BA in Psychology and Educational Studies. Her interests include urban public education policy and reform, systemic approaches to sustainable change, social justice, effective collaborative governance, and the relationship between identity and group dynamics. Prior to working at the MD-ICCCR, Becca worked as the National Project Manager at Say Yes to Education, and served as the Family Services Assistant for Homeowner Support at Atlanta Habitat for Humanity as a Quaker Voluntary Service Fellow.
• Charlott Macek is the Budget Administrator at the MD-ICCCR. She is originally from Finland and earned her Master's degree from Abo Akademi University in Turku, Finland. Previously she worked over ten years at Teachers College bookstore and more recently in the Office of International Services.
• Jaspar Leahy is working with the in MD-ICCCR and is also leading a youth-based organization in Bed Stuy, Brooklyn, focused on the tenets of service and community embedded within the Baha'i faith.
• Janet Gerson is the Education Director of the International Institute on Peace Education (IIPE), and former Co-Director of the Peace Education Center at Teachers College, Columbia University. She has collaborated with the Morton Deutsch International Center on Cooperation and Conflict Resolution (MD-ICCCR) since 1996, including Morton Deutsch's last project on Global Community and Evelin Lindner's first conference held there in 2003.
As a Board Member of HumanDHS, she co-hosts Dignity Now circles in New York City, initiated by Michael Britten with Judit Révész and Chipamong Chowdhury.
A political theorist and peace educator, her research focuses are democratizing justice, public deliberation, creativity and conflict processes, and peace pedagogy.
She received the 2014 Peace and Justice Studies Association (PJSA) Award for her dissertation Public Deliberation on Global Justice: The World Tribunal on Iraq.
Her publications include contributions to In Factis Pax: Journal of Peace Education and Social Justice, The Handbook of Conflict Resolution (Eds., Coleman, Deutsch, & Marcus), GCPE Newsletter, Learning to Abolish War: Teaching toward a Culture of Peace (Reardon & Cabezudo), Theory into Practice, Analysis of Social Issues and Public Policy, and Holistic Education. She is on the Editorial Board of In Factis Pax: Journal of Peace Education and Social Justice.
• Tony Jenkins, Peace Education Center, Teachers College, Columbia University, USA.
Tony Jenkins is an Academic Advisor on the HumanDHS Research Team, for our upcoming Terrorism and Humiliation Project and our upcoming Refugees and Humiliation Project. He is also a Member of our Education Team.
• Jennifer Goldman, International Center for Cooperation & Conflict Resolution, Teachers College, Columbia University, New York, USA. Jennifer Goldman is a Member of the HumanDHS Global Core Team and the Research Team.
Jennifer kindly wrote (June 16, 2005): I support the idea of connecting the theory with practical application, and urge us to think about how what we're researching and writing about can be applied in real world settings. It could be helpful for us to choose one or a few real world situations that are relevant for people's work (for example, the situation at Abu Ghraib; or on-going problems of humiliations occurring at national and international boundaries, i.e. airport and road checkpoints in all parts of the world, from the U.S., to Tibet/China, to Israel/Palestine; or workplace-based humiliation) and use the examples to ground our discussions about theory and research... It could also be useful to make distinctions between different types of humiliation, such as individual-level, collective-level, etc. or humiliation that occurs within different settings, such as workplace, international, etc., and to have break-out sessions that focus on those topics.
Structurally, it could make sense to meet all day Thurs, and a half-day on Friday, so we can end on a strong note with most people in attendance on Friday (and perhaps to add an informal dinner on Wed night to extend the social time for those who could make it).
Jennifer kindly wrote (August 29, 2005): Dear Evelin, I hope you're doing well! I've done a bit of brainstorming for topics for the conference, and thought I'd forward them to you (I mentioned these to Peter and Beth as well). Best, Jennifer
Some ideas for small groups/topics for the humiliation conference:
1.
- Does culture affect how people experience humiliating events? If so, how?
- What role do collectivistic vs. individualistic cultures play in how people experience humiliating events?
- Do people's behavioral reactions to humiliation differ depending on whether the humiliation is aimed at them individually versus collectively (i.e., an affront against one's person vs. an affront against one's group)? If so, how might their behavioral reactions differ? (e.g., would one type of humiliation lead people to be respond more aggressively than another?)
2.
- What role do social norms play in how people react, emotionally and behaviorally, to humiliating events?
- What role do social norms play in how people recall, or remember, humiliating events?
3.
- To what degree is humiliation an "identity forming" emotion?
4.
- How does the construct of humiliation differ from the constructs of shame, guilt, embarrassment and other similar emotions?
5.
Methodological considerations:
- How can effective and efficient studies of humiliation be acheived through different methodologies?
- What considerations need to be taken into account when studying humiliation in the field? In the lab? In survey studies?
- How can we simulate studies on humiliation in the lab setting? What are the IRB issues involved?
Please see:
- Peter T. Coleman and Jennifer Goldman, Conflict and Humiliation, note prepared for the 2004 Workshop on Humiliation and Violent Conflict, Columbia University, New York, November 18-19, 2004.
- How Humiliation Fuels Intractable Conflict: The Effects of Emotional Roles on Recall and Reactions to Conflictual Encounters by Jennifer S. Goldman and Peter T. Coleman, work in progress, Teachers College, Columbia University, 2005.
- A Theoretical Understanding of How Emotions Fuel Intractable Conflict: The Case of Humiliationby Jennifer S. Goldman and Peter T. Coleman (2005), paper prepared for Round Table 2 of the 2005 Workshop on Humiliation and Violent Conflict, Columbia University, New York, December 15-16, 2005.
- Humiliation and Aggression, abstract prepared by Jennifer Goldman for Round Table 2 of the 2006 Workshop on Humiliation and Violent Conflict, Columbia University, New York, December 14-15, 2006.
• Nicholas Kappelhof is an Ed.M. student at Teachers College in the department of Organization and Leadership. His concentration is in public school leadership with a specific concern for urban school reform. For the past five years he has taught English Language Arts grades 7-12 in Brooklyn and in the San Francisco Bay Area. Nicholas comes to this workshop looking to explore how issues of humiliation and shame may undermine contemporary education reform efforts and how a greater sense of dignity can be cultivated in struggling urban communities through compassionate educational opportunities. Please see How Humiliation and Shame May Undermine Education Reform Efforts, note prepared for the 2006 Workshop on Humiliation and Violent Conflict.
• Judy Kuriansky, Ph.D., is a clinical psychologist with a Ph.D. from N.Y.U. Judy is a Member of the HumanDHS Global Advisory Board. She is currently teaching in the Department of Clinical Psychology at Columbia University Teachers College, and at Columbia Medical School, where she coordinates international training programs. A Fellow of the American Psychological Association, Dr. Judy is an NGO representative to the United Nations for two international organizations - the International Association of Applied Psychology and the World Council for Psychotherapy. She works extensively throughout the world giving workshops on healthy relationship as well as on peace, tolerance and trauma recovery, including after 9'11 in America. Honored for her work after 9'11, she was featured in the Red Cross campaign, and as a spokesperson for the American consulate abroad. She has provided mental health support after disasters worldwide, like SARS in China, an earthquake in Australia, tensions in Serbia, bombings in Jerusalem, and most recently with Dr. Anie Kalayjian and the Mental Health Outreach Program in Sri Lanka after the tsunami. They co-moderated a workshop, "Achieving Collective Security: Partnerships to prevent fear, violence, genocide and terrorism through targeting the MDG goals" at the 58 th Annual Conference for Non-Governmental Organizations at the United Nations this past September.
In her extensive international work, Dr. Judy is also a visiting professor at Peking University Health Sciences Center in Beijing China and the Department of Psychiatry at Hong Kong University. In China many times a year, she consults for the China Center for Reproductive Health Instruction in Shanghai, and trains doctors all over China, and appears often on China 's CCTV. She gives workshops on AIDS prevention for teens, couples counseling, and plenary addresses on peace and trauma recovery, around the world from India to Dubai and recently in Tehran, Iran, and at meetings on the State of the World Forum, and has been awarded the first "International Outreach award" from the American Women in Radio and TV. Trained in Buddhist shamanism, she has developed unique therapeutic interventions integrating eastern and western traditions. Author of innumerable articles in professional journals and over 10 books on dating and relationships translated in many languages, like the "Complete Idiots Guide to A Healthy Relationships, Dr. Judy has contributed psychological chapters to "Access: Emergency Survival Handbook," and is currently working on a book about Healing between Palestinians and Israelis from a psychosocial point of view, to be published by Praeger Press.
Also a journalist, and well-known as "Dr. Judy" to millions of fans from her nightly radio advice shows for over 22 years, she has also been a TV reporter on CBS-TV, hosted a show "Money and Emotions" on CNBC TV, and been a guest on innumerable news and talk shows from Oprah to Larry King, Court TV, and CNN. In print she has been a columnist for the Chicago Trubune Womens News, the Los Angeles Times syndicate, Advertising Age and Boardroom Reports, and currently writes advice columns for the New York Daily News, the Singapore Straits Times and China 's Trends Health Magazine. She has been featured in publications from People Magazine to Cosmopolitan and the New York Times.
Please see the note Judy prepared for Round Table 2 of our 2005 workshop: Psychosocial Aspects of the Israeli/Palestinian Conflict. Please see also the abstract Judy prepared for Round Table 2 of our 2006 workshop: Transforming Conflict and Humiliation to Heal Hearts in the Holy Land: People-to-People Projects to Build Peace, Coexistence and Cooperation between Palestinians and Israelis.
• Kim Nguyen is a doctoral student at City University of New York in the Critical Social and Personality Psychology program. She graduated from the Human Development and Social Intervention Master's program at New York University (NYU) and her research interests are in gender socialization, child development within the cultural context, social justice, group dynamics, and political war trauma. Prior to her work at Columbia, Kim was a teacher in Vietnam and a cook in Spain and Los Angeles.
• Harriet Jackson, Special Assistant to Teachers College's Associate Vice President, Development and External Affairs.
• Donald Klein, Union Institute and University, Cincinnati, Ohio, USA. Donald Klein was a Member of the HumanDHS Board of Directors, a Member of the HumanDHS Global Advisory Board and Global Core Team. He has furthermore been the Director of our Education Team since 2001.
To our immense sadness, our beloved Don Klein passed away in June 2007. We are heartbroken. We commemorate his memory with great love. He spoke to us about Awe and Wonderment. About our human ability to live in awe and wonderment, not just when we see a beautiful sun set or the majesty of the ocean, but always. That we can live in a state of awe and wonderment. And we do that, says Don, by leaving behind the psychology of projection. The psychology of projection is like a scrim, a transparent stage curtain, where you believe that what you see is reality only as long as the light shines on it in a certain way. However, it is not reality. It is a projection. And in order to live in awe and wonderment, we have to look through this scrim and let go of all the details that appear on it, in which we are so caught up. When we do that, we can see the beautiful sun set, the majestic ocean, always, in everything. We will continue our work while keeping Don's words at the center of our work and in our hearts.
- Please see here Community MetaFunctions and the Humiliation Dynamic, a paper that Don presented at ou 2nd Annual Meeting on Human Dignity and Humiliation Studies, Paris, France, September 16-18, 2004.
Please see also Appreciative Psychology: An Antidote to Humiliation, a final paper Don prepared for our 2004 Workshop on Humiliation and Violent Conflict, Columbia University, New York, November 18-19, 2004. Please see here also The Humiliation Dynamic: Looking to the Past and Future, the paper that Don presents at the 2005 Workshop on Humiliation and Violent Conflict, Columbia University, New York, December 15-16, 2005. Please see also his New Years Greetings: 2006!
Don kindly wrote (July 4, 2005): Hello, Evelin -- I agree that the roundtable approach worked very well and should prove to be equally profitable at the December 2005 meeting. The Open Space approach is not something, however, that will work well if "tucked in" between scheduled sessions that have been preplanned. To be successful, Open Space requires a general over-all topic that is of interest and importance to all participants. It needs at least a full day, during which there can be three or four rounds of discussion groups on aspects of the general topic that are proposed by participants themselves. If we were to use Open Space, an overall topic that would be of great interest to me has to do with developing effective approaches to dealing with those groups and nations that inflict humiliation on other groups or nations. I'm thinking, for example, of humiliation experienced by Palestinians at Israeli hands, of Irish Catholics' experience of humiliation at Proestant Catholic hands, and of Muslim experience of humiliation at the hands of Christian nations.
I realize that the same overall topic would lend itself to a series of Round Tables similar to the approach we used last year. The Round Table approach has the advantage of making it possible to ask one or more people to develop in advance brief papers that would stimulate subsequent discussion. If one goal is to publish a book of papers and discussions froom the annual conferences, then the Round Table approach seems preferable.
Another topic that would lend itself to Round Table discussions has to do with educational approaches to reducing or eliminating humiliation and promiting human dignity, including, for example, Round Tables on creating humiliation free environments for the education of children, use of media for public education on promoting human dignity, and inter-group methods for dealing with humiliating intercommunal conflicts.
I also want to add the following possible option, suggested by Alan. If we decide to organize the conference around an Open Space Design, it would still be possible to encourage people (perhaps to get specific commitments from certain ones) to prepare working papers in advance of the conference. These papers might be circulated in advance via internet and also be available at the conference as hard copies. In this way, participants would have the chance to be informed on certain topics, which later individuals might select for the spontaneous discussion groups that are so important to the Open Space design. With love, Don.
• Rebecca Klein, A graduate of Hampshire College, USA. Rebecca Klein is a Member of the HumanDHS Global Core Team.
Becca is Don's daughter and very kindly maintains our internal database. She has, furthemore, with breathtaking efficiency, prepared the notes for all our past meetings. Unfortunately, she could not be with us in Costa Rica and in our 2006 workshop!
• Alan Klein, Ellicott City, MD, USA.
Alan Klein supports HumanDHS's work. He is Don's son and Becca's father and has kindly facilitated the "Open Space" Session in our 2004 workshop and our Costa Rica meeting.
• Linda Hartling, formerly Jean Baker Miller Training Institute, Wellesley College, Boston, USA. Since November 2008, Linda Hartling is the Director of our HumanDHS network. She is also a Member of the HumanDHS Global Advisory Board, Global Core Team, and Education Team.

• Richard Slaven, Brandeis University, Massachusetts, USA. Richard Slaven is a Member of the HumanDHS Global Advisory Board and a Member of the HumanDHS Planning Committee. Rick most kindly supports all our meetings. We cannot imagine having a meeting without his help!
• Hilary Silver, Professor of Sociology and Urban Studies at Brown University, Providence, Rhode Island, USA
Hilary Silver is Associate Professor of Sociology and Urban Studies at Brown University, where she has taught since receiving her Ph.D. in Sociology at Columbia. Professor Silver has published widely on the topic of "social exclusion," especially for international organizations such as the International Labour Office, World Bank, Inter-American Development Bank, and currently, the Wolfensohn Center at the Brookings Institution. Her empirical research on social exclusion has been conducted at the grassroots neighborhood level in such cities as Paris, Berlin, and of course, Providence, Rhode Island. Her talk today is entitled "Social Exclusion, Humiliation, and Shame."
Please see also: Hilary Silver & S.M. Miller (2003), Social Exclusion: The European Approach to Social Disadvantage, Indicators, 2 (2, Spring), pp. 1-17.
• Philip Brown, Director of the New Jersey Center for Character Education in Piscataway, NJ, USA. Philip M. Brown is also a Member in our HumanDHS Education Team.
Dr. Philip Brown has established and directed the Center for Social and Character Development at Rutgers University, located within the Graduate School of Applied and Professional Psychology, where he served as principal investigator on research grants from the U.S. Department of Education. Phil has served for more than 25 years in various policy and program management positions in the Pennsylvania State Department of Health and the New Jersey Department of Education, where he created the first professional educational credential in the U.S. in the substance abuse prevention field. Early in his career he served in the Peace Corps in India and conducted training for the Peace Corps following his service. He is a member of the National School Climate Council, President of the New Jersey Alliance for Social, Emotional and Character Development, and serves on the board of the International Child Assault Prevention Program. Recent publications include being guest editor for a special issue of the Indian journal, Experiments in Education on Humiliation in the Educational Setting which grew directly out of the HDHS Network, at the invitation from Evelin Lindner. He has been co-editing The Handbook of Prosocial Education, to be published by Rowman & Littlefield in the fall, 2012. He is currently undergoing rigorous training in grandfathering 101.
See also his work with the International Center for Assault Prevention, known as ICAP, "a 38 year old international prevention program with its central headquarters located at the Located at Camden County College in Blackwood, New Jersey. ICAP works with local people who desire to advocate and protect children by starting a CAP project in their town".
• Jonathan Cohen, Ph.D., is the senior scholar, co-founder and president-emeritus of the National School Climate Center (NSCC). He is an Adjunct Professor in Psychology and Education at Teachers College, Columbia University; co-editor of the International Journal of School Climate and Violence Prevention; and a practicing clinical psychologist and psychoanalyst.
He has authored many articles, chapters and books including the award winning Educating Minds and Hearts: Social Emotional Learning and the Passage into Adolescence (Teachers College Press and the Association for Supervision and Curriculum Development, 1999); The Psychoanalytic Study of Lives over Time: Clinical and Research Perspectives on Children Who Return to Treatment as Adults (co-edited with Bert Cohler; Academic Press; 1999) and, Caring Classrooms/Intelligent Schools: Social Emotional Education of Young Children (Teachers College Press; 2001).
Jonathan consults to schools, districts, State Departments of Education, foreign educational ministries and UNICEF's Child Friendly Schools.
Please see his Appreciative Introduction of 2017.
• David A. Hamburg is President Emeritus of Carnegie Corporation of New York. David A. Hamburg is a Member of the HumanDHS Global Advisory Board.
Please see Learning to Live Together(2004), and the videos of his talk at the Public Event of our 2005 workshop: Education and Humiliation (2005).
David A. Hamburg kindly wrote (June 28, 2005): I appreciate very much your invitation to participate in your conference December 15-16, 2005, at Columbia University, Teachers College. I would, indeed, like to attend. I was not able to do so previously. I am not sure I can be there both days, but at least for one.
I am certainly interested in the basic question your raise as to whether humiliation is relevant to destructive conflict. By the same token, I am interested in the question whether humiliation can be useful in formulating public policy, as well as the matter of best practice models. You challenge all of us in the conflict field in a most constructive way. So, please keep me posted, and I look forward to what will undoubtedly be an important occasion. David.
• Maria Volpe, Professor and Director, CUNY Dispute Resolution Consortium, John Jay College of Criminal Justice, The City University of New York, USA. Maria is a Member of the HumanDHS Global Advisory Board.
Maria kindly wrote (June 11, 2005): Dear Evelin....Great hearing from you. I have marked my calendar so I can participate in the Workshop this year. I am looking forward to it and seeing you again. Did you want the workshop posted on the NYC-DR listserv? Not sure if this is an event by invitation or if it is open to those who are interested. Let me know....With warmest regards, maria.
Maria gave the following presentation at our 2005 workshop: Conflict and Humiliation: The Simplicities of Reversing Destructive Conflict. The Association for Conflict Resolution Crisis Intervention online newsletter featured this presentation in its 2006 February issue.
• Dr. Stephen Freedman is provost of Fordham University and professor of Ecology and Evolutionary Biology. He leads the University's ten colleges, graduate, and professional schools, which serve 15,000 students in New York and at Fordham's London Centre at Heythrop College. ... A committed leader in higher education, Dr. Freedman was recently appointed a full member of the Administrative Board of the International Association of Universities (IAU). [read more]
• Ellen Fahey-Smith is Chief of Staff and Assistant Vice President of Fordham University.
• Shibley Telhami, University of Maryland, USA. Shibley Telhami is a Member of the HumanDHS Global Advisory Board. Professor Telhami has written a piece on "History and Humiliation," in The Washington Post, Friday, March 28, 2003, and has written about humiliation in The Stakes: America and the Middle East (Westview Press, 2003; updated version, 2004) which was selected by Foreign Affairs as one of the top five books on the Middle East in 2003.
Please see furthermore How The Fighting Stops: Achieving a Sustainable Ceasefire in Lebanon, to which Shibley Telhami explains (03/08/2006): "You may note that in my most recent comment on Lebanon at the Brookings Institution, which was televised in the US, I highlighted the issue of humiliation and suggested that the solution to the problem must be based on a balance between deterrence on the one hand and dignity on the other. The discussion could be watched on video or be read at www.brookings.edu. The transcript can be accessed directly at: http://brookings.edu/comm/events/20060731.pdf."
• Victoria C. Fontan, is the Director of Academic Development, and Assistant Professor of Peace and Conflict Studies at the United Nations-mandated University for Peace in San Jose, Costa Rica. As a Fellow to the Iraq Project at the CICR in Columbia University, Victoria is in charge of developing a permanent Conflict Resolution curriculum in northern Iraqi universities.
Victoria Fontan is a Member of the HumanDHS Board of Directors, and a Member of the HumanDHS Global Core Team, and the Research Team.
Victoria has kindly taken upon her the task to be the editor of our new journal, and to develop edited books with your contributions.
Victoria is also a researcher in our upcoming Terrorism and Humiliation Project. The title of her 2008 book is Voices from Post-Saddam Iraq: Living with Terrorism, Insurgency, and New Forms of Tyranny (Westport, CT: Greenwood/Praeger Security International).
Please see furthermore The Dialectics of Humiliation: Polarization between Occupier and Occupied in Post-Saddam Iraq, unpublished draft (not to be cited without author's authorization).
• Bertram Wyatt-Brown and
• Anne Wyatt-Brown, University of Florida, now Baltimore, USA. Bertram Wyatt-Brown and Anne Wyatt-Brown are both Members of the HumanDHS Global Advisory Board.
Bert kindly wrote (May 27, 2005): My wife and I are both looking forward to coming 15-16 December. Anne Wyatt-Brown is a specialist on the Holocaust and also on aging studies and is now the editor of a new publication in that field.
Please see here Honor, Shame, and Iraq in American Foreign Policy, note prepared by Bert for our 2004 Workshop on Humiliation and Violent Conflict. Please see also Bert's abstract The Psychology of Humiliation: Mann's "Mario and the Magician" and Hawthorne's "Major Molineux, My Kinsman", prepared for the 23rd International Literature and Psychology Conference 2006, by the Institute for Psychological Study of the Arts (IPSA), University of Florida and the Department of Education, University of Helsinki, and our 2006 Workshop on Humiliation and Violent Conflict.
Anne M. Wyatt-Brown kindly wrote (2 November, 2005): Dear Evelin, [...] I plan to talk about the book you mentioned in connection with your parents, A woman in Berlin. I think it raises issues that need to be addressed about the relativity of humiliation experiences. Moreover, I wonder if the behavior of her fianc is entirely caused by the loss of honor or fear of her resourcefulness. Kenneth Kenniston talked about the difficulty American couples had post WWII when husbands returned to households which their wives had run successfully during the war. These are issues that can be talked about and have application to other situations. Best, Anne.
Please see Anne's abstract prepared for Round Table 2 of our 2005 workshop: A Woman in Berlin: The Complexity of Humiliation at the End of World War II. Please see also her abstract prepared for our 2006 Workshop: Humiliation In My Brother's Image.
Anne M. Wyatt-Brown kindly wrote (2 May, 2007): Dear Evelin, We would like to be discussants. Bert will talk about T. E. Lawrence, honor and humiliation in the Middle East. I will talk about old age and the necessity of changing medical education so that doctors can help their dying patients more effectively. My talk will be: A Challenge to Medical Hierarchies. It is based on some interesting work by doctors who have written to challenge hierarchies in order to meet the emotional needs of patients. Anne
• Sara Cobb, Institute for Conflict Analysis and Resolution at GMU, Washington, USA. Sara Cobb is a Member of the HumanDHS Global Advisory Board.
Please see here "Humiliation" as Positions in Narratives: Implications for Policy Development, paper prepared for our 2004 Workshop on Humiliation and Violent Conflict, Columbia University, New York, November 18-19, 2004.
• Manal Radwan, Saudi Embassy, will accompany Sara. She wants to conduct her dissertation on humiliation.
• Carlos E. Sluzki, Professor at the College of Health and Human Services and at the Institute for Conflict Analysis and Resolution, George Mason University, and Clinical Professor at the Department of Psychiatry and Behavioral Sciences, George Washington University Medical School. Carlos E. Sluzki is a Member of the HumanDHS Global Advisory Board.
Please see here Elements of Humiliation-Shame Dynamics for Computational Modeling and Analysis of Real-Life Scenarios, draft of presentation at the 2004 Workshop on Humilliation and Violent Conflict, Columbia University, New York, November 18-19, 2004.
Please see also:
The Story of the Crying Composer, told at our 2004 Workshop on Humiliation and Violent Conflict, NY, 2004,
and:
Humiliation Therapeutics (powerpoint presentation), developed at our 2004 Workshop on Humiliation and Violent Conflict, NY, 2004.
• Howard Zehr, Eastern Mennonite University, Virginia, USA. Howard Zehr is a Member of the HumanDHS Global Advisory Board.
Please see here Humiliation, Crime and Justice, note prepared for Round Table 3 of our 2005 Workshop.
• Monty G. Marshall, Ph.D., produces global societal-systems data and analyses through a for-profit corporation, Societal-Systems Research Inc., and a not-for-profit corporation, the Center for Systemic Peace, which continues to provide the Web vehicle to disseminate data resources and reports as in the past. Until 2010, he was a Research Professor at the School of Public Policy George Mason University and a Senior Research Associate, Center for International Development and Conflict Management (CIDCM) at the University of Maryland, College Park. He has established and until recently directed the Center for Systemic Peace (CSP), a not-for-profit social science research enterprise focusing on global systems analysis and, especially, the problem of political violence within the context of complex societal-system development processes. Since August 1998, he has served as a Core Member of the State Failure Task Force, a data-driven global research project mandated by the Office of the Vice President of the United States, and a Senior Research Associate with CIDCM.
Monty G. Marshall's work has gained attention within the Executive Office of the Secretary-General of the United Nations, and in January 2000 he has joined a small, high-level expert workshop, titled "From Reaction to Prevention: Opportunities for the UN System in the New Millennium," for a discussion on the state of knowledge regarding the causes of armed conflict in order to identify opportunities for effective prevention. [see more]
• Manas M. Ghanem, Eastern Mennonite University, Virginia, USA. Manas is a Member of the HumanDHS Research Team. Manas M. Ghanem is a researcher in our upcoming Refugees and Humiliation Project. The title of her HumanDHS research project is Iraqi Refugees in Syria and Jordan & Humiliation.
• Moira Rogers, Eastern Mennonite University, EMU, Virginia, USA. Moira Rogers is a Member of the HumanDHS Research Team. Moira is both an Academic Advisor for our upcoming Refugees and Humiliation Project, and has her own project, entitled Humiliation and Human Strength: Stories of African-Spanish Migrations.
Please see:
Islamophobia in Spain: New Shapes of Old Fears?, contribution shared at the 2009 Workshop on Humiliation and Violent Conflict, Columbia University, New York, December 10-11, 2009.
• Rina Kashyap, Chairperson, Department of Journalism, LSR, Delhi University/
Fulbright Scholar, Center for Justice and Peacebuilding, EMU, Virginia. Rina is a Member of the HumanDHS Global Core Team.
Please see Rina's abstract of a paper prepared for Round Table 3 of our 2005 Workshop: The Subversion of the Colonial System of Humiliation: A case study of the Gandhian Strategy.
• James "Jimmy" Edward Jones, Manhattanville College, CUNY, USA. James Jones is a Member of the HumanDHS Global Advisory Board.
Please see:
- The Third Force: A Practical, Community-Building: Approach to Settling Destructive Conflicts, note prepared for the 2004 Workshop on Humiliation and Violent Conflict, Columbia University, New York, November 18-19, 2004.
- The Post Victim Ethical Exemption Syndrome: An Outgrowth of Humiliation, note prepared for the 2006 Workshop on Humiliation and Violent Conflict, Columbia University, New York, December 14-15, 2006.
James kindly wrote (April 30, 2007): To: Evelin, Maggie and Linda, I look forward to attending the fourth DHS workshop at Columbia on Dec 13-14. I hope that my schedule will allow me to be present both days. I found the conference to be EXTREMELY beneficial to my work. Jimmy Jones
• Gay Rosenblum-Kumar is a Member of the HumanDHS Global Advisory Board. She looks back on more than two decades of international experiences in building capacities for conflict prevention and transformation. Prior to her current work as an international consultant, she was the Senior Secretary of the interagency United Nations Framework for Coordination on Preventive Action (FT). The FT supported UN departments and agencies to work with government officials and their civil society counterparts in divided societies to design and implement strategies for building national and local capacities for conflict prevention and transformation.
Please see:
- Humiliation, Conflict and Public Policy, note prepared for our 2004 Workshop on Humiliation and Violent Conflict, Columbia University, New York, November 18-19, 2004.
- Horizontal Inequality and Humiliation: Public Policy for Disaffection or Cohesion?, note prepared for Round Table 3 of the 2005 Workshop on Humiliation and Violent Conflict, Columbia University, New York, December 15-16, 2005.
• Vincent Lyn started as a kung-fu actor in Jackie Chan films, then pursued a career as a classical pianist, and now is a humanitarian delivering aid in places like Syria last month, and saving children from child abuse and practically slavery in Ghana.
• Patricia O'Hagan, Consultant to DESA, UN, Executive Director - CPDES.
Please see here Humiliation and Resiliency in the Social Integration Process: Towards a model framework and policy dialogue at the United Nations, note prepared for the 2004 Workshop on Humiliation and Violent Conflict, Day 2, Roundtable: "Can the notion of humiliation be useful for public policy planning?", Columbia University, New York, November 18-19, 2004.
• Maggie O'Neill, Loughborough University, UK. Maggie O'Neill is also a Member of the HumanDHS Board of Directors, the HumanDHS Global Advisory Board, the HumanDHs Global Core Team, the HumanDHS Research Team, the HumanDHS Education Team, where she is part of the core HumanDHS Research Management Team. Maggie is particularly an Academic Advisor to our upcoming Refugees and Humiliation Project. She is furthermore a Member of the Academic Board of the Journal of Human Dignity and Humiliation Studies (JHDHS).
Please see:
- Re-Imagining Diaspora through Ethno-Mimesis: Humiliation, Human Dignity and Belonging (2006). Forthcoming in: Reimagining Diasporas: Transnational Lives and the Media, edited by O. Guedes-Bailey (Liverpool John-Moores University) M. Georgiou (University of Leeds) and R. Harindranath (University of Melbourne). Published by Palgrave Publishers, UK
- Humiliation, Social Justice and Ethno-mimesis, note prepared for the 2005 Workshop on Humiliation and Violent Conflict, 6th Annual Meeting of Human Dignity and Humiliation Studies in New York, December 15-16, 2005;
- Forced Migration, Humiliation and Human Dignity: Re-Imagining the Asylum-Migration Nexus through Participatory Action Research (PAR), abstract prepared for the 2006 Workshop on Humiliation and Violent Conflict, 8th Annual Meeting of Human Dignity and Humiliation Studies in New York, December 14-15, 2006.
Maggie ONeill kindly wrote (March 29, 2007): Hi Evelin and Linda [...] ps v happy to take part as discussant in roundtable 3 - I could present (briefly) on PAR/PA with women who sell sex - see www.safetysoapbox.co.uk - a web-site created by residents who took part in the research - they commissioned research because they were angry and v emotional about sex work on their streets and this is what they created after the research was submitted to Public Health dept....amazing shifts in consciousness and understanding for women selling sex [...].
Please see Humiliation and Human Dignity: Conducting Participatory Action Research with Women Who Sell Sex (2007, see www.safetysoapbox.com), Maggie's abstract prepared for the 2007 Workshop on Humiliation and Violent Conflict, Columbia University, New York, December 13-14, 2007.
• Floyd Webster Rudmin, University of Tromsø, Norway. Floyd Rudmin is a Member of the HumanDHS Global Advisory Board and Global Core Team.
Floyd kindly wrote (May 30, 2005): It will be a pleasure for me to participate.
Floyd kindly works on three projects:
- World Gender Relations for Equal Dignity
- World Apology for Equal Dignity
- Stop Hazing and Bullying.
• Grace Feuerverger, University of Toronto, Canada. Grace Feuerverger is also a Member of the HumanDHS Board of Directors, a Member of the HumanDHS Global Advisory Board, of the HumanDHS Research Team, and HumanDHS Education Team.
Please see:
- The "School For Peace": A Conflict Resolution Program in a Jewish-Palestinian Village, paper prepared for the 2005 Workshop on Humiliation and Violent Conflict, Columbia University, New York, December 15-16, 2005. Grace also presents her second book Teaching, Learning and Other Miracles (2007).
- Teaching and Writing Vulnerably: An Auto-Ethnography about Schools as Places of Hope, presentation held at the 2009 Workshop on Humiliation and Violent Conflict, Columbia University, New York, December 10-11, 2009.
• Sharon Burde, creating and implementing international projects in conflict resolution (in Israel, Neve Shalom/Wahat Al-Salam, Kosovo), teaching at several universities, New York.
Sharon kindly wrote (August 25, 2006): Dear Evelin and Linda, I plan to attend the meeting in NYC Dec. 14-15 and would like to moderate a Roundtable. Since I just started reading your book, I've been thinking of you especially at this moment in time. Sharon
Please see Sharon's contribution to the 2007 Workshop on Humiliation and Violent Conflict, The Role of Women in Addressing the Impact of Humiliation and Changing Course.
• Myra Mendible, PhD, American Studies
Please see Mediated Humiliations: Spectacles of Power in Postmodern Culture, abstract prepared for the 2005 Workshop on Humiliation and Violent Conflict, Columbia University, New York, December 15-16, 2005.
• Patricia Rodriguez Mosquera, Ph.D., Researcher, Brunel University, UK. Patricia Rodriguez Mosquera is a Member of the HumanDHS Core Team and Research Team.
Please see Humiliation and Honor, Patricia's note for the Round Table 1 of the 2005 workshop.
• Neil Altman, New York University, NY, USA. Neil Altman is a Member of the HumanDHS Global Core Team.
Please see his paper for our 2004 workshop Humiliation, Retaliation, and Violence, in Tikkun Magazine, January/February 2004. Neil can be with us only on Friday.
• Miriam Marton, Lawyer, New York, (formerly Detroit), USA. Miriam Marton is a Member of the HumanDHS Global Core Team and the Research Team.
Miriam Marton, attorney and social worker, is the William R. Davis Clinical Teaching Fellow at the Asylum and Human Rights Clinic, University of Connecticut School of Law. Professor Marton teaches and supervises law students representing refugees seeking asylum and other legal relief in the United States. Professor Marton also conducts research on the particular issues facing female refugees fleeing gender-based violence, both in the countries-of-origins and in the United States' legal system.
She was part of the Refugees and Humiliation Project. The title of her HumanDHS research project is The Dual Humiliation of Female Refugees by Sexually Violent, Gender-based Acts.
• Joseph P. Baratta, Center for Global Community and World Law, Worcester, MA, USA. In our 2009 workshop,
Virginia Swain and Joseph P. Baratta, founders of the Center for Global Community and World Law, explained (over Skype) David Steele's diagram of how to reconcile cycles of violence, and how Baratta envisages a possible governing body for a World Federation. Please see the background for how this presentation became part of our workshop.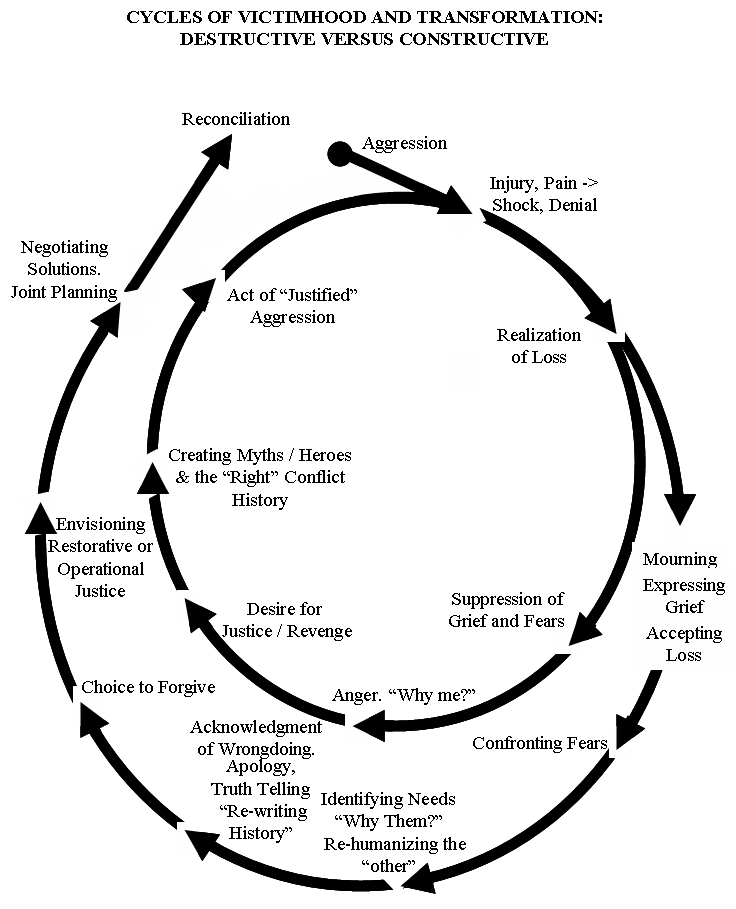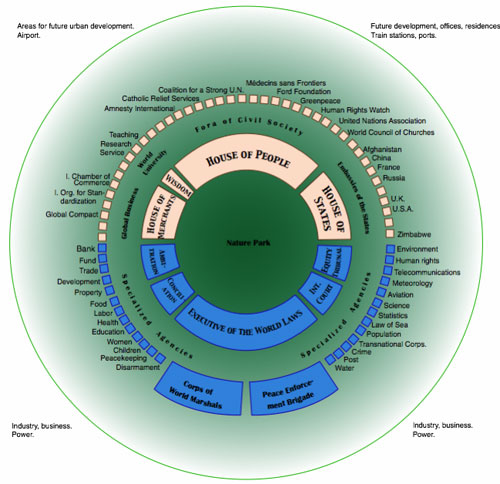 See on the left David Steele's diagram, and on the right World Federation diagramJoseph P. Baratta, 2007. Click on the pictures to see them larger.
Please see also:
- "Why Imagine the Future" by Elise Boulding, 1995, that Virginia made available for us.
- Baratta, J P (2004a). The Politics of World Federation (Volume 1. The United Nations, U.N. Reform, Atomic Control, Volume 2. From World Federalism to Global Governance). Westport, CT: Praeger. Please see the Introduction to both volumes. And see an editorial on the work of Joseph Baratta and Virginia Swain.
Please compare Joseph Baratta's vision of a more dignified future for humankind with the vision that Garry Davis, long-term participant in our conferences and workshops, has developed. Davis argues that a world government ought to guarantee the rule of law at a global level, and that a federation of souvereign nations must be avoided, since it would undermine this global rule of law.
• Virginia Swain, The Center for Global Community and World Law, Worcester, MA, USA, and Director of The Institute for Global Leadership. Virginia Swain is a Member of the HumanDHS Global Advisory Board.
Please see A Global Mediation and Reconciliation Service (2005), a paper originally presented at the 1999 Hague Appeal for Peace on the Panel "Building an Effective World Security System to Enhance the Capacity of the United Nations to Prevent and Resolve Armed Conflict." The Panel was in the Transforming Violent Conflict Strand of the Netherlands conference 100 years after governments met for the same purpose. It is being offered through the Institute for Global Leadership.
Please see also:
- Virginia Swain and Sarah Sayeed (2005), Reconciliation as Policy: Moving Beyond the Victim-Perpetrator Lens in the United Nations Secretariat and Member States, draft for a chapter for Victoria Fontan's planned book on Humiliation, prepared for Round Table 3 of the 2005 Workshop on Humiliation and Violent Conflict, Columbia University, New York, December 15-16, 2005.
- Virginia Swain and Sarah Sayeed (2005/6), Reconciliation as Policy: A Capacity-Building Proposal for Renewing Leadership and Development, update of the draft for a chapter for Victoria Fontan's planned book on Humiliation, prepared for Round Table 3 of the 2005 Workshop on Humiliation and Violent Conflict, Columbia University, New York, December 15-16, 2005.
- Virginia Swain and Sarah Sayeed (2006), A Leadership and Practice to Reconcile Challenges in a Post-September 11th World, draft for a paper for the Journal of Human Dignity and Humiliation Studies, prepared for the 2006 Workshop on Humiliation and Violent Conflict, Columbia University, New York, December 14-15, 2006.
- A Global Mediation and Reconciliation Service by Virgina Swain and Joseph Baratta, paper prepared for the 2008 Workshop on Humiliation and Violent Conflict, Columbia University, New York, December 11-12, 2008.
• Sarah Sayeed, Ph.D., Women in Islam, Inc. and The Institute for Global Leadership, with Virginia Swain.
See "Affirming Human Dignity," by Sarah Sayeed, KidSpirit, October 24, 2016.
• Michiko Kuroda, Management Analyst at the UN and former Chief of Staff in the Timor Leste UN Mission, with Virginia Swain.
• Jean Berchmans Ndayizigiye, Eastern Mennonite University, Harrisonburg, Virginia, USA. Jean Berchmans Ndayizigiye is a Member of the HumanDHS Research Team. He is a researcher in our upcoming Refugees and Humiliation Project. The title of his project is Refugees from the Great Lakes Region of Central Africa & Humiliation.
Jean B. Ndayizigiye kindly wrote (June 8, 2005): I plan to attend the December workshop on Humiliation and violent conflict at Columbia University in New York. All the round tables seem very interesting, I will participate in the RT#2. Avec mon meilleur souvenir, enjoy your Summer. Thanks, Jean B. Ndayizigiye.
Please see his paper written for Round Table 1 of our workshop Humiliation and Violent Conflicts in Burundi.
• Robert Kolodny, Robert Kolodny & Associates, independent organization development consultant based in NYC.
Robert Kolodny kindly wrote (November 10, 2005):
I am a friend and colleague of Don Klein, who alerted me to the Human Dignity and Humiliation Studies group and the December workshop. In addition to my consulting practice, I also teach in a number of professional institutes in the US and abroad and have been on the faculty at Columbia and the New School. My interest in the conference follows from work I have been doing over the past several years on the impact of shame in organizational life. There has been a rediscovery of shame as a primary regulator of the social field among psychotherapists and theorists on human behavior at the individual and family levels. However, there is precious little theory or even awareness of its potent role in groups and organizations. Indeed, the absence itself, I think, tells us something about the invisibility and "shamefulness" of shame in most of Western culture. I am doing this work with a colleague, Cathe Carlson. In June of this year we co-chaired a conference on "Shame and Power in Organizational Life" at the Gestalt International Study Center on Cape Cod. We are preparing an article for publication in 2006.
Robert Kolodny kindly wrote (September 10, 2006):
I would like to be part of a roundtable to talk about "A Gestalt Perspective on Shame and Humiliation." Most of my experience is in workplaces and organizational settings (also conflict resolution in inter-organizational settings) and so does not involve Violent Conflict, which I understand is your focus. At the same time, I have a sense that the perspective I bring would be additive to your deliberations. I did not see the way I understand the human dynamics of shame and humiliation (and the pervasiveness of their influence) reflected in the presentations at last year's conference, although it is certainly consistent with many of the approaches I heard others describe.
Please see A Gestalt Perspective on Shame and Humiliation, summary of presentation to be made at the 2006 Workshop on Humiliation and Violent Conflict, Columbia University.
• Ben Alexander, Senior Partner, Alexander Consulting & Training, Inc., Norfolk, VA, Helping organizations meet the challenge of change.
Ben Alexander kindly wrote (on December 4, 2006): In the twenty-four years that I have been working as a consultant and trainer in the area of human resources management I have worked with a wide range of private, government and military organizations on issues of leadership, team building, conflict resolution and creating healthy workplaces free of discrimination, harassment and other forms of disrespectful behavior. In doing this work I have had many experiences with the dynamics of shame and humiliation as they relate to various conflicts within organizational settings. Based upon my experience with the Gestalt Systems and Levels Model, I have often been able to see the critical relationship between the anger acted out by employees who have experienced the humiliation of helplessness that results from working in oppressive systems and the shame-based arrogance of the managers and supervisors who are not able to face the truth of the disrespect that reveals what is really valued in their organizations. The result is a powerful cycle of anger, fear, recrimination, shame and guilty that impairs learning, performance and openness to change. Finding safe ways to get the "truth" on the table so that it can be used constructively to break this cycle has been one of my most difficult challenges.
It is for this reason that I am looking forward to attending the workshop. I feel that hearing these issues discussed will be helpful to me in moving along in my work. To the extent that the discussions in which I may become involved will offer opportunity for me to participate, I hope that I will be able to make a contribution from my experience. Sincerely, Ben
• Alan B. Slifka, New York investment manager and philanthropist, founder of the Coexistence Initiative (Brandeis University). His topic for our 2005 workshop was Feeling at Home, Or Not, Depending on Humiliation (2005).
• Arye Rattner, Professor Arye Rattner, Director of the Center for the Study of Crime Law & Society, University of Haifa.
• Ana Ljubinkovic, University of Essex, UK. Ana Ljubinkovic is a Member of the HumanDHS Global Core Board, and Research Team. Please see also From Violent to Subtle Humiliation: Case of Somali Victims of UNOSOM Living in the Refugee Camps in Kenya, note prepared for Round Table 1 of the 2005 Workshop on Humiliation and Violent Conflict, Columbia University, New York, December 15-16, 2005. See furthermore Is Hope the Last to Die? Research Study On The Situational Analysis In The Dadaab Refugee Camps, 2005, and Report on Field Research Conducted in Dadaab Refugee Camps (16.05.05 - 01.06.05), 2005.
• Ana Prieto has a degree in Social Communication and is currently specializing in Education and Media Language at the Universidad Nacional de San Martín. She is currently a guest at the International Center for Tolerance Education, an initiative of the Third Millennium Foundation, New York.
• Kathleen Freis, Education Director, International Center for Tolerance Education, an initiative of the Third Millennium Foundation, Brooklyn, New York, USA.
• Jinan Nakshabandi graduated from the Technology University in the capital of Baghdad in 1987. She is currently a guest at the International Center for Tolerance Education, an initiative of the Third Millennium Foundation, New York. Jinan stood out as an exceptional woman leader with grand vision for womens empowerment within Jordan and, hopefully, in the future, Iraq. Please see a bit about Jinan and her organization here, written by a Fulbright student in Jordan. She is also on our website (please scroll down to her name).
• Thomas Scheff, Professor Emeritus at the Department of Sociology, UCSB, Santa Barbara, CA, and a Member of the HumanDHS Global Advisory Board.
Tom kindly wrote (August 25, 2006): Evelin and Linda, Good work! Can't make it to NY, but you have my support and best wishes. Tom.
Tom kindly particpates in our workshop with two papers:
- Hypermasculinity and Violence as a Social System
- Silence and Mobilization: Emotional/relational Dynamics.
• Michael Kimmel, Professor of Sociology at State University of New York, Stony Brook, and a Member of the HumanDHS Global Advisory Board.
• Ada Aharoni, writer, poet, playwright and lecturer, was born in Cairo, Egypt, and now lives in Haifa, Israel. She has published 25 books to date, that have won her international acclaim, and a Member of the HumanDHS Global Advisory Board.
Ada kindly wrote (August 25, 2006): Dear Evelin, Best success! I wish I could be with you. With love, Ada.
• Lene Lafosse, working on her thesis for the Cand. Polit. degree at the Institute of Social Anthropology at the University of Oslo, Norway, and a Member of the HumanDHS Global Core Team.
Lene kindly wrote (August 25, 2006): hi Evelin and Linda! thank you so much for the invitation! my activity level this fall-winter is already too high, so i will not be able to come to NY. although i haven't taken an active part yet, the Human dhs group often comes to my mind; i find the perspective of humiliation interesting and it adds a very important dimension to the issues we have as a common interest. i feel i will come forward stronger in the Human dhs network at a later point. i wish you good luck in NY! Best regards, Lene Lafosse.
• Dennis Rivers, writer/teacher/peace activist who lives in Santa Barbara, teaches communication skills at the Santa Barbara Community Counseling & Education Center, directs the activities of the Institute for Cooperative Communication Skills, and edits several large peace and ecology web sites, and a Member of the HumanDHS Global Advisory Board. Due to illness, Dennis had to cancel joining our 2006 workshop in the last minute.
Dennis kindly wrote (August 25, 2006): Dear Evelin, I wish you all the best in your winter gathering. I am enclosing a link to an inspiring article about appreciative inquiry that I feature on the front page of my communication web site. I feel certain that this article has implications for our work. It would cetainly be an interesting study to go into an environment characterised by humiliation and find the few exceptional instances of dignity-granting. According to the article, those "positive deviants" would show the way that dignity-granting might be expanded in that particular environment. Hope you like the article. Many blessings, Dennis.
He kindly adds (August 26, 2006): Dear Evelin, I am delighted that you like the article about the Sternin's and would like to use it as a point of discussion in Costa Rica. What I like so much about the article is that the shift of perspective from problem-oriented to solution-oriented approaches is blazingly clear. It reminds me of the way that the historian of science, Thomas Kuhn, used the Copernican Revolution as an example of a scientific breakthrough that came not from new data but from a new way of putting the old data together. Kuhn's example was so vivid that it was, for me, unforgettable. We need those vivid examples to help us make big Gestalt shifts. I also want to say that I am not advocating appreciative inquiry as a new dogma, as easily happens in the USA with ideas about "positive thinking," especially not now when the USA is torturing and bombing people around the world. So, I want us to be able to talk about problems, but also shift to other perspectives, so that we do not become trapped in the perspectives that underlie our "problem talk." Many blessings, Dennis.
At 12:23 06/10/2006, Dennis Rivers wrote: Dennis kindly wrote (October 6, 2006)
Dear Evelin, [...] I am interested in your response to my "seeds, not diamonds" analogy, in the first paragraph of my statement, which is my way of trying to articulate a social-constructionist point of view in everyday language. I am somewhat tormented by the fact that I cannot make sense any more of concepts such as "inherent" worth, dignity or value. I see human dignity as a glorious achievement, wherever it is bestowed by one person on another, and an inspiring possibility, worthy of our utmost devotion. But when people use the word "inherent" I am troubled and confused because human dignity has been violated so often, and so horrifically. I will certainly not argue with anybody about using the word "inherent." I just mentally translate it into "glorious achievement and inspiring possibility." Other comments to follow. Many blessings, Dennis
Linda Hartling responded (October 11, 2006):
For me, rather than thinking of human dignity as an individual, internal phenomena, I like to think of human dignity as a co-created experience. It is a experience developed through respectful connection (interpersonal, social, international, etc.) in which people feel known and valued, they feel that they matter....It is our responsibility to participate in the construction of this relational experience for all people. Many hugs! Linda
Please see also Citizens' Coalition to Reaffirm and Extend the Geneva Conventions - Initial Call
by Denis Rivers, dedicated to three of his teachers, Joanna Macy, the late Prof. Walter Capps and the Quaker peace activist, Gene Knudsen Hoffman.
• Alyi Patrick Lalur (Uganda/UK), currently enrolled for the Masters of Philosophy in International Peace Studies at the United Nations-mandated University for Peace with research interest in Justice and Reconciliation during period of war, and a Member of the HumanDHS Global Core Team. Alyi Patrick Lalur is Director and Coordinator of HumanDHS's Child Soldiers Worldwide Project.
Patrick kindly wrote (August 26, 2006): Dear Evelin, Thank you for this mail and that of yesterday inviting me to the December NY confrence. This is a great opportunity for me and the rest of the team. Let me therefore confirm my attendance by copy of this mail. I will be sending you abstract of my work soon. I will also get back to you regularly in the course of time. Thanks, Patrick.
• Clark McCauley, Rachel C. Hale Term Professor of Science and Mathematics, and Co-Director of the Solomon Asch Center for Study of Ethnopolitical Conflict, at Bryn Mawr College, and a Member of the HumanDHS Global Advisory Board. Author of Why Not Kill Them All? The Logic and Prevention of Mass Political Murder (Princeton University Press, 2006, together with Daniel Chirot)
Please see:
- Understanding Humiliation As Suppressed Anger, abstract prepared for Round Table 1 of our 2006 Workshop on Humiliation and Violent Conflict, Columbia University, New York, December 14-15, 2006.
- • Humilation in Asymmetric Conflict, abstract prepared for the 2008 Workshop on Humiliation and Violent Conflict, Columbia University, New York, December 11-12, 2008.
• Kathleen Modrowski, Professor and Director of the Friends World Program at Long Island University, Southampton Campus, New York, and a Member of the HumanDHS Global Advisory Board.
Kathleen kindly wrote (August 28, 2006): Dear Evelin, So good to hear from you. I am very excited to attend the meeting. I would like to participate in the Roundtable on Humiliation being relevant to destructive conflict. I think I will be a supporter. I spent time in Bosnia this summer and have had a very strong experience in this area. I would like to work it into a case study but I am not sure that I have enough substantive information just yet. The area of the legagy of humiliation in a post convflict situation is very important and I would like to conntinue to work on this. I feel that the "tools" of human rights learning and education are not adequate and need to expand my resources. Much love. Kathleen.
• Florina Benoit, Associate Director - Praxis, Henry Martyn Institute, Hyderabad, India. Doctoral Student in Social Work on the quality of life of Sri Lankan Tamil refugees living in camps in Tamil Nadu. She is a Member of the HumanDHS Research Team.
• Rev. Fr. Ashok Gladston Xavier, PhD., Former Principal, Loyola College, Chennai, India. He is a Member of the HumanDHS Research Team.
Florina kindly wrote (August 29, 2006): Dear Evelin, We (Ashok my husband and myself) would like to attend the meeting on Humiliation and Violent Conflict, kindly let me know what we should do. We would like to make a presentation on the types of social change efforts that show promise in reducing violent conflict and humiliation while upholding the dignity of all people based on our experience in working with the Sri Lankan refugees.
The refugees from Sri Lanka have begun pouring in once more. It is disheartening to hear their stories. I hope this will be a good time to share our experiences with them.
Looking forward to hearing from you. Peace, Florina.
Please see:
Florina Benoit & Ashok Gladston Xavier (2006)
The Life of Sri Lankan Refugees A Paradigm Shift
Abstract prepared for the Second International Conference on Multicultural Discourses, 13-15th April 2007, Institute of Discourse and Cultural Studies, & Department of Applied Psychology, Zhejiang University, Hangzhou, China.
• Øystein Gullvåg Holter, Senior Researcher at the Work Research Institute in Oslo, Norway, and a Member of the HumanDHS Global Advisory Board.
Øystein kindly write (August 31, 2006): Kjære Evelin, Jeg vil undersøke på NIKK om det er mulig å få støtte. Hadde vært fint å være med! Hilsen Øystein.
• Arie Nadler, Professor of Social Psychology, Dean, Tel Aviv University, Israel. Arie Nadler is a Member of the HumanDHS Board of Directors, the HumanDHS Global Advisory Board, and Research Team. He is an Academic Advisor for our Terrorism and Humiliation Project.
see his paper from our 2004 NY meeting: How Dynamics of Humiliation Can Be Overcome by Apology. See also his talk Assistance in Intercultural Settings and its Links with Dignity and Humiliation at the Public Event of our 2005 Berlin meeting.
- Arie kindly proposes as one of the Round Table topics "Justice and Humiliation." He wrote (April 28, 2005): Dear Evelin, another topic that may be of interest is: "Justice and Humiliation." I refer to the ways in which different principles of justice (mainly retributive vs. restorative justice) are driven by the desire to impose/avoid humiliation on the wrongdoer. I am currently reading some stuff on retributive and restorative justice systems and find myself fascinated by the potential integrative power of the concept of humiliation in such discussions.
- Arie wrote (April 14, 2007): Dear Evelin, TNX. I am attaching a number of papers that are relevant to the work of the network and are also relevant for RT 1, and RT 2 & 3.
- Evelin: Regarding RT 1: I am attaching (1) an empirical paper (with Liviatan) on the effects of "apology" on reconciliation, and (2) a chapter (with my student and co-worker Nurit Shnabel) that is forthcoming in a book which I co-edit and summarizes some ideas on the process of reconciliation between groups, and the Need Based Model of reconciliation. I think that the model is very relevant to our work on humiliation and conflict.
- Intergroup Reconciliation: Effects of Adversary's Expressions of Empathy, Responsibility, and Recipients' Trust, in Personality and Social Psychology Bulletin, 2006, 32 (4, April), pp. 459-470, together with Ido Liviatan.
- Instrumental and Socio-Emotional Paths to Intergroup Reconciliation and the Need-Based Model of Socio-Emotional Reconciliation, to appear in: A. Nadler, T. Malloy & J.D. Fisher (eds.) Social Psychology of Intergroup Reconciliation. New York, NY: Oxford University Press, together with Nurit Shnabel, 2006.
- Regarding RT 1 & 2 : You already have my JPSP paper with Halabi (Intergroup Helping as Status relations…). I am attaching a chapter which is less technical and much more relevant to the issue of Humiliation and Assistance and the importance of attending to this link in social-programs on the inter and intra national levels:
- Inter-Group Helping as Status Organizing Processes: Implications for Inter-Group Misunderstandings, in press in: Demoulin, S., Leyens, J.P. & Dovidio, J.F. (Eds.): Intergroup Misunderstandings: Impact of Divergent Social Realities. Washington, DC: Psychology Press, April 2007, revised version, together with Samer Halabi, and Gal Harpaz-Gorodeisky.
... Warm regards, Yours, arie
• Barry Hart, Ph.D., Center for Justice and Peacebuilding, Eastern Mennonite University
• Nick Martin, currently a visiting fellow at the United Nations University for Peace (UPEACE) campus in Costa Rica. Nick Martin is a Member of the HumanDHS Global Core Team.
Nick kindly wrote (September 9, 2006): I would love to join you all in new york in December if its possible.
• Victor Adangba, (USA/Ivory Coast) is a Doctoral Student in Moral Theology and Ethics at the Jesuit School of Theology at Berkeley, USA. Victor Boudjou Adangba is a Member of the HumanDHS Research Team. He is a researcher in our upcoming Refugees and Humiliation Project. The title of his project is Immigrants, Refugees in West Africa and Humiliation.
Victor kindly wrote (September 18, 2006): Dear Evelin, I would like to attend the forthcoming meeting in NY, December 14-15, 2006. I would like to look at tribal name calling in Africa and its potential for humiliation and tribal clashes. This is still a project. Please let me know if there is an opening for this conference. Victor.
• Nora Femenia, Ph.D., Associate Faculty, Florida International University, Miami, FL, U.S.A. Please see Emotional Actor: Foreign Policy Decision-Making in the 1982 Falklands/Malvinas War, in Patrick G. Coy, and Lynne M. Woehrle (Eds.), Social Conflicts and Collective Identities. Lanham, MD: Rowman & Littlefield Publishers, 2000.
Nora kindly wrote (September 9, 2006): Dear Linda, Evelin. Many thanks for this answer, I feel that I've found finally a niche where my two fields (CR and Psychology) can coexist and produce...this connection was sorely missing when I got to Syracuse U., in 1989. Nora
• Merle Lefkoff holds an M.A. and Ph.D. in Political Science from Emory University in Atlanta, Georgia. She has been a private consultant in multi-party public dispute resolution and preventive diplomacy since 1977, and she is President of The Madrona Institute, a non-governmental social-profit organization based in Santa Fe, New Mexico, applying the science of Complex Adaptive Systems to the transformation of diplomatic negotiations and peacemaking. The Madrona Institute is presently concluding a series of meetings with international delegates who are building future scenarios detailing innovative solutions for nuclear non-proliferation and arms reduction. An initiative on a new approach to a Middle East peace process is in the planning stages.
Please see the note that Merle prepared for our 2005 workshop: When the Butterfly Flaps Her Wings in Gaza.
Merle kindly wrote (June 22, 2005): Thank you so much for the invitation to attend the meeting in December!
• Dana L. Comstock, Ph.D., St. Mary's University, Department of Counseling and Human Services, One Camino Santa Maria, San Antonio, Texas, USA.
• Jasmine M. Waddell, Ph.D., Postdoctoral Research Fellow, Wellesley Centers for Women, Wellesley College, Boston, USA. Please see the abstract Jasmine has prepared for the 2006 workshop: Ubuntu, Dignity and Humiliation.
• Roberta Kosberg, Professor, Curry College, USA. Roberta Kosberg is a Member of the HumanDHS Global Core Team.
• Brian Lynch, M.D., Chicago, USA
Brian Lynch wrote (September 26, 2006): I just finished reading "Humiliation in a Globalizing World: Does Humiliation Become the Most Disruptive Fore?" My answer is yes. I would just like to wish you all well and support and introduce myself and maybe join with you in some small way. I am a physician who came across Silvan S. Tomkins' work through knowing Donald Nathanson, both of which Dr. Lindner referenced. Since then I can say 100 per cent of my efforts have revolved around promoting his ideas. I have reached out as possible through the Internet and with what little contacts I have.
For years I thought that Thomas Friedman has certainly been interesting in his repetition that "humiliation is the greatest single problem in the Middle East" and it is one of the best if not the best examples of how some of the best and crucial information languishes in our midst even while being articulated that there is.
Other than that I try daily to refine a true mind-body medicine made real through Tomkins' idea of biological affect.
My efforts to promote these ideas to the public can be see through what I have done on the web all of which can be reached through: BRIANLYNCHMD
But I would like to draw you attention to some specific sites:
TWELVE STEPS TO JUSTICE
SOME THINGS TOMKINS
TWELVE STEPS TO EMOTIONAL HEALTH
Thank you for any time and or attention you my give this it looks like we are all trying to get to the same place.
Please see Silvan Tomkins' Conceptualization of Humiliation, abstract prepared for the 2006 Workshop on Humiliation and Violent Conflict.
Please see also Notes on a Conference, notes that he prepared after our 2006 Workshop on Humiliation and Violent Conflict.
• Charles Knight, co-director of the Project on Defense Alternatives at the Commonwealth Institute
Charles Knight is co-director of the Project on Defense Alternatives at the Commonwealth Institute, which he helped found in 1987 and where he serves as President. In 1989, he founded the Ground Force Alternatives Project at the Institute for Defense and Disarmament Studies, where he was a Research Fellow. The Ground Force Alternatives Project later became the Project on Defense Alternatives. He is also the director of the Progressive Strategies Studies Project. He has authored and co-authored numerous publications and made presentations on peace and security issues at governmental and non-governmental institutions. In the mid 1990s, he served as a consultant to the post-apartheid South African government on stability-oriented security options for southern Africa. Since 2004 he has been studying how conventional male gender identities function in conditions of patriarchy to support the formation of war parties in the politics of national security. Within this he is looking at the potential for change arising from the liberation of other male gender identities.
Charles wrote (October 17, 2006): Dear Evelin: [...] here is what I would like to contribute: very brief remarks in the form of a few propositions regarding the role of humiliation in enforcing conventional masculinity learning and behavior and the potential of a certain type of "men's movement" for liberating (some portion of) men from the humiliation/violence complex and therefore contributing to a broader movement for positive social change.
• Judit Révész, Lawyer, Member of the HumanDHS Global Core Team, and Global HumanDHS Staff. Since 2001, Judit supports our work untiringly, every day, actively, as our NY resident. She gives an invaluable gift to our HumanDHS network: she has kindly taken upon herself the important role of the HumanDHS website contact person! Judit joined Barnard College in August 2016 as the college's ombuds officer.
• Ikhlaq Hussain is the son of Ustad Imdad Hussain, who is part of the centuries old musical lineage of Delhi Gharana (family of musicians from Delhi who play with a unique "Delhi" style); passing the culturally-rich, artistic wealth from father to son (though women are also sometimes encouraged to learn) he is part of a chain of musicians dedicated to keeping their unique tradition alive throughout the ages. Included is the Sufi Saint Hazrat Amir Khusrao, the creator of the sitar and tabla in the early 13th century. While the Delhi Gharana is known for its prolific work in the field of tabla, rhythmic expression and composition, Ikhlaq's grandfather Ustad Ahmadi Khan was the first in the Gharana to play the sarangi.
Ustad Imdad Hussain has been recognized for his musical achievement in his lifetime by his government, as he was employed with Pakistan Radio (the stalwart of cultural preservation and dissemination) from the age of 16 until retirement, and was sent around the world as an ambassador of Pakistani culture and art. While he has trained numerous students, including his son son Ikhlaq Hussain and his grandson Turab Ali, rigorously, there is still a part of the musical lineage that may be lost from one generation to the next, and a type of inevitable modification of style as time goes by and culture changes and "modernizes." Ustad Imdad Hussain's knowledge of the ancient system of music, which was originally valued equally for its alchemist as aesthetic properties, is possibly unparalleled by any living artists in Pakistan.
Ustad Imdad Hussain devoted his musical life to playing the sitar. He was recommended for UNESCO's "National Living Treasure" for his life work in keeping the tradition of classical music and the Delhi Gharana alive in Pakistan. Ikhlaq's immediate family was relocated to Pakistan after the partition and resides today in Karachi. [See also his presentation on World Music for Equal Dignity (WMusicED)]
• Cornelia Zelter works with the ombuds office of the United Nationa on conflict resolution.
• Christopher Santee, University for Peace in Costa Rica.
• Eric C. Marcus, Ph.D., Prinicipal of The Marcus Group, Maximizing Organization, Team & Individual Development, NY, USA
• Tony Castleman, Food and Nutrition Senior Program Officer, FANTA (Food and Nutrition Technical Assistance) Project, Academy for Educational Development, Washington DC, USA, and Ph.D. student at George Washington University in development economics with a dissertation topic that is related to humiliation and human dignity. Unfortunately, Tony had to cancel in the last minute.
Please see The Role of Human Recognition in Economic Development: Theory, Measurement, and Evidence, extended abstract prepared for the 2006 Workshop on Humiliation and Violent Conflict, Columbia University, New York, December 14-15, 2006.
• Jacque Steubbel, journalist, working on a theological advanced degree at the University of the South, Sewanee, planning to move on to a PhD in Middle Eastern history.
• Michael L. Perlin is an internationally-recognized expert on mental disability law. He has devoted his career to championing legal rights for people with mental disabilities. He is a prolific author of 23 books and nearly 300 scholarly articles on all aspects of mental disability law.
Michael Perlin is professor emeritus a New York Law School and an adjunct professor at Emory University Law School, specializing in all aspects of mental disability law. He is also the co-founder of Mental Disability Law and Policy Associates. Michael is a member of the HumanDHS Global Advisory Board and HumanDHS Education Team.
- Please see "Friend to the Martyr, a Friend to the Woman of Shame": Thinking About The Law and Humiliation, the presentation that Michael prepared for the 2006 Workshop on Humiliation and Violent Conflict, Columbia University.
- Please see Humiliation and the Criminal Justice System: How Our Desire to Humiliate Contributes to Recidivism and, Ultimately, Injures Victims, the presentation that Michael prepared for the 2007 Workshop on Humiliation and Violent Conflict, Columbia University.
- A Therapeutic Jurisprudence Inquiry Into the Roles of Dignity and Humiliation in the Law, contribution shared at the 2009 Workshop on Humiliation and Violent Conflict, Columbia University, New York, December 10-11, 2009.
• Alexander J. Perlin is the son of Michael L. Perlin. He has been a public defender in Brooklyn since 2012 and has been in the Trenton NJ PD office prior to that. He is also an adjunct professor at Borough of Manhattan Community College, where he teaches criminal justice and constitutional law. Since 2015, he has been assigned to the Red Hook Community Court, one of the most innovative problem-solving courts in the world.
• Alison Lynch is a former student of Michael Perlin, with whom he has presented at conferences in the US, Austria, and the UK, and with whom he has written frequently about sexuality and disability (with a book forthcoming in early 2016). Alison is a staff attorney with the Disability Rights New York office.
• Shelley Kierstead is Assistant Professor and Director of the Legal Process Osgoode Hall Law School at York University in Toronto, Canada, and one of the stalwarts of the therapeutic jurisprudence group.
• Heather Ellis Cucolo is a former student of Michael Perlin, who is now an attorney in the NJ Department of the Public Advocate.
• Sibyl Ann Schwarzenbach, Associate Professor of Philosophy at The City University of New York (Baruch College and the Graduate Center). Sibyl is a member of the HumanDHS Global Advisory Board.
• Noel Mordana, New York USA. Noel participated in ORLJ 4859, Conflict Resolution & the Psychology of Humiliation Fall 2004, Nov 12-14, with Evelin Lindner.
• Melissa Gage, New York US, bilingual high-school junior dedicated to peace. Please see Different Types of Humiliation Elicit Different Emotional, Cognitive And Behavioral Reactions, the note Melissa prepared for the 2006 Workshop on Humiliation and Violent Conflict.
• Judith Thompson, Frontiers of Social Healing Dialogue, USA. Judith is a Member of the HumanDHS Global Advisory Board.
Judith Thompson kindly wrote (13th June, 2005): Dear Evelin: Don Klein suggested that I contact you about the conference in Berlin in September. I have recently completed my doctoral dissertation on on the question of how compassion arises in the process of social healing. Don was my reader. I was very pleased that he thought the dissertation was "exemplary" (to use his words) and that it he thought I could both gain from and contribute to the conference.
In my work I had a section on humiliation, noting that the recent interest in understanding humiliation (begun by Don and carried on so brilliantly by you!) is one of the moves toward the relational roots of conflict which constitute what I call the social healing paradigm (which stresses the holistic and systems aspects of peacebuilding work). My interest in compassion been the product of my decades of work in the field ­ mostly in peace education, cultural/community organizing, and international dialogue, and running an international non-profit for over a decade. The themes of enlarging one's self concept and self-experience through the connection to other's suffering has been central to that work (as well as personally enlightening and enriching). I will be sharing some of my research at a conference in Sarajevo this summer on Global Human Rights, together with Ken Suslak, who I believe has also been in contact with you. I would love to both share my own work and learn from others in Berlin, and hope to hear more from you about how that might occur. A little bit of information on what I've been doing can be found here: http://69.36.178.127/resources/thompson/thompson.html and
http://69.36.178.127/resources/restore_justice/carsarjianthompson.html
I look forward to hearing from you. And, thank you for the wonderful work you have been doing! Judith Thompson
• Ani Kalayjian, American Board Certified Expert in Traumatic Stress, logotherapeutic psychotherapist, researcher, and consultant, USA. Please see http://www.meaningfulworld.com/bio.html. Anie is a Member of our HumanDHS Global Advisory Board.
Anie kindly wrote (July 13, 2005): Dear Evelin: This is a wonderful conference, and I am looking forward to do a forgiveness workshop or a panel. Kindly let me know what you need from us. I am attaching a one page short resume for your information. Much gratitude, Anie. Please see: Turkish Denial of the Genocide of Armenians, Greeks, Assyrians: Transforming Humiliation into Understanding and Forgiveness, abstract written for the Workshop on Humiliation and Violent Conflict, Columbia University, New York, November 15-16, 2005. See also Israeli & Hezbollah Conflict: International Perspectives on the Future of Peace in the Middle East, a paper that Anie Kalayjian co-authored with Luke Anable in August 2006: During a layover in Frankfurt, Germany, Anie Kalayjian interviewed randomly selected individuals in an attempt to gauge the public's emotional and psychological response to the Israeli & Hezbollah war.
• Erin Reilly is a BS MA Candidate at Columbia University, and the Clinical and Educational Coordinator at Meaningful World www.meaningfulworld.com www.facebook.com/MeaningfulWorldOfficial 402-708-1791 Emr2223@tc.columbia.edu
• Leysa Cerswell is a Columbia University International Women Scholar brought to us by Ani Kalayjian.
• Raman Kaur, M.A., Clinical Psychology Teachers College, Columbia University, was brought to us by Ani Kalayjian. Raman graduated from TC's Clinical psychology program in May 2015, and serves as Intern Coordinator & UN Meaningful World Ambassador for the Association for Trauma Outreach & Prevention (ATOP).
• Michael Britton, Ed.D., Psychologist, NJ, USA, Co-founder of the New Jersey Psychologists for Social Responsibility, and Associate Fellow of Rutgers University 's Center for Historical Analysis, and the Project on War, Peace and Society in Cultural and Historical Perspective. Michael is also a Member of the HumanDHS Board of Directors, a Member of the Global Advisory Board, and the HumanDHS Global Coordinating Team, HumanDHS Global Core Team, as well as Co-Director and Co-Coordinator of the HumanDHS Stop Hazing and Bullying Project. He is also the HumanDHS Director of "Global Appreciative Culturing."
• Liliana Lisbão is Michael Britton's spouse and a wonderful teacher in New Jersey and Melissa Lisbão is her daughter.
• Rosita Albert, Visiting Scholar, Harvard University, Cambridge, MA, and Department of Communication Studies, University of Minnesota, Minneapolis, MN, USA. Her sponsor at Harvard is Prof. Herbert Kelman.
Rosita kindly wrote (November 20, 2006): "I am a Visiting Scholar in Social Psychology area of the Psychology Dept at Harvard, and my research focuses on Intercultural Relations and Intercultural Conflicts. I am also an Associate Professor in the pioneering program in Intercultural Communication in Department of Communication Studies at the University of Minnesota. I am a Founding Fellow and a member of the Governing Board of the International Academy for Intercultural Research. I am originally from Brazil, and my mother and grandparents left Germany to escape from Hitler. It is because of this background that I work to create respectful relations among groups from different backgrounds."
Languages and international/intercultural experience:
Rosita speaks Portuguese, French, Spanish and English, and has had extensive experience with cultures from many parts of the world.
Education and Positions:
Ph.D. in Social Psychology from the University of Michigan. She has taught in Psychology, Education and Communication at a number of Universities.
Research:
Rosita has conducted research in a variety of topics, including research on a) the development and evaluation of the Intercultural Sensitizer, an instrument designed to foster intercultural sensitization; b) interactions between Latin Americans/Latinos and North or Anglo-Americans; c) the experiences and difficulties of Asian employees in American companies; d) conflicts and mutual misperceptions between African-Americans and Koreans in the U.S.; e) cultural differences in perceptions of negotiation; f) the effect of intercultural courses on intercultural development; and f) the effect of online interactions on perceptions of the other.
Teaching, training and consulting:
Rosita has taught courses in social psychology, intercultural communication, negotiation, and diversity. These courses have included students from many fields, countries all over the world, and a very wide range of cultures. She has conducted intercultural and diversity training, given presentations, and consulted for a number of organizations, including the World Bank, the 3-M company, Booz Allen Hamilton, the National Association of Transplant Coordinators, the University of São Paulo, the University of Minnesota and a number of other institutions.
Please see the abstract that Rosita prepared for the 2006 Workshop on Humiliation and Violent Conflict, Violent Interethnic Conflict and Human Dignity: Major Issues in Intercultural Research and Knowledge Utilization
• Jessica Cichalski, Master of Public Policy and Administration, NJ, she conducted research for comparative projects on immigration, welfare state and family policies for publication.
• Julie Strentzsch, M. A. in Community Counseling, an LPC and is currently a doctoral student at St. Mary's University in San Antonio, TX, USA.
• Rebecca Subar, working with a conflict management group in Cambridge, USA, CMPublic, currently training Palestinian political leaders among other projects. Please see her contribution to our 2006 Workshop on Humiliation and Violent Conflict, Columbia University: Supporting People As They Challenge Their Own Narratives: The Necessity of, and Trouble With, Challenging Beliefs Fundamental to One's Identity, Dignity and Sense of Belonging.
• Doris Brosnan, Columbia University, New York, USA.
• Allison Nicole Buehler, Columbia University, New York, USA.
Allison recently worked with disability rights organizations and the UN Ad Hoc Committee in efforts to draft a UN Disability Rights Convention. Currently preparing for an internship with the International Labor Organization's Skills and Employability Department, Allison will continue to be involved in disability rights and the development of strategies to bring about the realization f the principles established by the disability rights convention. Additionally, Allison hopes to identify and develop ways for mediation and leadership programs to increase the capacity for people with disabilities act as self advocates. This will contribute to the realization of equal enjoyment of rights and dignity for all people, including those with disabilities.
• Olga Botcharova, international expert in conflict management and cross-cultural communications, Washington, DC, USA. Olga is a Member of the HumanDHS Education Team.
• Nicholas B. Diehl, Associate Ombuds, Princeton University, Princeton, NJ, USA.
Please see The Role of Dignity and Humiliation in the Organizational Context, his note prepared for the 2006 Workshop on Humiliation and Violent Conflict, Columbia University.
• Alison Anthoine, Attorney at Law, New York, NY.
Alison Anthoine kindly wrote (December 3, 2006): I am an attorney/mediator in NYC with a particular interest in race and class issues. I am now developing a new project focusing on the dignity (and lack thereof) accorded patients in NYC hospitals, and would very much like to attend the closed sessions of your conference.Thanks in advance for your consideration, Alison Anthoine.
Alison Anthoine kindly wrote (December 12, 2006): I am currently developing a new social enterprise, HealthcareCommons.org, based on my observation that a largely overlooked aspect of the broken US healthcare system is the increasing lack of communication and trust between patients and professionals. By providing a non-commercial, consumer/patient-oriented online information service combined with a "social network with a purpose", HealthcareCommons.org will bridge the communication gap between patients and professionals, will help patients take control of their own health and health habits, and will contribute their voices to the improvement of healthcare quality and safety.
Please see The Role of Dignity and Humiliation in the Delivery of Healthcare Services, note prepared for the 2006 Workshop on Humiliation and Violent Conflict, Columbia University.
• Pamela H. Creed, Ph.D. Candidate, Conflict Analysis and Resolution, George Mason University, Washington DC, USA. Please see The Dominant American Narrative between 9/11/01 and the Invasion of Iraq, an introduction to a potential dissertation, written for for our 2006 Workshop on Humiliation and Violent Conflict. The dissertation aims to analyze the dominant American narrative between 9/11/01 and the invasion of Iraq through positioning theory and the literature on humiliation and conflict.
• Stuart P.D. Gill, Ph.D., Columbia Science Fellow, Columbia University, USA.
• Ariel Lublin is an Associate Principal at Consensus - an international negotiation, conflict-resolution, and peace-building firm – where Ms. Lublin consults, leads trainings, and conducts peace-building dialogues for international organizations, governments, Fortune 500 companies, law enforcement agencies, and NGOs. She also teaches at Columbia University in the School of International Public Affairs (SIPA) and in the Negotiation and Conflict Resolution Masters Degree Program, and she serves as a custody/visitation mediator for NYC Family Court.
In 2007, Ms. Lublin was engaged by GTZ to consult and train trainers in their Sri Lankan conflict transformation program. From 2002 to 2005, she directed the Center for Court Innovation's Midtown Civic Partnership, where she led victim-offender restorative-justice conferences and convened multi-stakeholder mediations for entrenched conflicts involving Manhattan-based businesses, law enforcement, community leaders and public officials.
Ms. Lublin was the assistant producer of Poisoned Chalice: The UN in Iraq, a documentary film released in 2006. (Available for free viewing at www.vimeo.com/ with the password: iraq2005) She assisted in the organization and documentation of the first two Women Waging Peace conferences and has been published in Bhumi Magazine of International Development.
Ms. Lublin formerly taught Dispute Resolution and Sociology at CUNY's John Jay College of Criminal Justice, and she was a Teaching Fellow at the Center for Public Leadership at Harvard University's Kennedy School of Government. She holds a Masters of Education from Harvard University, with an individualized focus in Leadership Development and Conflict Resolution. Please read more about her here.
See here:
• Addressing Humiliation through Listening with Respect: A Restorative Justice Model for Victims, Offenders, and Law Enforcement, note presented at Round Table 3 of the 2005 Workshop on Humiliation and Violent Conflict, Columbia University, New York, December 15-16, 2005.
• Aaron Lazare Chancellor, Dean and Professor of Psychiatry at the University of Massachusetts Medical School. While Chair of the Department of Psychiatry.
He kindly wrote (March 19, 2007):
Dear Evelin: ... I am thrilled at the opportunity to speak at your next workshop in New York on December 13, 2007. Let me know when you confirm the date...Keep up your pioneering work on humiliation. Aaron
• Judith E. Glaser, author of Creating We, CEO of Benchmark Communications, Inc.
She kindly wrote (March 25, 2007):
Dear Evelin: Please consider me a part of your very important event in December.....
Judith E. Glaser is one of the most innovative and pioneering change agents and executive coaches in the consulting industry. She considers herself an Organizational Anthropologist, working with clients at the intersection of culture, leadership and brand. In 1980 she founded Benchmark Communications, Inc., a firm that works with CEOs and their teams helping them focus on competitive challenges in a world of moving targets with a direct line of site to the customer. [read more]
• Antoinette Errante, Associate Professor, Educational Policy & Leadership, The Ohio State University
Antoinette kindly wrote (April 6, 2007): Dear Evelin, Grace and all, [...] In either case, yes, I absolutely plan on being at the New York meeting!! I look forward to meeting you all there! Cheers, Antoinette.
• Annette Anderson-Engler, Saybrook Graduate School and Research Center in San Francisco, California, USA. Annette Engler is a Member of the HumanDHS Global Core Team and Education Team.
Annette kindly wrote (May 27, 2005): I have been anxiously awaiting this email :-) I will be delighted to be there and partake in any that I can. I especially liked the discussion of round table 2 "Is humiliation relevant in a destructive conflict" I wouldn't miss this event for anything and am honored and privileged to be a part of what you are doing.
Annette kindly wrote (April 5, 2007): Dear Evelin, Thank you also for a very warm invitation. Once again I am excited to be a part of what you are doing. I would gladly be a discussant at Round Table 3: What works? What types of social change efforts show promise in reducing violent conflict and humiliation while upholding the dignity of all people? (Day Two) [..] I look forward to seeing you again in December! Warm hugs!!! Annette
Please see:
- the notes that Annette prepared for our workshops in NY: Humiliation and Displaced Identity (2004), and Displaced Identity and Humiliation in Children of Vietnam Veterans (2005).
- Constructing and Reconstructing Narratives – A Passageway to Personal Meaning and Social Change, abstract prepared for the 2007 Workshop on Humiliation and Violent Conflict, Columbia University, New York, December 13-14, 2007
• Edward J. Emery is the Chief Representative to the United Nations for World Information Transfer, an international NGO in Genral Consultative Status with the Economic and Social Council at the UN. He is a Member of the HumanDHS Global Core Team, HumanDHS Research Team and HumanDHS Education Team.
Edward kindly wrote (May 1, 2007): Dear Evelin, This December looks promising as I now have less commitment at the UN and so more predictable schedule. I would appreciate being able to participate in the roundtable, the first group focused on the nature of humiliation.
I should like to contribute some understanding of malignant shame and the role of psychic deadness in its genesis in relationship to the thinning of attachment bonds, this giving rise to "solace" in networks of mimetic violence. I believe this will become a bit more comprehensible on elaboration. Best, Edward
• Lone Alice Johansen is currently working on her master thesis on African conflict resolution traditions (ubuntu) effect on perceived humiliation. She is a Member of the HumanDHS Research Team.
Lone kindly wrote (May 1, 2007): Dear Evelin, I am very interested in participating in the 10th Human DHS meeting. I am most interested in Round Table 3 (but also Round Table 1). I would like to participate in a Round Table by being a note taker. Would you like for me to present my master thesis? I need to make some changes on the project description that I have already sent you and I don't know how far I have developed the thesis in Desember, but if you want me to I can gladly present my work. Best regards, Lone
• Mohammad Abul Kalam Azad has completed his M.A program in Peace Education from the United Nations-mandated University for Peace in Costa Rica in 2006. He is a Member of the HumanDHS Global Core Team.
Azad kindly wrote (April 30, 2007): My dearest Evelin, How are you ? I wish you had an excellent time and successful program in China. I am really really excited to join in the forthcoming conference at NY in USA. But I am worried how I will manage a big amount of money to fly there. I need a scholarship to join in your conference and I am positive your little effort can make a way for me to join in your conference. You know, I need to make a networking that will help me to go for Ph.D. sooner and get a job in international level. It will also help me to work for my country in the future with a great experience from an international level. I will send you my abstract as soon as possible. I would like to join in your Round Table 1 and 2 as a discussant and supporter. I know you are so busy that's why I am writing you very a short e-mail. I will be waiting for you for your kind consideration. I wish you all the best. Peace and love, Azad
• Kathryn Crawford is currently working with the International Center for Cooperation and Conflict Resolution (ICCCR) at Teachers College, Columbia University, New York. She is a Member of the HumanDHS Education Team.
• Jiuquan Han is at Hebei Agricultural University, China. We met at the Second International Conference on Multicultural Discourses, Institute of Discourse and Cultural Studies, New Campus of Zhejiang University, Hangzhou, China , 13-15th April 2007, where we had a HumanDHS panel, representing the 9th Annual Meeting of Human Dignity and Humiliation.
Here is the Abstract of the presentation that Jiuquan Han gave at the Second International Conference on Multicultural Discourses:
Based on Bruhl's "principle de participation " in pre-logique and Strauss' multi- valued logic a cognitive analysis into the Number Complex in Chinese culture was made with Gestalt, psychoanalysis and other cognitive theories, reaching the conclusion that the schematization, humanization, legalization and aestheticalization of the Number Complex in Chinese culture is an evolutionary process, in which analogical thinking- the constructing prototype -arises from individual similarity/proximity cognition, transfers from a generation to another in the form of collective representations and comes to be dominant in Chinese national thinking.
Jiuquan Han kindly wrote (May 2, 2007): Dear Sunflower Dr. Lindner, dear friends! I am very happy to receive your warm invitation to New York and Oslo. I am keenly eager to discuss with you on the issues of Round Table 3 in, in New York at Columbia University, Teacher's College in Dec. 2007, if the conference will help me with two-way plane tickets to and fro Beijing and New York, and related accommodation fees. I will greatly appreciate your help. I am sorry for my delayed essay entitled Five Penalties": A Psychological-Cultural-Social-Historical Construct, which will be emailed to you within 24 hours. As for "A cognitive view on the Number Complex in ancient Chinese Culture", I will try may best to finish it as soon as possible and email to you. I hope both articles will create a much wide shared space between you and me. I will keep my promise! Best wishes! Jiuquan Han
Please see here three paragraphs from Jiuquan Han'spaper all of which refer to humiliation as penalty:
"The penalties in the Spring and Autumn, the Warring States Periods still centered around the traditional savage wu xing, for instance, che lie (splitting the criminal asunder by five horses' pulling in five directions). The Qin Dynasty saw transitional penalties, in which chi (whipping) and zhang (bastinado), together with tu (imprisonment), liu fang (exile), rou (corporal punishment), si (hanging and beheading), constituted the "five penalties" while ru (humiliation), jing ji (fine) and zhu lian (involving others in a criminal) were annexes
...
Psychologically, the rulers generally had three chief purposes to make wide use of violence and torture and impose man's awareness of shame:1)t errorizing the criminals and others by committing killing and inflictions, life-threatening acts making criminal and potential enemies feel unsafe; 2) humiliating the criminals by belittling, degrading, shaming in public; and thus 3) solidify their sovereign. However, there is always an exception to the rules, some rulers got extreme ecstasy just like being addicted to cocaine. In the following paragraphs, awareness of shame, psychological roots of violence and torture abuse, and commiseration will be discussed one after another with rulers as their owners
...
Quite different from the awareness of guilt popular in the Christian world, the awareness of shame was shaped by Confucian ideology of benevolence , righteousness, propriety, wisdom, trust, among which propriety was interpreted and followed as total royalty to the king or emperor, complete filial piety for the parents, and absolute fidelity to the husband. Should anyone violate it, he or she would be condemned, despised, insulated and abandoned by nearly all the other people even his or her family members. The positive effect did exist (see 3.2.2 ). However, the spurning marks on his or her face, and body were just like a blunt knife which tortured him or her in public or in privacy for the whole life so that it was almost impossible for the afflicted to renew and identify him/herself to be a 'good' member of the society and the family. In a sense, making the criminal feel belittled is something more poignant, which devours the spirit, sucking every morsel of the dignity and self-respect, often bringing an agony much worse than death penalty itself."
• Dr. Nariman Abdel Kader, International Arbitrator and President of the Egyptian Woman Foundation for Law and Spreading PEACE Culture (EWFLPC)
Nariman Abdel Kader kindly wrote (May 7, 2007): Dear Evelin, Am pleased to receive your invitation relating to the 10th Human DHS meeting, the fourth NY Workshop on Humiliation and Violent Conflict, December 13-14, 2007, in NY at Columbia University, Teachers College).
The topic of the workshop sounds very very interesting and it deserves participation.
I hoped I could present a paper, but unfortunately I could not as the topic is totally new in our region, I even asked some colleagues about it and I notice that there is a great ignorance relating to that.
Am too much interested to take part at the 2nd and 3rd round tables if they will be held in different times, but in case they are held simultaneously I prefer to participate at the 3rd one. By the way, could you please tell me what the role of a supporter is?
Once again thank you very much for the invitation and hope to participate. It will be an opportunity for me to know more about the topic of Humiliation and Human Dignity. And it will be also an occasion to transmit what I have learnt about the topic to my colleagues, students and all interested people in my region.
Am asking if researchers from developing countries as Egypt could benefit from a financial support including the air ticket and accommodation? Best Regards, Dr. Nariman Abdel Kader

• Roger Bromley holds the Chair in Cultural Studies at the University of Nottingham, UK, and has degrees from the universities of Wales, Illinois, and Sussex. [...] He pioneered the academic study of popular fiction in the 1970s and has also published a large number of scholarly articles and book chapters, and spoken at conferences in 18 countries. As well as working on issues of migration, identity, and narrative, he has written on film from a cultural studies perspective. Roger Bromley is a Member of the HumanDHS Global Advisory Board.
Please see an abstract of his contribution to our 2007 workshop: Dignity and Hope Versus Humiliation and Despair (please see a longer draft for a full paper and a summary). His wife, Anita, who is a Prisoners' Rights lawyer, join us as an observer for one or both of the days.
• Lynn King, founder of SageVISION, dedicated to "growing green leaders who support innovation for the greater good."
• Bahija Jamal, Ph.D. in International Law, Researcher, Hassan II University Faculty of Law in Casablanca, Morocco, and member of the Scientific Committee of UNESCO Chair "Migration and Human Rights."
Bahija Jamal kindly wrote (May 5, 2007): Dear Evelin Gerda Lindner, Allow me to introduce myself, Am Dr Bahija JAMAL from Hassan II University Faculty of Law in Casablanca /Morocco. Your email address has been recommended to me by my dear friend Dr Nariman Abdel Kader as you can see below. Am too much interested to participate at your 4th NY Workshop on Humiliation and Violent Conflict, December 13-14, 2007. I hope I can present a paper at the Round Table 2: How can the notion of humiliation be useful for public policy planning and for cultivating positive social change? Am asking about the modalities of participation? the deadline of the paper abstract submission? and the possibility to benefit from a financial support including plane ticket and accomodation as am coming from a developing country? Awaiting your kind reply, I remain,dear Evelin, Yours Faithfully, Bahija JAMAL
Please see Bahija's contribution: Women Victims of Human Trafficking in Globalized World of Entertainment and Sex Industry: Humiliation of Women Dignity and Existence, abstract prepared for the 2007 Workshop on Humiliation and Violent Conflict.
• Peter Liberman, Professor, Ph.D., Massachusetts Institute of Technology, Political Science Department, Queens College and Graduate Center, City University of New York.
• Zuzana Luckay Mihalčinová is a member of our HumanDHS Research Team. Please read more about her here.
• Katha Schinkinger works with Habibi in Vienna, Austria. Habibi strives to integrate business in a dignified and equal way. See a video with Martin Rohla about Habibi from Al Jazeera. Habibi is exemplary in its focus on sustainability, its realistic integrative efforts, its respect of equal dignity as well as its ecological efforts of searching for best ways of how to be a green restaurant.
• Martin Rohla works with Habibi in Vienna, Austria. Habibi strives to integrate business in a dignified and equal way. See a video with Martin Rohla about Habibi from Al Jazeera. Habibi is exemplary in its focus on sustainability, its realistic integrative efforts, its respect of equal dignity as well as its ecological efforts of searching for best ways of how to be a green restaurant.
• Christiane Bertolini works with dna-das neue arbeiten and is Martin Rohlas partner in goodshares.
• David Jones, CEO, Siloam International.
David A. Jones specializes in substance abuse counseling and public health education; he also conducts trauma healing dialogues for posttraumatic stress stemming from violent conflict. He teaches human rights internationally and has lectured at Portland State University for three years. David also works with young people, and adult's transitioning from prison back to the community. David and his clients follow the sentient path to track problems to the core of the individuals' process. David's work is informed by studies in Alternative Dispute Process Handling, which he holds a Master Degree and Process Oriented Psychology and world work theories for over 10 years. This work developed by Arnold Mindell for dealing with large group conflict. David has an undergraduate degree in Cross-Cultural-Communication, and has 2 year certificate in Public Health studies in the area of Alcohol and drug counseling; he has been practicing for over 15 years internationally in numerous capacities for local nonprofits, private parties and governmental groups.
The purpose of Siloam International is to provide culturally based programs in the area of conflict resolution for domestic and international interventions that are comprehensive in scope, utilizing the most current and effective information, methodology, and practices available. His contribution to our 2007 workshop is entitled: Shock and Awe - The impact of working with highly traumatized groups while conducting field work: Utter & Complete Disaster (2007)
• Fazeela Zaib & Othman Al-Tawalbeh, Sweden
Fazeela kindly wrote (on 15 May 2007): Dear Evelin,... I would love to attend the workshops in NY and I am available those dates... With love, Fazeela.
Her contribution for our workshop is entitled: Islam in Its Connection with Dignity and Humiliation.
• Hassan Abdi Keynan, Programme Specialist, UNESCO Office Dhaka, Bangladesh. He will be participating in our 2007 NY meeting in his personal capacity.
Hassan kindly wrote (on 7 May 2007): Dear Evelin, Greetings from Dhaka, Bangladesh. I would like to attend the 10th HumanDHS meeting to be held December 13-14, 2007, in NY at Columbia University, Teachers College). I am interested in Roundtable 1 as discussant, focussing humilation in the context of recent events in Somalia and in the greater the Horn of Africa. I will soon send an abstract. Best regards, Hassan Keynan, Dhaka Bangladesh.
His contribution for our 2007 workshop is entitled: Humiliation in the Context of Recent Events in the Horn of Africa.
• Hayal Köksal, Ph.D., is a teacher-trainer, researcher, and author. She is the Turkish Founder of the "WCTQEE-CMS-QOMER Initiative for Peace Education."
Hayal kindly wrote (on 19 May 2007): Dearest Evelin, It would be a great honour for me to meet you in ny :))) with love, Hayal.
Her contribution for our workshop is entitled: The Role of Dignity and Humiliation for Education.
Dear Hayal shared with us (October 20, 2014):
INTERNATIONAL ICT & LEADING SEAGULLS PROJECTS
International Seagulls started in 2003 with the aim of using technology effectively on the way of training dignified and peace-oriented young generations who are good at problem solving and team spirit. Durng the first five years, it was supported by Microsoft Turkey. In 2006 international teams have started to take part in, such as; USA, UK, India, Nepal and South Africa.
With this project we emphasize the leadership of our teachers through scientific approaches, quality tools and ICT (Information and Communication Technologies) projects. While we are doing this, we would like to include the 'student-teachers' to the projects in addition to working and retired teachers. Last year a second project Leading seagulls was added.
Through "ICT Seagulls and Leading Projects", participants will:
• enhance awareness of environmental protection,
• understand the difference between different cultures, and gain tolerance,
• interpret history well and get lesson from the past,
• grasp the spirit of the team,
• know the tools and methods of quality,
• use technology and the Internet effectively,
• move from theory into practice,
• use their creativity,
• manage their time in the most effective way,
• create and enhance its portfolio,
• learn and apply ethical rules,
• be aware of the importance of communication,
• learn advanced problem-solving skills.
The students'/teachers' quality circles (SQCs/TQCs) will be the main methodology of the projects and they will be renamed as "İmece Circles" within the Turkish Culture.
"ICT Seagulls" will be formed under the dynamic leadership of two project teachers along with 5-10 students. The role of teachers is facilitating. Parents might be included in as well.
"Leading Seagulls" project is for teachers on duty, retired teachers and teacher-candidates in accordance with their knowledge and authority to their dream project aims to provide the ability to perform. Thus, participant teachers, in advance, will have to plan their own dream projects with stakeholder groups. They will mainly use video films, websites or Blogs.
The supporting bodies of the projects are: "The World Council for Total Quality & Excellence in Education (WCTQEE)", "City Montessori School (CMS), Lucknow, India", Human DHS, Peace Education and Research Center of Boğaziçi University, QUEST-Nepal, NYDT-South Africa, Tria Technology and Art Design.
If you participate in the project, we will be honored.
In order to get more info, please visit our web page: http://bilisimcimartilar.com/english/
• Aura Sofía Díaz, BA.PSY MA.ODL, Doctor of Philosophy in Human Development, with "In What Way Are Emotions Important for Self-Development?" at the Fielding Institute, Santa Barbara, CA, currently creating a school for street children in Venezuela. She is an expert in Human Development and new approaches to dialogue and conflict resolution, based on the application of neuroscience research and discoveries. She trains Venezuelan educators and community leaders in dialogue and negotiation capabilities in order to contribute to increasing freedom of choice, decrease humiliation, and allow individuals to be an agent of their own lives, thus enhancing human dignity.
One of her contributions to our workshop was entitled: The Role of Dignity and Humiliation for the Mind and Peace.
• Dr. Tonya R. Hammer is an Assistant Professor of Counseling at Oklahoma State University-Tulsa. In 2008, she received her PhD in Counselor Education and Supervision from St. Mary's University in San Antonio, Texas, with an emphasis on Relational Cultural Theory and Social Justice. Her master's degree is in Psychology and Counseling from the University of Mary-Hardin Baylor. She is also a Member of the HumanDHS Global Core Team, and the HumanDHS Research Team.
Tonya has been a huge help since our 2005 and 2006 workshops; she wonderfully shouldered several tasks, from taking and editing the notes of our 2005 workshop to being in charge of our catering. Since 2010, you lead the organizing team of our workshop, together with Linda and Evelin. Thank you, dear Tonya!
• Dee Sloan is a doctoral student in the Counselor Education and Supervision department at St. Mary's University, San Antonio, Texas.
Dee kindly offers to support our workshops. Thank you, dear Dee!
• Hugh C. Crethar, Ph.D., is an Associate Professor and Jacques Flannery Community Counseling Endowed Professor in the School of Applied Health & Educational Psychology at Oklahoma State University, where he serves as Program Coordinator of the CACREP Accredited counseling program. He has served in numerous positions within the American Counseling Association, including serving as the 2007-2008 President of Counselors for Social Justice and the 2013-2014 President of the Association for Lesbian, Gay, Bisexual and Transgender Issues in Counseling and the Governing Council of ACA. His professional interests include the promotion of multicultural competence, excellence in counselor training, integration of contextual factors in wellness, community and client empowerment and community and client advocacy in the field of counseling.
• Ellen Raider is a recognized authority in the field of conflict resolution, negotiation, and mediation training. Her work has been cited in numerous publications, and she has been a leading advocate for increasing awareness of the impact of culture on the conflict resolution process. Since 1978, she has taught international negotiation skills to thousands of corporate executives and diplomats in the United States and abroad. Her clients have included the United Nations, the European Economic Community, IBM, AT&T, General Electric, and Schering International. In 1988, she was asked to set up the training department of the research-based International Center for Cooperation and Conflict Resolution at Teacher's College, Columbia University. In that capacity she has conducted workshops and created training materials for teachers, administrators, school boards, parents, and students.
Ellen is co founder of the Independent Commission on Public Education (iCOPE). ICOPE's mission is to create a new Human Rights-based system of public education for NYC. One of iCOPE partners in this education work is The National Economic and Social Rights Initiative (NESRI) who promotes a human rights vision for the United States that ensures dignity and access to the basic resources needed for human development and civic participation. See their excellent report called "Deprived of Dignity."
- Ellen Raider's contribution to our workshop is entitled Humiliating Experiences that Parents and Students Face in Schools (using info from the report, our tribunals, and our "Education is a Human Rights" campaign).
• Elizabeth Sullivan is the Education Program Director at the National Economic and Social Rights Initiative. See their excellent report called "Deprived of Dignity."
She works with parents and advocates to promote policy change in public education to guarantee students' right to dignity and a quality education. She has carried out research projects to document human rights violations in US public schools, and has provided trainings to parents, youth and organizers about how to incorporate human rights standards and strategies into their advocacy. She has worked as a consultant with Human Rights Education Associates and as Project Coordinator at the Center for Economic and Social Rights, where she authored the report Civil Society and School Accountability: A Human Rights Approach to Parent and Community Participation in NYC Schools. She holds a Masters degree in Public Policy from the John F. Kennedy School of Government at Harvard University.
• Harold Becker together with John T. Goltz, founded The Love Foundation, Inc., a globally recognized non-religious and non-political non-profit organization with the mission to "inspire people to love unconditionally."
• Stephanie Tice (formerly Heuer) is also a Member of the HumanDHS Global Core Team and the HumanDHS Education Team, as well as the and Global Coordinating Team. See also her YouTube channel.
Stephanie is currently a College and Career Adviser at Gunderson High school, and a public speaker on bullying and modifying teen behavior through consequential education methodologies. She is graduate of Notre Dame de Namur University, studying Human Services and counseling. Her current position also allows her to work directly with troubled and challenged youths, by introducing them to techniques to avoid loss of dignity through positive intervention and behavioral support. She was inspired at the HumanDHS Costa Rica conference in 2006 to create the "Be the Arrow" framework for transitioning from a mindset of revenge/retaliation to a place of reconciliation and respect.
Her children's book, DignityRocks! is a collection of elementary school children's feedback to the inquiry, "I feel like Nobody when…. I feel like Somebody when" (purchase here and see the English and Spanish cover pages). This was inspired by the work of Dr. Robert Fuller and his somebody/nobody framework. She works closely with counselors and high school leadership organizations to combat cyberbullying and anonymous harassment on the internet. She is one of the original members of the HumanDHS team, and sites the HumanDHS organizational frame and mission as the basis for her continued work in dignity education and humiliation studies.
• Joseph Martz, MA Candidate, Organizational Psychology, MA, Applied Linguistics, Teachers College, Columbia University. He is planning his doctoral research and wishes to build a model that will allow us to forecast conflict and, therefore, intervene pro-actively.
• Marta Carlson, a Consulting Psychologist and president of OT Resources, Inc. OT Resources is a consulting firm that guides organizations and leaders in developing human resources practices that enhance worker wellbeing and performance. Marta is also a Member of our Global Core Team and Research Team.
• Bill Leland, Executive Director of a nonprofit non-governmental organization which acts to preserve coastal watersheds through community stewardship, monitoring, and education, and serving on a variety of nonprofit Boards of Directors. Bill is also a Member of our Global Core Team and Global Coordinating Team.
Please see his contribution to our 2007 workshop: Dignity, Humiliation, and Mutual Empowerment for Fundamental Change.
• Emanuela C. Del Re, Professor at the Faculty of Communication Sciences of the first University of Rome, "La Sapienza," Italian scholar specialized in geopolitics and security issues, who has been working on religious terrorism in the last few years. She is a member of the European Stability Initiative (ESI). Emanuela is also a Member of our HumanDHS Research Team.
Please see:
- Emanuela Del Re's contribution to the 2007 Workshop on Humiliation and Violent Conflict: The Role of Dignity and Humiliation for Security
- The Subtle Connection Between Counter-terrorism Strategies and Humiliation, presentation held at the 2009 Workshop on Humiliation and Violent Conflict, Columbia University, New York, December 10-11, 2009.
• Leland R. Beaumont, Founding Manager of the Emotional Competency website.
The Emotional Competency website helps people explore the logic of passion. The site is dedicated developing the essential social skills to recognize, interpret, and respond constructively to emotions in yourself and others. These are essential skills for promoting dignity. It features an in-depth description and discussion of twenty-four distinct emotions.
Emotion competency is an important skill that can provide several benefits throughout many aspects of your life. It can increase your satisfaction with relationships while it increases your gratification and contentment with the many interpersonal events in your life. It can give you greater insight and help you better understand the motives and actions of yourself and others. You can begin to free yourself from anger, hate, resentment, vengeance, and other destructive emotions that cause hurt and pain. You can feel relief and enjoy greater peace-of-mind, autonomy, intimacy, dignity, and wisdom as you engage more deeply with others. Increasing your tolerance and compassion can lead to an authentic optimism and a well-founded confidence, based on your better understanding and interpretation of what-is.
The website is accessible, comprehensive, and carefully researched. Clearly written in plain English, it covers each topic fully and identifies the extensive and authoritative references relied on to ensure accuracy and encourage further study.
The site includes a study guide that provides a well-organized path through the material to aid self-study.
The site also features:
• A guide to recognizing emotions
• A guide to the core human concepts that trigger our emotions
• A description of the survival value of each emotion.

• Michael Greene, Ph.D., is the first Executive Director of the New Jersey Violence Institute at the University of Medicine and Dentistry of New Jersey. Michael Greene is a Member of the HumanDHS Global Advisory Board.
• Dr. Stacee L. Reicherzer, LPC, NCC, President- Texas Association of Gay, Lesbian, and Bisexual Issues in Counseling.
• George Woods, University of Washington, USA. George Woods is a Member of the HumanDHS Global Advisory Board and Education Team.
• Michael Sayler explains (9th February 2019):
My professional focus for over 40 years has been in pastoral ministry, with an emphasis on mediation and communication. This has led me to gain a deeper understanding of human behavior, especially where disagreement and power differences are present. After completing my MDiv degree I began working in a local church, where behavior issues were abundant, and I attained an MA degree in Pastoral Counseling and a Certificate from Case Western University in Emergency Psychological Intervention. As I moved ahead in my career I received a Certificate in Clergy Abuse Issues and afterward completed both an MA and PhD (Humiliation and the Poor) in Human Development with a focus on Communication, and a Certificate in Public Dialog and Communication. My later pastoral ministry focused on mediation; following a focused internship I received a Certificate in Interest-Based, Facilitative, Collaborative Mediation and another in Divorce and Dispute Resolution. I have completed 360 hours of training with the Advanced Clergy Clinic in Family Emotional Process at the Lombard Mennonite Peace Center. My current interest is in exploring the links between humiliation and human dignity. [read more]
• Christina M. Capodilupo, Department of Counseling and Clinical Psychology, Teachers College, Columbia University, New York.
• Yoav Peck is an independent organizational consultant; his Institute, "Kivun" (direction) conducts projects for the advancement of human dignity in Israel and abroad. Yoav Peck, a native of New York City, earned his BA at Berkeley and shortly thereafter traveled to Israel as a tourist. He fell in love with the country and chose to make Israel his home in 1973. Yoav lived, for fifteen years, as a member of Kibbutz Kfar Hanassi in the Upper Galilee, where he worked in agriculture, child-care, and as a psychotherapist and organizational consultant for the kibbutz movement. [read more]
• Avi Shahaf is an organizational consultant whose expertise is helping organizaions to advance the value of human dignity in their daily lives. He was born (1951) and raised in Tel Aviv, Israel. He completed his BA in Sociology and Anthropology and his MA in Organizational Development – both in Tel Aviv University.
Avi managed an institute which focused on the development of managers and workers handling youth at risk, for seven years.
However, he has been dedicating most of his years as an adult to working as an organizational consultant who specializes in facilitating processes for advancing human dignity in different organizations. [read more]
• Nira Shahaf is a dance therapist and psychotherapist in Israel.
• Vinod (VK) Kool, Professor of psychology, State University of New York.
Vinod Kool kindly wrote (19/11/2007): Dear Evelin, Thanks for mailing the program. I will appreciate if you can move me to the morning session of December 14. If there is an opportunity afforded to me to speak, I would like to make a brief presentation of 5-10 minutes and fitting the session, on: Humiliating perpetrator, victim and observer: Lessons from the oldest democracy located in the Himalayas. This is an offer, just in case there is time, opportunity and convenience during the event. I will show a few pictures that I took while I visited this Himalalayan community and the audience may like it. … As I mentioned, I could barely take time off during this exam session at the university and I am very much looking forward to meeting you and your team members. VK Kool.
• Jennifer Kirby, Center for Judaic, Holocaust, and Peace Studies at Appalachian State University in North Carolina. Together with Robert English.
• Ragnhild S. Nilsen, Member of the HumanDHS Global Advisory Board. She is accompanied by John John Bruseth and Irmelin Drake. She is a partner in CoachTeam as, as well as founder of Global Fair Trade and member on the board. She is reckoned as one of Scandinavia's most skilled course holders and lecturers and is a sought-after coach and communication artist.
• Mercedes St. Elin, Director of the Migrant Farmworkers Project, Legal Aid of Western Missouri. Together with Tzvetelina Tzoneva (Lina), she is a researcher in our envisaged Refugees and Humiliation Project. The title of their project is Dignity-Humiliation in the Case of Internally Displaced Persons in Latin America: The Examples of Colombia, Guatemala, Peru and Mexico.
• Olowoyeye Abiodun (Nigeria/UK), London School of Management and Technology, Stratford, UK; Masters in Political Science (Public Administration), 1999, University of Lagos, Nigeria. The title of his project is Africa, a Trigger in the Explosion of International Terrorism: A Critical Analysis of The "Apparatus" of Terrorism and its Causes. [read more]
• Imelda Deinla (Philippines) is an Attorney and holds a Bachelor of Laws (LLB) from the University of the Philippines and a Masters of Law (LLM) in International Law from the University of New South Wales, Australia. The title of her project is The Effects of Humiliation on the Economic, Socio-cultural Rights and Access to Justice of Muslim Women in Mindanao. [read more]
• Marcela Valdata (Argentina) is currently working on her Ph.D. at the Museo de la Memoria [Museum of Memory] in Rosario, Argentina. The title of her project is Humiliation Policies Applied to Persecuted Individuals, Detainees and Refugees During the Period 1975/1983 in Rosario, Argentina. [read more]
• Alice Nduwimana and Cesar Bitwara, Club youthsecurity, Great Lakes region, Africa.
Club youthsecurity (15/11/2007):
History:
Since 1990 at our days, Africa of the large lakes knows the alarming problem of the light weapons and small arms. More than 90 pourcents of case of violations of the human rights is made using a light weapon and of small arms. In 2005, a group of the young defenders of the human rights directed by Mr NTATOROKA Guillaume notes that the young people are at the same time the majority of the victims and authors of the misuse of the light weapons and small arms. In this same year, it decides to create a structure of the young people for a conscientisation and a participative sensitizing in the field of peace and safety. The approach adopted is the control of the weapons since they are principal the tools of the violence and threat of violence.
Creation:
YOUTH FOR SECURITY CLUB is an organization which was created in April 2005 by a group of the young activists of the humans right.
Goal:
The goal of YOUTH FOR SECURITY CLUB is to contribute to the promotion and the protection of the peace and the safety of all, everywhere and with all the time.
Objectives:
- To bring the young people to the mutual disarmament of the spirits and the combat against discrimination and badly disposed handling
- To train and inform the young people on the process of the United Nations for the prevention, the combat and the elimination of the illicit circulation of the light weapons and small arms
- To plead for the framing of the young people
- To take care on the movement of the weapons and the program of the government for peace and safety.
Activities:
- Do communication and information, it act of the press releases, the radio messages, the meetings of information and experiments, the posters and bulletin for information...
- Pleas for the improvement of the conditions of the young people
- Collections and handing-over official of the weapons voluntarily given by the civil population in collaboration with organization DAGROPASS
Partnership:
- At the local level: Organization DAGROPASS, communal committees of the young people in BUJUMBURA town, the Association of the women against the weapons
- At the international level: IANSA (International Action Net work one Small Arms), WWSF (World Women Summit Foundation)
Organisational structure: A general assembly, a board of directors and an executive secretariat.
Achievements: - 12 produced and diffused news bulletins
- 4 Workshops debates organized on nonactive violence and the acceptance of the other.
- 10 young people ex-serviceman socially reinstated
- 9 young local sensitizers formed on the mechanisms of conscientisation and sensitizing in zone post war.
• Magnus Haavelsrud, Professor, Norwegian University of Science and Technology in Trondheim, Norway. Magnus Haavelsrud is a Member of the HumanDHS Global Advisory Board.
• Karen Murphy, Director of International Programs for Facing History. Karen Murphy is a Member of the HumanDHS Global Advisory Board, and Karen is also a Member of the HumanDHS Education Team.
• Luda Bryzzheva, Education Department, Adelphi University, Long Island, USA.
• Navaraj Pudasaini, human rights lawyer working in Nepal.
• Dinesh Raj Regmi, colleague of Navaraj Pudasaini.
• Adenrele Awotona, Professor, Founder and Director of the Center for Rebuilding Sustainable Communities after Disasters at the University of Massachusetts Boston.
• The Role of Dignity and Humiliation for Rebuilding Sustainable Communities after Disasters, presentation held at the 2007 Workshop on Humiliation and Violent Conflict, Columbia University, New York, December 13-14, 2007.
• The Role of Dignity and Humiliation for Rebuilding Sustainable Communities after Disasters, presentation held at the 2008 Workshop on Humiliation and Violent Conflict, Columbia University, New York, December 11-12, 2008.
• Climate change, Destructive conflicts and Humiliation: matters arising, presentation held at the 2009 Workshop on Humiliation and Violent Conflict, Columbia University, New York, December 10-11, 2009.
• Stein Villumstad, Deputy Secretary General, Religions for Peace-International, 777 United Nations Plaza, New York, NY.
• Camilla Hsiung, MA, received her master's degree in psychology from Teachers College, Columbia University in May 2007 after 2 decades of ungratifying work in the corporate world. She has since discovered a more meaningful calling in social science. General areas of interests include social psychology, personality, and neuropsychology. She has written papers on aggression and terrorism, personality disorders, and has worked as an interventionist in a motor research lab which resulted in completing her master's project and thesis on the neuropsychology of young children with hemiplegic cerebral palsy. She has also done research coding and analyzing data for studies about sexuality trainings in China. (Some of this work will be published in an upcoming edited book by Dr. Judy Kuriansky which will be due out this year.) She has traveled to faraway places to meet international clinicians and students in cross-cultural exchanges such as Buenos Aires, Cairo, and Beijing. One of her goals in China is to contribute to bicultural/international psychology aimed toward improving the role of women and their relationships, eradicating the abuse of women and children, reducing stress and preventing mental illness. In the near future, she endeavors to pursue a doctoral program and to conduct research related to social psychology that would serve to further the understanding of the complexities of the human condition for promoting a more humane global society.
• Kathrin Kugler, International Center for Cooperation & Conflict Resolution, Teachers College, Columbia University, New York, USA.
• Rafi Nets, International Center for Cooperation & Conflict Resolution, Teachers College, Columbia University, New York, USA.
• Lukasz Jochemczyk, International Center for Cooperation & Conflict Resolution, Teachers College, Columbia University, New York, USA.
• Ami Dayan, Director of "Masked," a play by an Israeli playwright about 3 Palestinian brothers at the DR2 theater in Union Square, NY, a powerful, provocative, compelling play about the conflict between, within, and around this family caught in the conundrum of the Middle East situation.
• Thushari Samarawickrama, from Sri Lanka, since early 2006 a Programme Expert at the United Nations Office on Drugs and Crime in Vienna, Austria; formerly a Fulbright scholar enrolled in the MA in Conflict Transformation at the Eastern Mennonite University.
On 28.11.2005, she kindly wrote:
I would like to participate at the forthcoming workshop on Humiliation and Violent conflict....
The concept of Humiliation and Violent conflict had been an important topic in my career and academic work. In my current studies at the EMU I have undertaken a research project on dealing with emotions during negotiation processes (based on Beyond Reason by Roger Fisher). Before arriving at the USA as a Fulbright scholar (in September 2005), I have gained 7-10 years of work experience in many fields of activites in countries such as Tajikistan, South Africa, Sweden, India, Sri Lanka etc. I have worked during complex humanitarian emergency situations, early warning systems & disaster preparedness, program management & development, transitional justice, conflict transformation and journalism. My work responsibilities ranged from being an activist to a Program Manager in the organizations that I have served; such as Caritas Internationalis (Caritas Belgium and Austria in Sri Lanka) Red Cross (in Sri Lanka and India), the International Centre for Transitional Justice (in South Africa), the Stockholm International Peace Research Institute (Sweden) and the Ministry of Foreign Affairs (in Sri Lanka) and my most recent work experience was in Tajikistan (Central Asia) as a Project Advisor/Consultant in a Disaster Preparedness project with the Care International. Also I hold a Master of Arts in Peace and Conflict Studies from the European Peace University in Austria. Given my exposure and interst in Humiliation and Violent conflict, I would really appreciate an opportunity to participate at it.
• Garry Davis, Former US Presidential Candidate, and peace activist who created the first "World Passport." A former World War II bomber pilot and Broadway actor, he renounced his American citizenship in Paris in 1948 to become a "citizen of the world." Davis founded the World Service Authority, which now issues the passports - along with birth and other certificates - to applicants. Davis first used his "world passport" on a trip to India in 1956, and has been variably admitted into or jailed by countries around the world after using his world passport. Up to 150 countries have purportedly accepted the world passport at one time or another. In France, his support committee was co-founded by writers Albert Camus and André Gide and the Abbé Pierre (quoted from wikipedia). Garry can be watched under the story tab at www.onefilms.com.
• Ron Rudolf, member of a volunteer organization called Alternatives to Violence Project (AVP) that gives workshops in prisons. He has recently completed the facilitator training and have participated in two prison workshop so far, the last as an assistant facilitator. He is also familiar with Marshall Rosenberg's work, having attended one of his workshops and reading his book.
• Elizabeth Miller, Chief Scientific Officer, Co-founder of DatStat, Inc.
920 North 34th Street, Suite 200, Seattle, WA, USA.
• Hua-Chu Yen (Ed. D.) is an artist, educator and digital media specialist. She has been participating with TC's Mindfulness and Education Working Group since its inception in 2010. Her interests lie in incorporating mindfulness practice to teaching and learning, and, in particular, to foster one's creative process.
Hua-Chu received her doctorate from the Art and Art Education Program at Teachers College, Columbia University. Her research examines the intersections within digital media, emerging technologies and cinema through the prisms of philosophical ideas and artistic expressions. With her master degree in Art and Art History from Tufts University and in Interactive Telecommunications Program from New York University, Hua-Chu Yen has worked for museums, I.D. Magazine, and Art Science Research Lab, and taught photography and video at Teachers College. A native Taiwanese, Hua-Chu has published two books and numerous articles about visual art in New York for general public in Chinese-speaking communities.
• Ines Ariceta, M.A. in Social & Organizational Psychology, ICCCR Associate Administrator, The International Center for Cooperation and Conflict Resolution (ICCCR), Teachers College- Columbia University, New York.
• William McConochie, psychologist specializing in research on politcal psychology topics, Eugene, Oregon, USA. Bill kindly stepped forward, during our 2007 workshop, and offered to coordinate our Global Dignity & Humiliation Assessment Initiative.
• James Westaby, Associate Professor of Psychology and Education, Teachers College, Columbia University, New York, NY, USA.
• Sabina Alkire, Director, Oxford Poverty & Human Development Initiative (OPHI), Department of International Development, University of Oxford, Oxford, UK.
Sabina Alkire kindly wrote ( 11/12/2007 ):
Dear Evelin,
Greetings. Attached please find two documents:
1) a 'shortlist' of indicators that include our shortlisted indicators on humiliation
2) a note drafted for your 13-14 Dec Event, explaining very briefly our research interests and progress to date here at OPHI.
The paper (Zavaleta 2007) on Shame and Humiliation may be accessed here: http://ophi.org.uk/pubs/Zavaleta_Shame_Humiliation_Final.pdf .
I hope that your meeting goes very well indeed! There is, in our experience, definite interest in the module. However we need to do a bit more work both to strengthen the survey instruments, and to undertake empirical analysis of interconnections between shame/humiliation and other aspects of poverty and well-being, and also interconnections with approaches to poverty reduction (e.g. rights-based, capability both have a central role for dignity and self-respect).
My colleague Emma Samman is now leading the 'missing data' research at OPHI, and primarily drafted the attached note. I have cc:ed her on this email.
Best wishes for your important workshop and meeting.
Sabina
• Sophie Schaarschmidt is writing her dissertation that focuses on (emotional) barriers in dialogue between youth from Israel and Palestine. Sophie Schaarschmidt is also a Member of the HumanDHS Global Core Team, the HumanDHS Education Team, and of the HumanDHS Research Team.
• Detective James T. Shanahan, Police Department of the City of New York Office of the Deputy Commissioner, teaches also at John Jay College of Criminal Law, an approach originally called Verbal Judo, now termed Tactical Communication in his use of it at the Police Academy.
Detective James T. Shanahan is a decorated veteran of the New York City Police Department with over thirty years of experience. James is a credentialed subject matter expert on conflict resolution, criminal investigation and police methods and tactics. For many years he taught at the Police Academy and was Senior Instructor of Special Projects for the Office of the Deputy Commissioner of Training. He is currently assigned to the Special Investigations Division of the NYPD Detective Bureau and is an active member of the Hostage Negotiation Team. James is an adjunct lecturer at John Jay College of Criminal Justice where he is chief instructor of the Safe Handling of Emotionally Disturbed Person's workshop taught to members of the NYPD. James is an accomplished stage, television and screen actor and a lifelong practitioner of traditional Japanese martial arts.
He recently transferred from the Training Bureau to the Detective Bureau, and assuming the duties as an active hostage negotiator, thus having been afforded a unique opportunity to put into direct and authentic practice the principals he has heretofore presented at the Police Academy. Conflict Resolution:
- Spirit & Technique will focus on providing an understanding of the ENERGY of conflict, the need for EGO deflation, a clear definition of ETHICS and the continued cultivation and promotion of EMPATHY. This session will highlight the amalgamation of eastern martial arts philosophy and western behavioral science and is aimed at supporting the efforts of law enforcement personnel and first responders.
James wrote kindly (13 March 2008): "The course I present is entitled Tactical Communication to Promote Professional Public Interaction. It is informed by the master work, Verbal Judo by George Thompson, Ph.D., This system is an amalgam of western and eastern perspective as it relates to conflict resolution. Presently, I am a branch chief for Thompson's Verbal Judo Institute where I bring this important workshop around the United States. For the New York City Police Department I function as the chief instructor for Deputy Commissioner of Training, Wilbur L. Chapman. My most recent training venue was for the US military assigned to Guantanamo Bay, Cuba. With your permission, for you I would prefer to represent the NYPD rather than the commercial enterprise of Verbal Judo. Commissioner Chapman has directed that I lead training as it relates to a number of subjects relevant to police and community concerns. My connection with Adair was one in series of important chance encounters that I trust will speak to this initiative."
• Brian Trautman, M.Ed., Doctoral Student, ELC, Fielding Graduate University, and Adjunct Faculty, Peace and World Order Studies, Berkshire Community College.
Brian kindly wrote (March 23, 2008):
Much of my current work and research in peace education involves the scientific wisdom of systems thinking and the relational, spiritual wisdom of Eastern mysticism and feminist/Indigenous worldviews. I believe an awareness and understanding of the relationships and patterns that exist across these areas can have significant and far-reaching positive implications for violence prevention education and initiatives for peace and nonviolence -- an appreciation for the chaotic and complex beauty of natural systems and spirituality for personal, individual, community, and global peace development and sustainability. How can we apply this knowledge and wisdom to peace education research and praxis--to educating for sustainable peace making and harmonious coexistence? This is a question I hope to continue examining through my research. I believe it is a critical issue for peace education for the 21st century. In practical terms, I think it involves educating for a culture of peace through the primary, secondary, and community college level, and through local communities, perhaps community-based peace organizations and peace cafes (an example would be the peace cafe introduced into Hamilton, Ontario, Canada just last year). It involves recognizing and actively addressing the structural violence found in various systems, namely in educational, political, economic, health-care, and criminal justice systems. This, in my view, is a great discussion and debate and can be used to encourage the type of change agents and sustainable peace education we need in schools and communities to prevent and end structural violence. Thank you! Peace Be Still, Brian"
Brian kindly wrote (October 25, 2008):
In addition to my curiosity as to the ways in which systems thinking and indigenous worldviews inform peace education, another personal research project examines how the Earth Charter contributes to our goal of protecting human dignity and security and preventing violent conflict. Among various educational strategies and activities involving the Charter and Earth Charter Initiative (ECI), I am interested in learning how the principles and goals of the Charter are being implemented in higher education curriculum (in peace studies programs) to educate on democracy, care, responsibility, human rights, nonviolence, social and economic justice, ecological integrity, and sustainable development. How does the Earth Charter advance the above concepts and practices and thus work as a tool to both prevent violent conflict and build a sustainable peace? What is being done in terms of education and direct action using the Charter to help meet the goals and objectives of The United Nations Decade of Education for Sustainable Development (2005 - 2014)? What are the successes, benefits, and barriers of Charter education in higher education? What, if any, institutional resistance has the Charter met in educational systems in the United States? At Berkshire Community College, I teach a peace and sustainability course from an environmental-ecological security perspective, incorporating material on our understanding of how natural systems work and how they can serve as a model for building a culture of change and justice in social, cultural, economic and political systems (based, in part, on the trailblazing work of multiple researchers in the area, including F. Capra, D. Suzuki, V. Shiva, W. Maathai)... Yours in solidarity, Brian.
• Mitja Žagar, Ph.D., is employed at the Institute for Ethnic Studies (IES), in Ljubljana, Slovenia, where he studies ethnicity, ethnic relations and conflicts... He is a Full Professor at the University of Ljubljana (Faculty of Social Sceinces – FSS and Faculty of Law) and at the University of Primorska/Littoral (Faculty of Humanities, Koper – FH), lectures regularly at diverse universities in Bosnia-Herzegovina, Italy and Hungary, while he also taught at universities in Australia, Canada and USA... Dr. Žagar cooperates with a number of state institutions and bodies (e.g. Ministry of Culture, Ministry of Foreign Relations, etc., nongovernmental organizations and international organizations (e.g., UN, Council of Europe, OSCE, OSCE High Commissioner for National Minorities, etc.). 2001–2003 he was the coordinator of the Task Force on Human Rights and Minorities of the Stability Pact for SE Europe.
• Patty and Paul Richards, Sente, Oregon, USA.
• Jacqueline Howell Wasilewski, Ph.D., is a Professor of Intercultural Communication at the Division of International Studies at the International Christian University (ICU) in Tokyo, Japan, and a specialist in the dynamics of multiculturation and in the use of structured dialogue processes in the management of complex issues.
• Arnhild Midgaard works with Redd barna (Save the Children) in Norway.
• Dr. Tony Gaskew is a Full Professor of Criminal Justice, Director of Criminal Justice, and Founding Director of the Prison Education Program at the University of Pittsburgh, Bradford. He is a Fulbright Hays Fellow and a University of Pittsburgh Faculty Diversity Fellow, who has conducted ethnographic research in Africa. His research examines the connective relationship between structural & direct violence, the criminal justice system, and the Black American experience. He is the author of numerous publications on issues surrounding social justice, including his 2014 book, Rethinking Prison Reentry: Transforming Humiliation into Humility. He also has published articles in distinguished journals such as Practicing Anthropology and Contemporary Justice Review.Due to his ongoing community outreach efforts in creating post-secondary educational initiatives within the Federal Bureau of Prisons since 2007, he recently received the FCI McKean Volunteer of the Year Award.
See more publications, for example:
• Policing Muslim American Communities, 2008, New York: Edwin Mellen Press.
• The Role of Humiliation and Dignity for Structural, and Political Violence, contribution shared at the 2009 Workshop on Humiliation and Violent Conflict, Columbia University, New York City, December 10-11, 2009.
• "Are You With the F.B.I.? Fieldwork Challenges in a Post-9/11 Muslim American Community," in Practicing Anthropology, 31 (2), 2009, pp. 12-17.
• "Peacemaking Criminology: An Ethnographic Study of Muslim Americans, the USA PATRIOT Act, and the War on Terror," in Contemporary Justice Review, 12 (3), 2009, pp. 345-366.
• Released: Searching for Dignity and Respect Through Prison Re-entry Initiatives, contribution shared at the 2010 Workshop on Transforming Humiliation and Violent Conflict, Columbia University, New York City, December 9-10, 2010.
• Rethinking Prison Reentry: Transforming Humiliation into Humility (Abstract | Pdf | Video), reflections shared at the 2014 Workshop on Transforming Humiliation and Violent Conflict, Columbia University, New York City, December 4-5, 2014.
• Dr. Elena Mustakova-Possardt, Individual, Couples, and Family Psychotherapist, and
Educational & Organizational Consultant.
• Sarwar Alam, Ph.D., is a post-doctoral research fellow at the Middle Eastern & South Asian Studies Program, at Emory University, in Atlanta, Georgia, USA.
• Eric C. Marcus, Prinicipal of The Marcus Group, Maximizing Organization, Team & Individual Development, New York, NY, USA.
• Liz Wald, New York, NY, USA. Liz Wald founded Economic Development Imports (EDImports) in 2003 with the mission of using the tools of business to provide income-generating opportunities to women living in marginal socioeconomic conditions. In 2008 she transitioned out of importing and launched a consultancy, Economic Development Impacts (EDImpacts), focused on helping socially-minded businesses achieve both their financial and mission related goals.
• Sara Green is the Founder of ART, Art for Refugees in Transition.
• Jack Goldstone, Virginia E. and John T. Hazel Professor at George Mason University School of Public Policy, Eminent Scholar, and a Mercatus Center Fellow. Professor Goldstone's interests include revolutions and social movements, demography and international security and social theory. Professor Goldstone has conducted over twenty years of prize-winning research on social conflict and social change, focusing on global patterns of comparative development. He has held various visiting and permanent appointments at Northwestern University, The University of California, the California Institute of Technology, and the University of Cambridge. He has acted as a consultant to the World Bank, the White House and the Central Intelligence Agency. His research success has led to many opportunities to work with various organizations such as the Woodrow Wilson Center, Social Sciences Research Council, American Academy of Arts and Sciences and the National Science Foundation. He most recently worked at the University of California, Davis where he directed the Center for History, Society, and Culture as well as teaching Sociology (1989-present) and International Relations (1992-2003).
Professor Goldstone holds a PhD in Sociology from Harvard University.
• Chipamong (Chipa) Chowdhury, or Bhante Revata (monk's name, known in the monastic communities). He is a cyber monk, technomonk, global adventurer-monk, mindfulness teacher, storyteller, cyber-activist and interpreter. He speaks 7-8 languages. Among others, his works have appeared in Harvard Divinity Bulletin, Journal of Contemporary Buddhism, Buddhist Studies Reviews, Fair Observer, and Journal of Religion and Popular Culture. He has been with us since 2008 and is The HumanDHS Global Core Team Dignity and Humiliation Studies and Co-coordinator for the HumanDHS of the World Gender Association For Equal Rights (WGenderRED Project)".

• Sayaka Funada-Classen is Associate Professor at Tokyo University of Foreign Studies (2008-). Sayaka holds a Ph.D. in International Relations from Tsuda Colledge. She is the author of The Origins of 'Unity' and 'Division' in Contemporary Mozambican History, published in Japanese by Ochanomizu Shobo in 2007, awarded by Japan Association of African Studies in 2008.
• Øyvind Eikrem, Associate Professor of Social Sciences and of Mental Health at the University College of Stord/Haugesund, Norway. He studied social anthropology, clinical psychology and philosophy at The Norwegian University of Science and Technology, ending up with postgraduate degrees in all three fields. Eikrem obtained his PhD in 2005 from the same institution on a dissertation on the magic and mythic dimensions of modern economic life.
• Ya'ir Ronen is currently full time lecturer and researcher at the Department of Social Work, Ben-Gurion University, in Israel. Trained in law and counseling, he has been involved in child advocacy and social activism adopting the perspective that law should act as a healing therapeutic force. As a child advocate, he worked with youth at risk, youth in conflict with the law, Palestinian and Israeli youth involved in the Palestinian Israeli conflict, and he promoted legal and policy reform in Israeli child law. This year, two collections of papers co-edited by him have been published, one in English, "The case for the child – towards a new agenda," and the other in Hebrew, "Human rights and social exclusion in Israel." In his writing, teaching and public work, he is currently exploring how law could relate to human suffering and othering, to the experience of compassion by legal decision makers, to non-violent struggle by youth, and to children's sense of belonging.
Please see:
• On Dignity, Humiliation, Non-violent Struggle and Israeli Jewish Identity, contribution shared at the 2008 Workshop on Humiliation and Violent Conflict, Columbia University, New York, December 11-12, 2008.
• On the Child's Right to Identity, the Best Interests of the Child and Human Dignity
contribution shared at the 13th Annual Conference of Human Dignity and Humiliation Studies "World Peace through Humiliation-Free Global Human Interactions," in Honolulu, Hawaii, August 20 to 23, 2009.
• Non Violent Opposition to a Violence Ridden Status Quo and Responsiveness to the Child, contribution shared at the 2009 Workshop on Humiliation and Violent Conflict, Columbia University, New York, December 10-11, 2009.
• Gila Ronen is a practicing family therapist and gives supervision to youth workers all over the south of Israel, she also teaches several courses at Beer Sheva's Key teacher's college.
• Judge Ginger Lerner-Wren was elected to the 17th Judicial Circuit, Broward County, Florida in 1996, and was assigned to the Broward County Criminal bench in January 1997. Her regular criminal court responsibilities include the administration of a full, regular criminal misdemeanor division, including presiding over all dockets, pretrial motions, probationary matters and jury trials.
• Ellen Marie Hansteensen, a journalist based in Norway (Vesterålen) and the Middle East, writing write a book on the Israeli Palestinian conflict with Hebron as a geographical frame.
• Helen Benedict is a novelist and journalist specializing in the Iraq war, women's issues, race, and literature. Her most recent nonfiction book is The Lonely Soldier: The Private War of Women Serving in Iraq, to be published in the spring of 2009 by Beacon Press. In May 2008, she had an Op-Ed in the New York Times on the subject, and in March 2007, published a piece on the sexual assault of women soldiers in Salon magazine, which won the James Aronson Award for Social Justice Journalism. Her other nonfiction books include Virgin or Vamp: How the Press Covers Sex Crimes (1992), an analysis of the way sex, race and class bias affect the coverage of rape; Portraits in Print (1991), a collection of profiles; and Recovery: How to Survive Sexual Assault (1985, 1994). Her novels include The Opposite of Love (Fall, 2007), The Sailor's Wife (2000), Bad Angel (1996, 1997) and A World Like This (1990). She has worked as a newspaper feature writer in London and California, has written for magazines including The New York Times Book Review, The Washington Post, The Nation, Poets & Writers, and Women's Review of Books, and is widely anthologized. She has received fellowships from Yaddo, MacDowell, the Virginia Center of the Arts, and the Freedom Forum.
• Maurice Benayoun is a transmedia artist born in 1957. His work explores the potentiality of various media from video, to virtual reality, Web and wireless art, public space large scale art installations and interactive exhibitions. Maurice Benayoun's work has been widely exhibited all over the world and received numerous international awards and prizes.
• Robert Mwaniki, Consultant, Travel Consultancy Firm Benchmark Consultacy Services.
• Samir Basta is the former Director of Unicef Europe, was born in Cairo, Egypt in 1943. After graduating from Victoria College, he obtained a B.Sc Hon. Degree from the University of Surrey in the United Kingdom and in 1974 a Doctor of Science degree in Nutritional Biochemistry and Physiology from the Massachusetts Institute of Technology (MIT) in the United States of America. [...] Dr. Basta has worked in over thirty countries in Latin America, Asia, Africa and Europe and is fluent in Spanish, French, English and Arabic. He has been the author or co-author of around two dozen scientific and development orientated papers.
• Annie Smiley is a Program Assistant of Programs in International and Comparative Education at Teachers College, Columbia University, New York, USA .
• Omar Mahamoud is the director of Friends of Suffering Humanity, an organisation in Ghana with the aim to assist trafficked persons to re-establish healthy and normal lives through coordinating services in health, job skills training, and educational services to establish a safe and secure shelter for trafficked persons and a resource center to provide ongoing training. Lack of emotional involvement often causes a lot of pain to the victims in rehabilitation processes. In many cases public humiliation pushes back a rehabilitated person into stigmatization and discrimination.
• Joshua S. Goldstein is Professor Emeritus at the School of International Service, American University, Visiting Professor Emeritus at Yale University (Fall 2008), Nonresident Sadat Senior Fellow at CIDCM, University of Maryland, and Research Scholar at the Department of Political Science at the University of Massachusetts, Amherst, MA, USA.
• James W. Jones, PSY.D, PH.D, TH.D, has earned doctorates in both Religious Studies and Clinical Psychology, as well as an honorary doctorate from the University of Uppsala in Sweden. He is a distinguished professor of Religion and adjunct professor of Clinical Psychology at Rutgers University in New Brunswick, New Jersey, a lecturer in Psychiatry and Religion at Union Theological Seminary in New York, and a visiting professor at the University of Uppsala in Sweden. He is also a senior research fellow at the Center on Terrorism at John Jay College in New York.
• Uichol Kim is a Distinguished Professor at the College of Business Administration, Inha University, Korea. He has published 15 books and over 150 articles. He has taught at University of Hawaii, University of Tokyo and Chung-Ang University, Korea. His publications include Indigenous and Cultural Psychology (with K. S. Yang & K. K Hwang, Springer, 2006), Democracy, Human Right and Islam in Modern Iran (with H. S. Aasen & Shirin Ebadi, 2003, Nobel Peace Prize Laureate, Fagbokforlaget, 2003), Democracy, Human Rights and Peace in Korea (with H. S. Aasen & G. Helgesen, 2001), Progress in Asian Social Psychology (with K. Leung, Y. Kashima & S. Yamaguchi, John Wiley & Sons, 1997), Individualism and C ollectivism (with H. C. Triandis, C. Kagitcibasi, S. C. Choi & G. Yoon, Sage, 1994), Indigenous P sychologies (with J. Berry, Sage, 1993).
• Seema Shekhawat holds a doctoral degree from the University of Jammu, J&K on the topic "Impact of Conflict Situation, Militancy and Displacement on Women: A Study of Jammu Region." She has written a book titled "Conflict and Displacement in Jammu and Kashmir: The Gender Dimension." She works together with Debidatta Aurobinda Mahapatra [...] Currently, both are doing research on the Kashmir across the line of control.
• Debidatta Aurobinda Mahapatra is the director of the Mahatma Gandhi Center at the Hindu University of America in Orlando, Florida. He has worked with the Centre for Central Eurasian Studies at the University of Mumbai in India. He holds a doctoral degree from the Jawaharlal Nehru Uni-versity, New Delhi on the topic "Russia and the Kashmir Issue Since 1991: Perception, Attitude and Policy." He has written a book titled "India-Russia Partnership: Kashmir, Chechnya and Issues of Convergence."
He works together with Seema Shekhawat [...] Currently, both are doing research on the Kashmir across the line of control.
• Monisha Bajaj, Assistant Professor of Education Educational Background Ed.D., Teachers College, Columbia University. Scholarly Interests: Comparative and international education; peace education; human rights; politics of education; critical pedagogy; social inequalities in education; collective action; gender issues in education; sub-Saharan Africa, South Asia, Latin America & the Caribbean, and the United States.
• Reinaldo Rivera, Jr. is the Regional Director, Northeast/Caribbean Region, United States Department of Justice Community Relations Service (CRS). The CRS is the federal government's "peacemaker" for community conflicts and tensions arising from differences of race, color, national origin, religion, gender, sexual orientation, gender identity or disability. Mr. Rivera first joined was appointed Regional Director of the Northeast/Caribbean Region in 2001.
With more than 45years of public service leadership in dispute resolution, mediation, and peacemaking, Mr. Rivera is dedicated to crisis management work in multi-cultural contexts. Prior to joining CRS, Mr. Rivera served for more than ten as a senior faculty member in the Antioch University Graduate Program in Cambridge, MA. He has also served as the Coalition Resource Advisor to fight the harms of substance abuse in cities for Join Together, a project of the Robert Wood Johnson Foundation, at the Boston University School of Public Health. Mr. Rivera has been recognized for Outstanding Leadership and Public Service, by the Lincoln-Filene Center, at Tufts University, Medford, MA. Mr. Rivera holds advanced degrees in Social Policy from Harvard University and a B.A. in Sociology/Anthropology from Middlebury College in Vermont.
Please see:
• Humility and Humiliation As Distinctly Divergent and Compelling Concepts, contribution shared at the 2009 Workshop on Humiliation and Violent Conflict, Columbia University, New York, December 10-11, 2009.
• Ibrahim Mahamid is a second year Ph.D student at Durham University, UK, in Government & International Affairs, Middle Eastern and Islamic Studies. He specialises in subjects within Islamic banking. He has a keen interest in politics and human dignity. He is originally from Palestine.
• Ann Racuya-Robbins, artist, entrepreneur and Founder and CEO of the Wold Knowledge Bank® LLC. The World Knowledge Bank® is a virtual democratic country and a generous and just complex system pioneering the field of life knowledge. Racuya-Robbins holds an International Patent Application pending PCT/US07/62466 for a System for Knowledge Creation which is the underlying system and breakthrough for a new economic model of abundance and justice for all life. This enterprise has its own Constitution, Bill of Rights and Responsibilities and System of Justice and Enforcement. Born and raised in the Pacific Northwest of the United States Racuya-Robbins first attended school in Florence Italy. She has an MFA in Electronic Music and Recording Media with honors from Mills College, Oakland CA. Shortly after graduating from Mills College, while working on a Ph.D. at the University of California at Berkeley she began her long running philosophical work Wholeperception, a directive non-linear theory of perception/experience.
• Adrienne Asch, Professor and Head of a Center of Ethics at Yeshiva Medical School, a world renowned bioethicist and authority on the rights of the disabled, holds both an MS in Social Work and Ph.D. in Social Psychology from Columbia University. She has served on the New Jersey Commission on Legal and Ethical Problems in the Delivery of Heath Care, as a senior Human Rights Specialist with the New York State Division of Human Rights, as a member of the Social Security Administration's Commission Childhood Disability, and as a consultant to the Secretary's Advisory Committee on Genetic Testing (DHHS). In 2003 she was a Fellow at the Hastings Center and received an Honorary Doctor of Laws Degree from Swarthmore College in 2001. She is the author or co-author of numerous books, monographs and articles dealing with reproductive rights, disabilities, and bioethics.
• Noella Nicipaye, Rosetta Musimwa Lusiku, and Eloi Ntunzwenayo, via Alice Nduwimana, Youth for Security Club, Great Lakes, Africa. Noella Nicipaye is a young woman who specializes in the consequences of the violation of the human dignity, and the humiliation of minority sexually abused girls, and Rosetta Musimwa Lusiku deals with the psychosocial assistance with the violated women.
• Daniel Shapiro, Associate Director of the Harvard Negotiation Project at Harvard Law School. He is on the faculty of Harvard Law School and Harvard Medical School's Department of Psychiatry. Trained in clinical psychology, his research and teaching focus primarily on the role of emotions in negotiation and international conflict management.
• Laura McGrew, PhD Candidate at Coventry University, Coventry, UK. Thesis topic: An Analysis of Reconciliation in Cambodia: The Role of Third Party Interventions.
Please see:
- Transitional Justice Approaches in Cambodia (2006)
- Justice and Reconciliation? Can the trials for the Khmer Rouge bring reconciliation and healing to Cambodia (2006)
• Gabrielle Roth: On gabrielleroth.com, we read: Gabrielle Roth has turned thousands of people across the globe on to the inner, healing rhythms of their dancing souls, the creative brilliance of their innate originality and the unexpected daring to express themselves in theater, dance and poetry. Through her movement philosophy, the 5Rhythms®, Gabrielle and her certified teachers world-wide have helped people of all ages discover that when you put the psyche in motion, it heals itself. Based in New York City, Gabrielle has written three books, produced three DVDs and 20 albums. Through her ongoing interactive-live theater, catalytic classes and workshops around the world, Gabrielle continues to inspire and guide people on the path of shaping life itself into a work of art. She has been featured in Bazaar, Donna Karan's Woman to Woman, Utne Reader, Self, Elle, Mademoiselle, New Age Journal, Body Mind Spirit, Shape and many other national publications.
5Rhythms communities are flourishing from Croatia to Korea, from Maui to Manhattan, from Toronto to Tel Aviv.
• Jonee Austin, Teachers College, Columbia University, NY, USA.
• Laine Paloma Strutton has received her M.A. in Human Rights from Columbia University and is now a Ph.D. candidate in Law and Society at New York University. Her dissertation is on the function of rape as a weapon of war in Sub-Saharan Africa. Her research includes the role of humiliation in the sexual exploitation of women in Uganda, Sudan, and DRC. She has an M.A. in Human Rights from Columbia University and her thesis focused on the abuse of female child soldiers during armed conflict.
• Dr. Kenneth Suslak is a Professor of Clinical Psychology and Interdisciplinary Studies at the Union Institute and University and a Clinical Psychologist for over 35 years with a specialization on the effects of war and oppression on children. He has provided consultation, treatment, and training services for professionals and indigenous workers in many countries, including Belarus, Latvia, Russia, Israel/Palestine, and the U.S.
• Cesar Gayoso is living in NY. At this moment he is preparing an electronical Bulletin about the Challenges of Latin America in front of the globalizacion and its institutions. Scholars and diplomats from South America will participate. This electronical Bulletin is being built by the Independent Network "Red Democratica". Cesar is the founder and the administrator. This year we will have 10 years of being on line and that is the reason for the publication of this Bulletin. It is the Sixth. The address of the blog is: Http://reddemocratica.blogspot.com. It is going to be in Spanish and English. And he would like to invite everybody interested to this publication to submit a short article (no more of two or three pages). The deadline is second week of december. There are a lot of topics, as, for example, how to build global democracy, conflict resolution, human rigths, ecology, transitional justice, track 2 diplomacy, the role of psychologist during the age of the terrorism, etc.
Some years ago as a political analyst he prepared some papers about political campaigns in Peru, the role of race and ethnicty in the presidential peruvian elections in 1995, and another aout perceptions during the terrorism age in Peru from the perspective of political psychology. He published a first article, Taking Down the Tupac Amaru: A Personal Account, in 1997, it was published by the International Bulletin of Political Psychology (IBBP). The full article can be accessed at the electronic address here.
• Kenneth Parsons holds the Chair of Philosophy and Religious Studies at Avila University in Kansas City. He teaches philosophy and ethics and is one of the lead organizing members of a centre for Global Studies. He aims to ground this work in a complex confrontation and appreciation of humiliation and dignity. Ken's primary research interests are violence, systemic or structural. Please see here a quote: "in what sense is power an organising force that makes possible, or produces, relations of violence? How can we better understand, both analytically and ethically, the reality of violence where individuals are not intending harm against one another but rather it is part of the fabric of institutional and social life and an avoidable condition of human relations?... One major impediment to the realisation of socially just relations between persons is the lack of ability for people to 'see' (in a literal and moral sense) the violence of everyday life. Through its very identification as a reality we are making moral judgements. Within social justice advocacy and movements, the reduction and elimination of violence as a way to realise more dialogical, nonviolent relations between social beings is of utmost importance."
• Jill Strauss, Ph.D. student at the University of Ulster Academy for Irish Cultural Heritages.
Jill Strauss will present on her completed fieldwork project demonstrating how peace and conflict theory can be applied to the creation and viewing of art. The intergenerational cross-community (Protestant and Catholic) workshops took place over three months in Portadown, Northern Ireland. The project culminated in a two-month exhibition entitled Impressions at the Millennium Court Arts Centre. All the emerging artists (except one) are from the North of Ireland and 23 years old or younger. These young people and others like them have grown up since the 1994 Ceasefires and the 1998 Good Friday Agreement in a society in transition from violence to peace but in some cases have inherited the prejudices and stereotypes of the past. At the same time, the older people have first-hand expereince of the Troubles and also an earlier, more integrated Northern Ireland . This project addresses both religious prejudice and age related bias, the role of imagination in times of transition and how the creation of art and the art work can be used to address long held humiliations through validation and trust building with 'the other' and teach the attitudes, skills and knowledge of peace.
Jill kindly wrote (November 15, 2008):
Dear Evelin,
My name is Jill Strauss and I am a graduate of TC-Peace Ed. and Conflict Resolution. I attended the workshop 2 years ago and found it very interesting and useful. For the last 2 years I have been living in Northern Ireland working on my PhD at the University of Ulster Academy for Irish Cultural Heritages... For my research framework I applied peace and conflict theory to the creation and viewing of art in a society in transition (Northern Ireland) from (overt) violence to (relative) peace. I just completed my project and exhibition at the end of September and now I have returned to NYC to write my thesis/dissertation. I know it's very late to ask if I can attend the 2 day workshop but it would be very useful for my research I'm sure. I've been traveling a lot and moving and it's just been hectic. Anyway, it would be great to be able to attend. Also, as my project addressed issues of validation of humiliation through art and storytelling perhaps my project is of interest to the workshop.
Thanks and I look forward to hearing from you soon.
Best regards,
Jill Strauss
PhD student
• Ragnvald Kalleberg is a Professor of Sociology in the Department of Sociology and Human Geography at the University of Oslo, Norway. He has published in sociology of science (history of science, academics as public intellectuals, research ethics, research policy), sociology of organizations (knowledge organizations, work environment improvements, workplace democracy), and general social theory (theories of modernity, philosophy of science, discourse ethics, Habermas). As a sociologist he insists that ethics has both to do with the morals of individuals and institutions, and their interplay. In the analysis of the ethos of science, he is interested in the individual and institutional norm of scientific humility. He has recently chaired the Norwegian National Committee for Research Ethics in the Social and Cultural Sciences for two periods. [read more]
• Alisa Klein is a public policy consultant specializing in the prevention of, and response to sexual violence; sexual violence in and after situations of disaster; sex offender-related public policy; and restorative justice. She serves as the as the lead researcher and writer for the National Project to Prevent and Respond to Sexual Violence in Disasters; as the Public Policy Consultant to the Association for the Treatment of Sexual Abusers; and as a researcher, writer, and public policy analyst and advocate for other organizations working on the prevention of interpersonal violence. Alisa recently completed a six-year term as a member of the Advisory Council to the National Sexual Violence Resource Center; is an Expert Panelist for the Sexual Violence Prevention Project of the International Association of Forensic Nurses; and served as a faculty member to the national training series of the Rape Prevention and Education project of the U.S. Centers for Disease Control and Prevention's Division of Violence Prevention. She has written numerous publications on various aspects of interpersonal violence prevention including the 2008 book, Sexual Violence in Disasters: A Planning Guide for Prevention and Response. Alisa has presented workshops, plenary addresses, and trainings on preventing and responding to sexual abuse, creating strategic public policy plans for sexual violence and child maltreatment prevention, public health prevention, effective public policy for sex offender management, preventing and responding to sexual violence in disasters and their aftermath, and using the tools of restorative justice to prevent and respond to interpersonal violence. Alisa has a Bachelor's degree from Smith College and a Master's degree in International Policy Studies from the Monterey Institute of International Studies.
• Eleanor Rubin kindly sent us her Dreams of Repair book for our book table. Thankyou! See www.ellyrubin.com
and http://ellyrubinjournal.typepad.com.
• Robley E. George is the founder and director of the Center for the Study of Democratic Societies, located in Southern California. Established in 1969, CSDS is a research and educational institution dedicated to the examination and explanation of the properties and possibilities of democratic societies and democratic socioeconomic systems. Robley's lifework has focused on Socioeconomic Democracy, which is a theoretical, practical and implementable model politico-socio-economic system, applicable around the globe, wherein there exist both some locally appropriate form and amount of Universally Guaranteed Personal Income and some locally appropriate form and amount of Maximum Allowable Personal Wealth, with both the lower bound on personal material poverty and the upper bound on personal material wealth democratically set and adjusted by all participants of a democratic society. He has published over fifty articles and two books on various aspects, ramifications and implications of Socioeconomic Democracy. His latest book is Socioeconomic Democracy: An Advanced Socioeconomic System (Praeger Studies on the 21st Century, 2002).
Robley sent us for our book table five copies of his book, Socioeconomic Democracy: An Advanced Socioeconomic System (SeD), and ten printed copies of his Democratic Socioeconomic Platform (DSeP), with the same ideas, condensed. He also enclosed are some copies of a single page introduction to the DSeP. This DSeP is identical to that available in pdf form at http://www.CenterSDS.com/DSeP.html
He kindly writes (November 25, 2008): "I would appreciate feedback on the ideas presented. Plots for a peaceful, democratic and successful revolution/transformation would also be welcome. Should we, really, write/create/set-to-music an On/Off Broadway stage play/movie/opera toying with the ideas? Humor and enlightenment, as you students of the mind are well aware, are intimately intertwined, and anticipatorily urge the developing process on and on. Please keep me informed and best of luck and progress in NYC. Rob George."
• Tiffany Melendez, Administrative Assistant, New York, and Kristabelle Munson.
• Susanna Pearce, New York.
Susanne kindly wrote (December 5, 2008):
Dear Linda...In short, having spent most of my career in international programs (either international development or study abroad), and more recently having switched my focus to psychology and the healing arts, I am very interested in Humiliation Studies as a way to bring these areas together. On a more personal note, empathetic connection in the international arena has been one of my favorite things since the time I was a child, and is one of my early memories. And the failure of empathetic connection in relation to Muslim country - US relations, on both an individual and country level, is something I've been interested in getting involved with for a while, though I have not yet found a way to do that. I am also very interested in what I have read about Relational-Cultural Theory. From what I understand, it is very much related to much of what I've learned through the IM School of Healing Arts, and is also related to what I wrote my Master's thesis at Cornell University on. In that thesis, I looked at the cultural underpinnings of both biomedicine and traditional healing in Nepal, and showed how biomedicine highly values independence as a state of health and sees (inter)dependence as deviant/immature whereas traditional medicine in Nepal views it the other way around. I then looked at how these systems of values, and assumptions about what is healthymature versus deviant/immature, play out when they come up against each other in international development projects -- and in women's empowerment programs in particular. I based that thesis on field work in traditional healing/shamanism in Nepal, as well as on my work experience as Executive Director of the international development organization Educate the Children and my work experience as Resident Coordinator (with a special focus on cross-cultural awareness education) of Cornell University's study abroad program in Nepal. My acedemic background includes a BA in Comparative Literature (with a minor in European Studies) from Cornell University, and an MA in Asian Studies (with a focus on Nepal and the intersection of medical anthropology, religion, and international development), also from Cornell University. I am also a graduate of the IM School of Healing Art's four year program, for which I currently teach, and am currently enrolled in a one-year body psychology professional training program in Core Energetics.
• Sindre Stenersen Hovdenak, student of Magnus Haavelsrud from Trondheim, Norway.
• Caitlin Rougeau is a student of Virginia Swain.
• Carrie O'Neil is an MPA student of Aldo Civico's at Columbia's School of International and Public Affairs. She is currently doing research on the role of identity, dignity and acknowledgement in post conflict reconciliation.
• Heather Lord is a grants officer from the Greentree Foundation on Long Island, hosting major UN meetings on international conflict.
• Robert Neer is JD/Ph.D Candidate in U.S. History at Columbia University. He is writing his dissertation "Napalm, An American Biography from 1942" to complete his Ph.D. in U.S. history. He received his M. Phil. in U.S. history from Columbia in June 2007. From 1991-2005, he worked in law, politics, venture capital, and entertainment media in London, Los Angeles, Hong Kong, Singapore and Boston. In 1991, he received a J.D. and an M.A. in U.S. history from Columbia. He studied politics as a Fulbright Scholar at the National University of Singapore in 1987, and received his A.B. from Harvard College in 1986.
See:
The Role of Humiliation and Dignity for the History of the Use of Napalm in War, contribution shared at the 2009 Workshop on Humiliation and Violent Conflict, Columbia University, New York, December 10-11, 2009
• Sondra Perl is a Professor at the PhD Program in English at the Graduate Center at the City University of New York. Her fields are composition theory and rhetoric, especially theories of composing and questions of voice; feminist theory, especially of writing and pedagogy; ethnography, especially urban ethnography and classrooms as sites of culture and literacy; urban education; cross-cultural dialogue; teaching as a site of inquiry; embodied knowing; creative nonfiction and memoir; Holocaust studies. See www.holocausteducators.org.
• Antony Adolf, author of Peace: A World History, was born in Montreal of Egyptian and Greek parents and currently lives in Chicago where he teaches. He received his B.A. from the University of Illinois, M.A. from the University of British Columbia, Vancouver, and a post-graduate certificate from Cornell University's School of Criticism and Theory. Visit and subsribe to his blog, "One World, Many Peaces."
• Jean Quataert, Ph.D., author of Human Rights Mobilizations in Global Politics, is Professor of History and Women's Studies at Binghamton University, SUNY. She takes graduate students in modern German History but is committed to broadening their training beyond the borders of Europe, by encouraging a field in comparative history or by analyzing German/European developments in their wider global contexts or by innovative methodological work that spans distinct cultures. On the undergraduate level, she teaches Modern World History and encourages her graduate students to work with her as Teaching Assistants to become involved in expanding this important new teaching field. Jean Quataert also offers a minor field in human rights history.
See Human Rights, Social Change, and History, contribution shared at the 2009 Workshop on Humiliation and Violent Conflict, Columbia University, New York, December 10-11, 2009.
• David C. Yamada is a professor of law and director of the New Workplace Institute at Suffolk University Law School in Boston. David is a globally recognized scholar and authority on workplace bullying and worker dignity. In addition to authoring leading law review articles on workplace bullying, he is the drafter of the Healthy Workplace Bill, model anti-bullying legislation that is serving as a template for law reform efforts. His most recent major publication is Maureen Duffy & David C. Yamada, eds., Workplace Bullying and Mobbing in the United States (Santa Barbara, CA: Praeger/ABC-CLIO, 2018).
• Beth Boynton, RN, MS, is a nurse author/consultant specializing in "soft skill" development, a pioneer in the use of experiential teaching methods from improv theatre to promoting these skills.
• Zuzka Kurtz is a producer/Director, a Czech born multi-media artist and filmmaker residing in New York City. She wrote and directed the Off Broadway dance and puppetry performance "My Inner Sole" in 2010. She wrote and directed a collection of nine short films "7 Ways 2 Skin A Cat" in 2013, and screened at Anthology Film Archives in NYC. Her first short documentary "Blade #1", shot in Brooklyn NY & produced in collaboration with Geoffrey Hug, was awarded Best Short Documentary at The Art of Brooklyn Film Festival, the NYLA International Film Festival, the Spotlight Film Awards, & the Atlanta DocuFest, and screened internationally at a variety of film festivals and on PBS. She has produced and directed the mini shorts "Eat Something" and "The Seamstress" in 2015, both films winner of Best shorts in the Milan and Rome Int'l Film Festivals and "Multi Species Family". Currently, she is producing with Geoff Hug a four year documentary "The Hudson Project Documentary," 2016-2020.
• Tzofnat Peleg-Baker is a scholar and a practitioner of sustainable human realities. Her main area of expertise is promoting people and communities' constant growth and well-being through dialogic interactions. Tzofnat's research and practice have underlined the role of dignity-based interactions for constructive relationships, in which less adversarial and more cooperative connection encourages learning and progress. She is currently working on gathering these ideas into a coherent theoretical framework in an attempt to systematically contribute to the burgeoning field of dialogic interactions and constructive conflict engagement.
Miss Peleg-Baker recently completed all her doctorate requirements in psychology except dissertation, with specialty in conflict management and mediation. Her research is located in the intersection of social, cognitive, and developmental psychology, proposing the improvement of mediators' expertise and performance via structured reflection. Her dissertation will focus on constructing dialogic organizational environments that improve learning, growth, and cooperation toward common goals.
Tzofnat holds a B.A in Sociology and Communications from the Hebrew University, an M.A in Communications from Indiana University, and an M.A. in Psychology from Rutgers University. She published articles including: "Beyond the Dichotomy of Styles- The Devil is in the Details: The Cognitive Characteristics of Mediator's Decision Making," 2012, "Sustainable Relationship: Sustainable Dialogue in Organizations," 2009, "Human Interactions and Conflicts through the Lens of Complexity Theories", 2007, "Managing Conflicts in the Organization and Workers' Rights," 2007, "Navigating Conflict to a Constructive Channel," 2005, "Conflict as a Lever for Effective Work Environments," 2005, "Whose Responsibility is it? The Role of Government and Private Sector in Promoting Constructive Management of Conflicts." 2004.
Tzofnat Peleg-Baker is a community and organizational mediator, and teaches conflict management and mediation, negotiation, constructive communication, dignity based relationships, and dialogue. She served as the Head of the Strategic Department of the Conflict Resolution and Mediation Center at the Israeli Ministry of Justice. In that capacity, she was a member of the national team that introduced mediation to Israel. Among her other activities, Tzofnat has led and facilitated participatory and democratic processes and nonviolence programs in the Israeli educational system. She has been a Board member, facilitator, and an activist of non-profit organizations dedicated to inter-group dialogue between Israelis and Palestinians, Jews and Arabs, and secular and religious groups, including Besod Siach (Intimacy of Dialogue), Tzav Pius (Conciliation Decree), One voice, and Ma'agal Hakshava (Listening Circle)- the "Council."
• Samuel (Muli) Peleg, an expert in conflict resolution, is the Schusterman Visiting Scholar in Israel Studies for 2009–2010. A professor of political science and communication at Netanya College and a senior lecturer at the Inter-Disciplinary Center in Herzliya, Israel, Peleg is also a research fellow at the Stanford Center for International Conflict Resolution and Negotiation. His books include If Words Could Kill: The Failure of the Israeli Political Discourse (Academon Books, 2003, in Hebrew), The Consuming Fire: the Fatal Nexus between Religion and Violence (Polity Press, 2009), and Communication: From Discord to Coexistence (Hakibbutz Hameuchad, forthcoming, in Hebrew). Peleg has been a top adviser on leadership and negotiations for the Peres Center for Peace and is currently the Israeli co-chairman of One Voice, an organization that promotes dialogue and reconciliation among various factions of Israeli society as well as between Israelis and Palestinians. At Rutgers, Peleg will teach "Israeli Politics" and "Israeli Society through Film" during the fall semester and two courses in the spring, including "Arab-Israeli Conflict."
• Yvonne Bernard, Management Consultant, NJ, USA.
• Denise Shaw, lawyer and certified mediator with Safe Horizon, USA. Safe Horizon is a victim assistance agency that provides support, prevents violence, and promotes justice for victims of crime and abuse.
• Yacouba Sissoko is a Master Kora player from the Djely griot tradition. He was born in Kita, Mali. His grandfather, Samakoun Tounkara, began teaching Yacouba when he was 12 years old. Samakoun's wife Bintouba Diabate was a famous singer in her own right. They raised Yacouba and educated him in his griot heritage and in many lessons about life. Oumou Tounkara, his mother, was a star in the Ensemble National du Mali. Yacouba attended the Institut National des Arts du Mali in Bamako. After his graduation, he played with artists like Taye and Oumou Sacko, Haja Soumano, Djallou Demba, Ami Koita, Fantani Koure, Kandia Kouyate and l'Ensemble Instrumental du Mali. In 1993, Souleymane Koli,the leader of the Ensemble Koteba of Abidjan recruited him. Yacouba spend the next 5 years performing all over the world with this 45-piece band. In his career, he has traveled to almost every nation on the African continent, as well as most of Europe, Canada, the US and Australia. He is in demand as one of the best kora players in the world, playing with jazz, Latin and R & B bands as well as traditional African ceremonies. As leader of his own band, Siya, and member of the group Super Mande, Yacouba continues to record with many famous musicians, including the groups Source, Tamalalou and Fula Flute.
• Joanna Komoska, EdD from Columbia, TC, in Family and Community Education, and an LCSW with an emphasis in family conflict and a mediator with advanced practitioner status from The Association for Conflict Resolution, as well as a founding member and first president of the only agency on Eastern Long Island that aids in shelter and other programs for survivors of family violence.
• BilQis Aidara Adjei, see blogs perspectivesofaperpetualforeigner.wordpress.com and baidara.wordpress.com.
• Fred Johnson has spent the past 16 years presenting international seminars on the power of creative expression as a tool for personal wellbeing and healing. As a student for 9 years of a master teacher from the West African natural healing indigenous music traditions, he brings to the contemporary world a fusion of ancient sound traditions coupled with 21st century science on the power of the vibration universe. Johnson has been involved in the development of global programs in America, Europe and the Middle East, bringing people together from diversified spiritual and cultural backgrounds to create artistic forums for learning, sharing, reconciliation, vision and hope. A highly regarded artist, visionary and spiritual teacher, Johnson inspires people to be conduits of justice, joy, truth and creative potential. He brings this expertise and commitment to his role as Artistic Director of Creative Content for Intersections. In addition to developing Intersections creative arts offerings, Fred will help with the development of programs to strengthen marginalized communities in the New York City area.
• Scott Gassman, IdeaJuice, and Adjunct Faculty member at Milano the New School for Management and Urban Policy. His current research focuses on workplace engagement strategies, disaster facilitation and large group methodologies.
• Michele S. Riley teaches conflict resolution courses at the ICCCR at Columbia University.
• Hagitte Gal-Ed is an Israeli born artist, scholar, and educational leader. She is a pioneer in the field of Peace Psychology and Education for Peace, and has extensive teaching and teacher education experience. Her art has been exhibited in the U.S.A., Israel, Europe, and South Africa, and her artworks are in many private collections. Her PhD is the outcome of a long-term dialogue-based international program of peace education through arts and communication media. She developed the concepts of Dialogic Intelligence

(DIN) and the role of ARTiculation

in peace epistemology. Her book-chapter, "Art and Meaning: ARTiculation

as a Modality in Processing Forgiveness and Peace Consciousness" was published in Forgiveness and Reconciliation: Psychological Pathways to Conflict Transformation and Peace Building, Springer-Verlag, New York, 2009. In 1999, Gal-Ed was a recipient of "Gift of Service to the World Award" by The Council for the Parliament of the World's Religions for her interfaith initiative promoting peace culture at the United Nations. In 2001, she created PEACE TV™, a TV program through MNN, a public access station in NYC, promoting Dialogic Intelligence and innovative initiatives of education for peace. Collaborating Institutions include Columbia University Teachers College, and The Museum of Natural History. In 2006 her Artist & Leader program, combining Contemporary Art and Education for Peace, was selected by PBS, Art:21 for their Outreach Initiative. In 2008 the program was awarded a grant by the CT Commission on Culture.
• Laurie Anne Pearlman received her Ph.D. in clinical psychology from the University of Connecticut in 1987. She co-founded the Traumatic Stress Institute in 1986 and the Trauma Research, Education, and Training Institute (TREATI) in 1996. She is currently an independent trauma consultant based in Massachusetts. Dr. Pearlman co-chairs the complex trauma task force of the International Society for Traumatic Stress Studies, directs the clinical associates program for the Headington Institute, and serves as president of TREATI.
• Aldo Civico is the director of the Center for International Conflict Resolution (CICR) at Columbia University. An anthropologist, he has been doing fieldwork in Colombia since 2001 focusing on internally displaced people and the paramilitary. Since 2003, he has been facilitating the peace efforts with the ELN guerrilla. Previously, he worked as a senior political adviser to Mr. Leoluca Orlando, mayor of Palermo (Italy) and leader of the anti-mafia movement La Rete. In the 1990s, as a free-lance journalist he worked for Italian and German media. He joined CICR in 2000.
• Claire Hershman, therapist, England.
• Jack Cambria, Lt Jack Cambria, Chief of the NYPD Hostage Negotiating Team.
• Veronica Fynn holds a BSc (hons) in Zoology/Biochemistry from the University of Ghana, a BA in Psychology from the University of British Columbia, a Master in Public Health from the University of Nottingham, a Masters in Law from Osgoode Hall Law School and is currently doing her PhD in Law at Osgoode Hall, Toronto, Canada. Her research interest centers on vulnerable populations (e.g., women and children in armed conflicts) with emphasis on health, education, law, research and development. She is the Executive Director/Co-Founder of EV Research Inc and the Editor-in-Chief of the newly developed Journal of Internal Displacement.
• Professor David Leverenz received his AB from Harvard in 1964 and his PhD from Berkeley in 1969. He joined the University of Florida faculty in 1985, after teaching at Rutgers University for sixteen years and chairing the Livingston College English Department from 1975 to 1980. He is the author of The Language of Puritan Feeling (Rutgers UP, 1980), Manhood and the American Renaissance (Cornell UP, 1989), and Paternalism Incorporated: Fables of American Fatherhood, 1865–1940 (Cornell UP, 2003). He has also co-edited Mindful Pleasures, a collection of essays on Thomas Pynchon (Little, Brown, 1976). He has published over twenty-five essays and articles, primarily on 19th century American literature, in such journals as American Literary History, Signs, College English, PMLA, Southwest Review, and Criticism.
Please see also:
• The Gates Arrest: How Obama Moved the Participants -- Including Himself -- Beyond Anger and Humiliation, paper presented at the 2009 Workshop on Humiliation and Violent Conflict, Columbia University, New York, December 10-11, 2009.
• The Civil Rights Movement: How National Shaming Trumped Local Shamings, paper presented at the 2009 Workshop on Humiliation and Violent Conflict, Columbia University, New York, December 10-11, 2009.
• Dave Wolffe wrote (September 25, 2009): My name is Dave Wolffe. I do anger management and conflict management with youth and people that work with them. I am interested in reaching out to develop a network of groups and individuals who deal with youth and dispute resolution. I have tentatively labeled this group the Youth Empowerment Network. We all have different approaches to this area. My belief is that we want to reach as many young people as we can and give them the tools to deal with anger and conflict in positive ways. Knowledge of the different groups and their work will lead to getting a variety of services, our own and our colleagues, that best fit the needs of the population we want to service out to them. I invite all of you who have a similar interest in reaching young people and feel this network can serve in their and your best interest feel free to contact me at peacefulyouth422[@]yahoo.com. Feel free to view my Not-For_ Profit organization's P.E.A.C.E., Inc. (Peace Enhancement Attained -Collaborative Efforts)
• Jack Saul, Ph.D. is an assistant professor of Clinical Population and Family Health at Columbia University's Mailman School of Public Health and director of the International Trauma Studies Program. As a psychologist he has created a number of psychosocial programs for populations that have endured war, torture and political violence in New York City and is known for his innovative work with communities that integrates testimony, healing, media, and the performance arts. He has a private practice in New York City in individual, couple and family psychotherapy. From 1993 to 2005, Dr. Saul was on the faculty in the Department of Psychiatry at New York University School of Medicine in the Family Studies Program and at Bellevue Hospital. As a psychologist and family therapist, he has worked since the early 1980's in clinical and community settings with children and families suffering from domestic, urban, and political violence. In 1995 he co-founded the Bellevue/NYU Program for Survivors of Torture and was its clinical director until 1998 when he founded the International Trauma Studies Program at NYU School of Medicine. In 1999, he established Refuge, a community based program for survivors of torture and refugee trauma, a member of the National Consortium of Torture Treatment Programs. Following the terrorist attacks on the World Trade Center in Lower Manhattan, Refuge established the FEMA funded Downtown Community Resource Center, a community based psychosocial program for residents and workers in downtown New York. Dr. Saul has wide international experience as a lecturer and teacher on psychosocial responses to traumatic events including being a member of the faculty of the Open Society Institute's East European Program on Child Abuse in Budapest, and the Kosovar Family Professional Education Collaborative at the University of Prishtina. Dr. Saul has participated in numerous workgroups and research review committees including the American Red Cross, International Federation of Red Cross and Red Crescent, the American Psychological Association, the International Society for Traumatic Stress Studies, the International Criminal Court, the International Organization for Migration, the National Institute for Mental Health, and the Centers for Disease Control. He works internationally with reporters and photographers on the coverage of survivors of severe human rights violations and with humanitarian, legal, and media organizations on the development and implementation of staff welfare programs.He completed his doctoral degree at Boston University and clinical internship in child and family therapy at the Judge Baker Guidance Clinic, Harvard Medical School. He is currently researching family and community services for refugee survivors of war and political violence in New York City. He is the recipient of the 2008 American Family Therapy Academy Award for Distinguished Contribution to Social Justice, and the 2002 Marion Langer Award for Human Rights and Social Change of the American Association for Orthopsychiatry.
• Jaymie Stein, MA, art and art education, Teachers College, Columbia University, New York, USA.
• Zeena Zakharia, Ed.D. Lecturer, Department of International and Transcultural Studies Teachers College, Columbia University, New York, USA.
• Carol Sander MSW, PhD(c) is a lecturer and researcher at the University of Toronto in Toronto, Canada. She is currently involved in doctoral research and advanced training in trauma healing of genocide survivors. She is an NGO representative to the Economic and Social Council at the United Nations.
• David Bargal was Gordon Brown professor at the Paul Baerwald School of Social Work at the Hebrew University, Jerusalem. He is now retired. He held a Ph.D. in Clinical and Social Psychology from the Hebrew University. Dr. Bargal served as a visiting professor at several leading American Universities. He published extensively (over 80 articles in books and professional journals; two authored books and seven edited books and journals).
• Zohra Omar is a student in the Peace Education program at Teachers College, Columbia University, New York, NY, USA.
• Jeffrey Kauffman is a psychotherapist who works in private practice with individual, family and group psychotherapy since 1985. Since 1984, he is the Founder/Director for the Care of Community Institutions, Inc. (CCCI). Through CCCI, extensive consultation and training services are provided to hospices, nursing homes, schools, emergency services, mental health and mental retardation agencies, clergy and congregations, funeral directors, hospital and other institutions. He has conducted more than 350 training programs, presented his work at more than 200 conferences, edited two books, authored one book and havspublished more than twenty-five book chapters and journal articles. From 1995-1999, and since 2008, he is Adjunct Associate Professor at the Widener University Center for Social Work Education, teaching graduate level courses on Group Psychotherapy, Human Behavior, Second Year Practicum, Spirituality and Social Work (he developed this course), and Field liaison. Since 2008, he is a Clinical Supervisor at the Widener University Developmental Disabilities Clinic. Since January 2009, he is on the Online Faculty of the Graduate Program in Thantology at the University of Western Ontario, Canada.
• Diana Colón, Esq. Assistant Deputy Counsel, NYS Unified Court System, Office of ADR and Court Improvement Programs, New York, NY, USA.
• Karen Bernstein, Senior Director, Safe Horizon Mediation Program, New York, NY, USA.
• Maria Jose Bermeo, Ed.M. student, Peace Education/ International Educational Development Teachers College, Columbia University Ecuador mjb2174@columbia.edu Available: both days/all sessions possible (except 3-5 on Thursday)
• Yoko Tanabe, Ed.M. student, Sociology/ Comparative and International Education Teachers College, Columbia University Japan tccubmail@gmail.com Available: all sessions possible (except morning session Thursday). Yoko kindly write (October 30, 2009): "I am thrilled to be involved this marvelous Round Table Discussions as an observer. Personally I am very much interested in the issues surrounding indigenous minority peoples and human rights, so hope I can learn different perspectives from various presenters."
• Laura María Vega Chaparro, Ed.D. student, Peace Education/ International Educational Development Teachers College, Columbia University Colombia lmv2113@columbia.edu Available: both days/all sessions possible
• Melissa Cushman, MA student, Peace Education/ International Educational Development Teachers College, Columbia University USA melissacushman1106@gmail.com Available: did not confirm which session
• Katie Aholt, MA student, Peace Education/ International Educational Development Teachers College, Columbia University USA katie.aholt@gmail.com Available: did not confirm which session
• Heidi Batchelder, MA student, Peace Education/ International Educational Development Teachers College, Columbia University USA heidibatch@gmail.com Available: both days (but won't be at open session due to class)
• Gabriela Saab is a PhD candidate at University of Sao Paulo. She holds two Masters in Public International Law and Human Rights. Her studies focus on human rights, environmental protection and armed conflicts. She was brought to our work through Francisco Gomes de Matos. She graduated from University of Sao Paulo (Brazil) with a Bachelor's Degree in Law and completed the Sciences Po International Program in Paris, where she studied sustainable development policies. At that university she published her thesis on "The Treatment of Child Soldier in International Law."
Please see:
• The Recruitment of Child Soldiers: Humiliation Compromising Childhood
contribution shared at the 2009 Workshop on Humiliation and Violent Conflict, Columbia University, New York, December 10-11, 2009.
• The Treatment of Child Soldiers under International Law, Paper presented at the 2009 Workshop on Humiliation and Violent Conflict, Columbia University, New York, December 10-11, 2009, based on O Tratamento da Criança-Soldado no Direito Internacional (The Solder-Child in International Law), Tese De Láurea, Faculdade de Direito da Universidade de São Paulo, Departamento de Direito Internacional.
• Mariana Ferraz is a PhD candidate at the Law School of the University of Sao Paulo and is currently researching policies and legal mechanisms to prevent child obesity. She holds a Master Degree in Human Rights with a thesis that researched the Human Right to Food and Sustainability in the Food System. Dignity is a key element for the fulfillment of the right to food once it can only be assured in a dignifying environment both for producers and consumers. Dignity in the food system means fair trade, opportunities for small producers, healthy food accessible for all, respect to local culture, and for nature. Mariana is also enthusiastic about visual arts and loves to make videos and mini-documentary films. [read more]
• Mimoza Rrusta, Student Master of Science in Social and Community Psychology, Department of Psychology, Norwegian University of Science and Technology, Norway.
Mimoza kindly writes (November 2, 2009): I am currently in my last year of my masters degree in culture, social and community psychology at NTNU. I am working together with Vegar Jordanger, on humiliation studies. In my masters thesis I plan to write about cultural differences in the perception on humiliation and different reactions to this. We have now data from Uganda, I am also going to do surveys in Kosovo (where I was born) and in Norway. I am also very interested in conflict studies, and have read books by Morton Deutsch. For the last one and a half year I have been reading a lot of books and articles on humiliation - where your two books, Making Enemies - Humiliation and International Conflict and Emotion and Conflict - How Human Rights can Dignify Emotion and Help Us Wage Good Conflict are two of them. Linda has been helping me and Vegar on the questionnairies and has been an inspiration for the both of us, motivating us to continue our work. So I know both, yours and Lindas backgrounds! There will be very helpful for me to be on that workshop to be able to meet you all and discuss these theories and maybe see your opinions on my plans and way of writing my masters thesis. Thank you so much - I look forward to meeting you all! Mimoza Rrusta.
• Tony Webb, Ph.D., is a Senior Lecturer in Agricultural Supply Chain Management working at University of Western Sidney Hawkesbury since 2007. Previously he was Visiting Research Fellow with the Centre for Popular Education at the University of Technology, Sydney. He holds a Ph.D. in Trans-Disciplinary Research for a study on the social psychology of shame from UWS and an MSc in Energy Resources Management from the Southbank University, London. His research career has included work for a number of UK, US and Canadian Trade Unions, the UK Health Education Authority, the London Food Commission, the Australian Consumers' Association and the International Organisation of Consumer Unions, the Australian Food Policy Alliance, Australian Council of Trade Unions Food Industry Unions Committee, Australian Centre for Best Practice, and the Melbourne University Foundation for Sustainable Economic Development.
• Joseph A. Agard is a Mediator/Arbitrator and Guardian Ad Litem in New York City. He studied EU and US Law, dispute resolution and international affairs in Europe and the United States. He holds a Masters Degree in law (UK), also advanced qualifications in international arbitration, transnational civil litigation, intercultural negotiation/ mediation law and practice and international affairs. A former Guyana Scholar, European Fellow, senior public servant also police detective Joseph was an 'A' student at New York University. He has lived, worked and studied in the UK, USA, France, Germany, Belgium Luxembourg and Holland and received training and exposure at the European Court of Justice, European Court of First Instance, European Court of Auditors, The European Parliament, European Commission, European Council, The European Reconstruction Bank; The French Parliament and French Supreme Court; the United Nations in New York; also with several humanitarian organizations. Among other professional associations Joseph is a member of the American Society of International Law. He is affiliated with the United Nations Association of USA, the City University of New York International Center (CUNY), the Medicare Rights Center as a Medicaid/Medicare Counselor also with several other NGOs. In 2004 he was awarded the Volunteer Service Award by CUNY Graduate Center also the Certificate of Appreciation by the Medicare Rights Center for outstanding voluntary service. Joseph studied at the Faculty of Law Graduate School, University of Leicester, UK; University of Paris II, Paris Institute of European Legal Studies, France; University of Humboldt Faculty of Law, Germany; Tulane University School of Law, USA and New York University, Center for International Affairs, USA.
• Karen Hirsch kindly wrote (December 1, 2015):
"The Brief Bio of a Practical Dreamer - That's Me!"
We are globally all in this together - literally - because we share the same Mother Earth and can't escape our environment. This reality, combined with the North Star of seeking to be aware of and hopefully connect to the basic humanity in everyone, is the context for my work and life.
I offer coaching (single conversations and more structured arrangements), editing, writing, facilitating and training. It's a source of joy and honor to contribute to the "greater good" by being a "weaver of people" (Maori definition of a leader) across all apparent differences and divides.
My training and experience include leadership development and coaching, conflict resolution, facilitation, emotional intelligence (EQ), basic communication skills (with emphasis on deep listening to others and self), and whole systems transformation.
Starting in the late 1960s, I was a political activist, volunteer or paid staffer in organizations committed to reducing nuclear weapons, preventing wars, bringing Israeli Jews and Palestinians together and strengthening democracy. Several decades later, I incorporated the basic values and vision into a non-adversarial perspective of "both-and", rather than "either-or".
A lover of learning and integrating, I have been inspired by extraordinary teachers across many interrelated disciplines who truly "walk their talk". And I have experienced and continue to integrate within myself what I believe are the universal values embedded in Humanism, Judaism, Sufiism, Buddhism and Christianity.
Since 1978, I have been a New Yorker by choice - drawn to the incredible mix of people, layers of history and still vibrant creative energy.
My website, www.karen-hirsch.com, will be substantially updated. The Testimonials are current.

We are globally all in this together – literally - because we share the same Mother Earth and can't escape our environment. This reality, combined with the North Star of seeking to be aware of and hopefully connect to the basic humanity in everyone, is the context for my work and life. I offer coaching (single conversations and more structured arrangements), editing, consulting, facilitating and connecting people with each other - primarily in the nonprofit world.
My training and experience include coaching, conflict resolution, leadership development, facilitation, emotional intelligence, basic communication skills and whole systems transformation. Starting in the 1960's, I was an anti-war and anti-nuclear activist. Several decades later I incorporated the underlying values and vision into a non-adversarial perspective.
I have been blessed to experience and integrate within myself what I believe are the universal values embedded in Judaism (I am Jewish), Sufiism, Buddhism and Christianity. Since 1978, I have been a New Yorker by choice – drawn to the incredible mix of people, layers of history and creative energy.
• Pandora Hopkins is a folklorist in the broadest sense of the term; her understanding of the word folklore (like folklife or folkeliv) is similar to the more recent Cultural Studies. Her Ph.D. dissertation from the University of Pennsylvania (major: folklore) was based on several field trips to Norway where she studied the tradition of the Hardanger violin (hardingfele) through making tape recordings of the complex, aurally-transmitted music and through personal interviews. With a professional background as a conservatory-trained violinist, Dr. Hopkins found that her assumptions about oral/aural transmission, media determination, and "levels" of culture in general had to be completely reassessed. Later, after further trips to Norway, she published Aural Thinking in Norway, a study of the remarkable intellectual control over their musical resources displayed by individual musicians in this "folk" tradition. The lesson she learned in Norway – the problems with political assessment of cultural communication – informed her later work in setting up several multicultural programs (at Yale and Rutgers universities and at a community music center in Brooklyn), as well as her teaching at the City University of New York and articles published in periodicals and journals. Recently, she moved to Mexico to devote full time to writing.
Her work, though ethnomusicological in substance, is designed to tackle the (in her opinion) dangerous fallacy of dividing the world into "literate" and "non-literae" (or "preliterate") sectors - a basic assumption that underlies the perception of cultures being inferior/superior. The first item is her book mentioned above, Aural Thinking in Norway (Plenum/Human Sciences Press: 1986), a study of the cognitive nature of aural transmission. The second is one of her four articles in the Garland Encyclopedia of World Music, Vol. 8 (2000), pp. 90-111: "Ways of Transmitting Music."
• Dharma Lal Lama is working with Social Justice for Equality-Nepal, Khusilabu Marg, Putalisadak, Kathmandu
Nepal.
• Unity Dow is a human rights advocate who was the first woman appointed to the high court of Botswana (where she wrote a stunning opinion in favor of the San people against the government in 2006). She is a visiting professor at Columbia Law School this semester (fall 2009). Unity is also a novelist, and has written compellingly about the clashes between traditional and modern cultures in Botswana. We thank Alison Anthoine for bringing Unity Dow to our 2009 workshop.
• Winnie Byanyima, Director of UNDP Gender Team/ Bureau for Development Policy. We thank Hagitte Gal-Ed for almost bringing Winnie Byanyima to our 2009 workshop; unfortunately, she was hindered in the last minute.
• Queen Mother Dr. Delois Blakely, Community Mayor of Harlem, Ambassador of Goodwill, FESMAN 2009 Ambassador of Goodwill, Goree Island. We thank Hagitte Gal-Ed for bringing Dr. Delois Blackly to our 2009 workshop.
• Lena Alhusseini, Executive Director of the The Arab-American Family Support Center in Brooklyn, NY.
• Shruti Bhutada, Masters Student at the International Center for Cooperation and Conflict Resolution
Teachers College, Columbia University, NY.
• Zahid Shahab Ahmed is a PhD student in Peace Studies with a focus on regional peace and security in South Asia at the University of New England in Australia. From September 2009 onwards he will conduct fieldwork in Nepal, India, Bangladesh and Pakistan until December 2009. [read more]
• Todd Pate, writer and actor in New York. He rounds up the Public Event of the 2009 workshop with a song on dignity: "Get Ready for the Weeping." He explains: "This is a song about finding freedom and dignity through tears. You should never be ashamed to weep. Vulnerability and humility are the path to grace."
• Clare Sng, Techers College, Columbia University, New York.
• Robert Leonard Carneiro earned his Bachelor of Arts degree in Anthropology in 1949 from the University of Michigan and his Master's degree in 1952. He earned his Ph.D. in Anthropology in 1957 from the University of Michigan. At the University of Wisconsin, Carneiro served as a Professor from 1956 to 1957. From 1957 to 1969 he was the Assistant to the Associate Curator for South American Ethnology. He also served as Assistant Curator (1957-1963), Associate Curator (1963-1969) and Full Curator (1969-present) for the American Museum of Natural History. During this time, Carneiro held concurrent positions as Visiting Professor at Hunter College from 1963 to 1964, at the University of California, Los Angeles in 1968, at the University of Victoria, and at Pennsylvania State University in 1973. Carneiro is currently an Adjunct Professor at Columbia University. Carneiro is currently a member of the American Anthropological Association, the American Ethnological Society, and the Society for American Archaeology. He has also been elected to the National Academy of Sciences. His research consisted of cultural evolution, including the reconstruction of sequences and the history of evolutionism. Carneiro often conducted research on the origin and development of the state. Carneiro's theory of the state of formation - "Carneiro's Circumscription Theory", earned him the recognition of being called one of the most important evolutionists. He suggested that states might emerge because of population growth in an area that is physically or socially limited. Carneiro illustrates his theory by describing how states may have emerged on the northern coast of Peru. He also researched the cultural ecology of Amazonia, especially the effects of subsistence. Carneiro greatly influenced the theory of cultural evolution. He helped edit several volumes of Leslie A. White's, Ethnological Essays. Some of his published works are: The Transition from Quantity to Quality: A Neglected Causal Mechanism in Accounting for Social Evolution (2000), A Theory of the Origin on the State (1970), On the Relationship Between Size of Population and Complexity of Social Organization (1986).
• Mark Porter Webb is an organizer with the grass roots organizing school, Justicia Global, in Santo Domingo in the Dominican Republic. He was a peace studies major at Earlham and studied with Howard Richards a few years before he retired.
• Theo van Koolwijk, Warner Strategy & Fundraising, Wormerveer, The Netherlands
• Avigail Abarbanel is a psychotherapist/counsellor, group facilitator, presenter, public speaker, writer and amateur singer, cook and baker. She has worked in private practice in Canberra Australia for the past 11 years. Avigail was born in Tel-Aviv Israel in 1964 and has lived in Australia for 18 years between 1991 and 2010. Avigail and her husband Ian Barnes moved to the Scottish Highlands in January 2010 and plan to open a private practice in Inverness. Avigail has been an activist for Palestinian rights since 2001. Her contribution is mainly through writing and public speaking. Her articles are published on her website. Avigail is committed to humanistic values in her work and in life in general. She is interested in helping to build societies that enable individuals to develop to their full potential and in growth promoting relationships and systems. Avigail is interested in models for activism and social and ecological change that are non-adversarial.
• Bayezid Dawla is a dignity activist. Born and based in Bangladesh, Bayezid studied in the Department of Economics and International Development at the University of Bath, UK and obtained the degree of Master of Research (MRes) in International Development. He also studied English language and literature in the Department of English at the University of Rajshahi and was awarded the MA and BA (Honours) degrees from that university. He worked with The Daily Star (published in Dhaka), ActionAid Bangladesh, and the Institute for Development Policy Analysis and Advocacy (IDPAA), Proshika (a human development organization). Bayezid Dawla is currently the (honorary) Executive Director of Civic Bangladesh, a civil society organization (CSO) registered as a Trust working to advance democracy and democratic governance through civic education and engagement. He is also General Secretary of Bangladesh Dignity Forum, which is leading an Equal Dignity Campaign launched in 2006 by Civic Bangladesh.
• Rachel Aspögård is an author/freelance writer, photographer, and peace activist. She has been working in the peace activist arena as a writer and photographer For the past 20 years. Rachel has experienced war first hand which is what caused her to begin practising Buddhism, as well as work in peace activism for SGI (Soka Gakkai International UN-NGO). She is also a supporter and has a big interest in the science of Human Dignity and Humiliation Studies. Rachel's current work is reporting on the Swedish Network for Nuclear Disarmament, as well as her continued studies at London University.
• Anjali Bhatia, Department of Sociology, Lady Shri Ram College, India.
• Anna L. Romer, EdD, Associate Director for Evaluation Research Facing History and Ourselves, Boston, MA.
• Thomas Kühne is Professor of History and the Strassler Family Chair in the Study of Holocaust History at the Strassler Center for Holocaust and Genocide Studies at Clark University. Affiliated also with Women's Studies Program and Race and Ethnic Relations Program at Clark, he teaches Modern European and German History, with a focus on the Holocaust and Nazi Germany [read more].
• Carol Smaldino, CSW, is a psychotherapist living between Colorado and Italy (for over 25 years she practiced in Port Washington, NY). Her work has centered on the deeper and often hidden parts of our psyche - particularly the shadows where we hide some of the unwanted feelings that get rejected or shamed. The notion is the more we get to integrate our feelings in safer ways, the less harm we do to others or ourselves. The more respect we have for the range of our emotions, the less we will have to project our rageful or weaker parts onto others, people, nations, groups. Accordingly, we will need to face and dignify our own vulnerability as well. Vulnerability, Carol sees not as poetic as some see it, but rather as something raw and even fragile. As opposed to not seeing it as weak, she sees the need to dignify weakness, also because it is part of the human condition and part of what (as Jung said) makes us need one another, and makes us open to love. At points, vulnerability may need a kind of clothing - a protection - a temporary cover for some of our feelings while we become safer in a situation or decide it is too dangerous. Carol works with these connections, with an eye to professional and personal experiences. She works long and short distance with individuals, families, groups, on translating concepts of relationship and dignity into practical and authentic changes, while moving away from dependency on power toward reliance on mutuality and relationship. Carol blogs for Huffington Post. In the Fall of 2017, her book Talking out Loud about the Human Climate is expected to be published by Dignity Press.
• Angelo Smaldino is Carol's husband.
• Shashi Kumar, Ph.D., Assistant Professor at the Department of Human Rights at the Babasaheb Bhimrao Ambedkar University,Lucknow, India.
• Tomoko Ishii, Ph.D., CEO of the Human Wellness Institute (HWI) which is Voluntary Non-profit Organization (VNPO). The institute is a new research and education center promoting human wellness, especially mindfulness for victims of violence.
• Alexander Cheryomukhin, President, Azerbaijan Psychological Association.
• Olav Ofstad, Country Representative, Norwegian Red Cross, Serbia, Belgrade
• Helga Varden, Assistant Professor, Department of Philosophy, University of Illinois at Urbana-Champaign, Urbana, IL, USA. Areas of Specialisation: Legal and political philosophy, feminist philosophy. Areas of Competence: History of political thought, ethics, Kant, applied ethics.
• Dr. Selma Yznaga is an Associate Professor of Counseling at University of Texas at Brownsville. She is also the current director and founder of Texas Counselors for Social Justice, the division of Texas Counseling Association that Tonya Hammer is currently President of and assumed responsibilities of Director for in July 2010.
• Inan Izci, Coordinator EU & Foreign Affairs Unit, Sariyer, Istanbul, Turkey.
• Rhodius T. Noguera, MS, MA, Ph.D., Clinical Psychologist and Executive Director of the Tribong Pintakasi Organization in the Philippines.
• Uli Spalthoff (Dr. rer. nat.) studied chemistry in Mainz and Münster, Germany. After some years in industrial research on optical communication technologies he held various positions dealing with marketing, quality management, technology strategy and innovation management at Alcatel-Lucent in Germany and France. His activities as Director Advanced Technologies included - as a member of a truly global team - mentoring of start-ups and consulting high-tech companies in IT, telecommunication and semiconductor industries from countries all over the world. [read more]
• Peter Buirski, Founder of International Disaster Psychology at University of Denver
• Trevor L. Ballance is a lecturer and researcher at Josai International University, Japan, in the Department of International Exchange. He teaches courses on NGO issues and case studies on the NGO/business relationship. In addition to his teaching commitments, Trevor also works with local NGOs to provide students with work experience and is currently helping set up an NGO Support Center at the University. [read more]
• Amy C. Hudnall is also a Member of the HumanDHS Education Team, and Member of the Academic Board of the Journal of Human Dignity and Humiliation Studies (JHDHS). She is also HumanDHS's representative to the International Association of Genocide Scholars (IAGS).
Amy is a Lecturer in the History and Women's Studies Departments at Appalachian State University and a Research Assistant Professor at the Institute of Rural Health, Idaho State University. Her work focuses on cross-cultural trauma and genocide from an historical perspective, and she teaches courses on peace and conflict. She has presented and published on captivity trauma, human rights, secondary trauma, cultural relativism, and cross-cultural conflict. She received her M.A. in history at Appalachian State University and also studied at the Bayerische Julius-Maximilian-Universität in Germany. [read more]
• Gary Page Jones was born of British parents in North America in 1959, and schooled in England and Wales, obtaining a first degree in Applied Social Studies at Lanchester Polytechnic in 1981, and in 1991 a Master of Arts in Rural Social Development from the University of Reading. He has been a guest speaker at the University of James Cook, Cairns, Queensland.
Gary Page Jones's professional life has primarily concentrated on East Africa, Northeast Africa and the Horn of Africa [...] and he has mostly been employed with international NGOs. [read more]
• Kathleen Barnett is an independent researcher, previously Sr. V.P. of the International Center for Research on Women (ICRW), interested in the ways that women's roles in developing countries could be strengthened to prevent violent conflict in their communities and nations. Through internet research, she came across the HumanDHS organization and felt convinced that this subject has been insufficiently recognized (if at all) in conflict prevention interventions, and I'm excited to learn more about others' areas of research and thinking.
• Puni Selvaratnam, Women for Justice and Peace, went into exile from Sri Lanka 30 years ago and lives in London, writing to politicians and academics all around the world about the ethnic conflict going on in Sri Lanka for more than 62 years. She is very keen to see the core curriculum in the primary schools to include Music and Dance/Drama and secondary schools to include social sciences of psychology and sociology.
• Bernedette Muthien co-founded and directs an NGO, Engender, which works in the intersectional areas of genders & sexualities, human rights, justice & peace. Her community activism is integrally related to her work with continental and international organisations, and her research necessarily reflects the values of equity, societal transformation and justice. She has published widely, written for diverse audiences, and believes in accessible research and writing. [read more]
• Danielle Sered is the founder and director of Common Justice, the newest demonstration project of the Vera Institute of Justic. Common Justice, the first program of its kind in the United States, is an innovative victim service and alternative to incarceration program for serious felonies based in participatory justice practices. The project seeks to support the well-being of those harmed by violence, minimize the use of incarceration in cases where it does not serve the public interest, offer communities a safe and effective response to violence, and address the emotional and physical consequences arising from violent crime. Before planning the launch of Common Justice, Danielle served as the interim deputy director of Vera's Adolescent Reentry Initiative, a program for young men returning from incarceration on Rikers Island. Prior to joining Vera, she worked at the Center for Court Innovation's Harlem Community Justice Center, where she led its programs for court-involved and recently incarcerated youth. Danielle has also designed and directed a program to teach conflict resolution through the arts in inner-city Atlanta schools and juvenile detention centers, has had extensive involvement in gang intervention work, and has experience with a variety of mediation and conflict resolution techniques. Danielle received her BA from Emory University and her master's degrees in poetry and European literature from New York University and Oxford University (UK), where she studied as a Rhodes Scholar.
• Hroar Klempe is the Dean of the Department of Psychology at the Norwegian University of Science and Technology in Trondheim. He is a former Professor in Musicology and Associate Professor in Social Psychology at the Department of Psychology.
His fields of interest within psychology are communication, media, music, education, and epistemology. His current research projects address music and mass media, as well as education and resistance to learning. Furthermore, Hroar is interested in the theme of civil obedience. He has worked on national and international campaigns on conscious objection to military services. [read more]
• José Pascal da Rocha is a neutral transnational mediator, negotiator and lawyer in crisis intervention, human rights, corporate affairs and conflict management for international organizations such as the United Nations (New York, Geneva, Nairobi), the EU (Directorate for Environmental Affairs crisis response section), NATO (senior officer and transnational political advisor), the OSCE (Eastern European mediation schemes) and national organizations (such as Enfants du Monde - Droit de l'Homme, and Amnesty International) as well as for a diverse client base of corporate and Fortune 500 companies. He has extensive experience in volatile environments and violent crises and he has expanded his knowledge into the corporate environments in terms of strategy and communication expertise. He teaches conflict resolution and negotiation at several institutions around the globe and also teaches gender, diversity and inclusion at the University of East Anglia, Norwich, U.K. and on communication and cultural studies at the Martin Luther University in Halle, Germany. He holds two master's degrees, one in mediation and one in media and intercultural communication studies, a J.D. in German law, and a LLB in French law.
• Dr. Anoop Swarup is Vice Chancellor at Shobhit University, India. He is the recipient of the Presidential Award on Republic Day of India, 2003, and has extensive experience of over 30 years in key positions in public, private and not for profit sectors... Dr. Anoop Swarup has edited several publications including 'Nehru Yuva','Yuva Bharat' and 'WCO Asia Pacific Quarterly Journal' and authored books on 'The World of Money Laundering, Financial Crimes and Commercial Frauds' and ˜Regional Economic Engagements and Free Trade Agreements' and has contributed over 200 articles and papers in national and international journals. [read more]
• Andrew Benson Greene is currently the Founder and CEO of the B-Gifted Foundation, an organization formed to encourage people to use their creativity, innovation and talents to target and solve current national and global problems as addressed by the MDG....
He was born and raised in Sierra Leone. Civil war in Sierra Leone resulted in the separation of 12,000 children from their families. Boys and girls as young as seven were kidnapped and forced to become child soldiers. Greene fled to neighboring Guinea where he taught English to displaced children and refugees. [read more]
• Albert Alejo is a Jesuit priest, head of the non-government organisation Mindanawon Initiatives for Cultural Dialogue, leader of the nationwide Ehem! Anti-corruption Movement, founder of the Amuma Cancer Support Group, professor of anthropology, philosophy and development studies at the Ateneo de Davao University in south Philippines, where he is also director of the Research and Publication Office. He is also a poet, and a peace advocate.
• Hanne Eggen Røislien, author of The Logic of Palestinian Terrorist Target Choice? Examining the Israel Defense Forces' Official Statistics on Palestinian Terrorist Attacks 2000- 2004.
• Murat Altintas is a chemistry student in Bogazici University. He lives in Istanbul, Turkey. He is willing to be a teacher to train young children all around the world. [read more]
• Erin Hilgart is a doctoral student at Teachers College, Columbia University (Adult Learning and Leadership, EdD), and an independent consultant (Erin A. Hilgart, LLC) where she facilitates and coaches on change management, career development and leadership/ team development. She looks back on an international career at Deutsche Bank where she was a Vice President holding Finance Transformation and Talent & Leadership roles in Singapore, London & New York. Early in her career she held internships at GCI Group/ Grey Advertising, Miller Brewing Company, and the House of Commons.
Erin has as Masters Degree in Orgaizational Psychology from Teachers College, Columbia University (2003), and Bachelors Degree from Alverno College (1997), a private women's college in Milwaukee, Wisconsin which leads a competency-based education philosophy. Erin has travelled to more than 50 countries, and is from a small town in rural Wisconsin. Her passion in career and life is bridging theory and practice, to discover real ways of empowering people to realize their full potential.
• Julie Will resides in Eau Claire, Wisconsin, and is a mother of two adult children. She is traveling extensively and is creating jewelry and home interiors.
• Jennifer De Mucci, Research Intern Coordinator at Meaningfulworld.
• Adriano Sverko is a U.S. citizen and Swedish resident who worked for Scala for 7 years, and then lived for 3 years in Stockholm and Karlstad. He wishes to do some graduate work in Sweden and is considering a degree in computational modelling of complex data for alternative energy companies and global sustainable development awareness. He has about 19 years experience in the business world, as a trainer and business konsult, and would like to put his experiences into practical use, particularly with issues concerning global warming, organic technology in agriculture and the rights of indigenous peoples, worldwide. For example, he is working on a movie trilogy, concerning DNA and GMOs, from a global perspective. See samples of his filming work, for MDG awards, a UN event (please use youtube.com/sverko as the link). and my 2nd example on vimeo: (http://vimeo.com/13544496)
• Van Billings Harris, BVH Photography, is working together with Adriano Sverko in event productions.
• Ike Karnick, One World Communications Earth Films, was brought to our 2011 Workshop by Adriano Sverko.
They just finished a documentary World on Edge together.
• Subrata Ghoshroy, research associate, joined the MIT group in 2005. He is leading the Promoting Nuclear Stability in South Asia Project. In addition to directing the project, he will also be focusing on the impact of missile defenses and space weaponization on global security – where there is much common ground between India and Pakistan. Before joining MIT, Mr. Ghoshroy was a Senior Fellow at the Belfer Center for Science and International Affairs. He has also been a Senior Defense Analyst at the Government Accountability Office for a number of years. Subrata also served as a Congressional Fellow under the AAAS program. Later, he served as a staff member of the House International Relations Committee and the House Armed Services Committee where he worked on issues of non-proliferation, arms control, South Asian security, ballistic missile defense, the Comprehensive Test Ban Treaty, nuclear weapons stockpile stewardship, laser weapons, chemical weapons demilitarization, and landmines. He was also responsible for monitoring and evaluating budget and policy matters related to Military Research and Development (RDT&E) using his expertise to carry out comprehensive evaluations of complex weapons systems that incorporate state-of-the-art technology. Prior to his transition to the policy world, Subrata worked more than 20 years as an engineer and an engineering-manager in developing high-power and high-energy laser, electron beam, and pulse power technologies and has a highly successful track record in managing sophisticated, interdisciplinary teams to develop advanced technology for DOD, DOE, and NASA. He holds master's degrees in both electrical engineering and public policy.
• Dr. Ranajit Pal has a Ph. D. from the Indian Institute of Technology, Kharagpur (1973). He is a life member of the Bhandarkar Oriental Research Institute, Pune, and the Indian Society for Greek and Roman Studies, Bareilly. He has published several papers on early India and the history of Alexander the Great and Ashoka who, he asserts, was the same as Diodotus-I. Dr. Pal supports Sir William Tarn's view that Alexander the Great gave a call for the Brotherhood of Man and first conceived the idea of a United Nations. He suggests that Alexander should be accepted as the icon of the United Nations. He also maintains that Buddhism, Zoroastrianism and Pre-exilic Judaism all had a common origin in the Indus area, Southeast Iran and Afghanistan. He has published two books, "Non-Jonesian Indology and Alexander" and "Gotama Buddha in West Asia" (in Japanese). His website is http://www.ranajitpal.com.
• John Dana leads a team working with homeless people in Portland (ME), developing relationships and helping them access services as needed. They use relational-cultural theory and motivational interviewing with chronically homeless persons with severe mental health and substance abuse issues. See a link to a public radio story on the program. He has enjoyed working extensively with adolescents prior to developing the homeless outreach and engagement program, and John practices, plays and performs on guitar in his spare (?) time. He also enjoys writing about the adventures that seem to attend a musical life.
• Karen Kohn Bradley, Ph.D., and Martha Eddy, Ph.D., are Certified Movement Analysts in Laban Movement Analysis and work with and write about conflict resolution through analysis of nonverbal, movement-based techniques. Dr. Bradley analyzes leaders from the nonverbal perspective and is trained as a dance-movement therapist as well as a movement analyst. Dr. Eddy writes about conflict resolution in school settings and she is the Director of the Center for Kinesthetic Education in New York City. They heard about the workshop through Dr. Pascal da Rocha, who Karen has interviewed for a book she is writing. Their work focuses on training observers of movement, noting how people in conflict might use the space, timing, expressed empowerment and control in relationship to each other to resolve differences and find common ground, literally.
- Karen Kohn Bradley, M.A. Dance, Certified Movement Analyst, is the Director of Graduate Studies in Theatre, Dance, and Performance Studies at the University of Maryland, where she also participates on the Initiative on Education for Peace, Cooperation, and Development and was instrumental in developing the Semester on Peace in Fall 2009. Bradley is the author of the forthcoming book, Ultimate Moves: Fluency in our other native language, in which she unpacks the applications of movement analysis and study to a variety of areas, including community development and resilient change. She has appeared in the media, analyzing the movement patterns and predilections of leaders and is also a choreographer for theatre, a trained dance-movement therapist, and a creator of community-based participatory dance events called Movement Choirs.
• Martha Eddy, RSMT, CMA, Ed.D., movement therapist and exercise physiologist, joined Marymount Manhattan College as Visiting Artist-in-Residence and Fellow on Social Justice and Movement in MMC's Ferraro Institute for Breakthrough Civic Leadership in 2019. She is founder and director of the Center for Kinesthetic Education (CKE), brings to the fields of health, wellness and education, her strong belief in the power of movement and somatic-awareness to enhance lives and build connection within and across communities. Her doctoral studies in movement science from Teachers College, Columbia University, focused on embodied approaches to conflict resolution and violence prevention within schools (publications on the subject include: The Role of Physical Activity in Educational Violence Prevention for Youth; Dance and Violence Prevention; The Role of Arts & Embodiment in Community Building; Peaceful Play: Social Justice in the Schoolyard; Banishing Bullying). She has been a leader in accessing resiliency in responding to trauma working first with Project Renewal, now the Inner Resilience/Tides Center – providing over 25 weekend long retreats for NYC school educators after the events of 9/11. Her work as a movement therapist has extended from helping people with stress reduction and physical challenges, to embodied approaches to communication enhancement and conflict resolution, to working to heal from responses to trauma including physical, psychological and sexual abuse, as well as dealing with cancer. She created Moving For Life Dance Exercise for Cancer Recovery for patients and survivors in 1999, which has been featured on CNN's Health Minute, NBC Today Show, CBS, Fox New, Mamm Magazine, Women & Cancer, and on National Public Radio.
Martha's private practice and educational consulting draws on over thirty-five years of training and teaching in neuro-developmental movement therapy with occupational therapist, Bonnie Bainbridge Cohen, and physical therapist Irmgard Bartenieff. Her practical application of their work in Body-Mind Centering® and Laban Movement Analysis, respectively, provides a foundation for her own Dynamic Embodiment Somatic Movement TherapyTM. The DE-SMTT curriculum is a graduate level course of study taught in partnership with SUNY-Empire State College and periodically with Teachers College (Moving Towards Peace, Embodied Creativity, Somatic Seminar in Health and Healing), and Somatic Paths to Healing Trauma – offered, for instance, January 22-26 2014.
• Michele Rusinko is Professor and Chair of the Department of Theatre and Dance at the Gustavus Adolphus College in St. Peter, Minnesota, U.S.A. Michele is a teacher, choreographer, dancer and writer. She has taught at Gustavus Adolphus College for 21 years. She received her B.A. from St. Olaf College and M.F.A. from Arizona State University. Prior to coming to Gustavus, Michele spent four years as the Director of Dance at Weber State University in Odgen, Utah. In recent years her work as a guest artist and teacher has taken her from Mora, Sweden, to Dublin, Ireland. Rusinko's essays and commentaries on dance have been featured on Minnesota Public Radio. Rusinko is on Sabbatical for the 2010-2011 academic year. She will be traveling to Europe, the Middle East and Asia, where she will be teaching and doing research.
• Talia Shafir is studying both the physiology and psychology of how early familial attachments affects adult interactive behavior (inclusive of learning) especially during or as a result of trauma.
• Constance Klein the President of Constance Klein & Associates LLC in New York City. She has partnered with Lanto Montessori International Schools Trust in South Africa to advance literacy in underprivileged communities and DanceToBeFree.org which brings healing through collective dance to incarcerated women.
• Connie Dawson, Ph.D., Whidbey Island, Washington, had Don Klein as her major advisor of her Ph.D. studies. She has experience as a counselor educator and a therapist specializing in the treatment of attachment disorders, and is an author of two books for parents, one of them written for parents who, themselves, experienced shame-based parenting. This has led to her current interest in how shame/ humiliation is a primary means of control in families. She is writing a book on seven implicit rules that govern interactions in a shame-based system. Her most recent book is How Much Is too Much?: Raising Likeable, Responsible, Respectful Children--from Toddlers to Teens--in an Age of Overindulgence, 2014.
• Yves M. Musoni is both an artist and an independent researcher, is a Congolese Tutsi. He was born in 1971 in Goma, a small city situated far East in the Congo, North of Lake Kivu, at the border with Rwanda. He was about 7 years old when his father was transferred to work in Kolwezi (Katanga), another city in the south of the Congo, for 16 years. Kolwezi is important to Yves's history because its cultural diversity shaped his adolescence. His artistic mother also had a major influence on him. Some of his best childhood memories are of a popular decorative art in Rwanda called Imigongo that his mother applied to whisky and wine bottles.
• Jane Wambui Wanjiru, originally from Kenya, is now working with an International organization in Sri Lanka called Nonviolent Peaceforce, who works with children, women, and communities affected by conflict. Prior to that, Jane was a volunteering for children and women affected by HIV/ AIDS, communities affected by conflict and with poverty eradication activities in different communities in Kenya. [read more]
• Dawit Kahsay has a Master's Degree in International Relations, studying by distance learning (writing dissertation), a Master Certificate in Environment and Development from the University of Bergen, Norway, a Certificate in Conflict Resolution and a Diploma in Agriculture. Since 1994, Dawit Kahsay is working for various international organizations and United Nations as Human Rights Officer, Public Information and Outreach Assistant, Communications Officer, Civil Education Assistant and Research Associate. Dawit has a vast experience in the field of human rights and humanitarian affairs both at national and international levels.
• Aida Shahghasemi is an Adjunct Instructor at the Tisch School of the Arts Special Programs at New York University. Please see here some links:
- performance with Marketa Irglova and Jake Clemens
- performance with Sinan Gundugdu and Sara Goudarzi
- solo daf performance
- Here's the link to her music page which includes a sample of her own compositions as well.
• Terry Rosenberg's series of 100 digital paintings titled Colors of War takes conflict throughout the world into the context of word paintings. What I have found through panel discsussions in conjunction with the traveling exhibition is that the paintings act as a charged yet neutral ground for perceptions and interpretations to emerge in a way that allows people to tell their stories about complex issues related to various conflicts. The panels have consisted of people from the arts, sciences, government, conflict resolution, etc. combined with audience participation. The Colors of War exhibition comes in print form as well as a slide show for large room installations or for video monitors. Images can be viewed at www.terryrosenberg.blogspot.com along with an essay by philosopher Richard Shusterman. The slideshow is offered free to anyone that would like to host an exhibition.
• Mariam Khan is the President of Human Rights WING, Pakistan Peoples Party, and the President of Inspired Sisters Pakistan.
• Fred Ellis is a New York City Elementary Public School Music Teacher and Music Therapist, see also fredellis.com. On February 18th 2009, his debut music CD of original songs was released. He has been teaching regular and special education students for over 20 years, he holds a BA & MS in Education from Baruch College, an MA in Music Therapy from New York University, and an EdM in Music Education from Teachers College/Columbia University.
Fred Ellis firmly believes that an optimal pedagogical approach, one that a music teacher should take in educating students to greater musicality, is one that "fulfills the academic and therapeutic needs of the students." His objectives have been to not only teach students musical skills and knowledge, but to help children develop their mental, physical, communication, and social skills; the songs on his CD can be used to reach all these objectives.
The students of Fred Ellis are composed of children from many different nations from around the world. They have responded to the songs on this CD in a most positive way, through the music, the students would socialize, sing and play together; thus conforming the old saying that "music is a universal language." The songs on this CD are designed to encourage socialization, as well as love and respect for cultural diversity. Through music, perhaps we as a people can form together as one big family.
• Dan Booth Cohen is a Psychotherapist and expert in the Family Constellations System. He wrote a book about this experience working with this method in prisons in the USA.
• Matthias Gockel, Ph.D., is part of the Faculty of Theology of the Friedrich-Schiller-Universität in Jena, Germany. His work focuses on the history of modern Protestant theology. In the last two years, he has participated in an international interdisciplinary project on conflict and reconciliation. He is the author of, among others, "'Be not overcome by evil, but overcome evil with good': An orientational approach to suffering and evil", in: Modern Theology 25/1 (2009), 97-105.
• Yael Petretti: Both before and after earning a degree in International Relations at UC Berkeley, Yael traveled widely to meet people of other cultures and creeds. She organized citizen diplomacy groups to travel to other countries, giving Americans the chance to build real friendships with people they would otherwise have never understood. She served on the Israel-Palestine Working Group at the United Nations and facilitated a number of Compassionate Listening trainings in the United States. As a licensed tourist guide living in Jerusalem over three decades, she facilitated encounters between her tourists and the various religious and ethnic groups who inhabit the Middle East: Bedouins, Druze, Israelis, Christian and Moslem Palestinians. Appreciation of cultural diversity, friendship and mutual respect are her deepest values Yael's work as a certified Compassionate Listening(SM) facilitator provides the perfect tool for bringing people together: the practice of listening and speaking to one another from the purest places of the heart.
• Deryl F. Bailey, Ph.D., is Associate Professor at the University of Georgia, and President of the Association for Counselor Education and Supervision (ACES).
Dr. Bailey is an Associate Professor at the University of Georgia. He earned B.S. and Master's degrees from Campbell University, his Education Specialist and Ph.D. degrees from the University of Virginia. He believes strongly in the power of education and is committed to providing equitable opportunities to promote the betterment of societal existence for everyone. Dr. Bailey is an accomplished professional in the areas of school counseling, diversity, multicultural education, adolescent development, African American adolescent male development and is a published scholar.
Dr. Bailey specializes in designing professional development opportunities that are in safe and engaging environments that allow participants to stretch in order to achieve positive personal and professional growth. Dr. Bailey is a highly trained facilitator and trainer. He uses humor and sincerity to deliver practical training in an exciting manner. Participants often comment that they did not want the workshop to end and always find the messages to be effective and inspiring. His expertise lies in the areas of exploring assumptions, welcoming diversity in the workplace, and leadership for diversity. His specialty in multicultural education includes Secondary School counseling; group work; mentoring African American adolescents, engaging parents, and development and implementation of enrichment and empowerment interventions for adolescents.
During his career, Dr. Bailey has consulted with school districts, churches, businesses, colleges and universities, as well as, presented at state, national, and international conferences on a variety of topics and has received numerous local, state, national, and international awards for his work with children and adolescents.
As a distinguished community leader and educator, he has served as a member on the local school district's diversity task force, University of Georgia's Board of Regents African American Male Initiative, National School Counselors Advisory Team for the College Board, consultant for the Education Trust and the College Board, Membership chair and Executive Board Member for the International Association for Counseling, and is the current President of the Association of Counselor Education and Supervision (ACES).
• Onaje Muid is the Clinical Associate Director of the Reality House, Inc., Long Island City, NY, USA.
• Dr. Fatima Hafiz is an educator and activist working in teacher preparation for urban schools, whose main interest is in issues of race, fear and social injustice pedagogies. She has extensive experience in facilitating dialogues using multiple models to approach these issues. Her work as an educator has focused significantly on the use of service learning as an approach for working on these issues with young people. Please read more.
• Marty Epstein is a 2010 Graduate from Negotiation & Conflict Resolution (NECR). He supports people in hearing and speaking at the level that creates mutual understanding of values and needs.
• Claudia Maffettone is the president of LuX, a consultancy company that provides support to NGOs in the organization and implementation of projects and programs. She has been working in the field of intercultural dialogue with NGOs in the UN System, and in several youth projects of the European Commission and the Council of Europe. In the past 8 years she has served on the boards of different international networks such as the World Federation of UN Associations, the YMCA, and the International Synergy Network. She is graduated in International Relations and Diplomacy with a focus on the Middle East, and has attended several mediation and conflict resolution tranings, including the Program on Negotiation Seminar at the Harvard Law School.
• Susan Hall is based in New York, USA, and writes reviews of opera, concerts, and plays.
• Drew Cavanaugh, a former student of Hagitte Gal-Ed, who works with ARTiculating(c) Human Dignity.
• Alison Crowes M.A. student at Teachers College, Columbia University, NY, USA, and specializes in Peace Education.
• Gillian Cohen has spent 2010 working with victimized communities in the Northern Conflict Zone of Colombia (Montes de María), specifically helping communities transform their humiliation and hurt into positive constructive peaceful action, and she continues to work long distance for the NGO SembrandoPaz "PlantingPeace" while she completes her Masters in NY, expecting to return to Colombia after graduation.
• Mariana Vergara is pursuing her doctor of education degree at the Department of Leadership and Organization, AEGIS program at Teachers College, Columbia University. Currently, she is working in two projects; one in the US working with immigrant families and the other is in the Ecuadorian Amazon rainforest. In both projects, she experiences the frustration these populations feel when dealing with globalization. In the US, immigrants not knowing how to have access to equal quality education for their children and for the violent conflict indigenous communities in the Amazon sometimes face in order to deal with globalization when mining and logging companies are trying to get their natural resources.
• Parinda Viranuvat is a second year M.A. student in Social-Organizational Psychology, Teachers College, Columbia University, New York, NY, USA.
• Alison Ongvorapong is the regional assistant for the Northeast/Caribbean Region of the US Department of Justice Community Relations Service (CRS). CRS is the only federal agency dedicated to assist state and local units of government, private and public organizations, and local community groups with the prevention and resolution of racial/ethnic tensions, bias incidents, and civil disorders. With the November 2009 passage of the Matthew Shepard and James Byrd, Jr. Hate Crimes Prevention Act, CRS further responds to allegations of violent hate crimes/bias incidents committed on the basis of gender, gender identity, sexual orientation, religion or disability. In her capacity at CRS, Alison travels to communities throughout New York and New Jersey to help facilitate dialogue in the aftermath of alleged violent hate crimes. Alison serves as a liaison between local community groups, school administrations, law enforcement officials and other leading authorities. At CRS, Alison has developed local preventative mechanisms and proactive measures to address pertinent issues such as racially motivated riots and in-school bullying based on differences in identity, the objectives of which were to yield more public input to state and federal agencies, to raise cultural awareness in increasingly diverse communities, and to maintain safe and secure environments free from violence. Her research on hate crimes/bias incidents spans the CRS jurisdictional areas of New York, New Jersey, Puerto Rico, and the US Virgin Islands. Shaped by her undergraduate curriculum in law, Alison began her career at CRS to better understand the social impact of discriminatory injustices. Alison graduated from Binghamton University in 2008 with dual degrees in English and Philosophy, Politics and Law. At Binghamton, Alison tutored graduate, undergraduate, native speakers and English as a Second Language students in the university's writing center. Alison also coordinated campus events with student government as the social vice president of her residential community. For two semesters, Alison took advantage of opportunities abroad, studying British literature in England and indigenous Australian culture and global political theory in Australia. Alison's prior experiences include internships at the Sydney Film Festival and Time Warner Cable as a Students Taking a Right Step intern.
• Michele Walsh-MacDonald is working with Virginia Swain on their Sudan project.
• Reeva Gassman is a retired middle school counselor in NYC. She has done extensive work on bullying and humiliation among middle school students. Currently she wears two hats. She mentors NYC counselors that are having difficulties. And she is a part time mediator at Community Mediation Services in Jamaica Queens, New York, NY, USA.
• Sergeant Mark Turner is a graduate of Dr. Beth Fisher-Yoshida's Columbia University's Conflict Resolution Masters Degree program and he partners with Detective James T. Shanahan on the NYPD Conflict resolution course, New York, NY, USA. Read on: "Mark Turner is a M.S. candidate in Negotiation and Conflict Resolution. He graduated from the University at Albany with a B.A. in American History. He intends to utilize the AC4 fellowship to teach skill building techniques to youth ages 16 to 21 interested in policy/civic involvement with the New York City Police Department and Community Planing Boards."
• Sulayman Sumbundu is the program manager for Youth Alliance-The Gambia and also the Group representative of the International Humanist Movement-Gambia chapter. He is a Human Rights & Youth Activist, who has worked with different categories of young activists, human and women rights organisations to influence policy making and implementation, challenging attitudes, beliefs and values that are of human concerns. Sulayman Sumbundu has also worked as an academic, industrial manager and company secretary for the zygot oil company Gambia Ltd & Gala company. He is also a development practitioner, researcher and consultant both in The Gambia & Senegal. His interests in his advocacy career includes cultural production, fighting poverty, human rights & gender issues, education, agriculture, climate change, HIV/AIDS, sustainable development, vulnerability to violence in families and communities and access to medical & legal services.
• Sandra Hayes, EdD earned both her doctorate in Adult Learning and Leadership and her masters in Organizational Psychology—with a concentration in conflict resolution—at Teachers College, Columbia University, New York, USA. She is well established in the fields of collaborative conflict negotiation, leadership development and organizational change and has a special interest in facilitating learning and change through collaborative inquiry. For well over a dozen years, collaborative conflict negotiation has been foundational to nearly every aspect of Dr. Hayes' practice. It has been core to her expertise facilitating improved individual and organizational performance for clients including the United Nations, UNICEF, AHRC, NYC Health and Hospital Corp, Allstate Insurance, Citibank, Pfizer, Praxair, Reuters, American Express, and a host of other profit and nonprofit organizations.
Dr. Hayes has taught program design to adult learning and leadership doctoral students at Teachers College, Columbia University. As faculty with the Summer Principals Academy at Teachers College she has taught a Pro Seminar in Leadership and Action Research. For several years, at Teachers College and Fairleigh Dickinson University she taught collaborative conflict negotiation. She has also designed and delivered a course in organizational communications at Fairleigh Dickinson University.
Dr. Hayes' ongoing interest in improving conditions for successful change through learning has been demonstrated by her publications and contributions to professional conferences. She has co-edited a volume entitled Arts and Societal Learning: Transforming Communities Socially, Politically and Culturally: New Directions for Adult and Continuing Education (December, 2007) and co-authored a chapter, "Collaborative Inquiry in Action:Transformative Learning through Co-Inquiry" in Transformative Learning in Action: Handbook of Practice, by Jack Mezirow, Teacher's College, Columbia University, and Ed Taylor, Penn State (2009). At the Society for Organizational Learning, Global Forum 2005, Vienna, Austria, Dr. Hayes designed and led a session entitled: Increasing Competence Facilitating Strategic Learning Through Inquiry. She co-authored, The Play of Action Inquiry: Learning Through Living: Exploring the Implications of Developmental Diversity for Transformative Learning in an Action Inquiry Group, as the submission for a session held at the 7th International Transformative Learning Conference, Albuquerque, NM, October, 2007. She presented Beyond Leader Development: Exploring the use of co-inquiry methodologies for leadership development, November 2008, at the International Leadership Association conference, in Los Angeles, CA. She has also served as a committee member for both the 5th and 9th International Transformative Learning Conferences.
Dr. Hayes has demonstrated commitment to planning and facilitating programs tailored to clients' assessed needs by ensuring her expertise draws on a variety of resources. As an example, her certification in the application of the WholeBrain Creativity Assessment (NBI), a neuroscience-based instrument, enables her to respond to a diverse range of client developmental needs around team building, strategic visioning, conflict management, diversity appreciation, performance improvement, and creativity. She is also a certified facilitator the "The Human Element—a human relations seminar that allows individuals and teams to focus on the underlying causes of behavior that block constructive interaction.
• Lyudmila Bryzzheva is an Associate Professor in bilingual/multicultural education at Adelphi University, Long Island, NY. She grew up in the former Soviet Union and moved to the United States in 1997. Her research interests include cultural adaptation, immigrant identity, language of peace and inner transformation for peace.
• Jessica Gorelick is a MSW / Senior Trainer at Global Kids, New York, USA. She introduced herself as follows (December 4, 2010): "I have a background as a clinical social worker providing therapy and other supportive services. In this field, I've worked with clients dealing with an array of issues and, most recently, worked with survivors of human trafficking (an area - as I am sure you can imagine - where humiliation is often used as a tool of control). I also have a Masters in International Peace and Conflict Resoluation. I've the chance to travel, work, and study conflicts in Costa Rica, Northern Ireland, and Israel/Palestine. Additionally, I was lucky enough to have the opportunity to work in Honduras at a non-profit bilingual school during the 2008-2009 school year. In all of my travels, whether looking at conflict or working in solidarity with those living in the developing world, I have always noticed what a strong role humiliation can play in perpetuating violence and/or impeding individuals from breaking the cycle of poverty. This is one of many things that drew me to the conference and learning more about your work."
• Susan M. Meredith writes educational books and materials for young people. She also has produced numerous children's TV programs.
• Russell Daisey is a performer, composer, lyricist, record producer, pianist, singer, and actor, who is based in New York, USA. 9/11 tribute song "Towers of Light", was written in collaboration with noted psychologist, Dr. Judy Kuriansky, who served as co-lyricist. "Towers of Light" has been performed on National Public Radio, United Nations Radio Network, at the United Nations, at the 5th annual Japanese Lantern Lighting Ceremony (held on the Hudson River at West Houston Street Pier 60), the University Settlement, the Union Hospital, (Union, New Jersey), Person of the Year Gala Benefit, a 9/11/05 memorial ceremony at Town Hall, Greenwich, Connecticut and at services held at St. Roman Catholic Church also in Greenwich. The lyrics have been published in 'Psychologie Forum' (2003) 10: Springer-Verlag 2003, Printed in Austria. Articles about "Towers of Light" have been published in New York Newsday, September 13, 2002, The New York Daily News, September 11, 2005, The New York Daily News, September 11, 2006. Please read more.
• Samantha Snowden is a student at Teachers College and is deeply interested in this topic as well as the experiential learning approach.
• Tim Shenk and Angel Pichardo, Justicia Global, in Santo Domingo in the Dominican Republic. Angel Pichardo Almonte is the founder and general coordinator of the sociopolitical organization, Justicia Global. Justicia Global is an international organization founded and based in the Dominican Republic, sustained by the contributions of its members and collaborators. Justicia Global works for the organization and mobilization of people with the objective of building a society characterized by solidarity, equality, justice and love. Pichardo Almonte is a medical doctor, university professor and participatory qualitative researcher in the social sciences. He has developed a model for intervention with violent men. He is the author of the books "Revolución Cotidiana: Espiritualidad y Política" [Daily Revolution: Spirituality and Politics, 2009] and "Reflexiones Cotidianas: Ser que ama, transforma" [Daily Reflections: Those who love, transform, 2010]. Tim Shenk is a member of Justicia Global. He is a Spanish-English interpreter, journalist and educator. He is the author of the article "Construcciones de la masculinidad violenta desde el lenguaje popular" [Constructions of violent masculinity in popular language, 2007].
• Rose-Anne Moore is an Associate of Redmond, Williams & Associates, LLC, Stamford, CT.
• Alex Newman works for a Peace Education programme called Mosaic International. Mosaic International believes in building communities through education. "Global learning starts with local experiences. Mosaic is a unique model for community-based peace education. It gives people the tools to identify the needs in their communities and helps them plan projects that respond in meaningful ways. Mosaic projects come in many shapes and sizes, but they all involve innovative learning and local impact."
• Bruce J. Cohen J.D. is the President of EMBERVISION® in New York, NY.
• Padraig O'Malley is the John Joseph Moakley Distinguished Professor for Peace and Reconciliation at the McCormack Graduate School of Policy and Global Studies at the University of Massachusetts Boston, USA.
• Bathabile K.S. Mthombeni, J.D., founder and owner of Untangled Resolutions: The Problem Is the Answer in New York City, NY, USA, is a seasoned mediator, negotiator, educator, entrepreneur and online radio talk show host. A cum laude graduate of Princeton University, she earned her law degree from Columbia University. She has been mediating for nine years. Bathabile Mthombeni is a board member of the New York State Dispute Resolution Association and an Adjunct Assistant Professor in the Dispute Resolution Program at the John Jay College of Criminal Justice in New York City. She is a former Associate University Ombuds Officer for Columbia University. There she helped over 1200 people address their disputes. Ms. Mthombeni is well known as a dynamic and gifted speaker who has developed and presented numerous workshops and panel presentations on negotiation, conflict resolution, and diversity at venues like Columbia and Princeton Universities, CUNY, Dress for Success, and the New York City Bar Association. She hosts a weekly online radio show about the lives and work of mediators called SANGOMA, Stories from the Frontlines of Mediation. Bathabile Mthombeni is also a video/documentary film producer and a singer/songwriter/guitarist.
• Joseph Levine is the Executive Director of External Affairs at Teachers College, Columbia University, New York, NY, USA.
• Joy Stocke is the editor in chief of the online literary journal, Wild River Review, whose mission is to tell stories by and about people who are contributing to and creating a new planetary consciousness, one in which we understand, honor and nurture the soul and intellect of every being. While we are a women-run organization and orient our editorial process with an eye toward the fact that all women are working within a patriarchal framework, we are seeking to tell stories that speak to a new paradigm involving strong women and men who will work together to end violence. For that to occur, work with a younger generation is crucial. Joy is also a member of the Lindisfarne Association.
• Kim Nagy is the Executive Editor of Wild River Review.
• Cheryl Duckworth is a professor of Conflict Resolution at Nova Southeastern University. A peace-building program leader and conflict resolution policy analyst, she has served such organizations as the Institute for Multi-Track Diplomacy and the Center for International Education. She has lived in Zimbabwe and Paraguay, and published and presented globally on her two passions, peace education and peace economics, exploring ways to transform the economic, political, social and psychological root causes of war and violence. Her more recent publications include her book which explores the role of dignity in social movements, Land and Dignity in Paraguay, and an article on her implementation of critical peace education curriculum in a juvenile detention home. Cheryl has trained hundreds of students, teachers and community leaders in peace education and conflict resolution both in the US and internationally. Currently she serves as the faculty advisor of NSU's Peace Education Working Group and on the Advisory Board of the Hope Development Foundation, a women's rights and peace building organization in Pakistan. Cheryl has taught qualitative research methods, foundations of conflict resolution and peace education. She is active in the Alliance for International Education, the Comparative and International Education Society and the International Peace Research Association. She blogs at Teach for Peace.
• Kalen Young has a Bachelor of Arts in Political Science and is working on her MA in Social Justice and Human Rights from Arizona State University. Kalen has extensive research and professional experience working on interdisciplinary research projects pertaining to sexual orientation, gender identity, public policy and hyper-masculine environments. Her research interests include radical pedagogies in praxis, humiliation as it intersects with trauma, and obstetric/traumatic fistulas through a human rights lens Her research grants her the opportunity to explore the complex matrices of socio-political impulses that perpetuate systems of institutionalized discrimination and violence. Her current research focuses on obstetric and traumatic fistulas as a nexus where trauma and humiliation intersect.
• Nora Byrnes is the Development and Executive Assistant at Soliya, an international non-profit organization with offices in New York and Cairo.
• Yaqub Emmanuel Faraz is an Assistant Professor at the Govt Degree College in Taxila, in the Rawalpindi District of Punjab province of Pakistan.
• Cat Greenstreet has been a Waldorf educator for the past 20 years and has served that worldwide school movement in a variety of capacities. Cat is a facilitator, prepared by the Center for Courage & Renewal, using an approach called the Circle of Trust® approach, based on the work of Parker J. Palmer, which encourages hospitality, presence, silence, deep listening, and asking open-honest questions; "together we create a safe space for people to hear the voice of their 'inner teacher,' so they can better align 'soul and role'." She has also been trained as a mediator by the New York Peace Institute.
• Rita Anita Linger is a Human Scientist and the CEO of SERA, Inc., a capacity building organization which strives to enhance the quality of life for residents in all aspects of life from financial empowerment and sustainability to health and wellness. All facets of a resident's life that will ultimate lead to economic empowerment are assessed and action plans for movement toward goals are created. [read more]
• Zehlia Babaci-Wilhite is also a Member of the HumanDHS Research Team. She speaks a number of languages, French, English, Norwegian, Japanese and Berber, a pan- African language. She has been teaching languages in various institutions since 1992 in different places around the world such as Tokyo (Japan), Trivandrum (India) and Oslo (Norway). She holds a Master of Philosophy in Comparative and International Education from the University of Oslo, Norway. Her thesis focused on language of instruction in Tanzania. Her current research is on the new education curriculum in Zanzibar (Tanzania) done in conjunction with a larger research project funded by the University of Oslo. She holds the position of administrative coordinator at the University of Oslo for a Program for Institutional Transformation, Research and Outreach, cooperation between the University of Oslo and the University of Dar es Salaam in Tanzania.
• Macleans A. Geo-JaJa is a Professor of Economics and Education at Brigham Young University in the United States, where he teaches Economics of Education, Development Education, and Human Rights and Poverty courses. He conducts research in the areas of Human Development, Human Rights in Education, Globalization and Poverty, Development Education, and Economics of Education. His is widely published in top tier international journals and has contributed numerous chapters in peer reviewed edited books. Serving as technical expert in China, he worked with colleagues to establish an Institute of Africa Studies and a Teacher-Team Development Program for China's transforming economy and education system. He has undertaken missions and policy studies in his specialty areas for a wide range of international donor organizations (World Bank, USAID, UNDP, etc) and national governments.
He is a member of the Publication Committee of the World Congress of Comparative Education Society (WCCES) and a member of the editorial consulting Board of the International Review of Education (IRE) a journal of UNESCO. In recognition of his contribution in the field, he has been invited as Guest editor to tier one journal in his field. In 2006, he was appointed to the Governor Huntsman Task Force on Refugee Resettlement in Utah; this was in recognition of his contribution and scholarly work on Equity and dignity in refugee resettlement and reintegration. In 2007, Professor Geo-JaJa was appointed a member of The Nigerian National Think Tank, in recognition of his community and scholarly contribution in the area of poverty, equity in education and human development, as well as dignity institution in the Niger Delta region of Nigeria. Currently, he serves as the Chair of National Think Tank on the Review of the Nigerian Constitution. He spent many years as Professor of Economics at the University of Port Harcourt in Nigeria, as well as at the University of Utah in the USA.
• Adair Linn Nagata, Ph.D. teaches, facilitates, and coaches with an emphasis on integrative transformative learning through Personal Leadership: Making a World of Differences (sm). She has focused her current work on Personal Leadership because in practicing it, we set the conceptual ideal that leads us forward by formulating and continually refining our vision of ourselves functioning at the peak of our capability, whatever it is currently. Personal Leadership promotes this evolution as we engage in it and cultivate ourselves as instruments of communication. [read more]
• Sasha Moore completed a bachelor's degree in sociology in 2007 and subsequently spent several years working with university students from around the world in the field of international education as an instructor, mentor, and advisor. Working with young adult learners uncovered Sasha's passion for supporting others in living their desired life that honors their authenticity and senses of self — particularly among individuals of diverse gender identities and sexual orientations.
In 2017, Sasha completed a master's degree in intercultural relations, which clarified her desire to foster equity, dignity, and inclusion in the workplace and in the world.
Her research culminated in the design and development of a cultural competency handbook for law enforcement personnel that assists them in the co-creation of safer, more constructive intercultural interactions between law enforcement and the citizenry they serve, including but not limited to the transgender community. In its current form, the handbook: 1) helps the reader more effectively and appropriately interact across cultures in general, 2) offers best practices for interacting with people who identify as transgender, and 3) supports the reader in processing their intrapersonal somatic-emotional reactions during conflict with others so they may create better interactions in the future.
• Barbe Chambliss is a psychotherapist, mediator, and organic farmer dedicated to discovering and bringing forth acts of peace in a progressively chaotic world. A former director of the Center for Conflict Resolution in Aspen, Colorado, she has taught conflict resolution skills to over 500 children and adults in Colorado and interviewed over 50 women peacemakers internationally. She facilitates Restorative Justice Circles in her community.
Barbe first interviewed nine women peacemakers for her Ph.D. dissertation, entitled "Contemporary Women Peacemakers: The Hidden Side of Peacemaking," This ignited two decades of global interviewing, expanding a roster of nine women peacemakers to over 50 and still counting. Midway through her studies, she volunteered as a counselor in a Croatian camp providing safe haven for 80 children who had recently survived the Bosnian War. Shortly after the 9/11 attacks, she compiled and distributed a "Working Compendium of Non-violent Responses to 9/11," and later served as a therapist on a U.S. military base to better understand the human dynamics in the making of war. Her work is an ongoing exploration into the power of peacemaking, which she defines simply as people treating each other with equal respect.
Barbe is a fourth-generation Coloradoan. She would rather sleep under the stars than beneath a roof. She recharges her soul and does her best writing in her yurt, perched 8,000 feet high in a Rocky Mountain meadow she shares with a herd of elk. Her goal is to wake up the conscious peacemaker in as many people as possible during her lifetime.

• Dr. Mara Alagic is an Associate Professor of Mathematics Education and Assistant Dean of the Graduate School at the Wichita State University. Her interest in developing intercultural communication and global learning competence has arisen from having taught internationally and in culturally diverse environments. As co-leader of an early global learning project on mathematics and science education, she was a recipient of the Global Learning Course Redevelopment Team Excellence Award in 2002. In addition to integrating global learning into her own classes, she mentors other faculty and K-12 teachers to infuse Cage Painting and global learning into the curriculum. Dr. Alagic has led efforts to incorporate cage painting simulations and scenario authoring into graduate classes at Wichita State University. She has given invited and keynote presentations on these topics at international conferences. Dr. Alagic has published extensively in this area as well as in mathematics and mathematics education. Her research activities have attracted numerous external grants. She received the College of Education Research Award in 2004-2005. Dr. Alagic received her PhD in mathematics from the University of Belgrade. She studied and/or thought in the Mathematics Departments at the University of Belgrade, the University of Sarajevo, University of Massachusetts in Amherst and Wichita State University.
Along with Dr. Glyn Rimmington, she is the co-author of the book Third Place Learning: Reflective Inquiry Into Intercultural & Global Cage Painting, published in the book series Teaching <~> Learning Indigenous, Intercultural Worldviews International Perspectives on Social Justice and Human Rights (Editor: Tonya Huber-Warring) by Information Age Publishing Inc.
Mara continues to facilitate collaborative development of the Third Place Learning phenomenon and related development of knowledge bases at the professional network. Please browse, join if interested, and/or email to mara.alagic[@]wichita.edu."
Please see here some of Mara Alagic's publications:
• Improving Intercultural Communication Competence: Fostering Bodymindful Cage Painting, co-authored by Mara Alagic, Adair Linn Nagata, and Glyn M. Rimmington, in Journal of Intercultural Communication, SIETAR Japan, 12, pp. 39-55, 2009.
• Locating Intercultures. Educating for Global Collaboration, co-edited by Mara Alagic, Glyn M. Rimmington, Funchang C. Liu, and Kai L. Gibson, Learn International Series, New Delhi: MacMillan Publishers Ltd. 292 pp, 2010.
• Glyn Rimmington joined Wichita State University in 2001 as the inaugural Boeing Distinguished Professor of Global Learning. He leads the Global Learning program (gl.wichita.edu), which is aimed at infusing intercultural communication and global learning experiences into the curriculum. The ultimate goal of global learning is to prepare graduates for life in a highly diverse, interconnected and interdependent world.
• Renée Monrose is a visual artist living in New York City. Her career path has taken many turns, from journalism and film, to painting and theology. She is now immersed in photography and installation work and is working on book and exhibition on tomboys. She has had solo painting shows in New Orleans and Chicago and was included in several group shows in New York. Her most recent work, Face to Face, is an installation of portraits of women who have been significant, though often unknown or forgotten, in the history of women's rights. It opened in April 2016 in a specially designed space in Columbia University's Burke Library at Union Theological Seminary and, due to its success, has been extended indefinitely.
Renée was born and raised in New Orleans. The second of four daughters, she spent her formative years among strong-willed women. Her mother was a painter. Her grandmother was a pianist and three great aunts were nuns, two of whom worked behind the lines during WWII. Myriad and highly influential African American women came into her life as a child and cultivated her inclination toward compassion, religion and mystery: "I inherited the God gene and they picked up on it right away," she says. Her childhood playground was a crumbling neighborhood cemetery where she and her friends learned to smoke cigarettes, confronted death and decay, and had brushes with the spirit world. "It left a deep impression and tendency to gravitate toward graveyards." Her childhood was infused with a love of the arts and tilted toward a fascination with the theological and cultural mosaic of her unique native city.
After studying literature and art in Italy, Renée earned an MS from Columbia's Graduate School of Journalism and, later, an M.Div from Union Theological Seminary where she focused on Empire critical interpretations of the New Testament and on psychology and religion. She also studied at the Pennsylvania Academy of the Fine Arts, the École des Beaux Arts de Paris and with Leland Bell at Parson's School of Design in Paris. She attended the International Center of Photography and studied with New York photographer Carol Dragon. In 2015, she attended the Photography Master Retreat in Esparon, France which was mentored by Martine Fougeron (ICP), Lyle Rexor (SVA), Elisabeth Biondi (The New Yorker) and Katarina Bosse (FH Bieledfeld, Germany)
Along with her work as a full-time artist, Renée volunteers as a rape crisis advocate at Bellevue and NYU hospitals. She is a member of Project Envision, an organization funded by the New York City Alliance Against Sexual Assault that is dedicated to eliminating sexual violence through addressing its root causes.
She loves animals – particularly horses, dogs, pigs and octopuses – has a rescued Pembroke Welsh Corgi and formerly volunteered as a mounted patrol guide in Central Park and Staten Island's Silver Lake Park.
See Renée Monrose's Face-to-Face exhibition at the Union Theological Seminary in New York City, an ecumenical seminary affiliated with Columbia University in Manhattan.
• Dr. Sandra Hurlong is President of the Intercultural Open University Foundation where she also serves as Professor of Cultural Anthropology. She is a renowned educator and scholar in learner centered adult education who is at the forefront of innovation in e-learning in higher education. Dr. Hurlong has devoted her academic career to implementing non-traditional approaches to learning; she is passionate about the Foundation's unique self-directed mentored education experience geared to social change. Her expertise and reputation at the helm of the Foundation led to its membership in EDEN (European Distance and E-Learning) and OBHE (Observatory of Borderless Higher Education).
Dr. Hurlong was a speaker at the Round Table Discussion, European Foundation for Quality in eLearning (EFQUEL) Innovation Forum in 2009 that took place in Finland. She is also working with HEXTLEARN, an organization that contributes to the deployment of lifelong learning strategies through information and communications technologies within higher education institutions by means of peer review methodologies and promoting sharing and understanding among members. Dr. Hurlong is working with HEXTLEARN's Peer Review Methodology Project, a program that aims at enhancing the reform process of European higher education institutions by creating, testing, and launching e-learning assessment methods.
Dr. Hurlong has served as a consultant for organizational analysis and employee development for the Wharton School of the University of Pennsylvania. She has taught at Wilmington College, the School for International Training in Vermont and the Union Institute & University (a pioneering organization in innovation in higher education) in Cincinnati, Ohio where she also served as the Assistant Dean.
Dr. Hurlong has served on many boards including the Delaware Humanities Forum and Partners for the Americas. She is a member of the American Anthropological Association, the University Museum of the University of Pennsylvania, the Association of International Educators and the Association for Transpersonal Psychology.
Her additional expertise includes postgraduate studies, Latin American and Hispanic Studies (Mexico/Spain), Shamanism and Spiritual Journeying, Ritual Art and Performance, Dance Ethnology, South Asia Studies, Women's Studies and Sustainable Agriculture.
Dr. Hurlong has received numerous awards including recognition by the Department of Agriculture of the State of Mexico for her work with Campesinos and agricultural development; and a grant from the Ford Foundation for Anthropological Field Training. She earned her Ph.D. in Anthropology from Union Institute and her M.A. in Cultural Anthropology from the University of Pennsylvania where she also received her B.A. in Anthropology. Dr. Hurlong has also studied at various universities abroad. She currently divides her time between Oaxaca, Mexico and Arden, Delaware.
• Christine Locher's main points of interest are training, coaching, consulting, personal and organizational transformation. Her personal mission statement is "to lead people to knowledge and freedom" and she is striving to bring body and soul back to the business world. She is working for a consulting company in the training field and is volunteering as trainer, coach and mentor in various youth and social entrepreneurship projects.
She completed a post-grad certificate in Peace and Conflict Resolution Studies at Fernuniversität Hagen in 2007 with a thesis on conflict resolution focusing on North Korea . Before that, she studied Journalism, Intercultural Communication and Psychology in Munich, Germany, with stays abroad in Japan and Ecuador. She graduated with an M.A. in 2004. In addition to her M. A., she also did a post grad intensive course in business studies at Fernuniversität Hagen focusing on strategic management and organization.
Christine has completed training as a group facilitator/transpersonal educator WYSEand a train-the-trainer program, always seeking to deepen her knowledge of methods and approaches and to add new ones to her practice. She is an integral business coach and is licensed for psychotherapy in Germany (Heilpraktiker für Psychotherapie). She has also received training in Psychosynthesis, Client Centered Counseling, Gestalt Therapy, Non-Violent Communication, TRANSCEND and is a teacher for Hatha Yoga and Inner Yoga (studying in Germany and India). She is a member of the Society for Organizational Learning and of the Spiritual Venture Network.
Christine loves music and the arts, traveling and studying languages. She speaks German (including several southern dialects), English, French, Spanish, Japanese, Chinese (at varying levels). She promised several of her international friends to study their mother tongues as well, luckily without giving a deadline for it.
Please see:
The Conflict with North Korea / North Korea as a Source of Conflict. An Analysis from a Peace Studies Perspective. Presented as graduation thesis in Peace and Conflict Resolution Studies at FernUniversität Hagen, 2007.
• Harvey Newman is the director of community outreach for Transformative Communities, a social enterprise creating dynamic open source websites, web communities and enterprise platforms for business and organizations. Harvey was ordained as an Interfaith Minister 1984 and was co-founder and first president of A.I.M. as well as chairman emeritus of A World Alliance of Interfaith Clergy. Harvey is founder and facilitator of Circle of Life-Mastery, Inc., a 501(c)(3) not-for-profit organization dedicated to promoting and encouraging spiritual/emotional growth. Harvey retired in 2004 from Synovate, Inc., a global market research corporation, after 21 years of experience in the field. For 15 of those years he succesfully functioned within the company in his self-created position of research projects trouble-shooter. Harvey is a United Nations representative for the Association for Trauma Outreach & Prevention/Meaningful World and a member of the Congress of Non-Governmental Organizations (CoNGO) Committee on Spirituality, Values and Global Concerns.
See www.reclaimourearth.net, the website developed by Harvey Newman and Ted Schulman.
• Ted Schulman is a social anthropologist and evolutionary activist, and a proponent for the transformative potential of open source software and culture. Combining his interest in social development and technology Ted has facilitated the OWS Earth Summit Workgroup and its participation with the United Nations Rio+20 Earth Summit. He is now helping to create Transformative Communities, a community of practice (COP), bringing together thought leaders as a transformative organization.
Prior to founding Transformative Communities Ted Schulman managed the Solutions Group at TBWA\Chiat\Day the global adverting agency known for its work as Apple Computer's agency (among others; Absolute Vodka, Nissan, Pepsi, Visa). The Solutions Group at TBWA consisted of geography diverse teams of software developers who customized and integrated open source software for the agency's digital infrastructure. It was at TBWA that Ted began to fully appreciate the value of open source technology for the development of socially and economiclly transformative systems.
Over the course of his career Ted has directed and produced traditional and interactive communications projects for many Fortune 500 clients.
Project highlights include:
Responsive TV, first generation interactive learning system (1980s). The Learning Center at Ellis Island, interactive classroom (1990). HarlemNYC.US, example online community developed for Harlem, NY community application as a Federal Empowerment Zone (1995). The Open Source Imperative (2012).
Ted holds a degree in Social Anthropology from Queens College and authored the best selling Web design book Photoshop Web Magic (1996).
See also his bio on TedSchulman.com: Ted Schulman's broad perspective and collaborative approach as a consultant and change agent are based on engagements as an entrepreneur, corporate manager, consultant, author, and producer/director. A pioneer in interactive communications Ted has managed communications campaigns and programs for a highly diverse range of clients and industries. He has the credibility that only comes from deep experience with major engagements. With experience spanning advertising, financial services, and technology innovation Ted maintains a commitment to social-good projects. A social anthropologist and evolutionary activist, Ted is a proponent for the transformative potential of open source software and culture. A native New Yorker, Ted spent 15 years living downtown near Wall Street. He now lives uptown in Washington Heights across the street from a beautiful park on a river bank.
• Fred Sullivan has manifold interests: He is a Technology/Social Entrepreneur, Activist, and Artist, with the range reaching from Strategy to Start-Ups, Branding, Technology Entrepreneurship, Social Entrepreneurship, Software Integration & Development, Inbound Marketing, Film & Video Producer, Art Direction, Systems Analysis, Argentine Tango, and Modern Dancer and Choreographer, Pianist. [read more]
• Bruno Varela is an international consultant specialized in strategy & disruptive technologies, with successfully completed engagements across US, Brazil, Europe, Africa, Asia, and Canada. In the last few years, Bruno is looking for ways to enhance common well-being and increase inclusion in areas of need. Some of the projects involve last-mile internet connectivity and reduction of food waste.
• Dorothy J. Maver, Ph.D., is Co-Director of the National Peace Academy. She is an educator and peacebuilder whose keynote is inspiring cooperation on behalf of the common good. Her work in education, politics, and grassroots community organizing is focused on applied peacebuilding and the global call for ministries and departments of peace. Previously, Dot served as President/CEO of Peace Partnership International and, before that, as Executive Director of The Peace Alliance and Campaign for a US Department of Peace. She was the National Campaign Manager for Kucinich for President 2004. She is a co-founding member of the Vermont Peace Academy and a founding board member of the Center for Cooperative Principles. An innovative educator with a teaching background in Health, Physical Education, Psychology and Philosophy at both the high school and university levels, she is on faculty with Polaris College, Denmark, was part of the 2008 lecture series at the Graduate Institute in Connecticut, USA, and the 2009 Bridging the Gap speaker series at Regis University in Denver, USA. Dot is active in community coalition building with her process model based on shared responsibility and shared leadership. In the world of fast-pitch softball Dr. Dot is known for her revolutionary fast-pitch hitting technique, The Maver Method: Secrets of Hitting Success, and is co-author of the book Conscious Education: The Bridge to Freedom.
• Hélène Lewis is born in Namibia, currently living in Cape Town, South Africa. She holds a MSc in Clinical Psychology and is a psychologist in private practice. She has a keen interest in Psycho-history, particularly in generational re-enactment within and between groups in South Africa. She has contributed towards the Rhodes Review, writing on racism, and is currently researching a book on the woundedness caused by humiliation and consequent revenge in SA – over the past 350 years.
• Xuan Zhang is a PhD student at the Department of Psychology at Boston College and a visiting scholar at the Interdisciplinary Affective Science Laboratory at the Department of Psychology at Northeastern University. Prior to that, she conducted her graduate studies at the Institute of Psychology of the Chinese Academy of Science in Beijing, China and was a psychology student at the Department of Psychology in Zhejiang University, Hangzhou, China. Two of her research papers were published in Chinese psychological journals. Her goal is to raise Chinese students' awareness of mental health. [read more]
• David Konstan is Professor of Classics at New York University and Professor Emeritus of Classics and Comparative Literature at Brown University (Rhode Island, USA). He is the author of many books and articles, among them Friendship in the Classical World (Cambridge University Press, 1997); Pity Transformed (Duckworth, 2001); The Emotions of the Ancient Greeks: Studies in Aristotle and Classical Literature (University of Toronto Press, 2006); "A Life Worthy of the Gods": The Materialist Pyschology of Epicurus (Parmenides Publishing, 2008); Terms for Eternity: Aiônios and aïdios in Classical and Christian Texts (with Ilaria Ramelli; Gorgias Press, 2007); and Before Forgiveness: The Origins of a Moral Idea (Cambridge University Press, 2010). [read more]
• Claire Medol Hyman is an Interdisciplinary artist and writer who feels deep awe for human capacity of expressive speech and handwork that is evolutionary human development. She says "Human and animal creation of shelters addresses both need and drive. My suite SHELTERS; A WOVEN SUKKAH 2008-2011 are walls and icons topped by roofs that theoretically would allow vision of stars as rules for SUKKAH state. A reminder that organisms require organic and purposeful reasons for existence. It's my honor and pleasure to meet you activists at 2011 Humiliation Studies Conference."
smaller font:
Signed Giclee prints of CONFERENCE POSTER: SHELTERS; A WOVEN SUKKAH are available. See image, prices and order at Human Dignity conference or at: www.clairehyman.com or clairejhy[@]gmail.com
See also clairejhyman.blogspot.com/2011/11/what-is-black-and-blue-and-torn-all.html.
She kindly writes on November 24, 2013: "As a grass roots action I am on the executive committee of the newly formed Faces Project exhibiting artist painted portraits of children in the U.S. killed by guns. We are booking shows throughout the U.S. and Canada to put faces on the statistics of childhood deaths from guns. Tasks are generally limited to seeking families willing to grant permission and image of child victims, volunteer artists and gallery spaces are sought out. For my work as an Interdisciplinary artist I visit and collect artifacts and human stories from the many areas of recent destruction. My work as story with a sense of place and fragments will show by 2015."
• David Lotto is a psychologist psychoanalyst in practice in Pittsfield Massachusetts. He is a psychohistorian who has published in the Journal of Psychohistory and Clio's Psyche. He has recently written a paper on revenge.
• Eugenie Ngenzi wrote on November 29, 2011: "From 2005 until today, I am pastor of the Church of the Living God-Windsor, in Ontario, Canada. I am also a sociologist. At university, from 1991 until 2001, I have done research on the genesis of the social problems of today's economic world. I studied deeply how free born human beings can be turned into slaves and vice versa, sometime without noticing it. I also studied the problems related to women working while being a wife and a mother. So many factors affect her performances just for being born as a girl. When I was almost PHD graduate and ready to publish my work, something happened and I could not make it. I found my opinions matching so much with what I read about Human Dignity and Humiliation Studies ideas. I am coming to the New York conference to get to know more about Human DHS and see how we can get along together in making tangible impact on the today economic bad situation and its side effect to our community. My point is: Let us give a room and a voice to the least among us and we will see how peaceful our communities will live together in harmony and prosperity."
• Charles Eisenstein is the author of The Ascent of Humanity and Sacred Economics. He writes and speaks on themes of transition, money, ecology, and cultural evolution."
• Neil Ryan Walsh is currently working with the Kaminokawa-machi board of education as a member of the Japan Exchange and Teaching Program (JET Program). Neil has recently completed a part time internship with the United Nations Department of Public Informations Committee on Non-Governmental Organizations (12/05 6/06). [read more]
• Karmit Zysman is an historiographer and epistemologist and has been living in Kosovo since the 1990s, working in the fields of education, youth and culture.
• Kwartarini Yuniarti is the Secretary General of the Asian Association for Indigenous & Cultural Psychology (AAICP), Director of the Center for Indigenous & Cultural Psychology (CICP) at the Faculty of Psychology, at the Universitas Gadjah Mada, Yogyakarta, Indonesia. She wrote on November 30, 2001: "Dear Colleague, I am Kwartarini Wahyu Yuniarti, a lecturer at the Faculty of Psychology, Universitas Gadjah Mada, Yogyakarta, Indonesia, currently taking a Fulbright Senior Research Program for about 6 months since the 11.11.11, associated/ attached with the State University of New Jersey, at the Rutgers, Institute for Health, Health Care Policy and Aging Research. I am interested to attending your two-day workshop, Dec 8 - 9, 2011 next week. Herewith this email, I am sending also my CV for consideration. Please kindly let me know if I have to submit any other documents for the workshop. I look forward to hearing from you at your earliest convenient time, thank you. With all of best wishes, Kwartarini Yuniarti"
• Miraj U. Desai, M.A., is currently a psychology fellow at the Yale School of Medicine Department of Psychiatry and a doctoral candidate in clinical psychology at Fordham University. He completed his B.A. Summa Cum Laude with Honors at Miami University, during which he also spent time at Selwyn College, University of Cambridge, conducting research on international health and development with a focus on South Asia. For the last few years, Miraj has spent considerable time living in India and working with Sangath—a mental health focused non-profit/non-governmental organization—on a project investigating the local experience of autism spectrum disorders (ASD). His dissertation specifically examines the indigenous understandings of ASD from parents' perspectives in Goa, India. Miraj has previously worked with low-income and refugee populations in NYC, conducting bilingual therapy at Bellevue/NYU's Program for Survivors of Torture. His Master's thesis on the lived experience of depression in primary care received the Sidney Jourard Award from APA Division 32, Society for Humanistic Psychology. He is a member of the Task Force on Indigenous Psychology for Division 32 and also a past recipient of the Minority Fellowship of the APA.
• Valerie Zeman is the Coordinator of Administration and Office Management at the National Urban Alliance in
Syosset, New York.
• Yvette Jackson, Ed.D. CEO National Urban Alliance for Effective Education, interested in enabling underperforming students to demonstrate their highest potential for self actualization. Dignity means that children, also those who have been marginalized, have unlimited potential which is demonstrated when they are shown respect.
• Jim Dingeman has been a journalist since the late seventies. He wrote (December 2, 2011): "I have worked in print and broadcast throughout that period. This has included coverage of the liberation struggle in Southern Africa, The Iran-Iraq War, the Gulf War, Iraq and Afghainstan. I also have covered domestic politics and culture (especially cinema). I have direct experience as a political organizer and activist in labor union struggles, the Vietnam anti-war movement, the Vietnam Veterans Movement, the anti-apartheid struggle, children's issues and anti-globalization struggles. Finally, I have a strong committment to public education programs and have been involved locally in NYC for several decades doing precisely that. I am currently involved in a wide variety of digital projects that include how to integrate this technology into a traditional analog radio system."
• Muhammad Derfish Ilyas is a Lawyer, Human Rights and Peace activist from Lahore, Pakistan. He has completed MA Political Science from University of the Punjab and LLM in International Crime and Justice from the United Nations Interregional Crime and Justice Research Institute (UNICRI), and the University of Torino, Italy. He is member of many local and international Humanitarian organizations. He has been Research Fellow in International Human Rights Law with the European Roma Rights Center and Amnesty International Budapest, Hungary. Presently, he is Research Fellow in International Human Rights Law with Tampep Italia in their Torino office.
• Mark Robert Massalu Itallange is from Tanzania. He kindly participated in our 25th Annual Dignity Conference in Kigali, Rwanda, in June 2015.
• Kiyoko Sueda, Ph.D., is a Professor of Intercultural Communication at the School of International Politics, Economics and Business, Aoyama Gakuin University, Tokyo, Japan, and teaches interpersonal and intercultural communication. She has been active in SIETAR Japan for many years and served as Vice President from 1998-2001 and 2002-2004. [read more]
• Karen Studders, Saint Paul, MN, USA, from the Occupy Wall Street movement.
• Ambassador Shahid Kamal is also a Founding Member of the World Dignity University initiative.
Ambassador Kamal is a career diplomat who has worked in the Ministry of Foreign Affairs, Prime Minister's Office, the United Nations, the Organization of Islamic Conference and diplomatic Missions in Paris, New York, Washington and Stockholm.
Before coming to Berlin in 2007, Ambassador Kamal was Additional Foreign Secretary at the Ministry of Foreign Affairs.
He served as Ambassador to Sweden from 2001 to 2005. During this period he was accredited as Ambassador to Finland, Estonia and Latvia.
From1998 to 2000 he served as Minister/Deputy Chief of Mission at the Embassy of Pakistan, Washington D.C where he participated in negotiations on political and security issues. He was appointed Consul at the Consulate General of Pakistan, in New York from 1984-1986. [read more]
• Helen Verdeli, Ph.D., Associate Professor of Psychology and Education, Teachers College Columbia University: Dr. Verdeli is an Associate Professor of Clinical Psychology at Teachers College, Columbia University, where she has been teaching graduate psychology students on research and practice of empirically-supported treatments. Dr. Verdeli's research focuses on treatment and prevention of mood disorders and involves two areas. One is on use of Interpersonal Psychotherapy as a preventive intervention for symptomatic adolescents of Bipolar parents. For this work, she has an NIMH K23 Award and a number of foundation grants. Dr. Verdeli is also involved in adapting and testing psychotherapy for depressed people in developing countries. She collaborated with academic and humanitarian groups in the US and abroad and had a major role in the cultural modification of Interpersonal Psychotherapy for randomized controlled trials with depressed adults in Southern Uganda, depressed adolescents in IDP camps in Northern Uganda, and distressed patients in primary care in Goa, India. Dr. Verdeli is a member of the Mental Health Advisory Committee for the Millennium Villages Project of the Earth Institute, a Scientific Advisory Council member of the American Foundation for Suicide Prevention and the Scientific Advisory Board of DBSA. In 2009, she received the APA International Psychology Division Mentoring Award. She is currently heading the research workgroup of the UN family committee and is a consultant with the WHO on dissemination of psychosocial treatments.
• Tijana Milosevic is a Belgrade-based freelance writer. Before returning to Serbia, Tijana received an MA degree from the School of Media and Public Affairs at the George Washington University in Washington, D.C. and worked with various public diplomacy and international communications organizations in Washington. She lectured in media psychology and media research at Singidunum University for Media and Communications in Belgrade. Tijana was trained with the Radio Free Europe in Washington and BBC World in London. She is also the recipient of the Goldman Sachs Global Leaders Award and numerous Open Society Institute scholarships. Tijana is reachable at: tijana.milosevic[@]gmail.com.
• Denis Ben Che was born in Cameroon and is currently a PhD student in the Institute of Development Policy and Management at the University of Manchester, UK. He previously studied peace and development work at the Linnaeus University in Sweden, where he earned a BSc and an MSc in Peace and Development Studies. Before leaving Cameroon, he graduated from the University of Yaoundé 1 with a BA and a Postgraduate diploma in arts, and later he obtained an MA from Blekinge Institute of Technology in Karlskrona, Sweden. [read more]
• Barbara Randall gives women her voice and fulfills what traditionally is seen as the duty of women to teach love. Bob Randall is a Yankunytjatjara Elder and a traditional owner of Uluru (Ayers Rock) in Australia. Bob is one of the Stolen Generation of the Aboriginal people, taken from his family at the age of seven. Throughout his life, Bob has worked as a teacher and leader for Aboriginal land rights, education, community development and cultural awareness. In the early '70s, Bob's song Brown Skin Baby (They Took Me Away) became an anthem for the Aboriginal people. He is the author of two books: his autobiography Songman and a children's book, Tracker Tjginji. He is also the subject of the recent documentary film, Kanyini. [read more]
• Puni Selvaratnam was born in Sri Lanka. After a series of govt-sponsored anti-Tamil riots in the 50s/60s/70s her husband and she left Sri Lanka for the UK in 1977. She is the mother of two children. She started teaching in Sri Lanka and continued to teach in the UK. She retired from teaching in 2003 to work full-time on advocacy work on the conflict in Sri Lanka.
• Nayara Mendez is a student of Social Work at the Catholic University of Brasilia, Brazil. She is responsible for the blog City of Estrutural (Portal Cidade Estrutural), where she gets the opportunity to talk about the history of her city through postings on "Memory of the city of Estrutural" (Memória Estrutural), while keeping the local and the Brazilian Federal District populations informed about everything that happens there in real time. She also works with the project Hands of Ester (Mãos de Ester), which has been developed by the Associtation Hands That Create (Mãos Que Criam), also in the city of Estrutural. Nayara has participated in political training courses, and is active in social movements, especially those aimed at Brazilian youth. [read more]
• Deborah Franklin is conducting research on self-esteem/self-worth and its impact on Black girls in the academic arena in relationship to societal challenges.
• Naseer A. Ganai is a senior correspondent with Greater Kashmir, the largest circulating English daily of Kashmir (India). He covers human rights and ethnic issues besides the situation along the state's troubled border with Pakistan-administered part of the state. He covered the 2005 major earthquake which killed more than 75000 people across the divided state. [read more]
• Kim Hughes and Nathaniel Brown are members of The University of Georgia Counseling & Student Personnel Services Ph.D. Program, with a focus on social justice in the P-16 spectrum.
• John Horgan is a science journalist and Director of the Center for Science Writings at Stevens Institute of Technology, Hoboken, New Jersey. A former senior writer at Scientific American (1986-1997), he has also written for The New York Times, Time, Newsweek, The Washington Post, The Los Angeles Times, The New Republic, Slate, Discover, The London Times, The Times Literary Supplement, New Scientist, and other publications around the world. He writes regular columns for Scientific American online and BBC Knowledge Magazine (see links at left). He tweets under the tag Horganism.
Horgan's most recent book is The End of War, published in 2012 by McSweeney's Books (and now available as an e-book). The book has been called "the best book I've read in a very long time" (journalist David Swanson), "thoughtful, unflappable, closely argued" (novelist Nicholson Baker), "heartfelt and important" (evolutionary psychologist David Barash in The Chronicle of Higher Education). In The Philadelphia Inquirer, the political scientist Michael Horowitz wrote: "Dialogue like that Horgan has opened here, in my opinion, is where the best pragmatic solutions [to war] are likely to emerge."
Horgan has discussed the book on NPR, MSNBC and Voice of America, among other media outlets, and he has given talks at Columbia, NYU, Rutgers and other universities. MSNBC host Dylan Ratigan called The End of War one of his "six favorite books." See "Appearances" page for information on book-related events.
Horgan's other books include Rational Mysticism: Dispatches from the Border Between Science and Spirituality, Houghton Mifflin, 2003, which The New York Times called "marvelous" and the Globe and Mail "splendidly written" (see outtakes from the book posted on this site); The End of Science: Facing the Limits of Science in the Twilight of the Scientific Age, Broadway Books, 1996, a U.S. bestseller translated into 13 languages; and its followup The Undiscovered Mind: How the Human Brain Defies Replication, Medication, and Explanation, Free Press, 1999, which was a finalist for the 2000 British Mind Book of the Year and has been translated into eight languages.
He is the co-author with the Reverend Frank Geer of Where Was God on September 11?, edited by Robert Hutchinson, Brown Trout, 2002. He contributed essays to Within the Stone, a collection of photographs of mineral cross sections by Bill Atkinson, one of the creators of the original MacIntosh computer.
His publications have received international coverage, including front-page reviews and news articles in The New York Times, London Times, Washington Post, and Chicago Tribune. He has been interviewed hundreds of times for print, radio, and television media, including The Lehrer News Hour, Charlie Rose, and National Public Radio's Science Friday. He has lectured and participated in debates with prominent scientists and journalists before dozens of institutions in North America and Europe, including MIT, Caltech, Princeton, Dartmouth, McGill, the University of Amsterdam, and England's National Physical Laboratory.
His awards include the 2005 Templeton-Cambridge Journalism Fellowship in Science and Religion; the American Psychiatric Association Certificate of Commendation for Outstanding Reporting on Psychiatric Issues (1997); the Science Journalism Award of the American Association for the Advancement of Science (1992 and 1994); and the National Association of Science Writers Science-in-Society Award (1993). His articles have been selected for The Best American Science and Nature Writing in 2005, 2006 and 2007.
Horgan was an associate editor at IEEE Spectrum, the journal of the Institute of Electrical and Electronics Engineers, from 1983 to 1986. He received a B.A. in English from Columbia University's School of General Studies in 1982 and an M.S. from Columbia's School of Journalism in 1983.
• Douglas LaBier is a business psychologist and psychoanalytic psychotherapist in Washington, DC, where he direct a small organization, the Center for Progressive Development. The focus of his professional work and in writing has been on how our culture and social conditioning shape and influence our emotional development and behavior, both positively and negatively. He participated in some workshops offered by Jean Baker Miller and Stone Center staff in the early 1990s His readings and exposure to relational-cultural theory struck him as having a link, of sorts, with the work of Erich Fromm, whose orientation was highly influential in the development of his own work. In fact, it prompted him to write a chapter for a book about Fromm's legacy, in which he described the themes in Fromm's contributions that he sees in the Stone Center's work. He has written over the years for a general audience -- for the Washington Post, and more recently for The Huffington Post, on relationship, workplace and public policy issues. His focus is what describes psychological health in the context of the transformations in our society and within the highly interconnected world we now live in. It's grown from research he did for a book he wrote in the late 80s, Modern Madness, about an unnoticed link between successful careers in our culture and emotional conflicts.
• Sandra Harris is the Assistant Vice President of Government and Community Affairs at Columbia University Medical Center. In her role, she is responsible for strengthening community and institutional relations, developing partnerships and promoting university and community programs that impact the health and well-being of the northern Manhattan community.
Prior to her role at the Office of Government and Community Affairs, Sandra served as executive director of the Northern Manhattan Community Voices Collaborative, a national $4.5 initiative funded by the W.K. Kellogg Foundation with Columbia University's College of Dental Medicine as the lead partner. Under her leadership, Community Voices strengthened partnerships between community organizations and neighboring institutions to increase and promote access to quality health care services. She helped secure funding to establish health outreach projects targeting the uninsured and health education programs focused on asthma, nutrition and exercise, and mental health services.
Sandra's work in the northern Manhattan community began 25 years ago as a constituent services liaison with then State Senator Franz Leichter. During her tenure there she developed a keen understanding of the needs of her community that led her to change her career path from housing-tenant advocacy to strengthening mental health services and developing policies that impact the mental, health and social well being of the residents of northern Manhattan.
Sandra has a Master's degree in Social Work from Hunter College. She is a Master's Degree candidate at Columbia University School of Continuing Education's Negotiation and Conflict Resolution Program.
• Sohair Soukkary is a Professor at the City University of New York (CUNY). She holds a M.Sc. in Linguistics from Georgetown University. She is the representative of the Arab Women Solidarity Association (AWSA) at the Economic and Social Council (ECOSOC) at the United Nations.
• Lee Norton, PhD, is a trauma specialist.
• Nadine Hoover, has spent the last seven years working mostly in very isolated communities, on ways to bring whole communities back from extreme violence. Fall 2012 she spends in the US working on documenting what they have learned. January-March 2013 she will be back in Asia, but hopes that by next May she will have an annual calendar for offering the training they've developed in practicing peace, nonviolence, trauma recovery, healing, developmental play, conscience, discernment and expression.
• Dr. Harriet Nettles' latest work has been in training the African military who will be deployed as UN Peacekeepers in the "soft" courses of human rights, protection of civilians, etc. They are charged with promoting reconciliation in post conflict settings. Dr. Nettles has taught courses in education and psychology at various institutions in Maryland since 1986 and currently teaches at the College of Southern Maryland. Since 2000, she has volunteered in international peacebuilding efforts with youth, facilitating International Youth Leadership Conferences at the Apeadu Peace Center in Ghana, West Africa and in Nepal. With Mediators Beyond Borders, she trained over 60 Liberian refugees living in Ghana in basic mediation. Dr. Nettles is a court approved mediator and coordinated a restorative justice project for Tri-County Youth Services Bureau. She worked with the Ministry for Education in Djibouti for a year and loves the challenge and opportunity of diversity.
• Jay Harold Ellens, Ph.D., is a Research Scholar at the University of Michigan, Department of Near Eastern Studies. He is a retired Presbyterian theologian and ordained minister, a retired U.S. Army Colonel, and a retired Professor of Philosophy, Theology and Psychology. He has authored, coauthored and/or edited 111 books and 165 professional journal articles. He served 15 years as Executive Director of the Christian Association for Psychological Studies, and as Founding Editor and Editor-in-Chief of the Journal of Psychology and Christianity. He holds a Ph.D. from Wayne State University in the Psychology of Human Communication, a Ph.D. from the University of Michigan in Biblical and Near Eastern Studies, and master's degrees from Calvin Theological Seminary, Princeton Theological Seminary and the University of Michigan. He was born in Michigan, grew up in a Dutch-German immigrant community, and determined at age seven to enter the Christian Ministry as a means to help his people with the great amount of suffering he perceived all around him. His life's work has focused on the interface of psychology and religion.
• Maija Jespersen is an artist, writer, and philosopher-at-large with an interest in exploring the beliefs propping up the human violence problem, and finding better ones. The answers to questions like, "how can an economic system value what is really important to humans?" "What drives human creativity, if not war, conflict, and other harm?" and, "How much of reality is located in relationships rather than in discreet objects?" are just a few threads in the tapestry that make up a peaceful future -- a future that no one thread can weave alone.
• Trine Eklund is a Norwegian peace activist. Trine Eklund was born in Oslo, Norway... Since 1980, Trine is active in the Norwegian peace movement, among others in the "Nordic Women's Peace Marches" against nuclear weapons in Europe (1981), in the USSR (1982), and the USA (1983). From 1986 –1989, Trine headed the Norwegian Peace Council, an umbrella organization for about 20 peace organizations... She is now active in different Norwegian peace organizations, such as Grandmothers for Peace (see video) and Seniors for Palestina. [read more]
• Hari Bansh Jha, Professor of Economics & Executive Director, Centre for Economic and Technical Studies
Lalitpur, Kathamndu, Nepal. Currently in Edison, NJ, USA.
• Stephen G. Post, PhD, is the Founding Director of the Center for Medical Humanities, Compassionate Care & Bioethics at Stony Brook University Renaissance School of Medicine. He has worked with "deeply forgetful" individuals and their families for three decades, and is one of three recipients of the National Alzheimer's Association Distinguished Service Awards. His book The Moral Challenge of Alzheimer Disease was designated a medical classic of the 20th century by the British Medical Journal. In 2019, he published the book God and Love on Route 80: The Hidden Mystery of Human Connectedness (Coral Gables, FL: Mango, 2019).
• Iran Nazario, Peacebuilders Program Director, COMPASS Youth Collaborative Inc, Hartford CT, USA.
• Nira Shah works with Ani Kalayjian.
• Lee-Or Ankori-Karlinsky is part of the Project on Justice in Times of Transition at MIT, where they have launched a Neuroscience and Social Conflict initiative.
• Jane Tierney is a teacher in Australia in a very multicultural school on the Gold Coast.
• Anna Strout serves as Director of Special Projects and Events for the non-profit arts education organization Urban Arts, where she has worked with a diverse population of students to create documentaries, animated films and music videos, and personal narrative pieces that share their stories and address issues affecting their community, from teen homelessness to the power of language to represent or misrepresent, from living with diabetes to the struggle of undocumented youth to attain equal rights. Over the years, Anna also has lent her skills to productions broadcast on PBS, The History Channel, The Learning Channel, and Court TV; multi-media DVDs, world music releases and academic publications; museum exhibits at The New York Historical Society, the National Buildings Museum, and The Museum of the City of New York; and cultural history programs for Voices of a People's History.
• It was a gift that Liz Perkins joined us for the 2019 Workshop.
• Sohrab Saadat Ladjevardi is a musician but also a music activist who plays for people and speaks for them. He is also the editor of a music on-line magzine called DooBeeDooBeeDoo.
See a video, the US website, the SoSaLa German website.
Sohrab closed the Public Event of our "Workshop on Transforming Humiliation and Violent Conflict" at Teachers College at Columbia University on December 6, 2012, with his wonderful improvisation. We thank Fabian Freire and Mariana Vergara for their video editing work. See also www.sohrab.info.
• Barea M. Sinno, Columbia University, NYC, USA.
• Erin Helfert is representing two NGO's at the UN Commission on Sustainable Development meeting.
• Ashley Young, Producer, Cinematographer, Editor of the The Feather Project, see also www.youtube.com/featherproject. She has been involved with the Maya and other indigenous Elders regarding the December 21, 2012 Alignment date.
• Emily Kidd White (LL.M. '09, J.S.D. '15) is one of 14 recipients of a 2013 Trudeau Foundation Scholarship. The most prestigious doctoral award of its kind in Canada, the award includes a $60,000 grant for each of the three years of the scholarship, and goes to the best and brightest social sciences and humanities doctoral students undertaking innovative research on issues critical to Canadians. Scholars also earn the chance to interact with leaders in Canadian academia and society in face-to-face meetings, through public policy networks, and at public forums hosted by the Trudeau Foundation. White is examining how to use emotions in the service of human rights and dignity within the context of judicial decisions, which have traditionally been seen as inappropriate instances in which to heed emotions. "The concept of human dignity holds a central place in international and domestic human rights law," said White, adding, "The legal commitment to human dignity is meant to have force. Yet, the concept seems resistant to concrete definition. Existing theoretical accounts of human dignity fail to consider the important role that emotions play in judicial understandings of its infringement. The dissertation addresses this gap by investigating how the concept helps rights claimants expose the injustice of a legislative scheme or government act through the admission of evidence detailing suffering and degradation." Emily Kidd White Emily Kidd White (LL.M. '09, J.S.D. '15) The lack of a complete understanding of the legal concept of human dignity troubles White, who says that without such an understanding courts cannot make good on their promise to protect human dignity. A further risk is that judges, scholars, and practitioners who lack an understanding of the concept's depth, nature, and purchase might too readily dismiss the concept as contentless or rhetorical. Her central claim is that "to adjudicate properly the evaluative legal concept of human dignity, legal reasoning must both draw on certain social emotions and keep negative emotions at bay. A more critical approach to the study of emotion is needed." White's dissertation begins by offering a methodology to approach the study of emotions and an argument for how particular emotions, such as contempt, disgust, pity, or empathy, play an important role in evaluative judgment. She argues that a better understanding of the role of emotion helps to illuminate not only how human dignity is invoked in the adjudication of rights claims but also how the concept of human dignity relates to the procedural and evidentiary laws which govern the adjudication of rights claims. White earned an LL.M. in international legal studies from NYU Law, receiving the Jerome Lipper Prize for distinction in the program and later a Doctoral Scholarship. Before entering the J.S.D. Program, White was the associate editor of the European Journal of International Law, a research fellow at the Jean Monnet Center for Regional and International Economic Law and Justice, and a teaching assistant at the Institute for International Law and Justice. White worked as a litigation associate at McMillan LLP in Toronto after receiving her LL.B. at Queen's University in Ontario; she previously earned a bachelor's degree in politics and philosophy from the same institution. As an undergraduate, she interned with Ontario's Ministry of Public Safety and Security and with the Ministry of Correctional Services and the Solicitor General. White is grateful for the access that the Trudeau Scholarship affords her to influential and innovative Canadian scholars and policymakers, as well as the opportunity to present her work and build professional relationships with her colleagues. "Theoretically," she says, "my project breaks new ground in its reaction against a dominant strain in legal theory that maintains that emotions always have a negative effect on legal reasoning. Practically and politically, my project is important for understanding how courts come to recognize the pernicious effects of a legislative scheme or government act on a vulnerable group or individual." University Professor Jeremy Waldron, White's doctoral supervisor, called her Trudeau Scholarship "a well-deserved recognition." He added, "She is doing difficult and challenging work on the role of the emotions in law, particularly in the area of human rights and the invocation of 'human dignity' in legal argument. These are all neglected areas, although one or two brave scholars have been trying to develop theories of the affirmative importance of the emotions in legal reasoning and legal knowledge. The distinctive thing about Emily's work is that she brings to bear important insights from the philosophy of the emotions to understand the emotional significance of appeals to dignity in human rights cases. What she is addressing is something that is often dismissed as merely 'emotive' or merely 'sentimental.' But Emily has been able to show how important the emotional dimension is for a full-blooded understanding of what matters in certain kinds of legal argument. Without it we have no real understanding of the relevant values. We should all be proud of this work being done in our doctoral program, and proud of the recognition that Emily has received in this award." NYU School of Law News: Emily Kidd White (LL.M. '09, J.S.D. '15) wins prestigious Trudeau Scholarship, Posted on June 18, 2013.
• Natasha R. Johnson is an academic, activist, artist and attorney. She earned her BA from Columbia University, and her Doctorate of Jurisprudence from the City University of New York (CUNY) School of Law. She is currently an Assistant Professor/Program Director for Metropolitan College New York's Human Services Program, in its Bronx Extension Center. In addition, Natasha teaches at Graduate Human Services programs throughout NYC. Previously, she served as an Anti-Trafficking Legal Specialist drafting reform legislation in the Solomon Islands and as the Director of Education working to better serve homeless, foster care, and at risk LGBT youth. She was also legislative counsel to both the Immigration and Civil Rights Committees of NY City Council. Natasha created the only program - to date - that specifically provides holistic legal services to African survivors of domestic violence in NYC. In addition, she is a certified teacher having taught in NYC high schools. Natasha is a recipient of an Equal Justice Works Fellowship and a Fulbright Specialist Fellowship at Durham University, UK, and a host of other awards. She lectures locally, nationally, and internationally on issues of domestic violence, gender based violence, and human rights. Recently she directed her efforts to starting a non-profit agency, Globalizing Gender, which provides capacity building, rule of law, and governance consultancies to countries/institutions working to better serve survivors of gender-based violence (GBV). As a photographer, Natasha exhibits works that offer social commentary on the intersection of art and social justice. Her work strives to create just systems locally, nationally, and internationally.
Natasha Johnson is a colleague of Maggie O'Neill. Maggie wrote (on August 24, 2013): Dear Evelin and Linda and Dear Natasha! I write to introduce you!! Natasha is based in New York and is doing wonderful work-she is an artist, a lawyer and academic and is setting up an NGO/not for profit organisation on gender based violence on a global scale. Natasha visited Durham during August as a Fulbright Scholar. I talked to Natasha about the HumanDHS network and as she is based in NYC it would be lovely to invite her to the December workshop at Columbia. I am looking forward very much to re-connecting with Natasha in December at the workshop. Looking forward very much to the workshop.
• David Balosa wrote (on 30th September 2013): I am an Angolan-American Scholar, whose research interests include language domination, Spanish in the US, Political discourse analysis, sociolinguistics, interculturality, critical intercultural communication theories, and postcolonial theories. I am a retired High School teacher of French and Spanish from the School district of Philadelphia since 2013. I am now an Adjunct Professor of English and Foreign Languages at Delaware State University (DSU), Dover, DE, where I teach Swahili, French, Portuguese and Spanish, 2013 - present. I taught Functional Grammar Discourse and Language and Culture for Classroom Teachers, at Pennsylvania State University, Abington in 2010-2011. I taught English for International Students and Adult Basic Literacy at LaSalle University from 2002-2010 I taught Elementary and Intermediate French at Community College of Philadelphia (CCP) from 206-2010 I am a poet.
David added on 5th October 2013: Many observers of the role of scholarship in the age of globalization may agree that scholarship has also been affected by capitalistic mentality. It would take a human dignifying research perspective to overcome the challenge and address the need of bringing back research to its primary mission - providing information to humankind for well informed global intercultural citizenship for dignity, generosity, unity, and common humanity.
• Doaa Rashed is the Director of the MA TESOL Program in the Education Department of the University of Maryland, Baltimore County (UMBC), where she also teaches courses in language teacher education. In addition, she coordinates the program international partnership initiatives with bicultural centers in Bolivia, Ecuador, El Salvador, and Peru. Doaa is the 2017 recipient of the Achilles-Harper-Swenson Emerging Researcher Award for her research on "Investigating the Factors Influencing ESL Teacher Professional Identity in Higher Education: A Mixed Methods Study" from the Consortium for Research on Educational Assessment and Teaching Effectiveness (CREATE). She is currently engaged in research on language teachers' self-efficacy, dispositions, and professional identities. 4. Introduction: Doaa Rashed is the Director of MA TESOL Program in the Education Department of the University of Maryland, Baltimore County (UMBC). In addition, she coordinates the program international partnership initiatives, with bicultural centers in Bolivia, Ecuador, El Salvador, and Peru.
• Tunde Weekes kindly wrote on September 11, 2017: My name is Tunde Weekes and I am an American born, West Indian raised man who currently works for the University Settlement Society in the Care Coordination field, working with adolescents with mental health issues. I studied foreign languages at Seattle University and went on to teach English in Asia for a few years before coming back to the US to work for approximately 10 years in the Labor field before switching to Care Coordination /Case Management. I am embarking on a Masters of Science of Labor and Industrial Relations next year at Baruch College as I have always been interested in the topic of social justice as it related to the plight of oppressed people in the world. I have taken it upon myself to read and be informed of many domestic and international issues that deal with this topic. In addition to this, I see the effects of such issues in the work that I currently do. Mental Health is a serious issue affecting all people and how these issues tie into oppression is incredible. Besides this though, I have many extra-curricular activities that I engage in to keep some balance in my life. I dance Latin and Afro-Cuban dances and on occasion play soccer. I also emcee weddings on the side and I get to sing songs as a form of entertainment for my audiences. I also like to travel and I have been to places such as Cambodia and Cuba in an effort to learn about history, politics and culture.
• Dr. Kingsley Okoro hails from Uburu in Ebonyi State of Nigeria. He started his vocational career as an Anglican priest in 1994. He attended the prestigious Trinity Union Theological College Umuahia, where he obtained a Diploma in Theology and thereafter moved to the University of Calabar and obtained a BA (Hons) in Religious Studies, a MA in Religious Studies with special emphasis in Religion and Politics and a PhD in Religion and Society with special interest in Globalistics or Global trends. Dr Kingsley joined the Lecturing crew of Ebonyi State University, Abakaliki-Nigeria in 2006, and has made tremendous progress and impact in his career. He is a member of several International and National research associations, which include IPRA (International Peace Research Association). The aim of the association is to broker peace through painstaking research and education, the Peace Movement Trust, with headquarters in India, the Institute for Research and Development, in Nigeria, and the International Association for the Study of Religions. Currently he is nominated to join in the IPRA Special Interest Group (SIG) in Peace Research in Africa.

• Inga Bostad is also a Founding Member of the World Dignity University initiative.
Inga Bostad is Associate Professor at the Department of Philosophy, Classics, History of Art and Ideas, at the Faculty of Humanities, University of Oslo, Norway. She was appointed by Rector Geir Ellingsrud to serve as Pro-Rector (Vice-Chancellor) of the University of Oslo from 2006 until 2013. In November 2009, she was elected Member of the Steering Committee of UNICA (2009-2011), the network of Universities from the Capitals of Europe (her election speech was on sustainable universities, women in science and gender policies, as well as peace and conflict studies). [read more]
• George W. Wolfe is currently Coordinator of Outreach Programs for the Center for Peace and Conflict Studies at Ball State University, Indiana, USA, where he served as Director of Peace Studies from 2002 to 2006. He is the author of several publications, including his recent book The Spiritual Power of Nonviolence: Interfaith Understanding for a Future Without War, which has been endorsed by Arun Gandhi, Bishop William E. Swing, and peace educator Michael N. Nagler. He is also a trained mediator and is a member of the advisory board of the Toda Institute for Peace, Policy and Global Research. [read more]
• Eric Edberg is a classical and improvising cellist, organizer, teacher, coach, and consultant dedicated to using music and the creative process to bring people together in celebration of life and the power of the arts.
• For the last 20 years, Christopher Layer has been working in New York City as a multi-instrumentalist, recording artist, and producer, specializing in woodwind instruments and bagpipes including the Irish Uilleann Pipes, Highland Bagpipes, Scottish Smallpipes, Bassoon and the six-key wooden or simple system concert flute. He is the founding director of The New Harmony Music Festival & School in New Harmony, Indiana, USA. His work and "musics" have been featured on the Broadway stage, jazz clubs, Irish pubs, national radio broadcasts, with major symphony orchestras, dance companies, in films, video games, TV programs and commercials, and as a sideman for touring rock, pop, and trad music acts in most inhabited areas world-wide, plus some that are not. Chris Layer speaks German, French, Swiss-German, English and American.
In 2009, Layer contributed his orchestrations of original and traditional music to the New York Public Theater's production of "The Twelfth Night" for Shakespeare In The Park, performing onstage with theater and film greats, Anne Hathaway, Audra MacDonald, David Pittu, Jay O. Sanders, and Raul Esparza.
Additionally, Layer has taught music for Scotland's Feis Na Gael, in the Scottish Hebrides, The Augusta National Heritage Center, in West Virginia, The Hamish Moore School of Piping in Vermont and countless workshops at music festivals the world over, including the Moab Music Festival, The Caramoor International Music Festival, The Old Songs Festival, The Vancouver and Calgary Folk Festivals, and the Celtic Connections
Festival in Glasgow, Scotland. Over the last 16 years, Layer has toured the world with the Trinity Irish Dance Company as their principle Uilleann Pipe soloist and Irish flautist.
Layer comes from 2 music clans: Out of the many family musicians, his paternal great grandparents built a dance hall (Zippele Hall) and family band in Ohio in the 19th century and his maternal great Uncle, Bernard Lucas, was a touring singer and pianist on the German "Sangerchor" circuit, also in the 19th century. His father is Indiana bluegrass fiddler, Edwin Layer, and his mother Dolores Layer is a former beauty queen and
professional singer, his sister Valerie was a songwriter and singer until her untimely death in June of 2013. Chris' first professional engagement (for which he was paid $25) was as a child performer, and took place at the tender age of 7 years old, wearing red pajamas at the Lafayette Jefferson High School Christmas Show, alongside his older sister Valerie as she sang to him onstage.
Chris has been the Artist In Residence for the Moab Music Festival in Moab, Utah, since 2003, teaching there for 10 weeks each year, and is also is the creator of the Moab Community Dance Band, a charitable community orchestra, in that Moab. Although Chris is a native Hoosier, when not traveling, he makes his home in Greenwich Village, NYC, where he volunteers for charitable organizations, loves to cook, lives with many musical instruments, and waters his plants.
Please see his personal blog (Music, travel and food) and his music festival website.
Read more about The New Harmony Music Festival & School:
Christopher Layer is the founder and director of The New Harmony Music Festival & School, a multi-disciplinary music school and chamber music festival in New Harmony, Indiana. The festival brings professional performers from around the world to give public chamber concerts, while also sharing their knowledge of diverse "musics", experience as professionals, and the joy of music-making with our small annual class of music students. The main festival and summer school takes place the 2nd week of July each year, and recently began offering live broadcasts of its summer concerts nationally on The Public Radio Satellite Service (PRSS) as well as regionally on WNIN-Evansville, IN, WBAA-Purdue University, WKU-Western Kentucky, and WSIU-Carbondale, IL. Fred Child, the host of "Performance Today" on American Public Media, has served as the live co-host and production advisor for these broadcasts.

• Brandon Scott wrote (December 17, 2012): I am currently completing a second bachelors in Neuroscience (first was in Speech Communication) at Western New England University in Springfield, MA, U.S.A. I participate in a few different areas of research there and are doing some independent study on topics such as criminology and the penal system in light of some more recent advancements in brain research.
On October 14, 2013, Brandon wrote about his plans after graduation: I plan to be studying applied behavioral analysis which is a rapidly growing field that explains and attempts to modify behavior based on the tried and true principles of reward and reinforcement. This entirely evidence-based approach to fixing "problem behavior" will likely see an expanded role in worldwide mental health care and has already touched industry and education in big ways. I know your organization has many interdisciplinary members and I would really love to be involved in any upcoming New York events ... All the best, Brandon.
• Kyle Scott is the brother of Brandon Scott. "Dignity means being treated with respect and patience, and willingness to understand" (Appreciative Introduction 2017).
• Joni and William Baird co-direct a non-profit organization for women's rights. Bill Baird's U.S. Supreme Court case, Baird v. Eisenstadt, legalized birth control in the U.S. in 1972. Joni attended the University of Massachusetts's University Without Walls. [read more]
• Meenakshi Chhabra PhD. is Associate Professor at the Division of Interdisciplinary Inquiry at Lesley University in Cambridge, Massachussetts, U.S.A.
• Jennifer K. Lynne is the Director of thecontactproject, an organization utilizing contemplative practices, systems thinking and collaboration, to assist individuals, communities, and organizations in cultivating the capacities for listening, patience, and respect. She developed The Engaged Identity theory while studying Buddhist Psychology and Peace at Naropa University. She holds a Masters in Conflict Transformation from the Center for Justice & Peacebuilding at Eastern Mennonite University, with specializations in Identity, Organizational Leadership, and Trauma and is currently a PhD candidate in Peace Studies at the University of New England, Australia. Her dissertation explores the efficacy of The Engaged Identity theory and the development of listening, patience, and respect in multiple cultural and conflictual contexts as a foundation for conflict transformation and peace-building. She has been a Visiting Scholar at the Mind & Life Institute at Amherst College and an invited presenter for the International Peace Research Association, the National Coalition of Dialogue & Deliberation, and the Association for Conflict Resolution. Her current research interests include, Identity, Applied Ethics, Conflict Transformation & Peacebuilding, Human Rights, Applied Philosophy, Contemplative Practices, Human Capacity, Nonviolence, Reconciliation, and Restorative justice.
• Genevieve M Brackins is a Doctoral Candidate in Interdisciplinary Humanities, and an Instructor of Women's Studies, as well as Adjunct Professor of Geography at Florida State University in Tallahassee, Florida, U.S.A.
• Jillian Post kindly wrote on July 25, 2013: I have an M.S. in Conflict Resolution and I am deeply interested in narrative facilitation, story sharing, and dialogue building. Upon discovering your organization through an important listserv that I was recently added to, I will add the terms dignity and humiliation to my areas of interest. I was so intrigued by the work you do and after watching some video of Evelin, I knew that this would someday become part of my repertoire of knowledge.
She kindly wrote on November 1, 2015: In September I was awarded a Global Peace Fellowship (accompanied with a full grant) by Claremont Lincoln University in California (online studies). As a result I will complete my second masters degree, this time a more narrowly focused program of studies in Interfaith Action, a subject very near to my heart. My core area of studies includes, Mindfulness, Dialogue, Collaboration and Change.
• James Reynolds wrote (on August 4, 2013): My name is Jim Reynolds. I am a licensed psychologist in the state of New Jersey, USA, working with adolescents and adults who have committed violent offenses. I am interested in approaches such as that taken by the therapeutic jurisprudence and restorative justice practitioners, and organizations such as yours. I read an article by Prof Yamada that referenced this workshop, and I would like to attend.
• Yongmin Shin wrote (on August 8, 2013): We would like to work together with you and if possible also attend the New York meetings mentioned in your email. Attached is a peace conference our newspaper company held in May of this year for the Unification of Korea and World Peace. Please also check the link of the peace walk by young people that took place in May also in Seoul, Korea. Many blessings, Shin.

• Dr. Roxana Delbene is a colleague of peace linguist Francisco Gomes de Matos. She teaches at the NYC College of Technology. Francisco wrote (on September 11, 2013): Dr. Roxana Delbene's research interests are in discourse analysis, social interaction, and pragmatics in the context of health care communication. Roxana is coauthor of the chapter "The Ethical Dimension of Presence in Elderly Care Talk Encounters," in the recently published book Presence in Healthcare Communication: Implications for Professional Education, edited by José Carlos Gonçalves, Rio de Janeiro: Editora da Universidade Federal Fluminense, 2013. Foreword by Francisco Gomes de Matos.
• Noor Akbar is a Member of the HumanDHS Global Core Team, the HumanDHS Global Coordinating Team, and of the HumanDHS Research Team, and the HumanDHS Education Team.
He is a native of Pakistan's North West Frontier Province (NWFP) and has earlier worked as a free lance journalist. He has a Master's degree in Journalism & Mass Communication from the University of Peshawar and is presently doing his Master's degree in Political Science from the same university. The title of his project in the HumanDHS's Research Agenda is Terrorism and Humiliation: To Show Empirically that Humiliation Is one of the Root Causes of Terrorism. [read more]
• Carl L. Jennings has worked as an organization and management development specialist for more than twenty eight years. He has provided services nationally and internationally to business, educational and government organizations. He is founder of INFOSPAN LLC, and the CIO and founder of the Virtual Organizational Development Forum (VODF).
Carl's practice focuses on identifying those strategies, processes and structures that are critical, but unique, to each organization in its efforts to fulfill its mission by achieving its outcome. Services include developing interpersonal communications competence, improved team functioning, leadership development (coaching), intergroup and intercultural competence, understanding and managing change, and adapting the principles and methods of OD and the applied behavioral sciences to a virtual environment to facilitate working across the boundaries of culture, gender, age, geography, ethnicity and time. Carl is the creator of the Way of Total Systems Transformation Re-envisioning Intervention Strategy (tm).
Some past clients include the Whartrton Business School's Aresty Institute of Executive Education, the Institute of Business of the University of the West Indies, senior managers from Samsung and Sunkyong corporations, the US Department of Commerce's National Oceanic and Atmospheric Administration, and various programs for senior managers from public and private industry for the NTL Institute of Applied Behavioral Science.
Carl received his MS in Education from City College New York and his B.A. magna cum laude as an honors interdisciplinary major in culture and aesthetics from Queens College New York. Other training includes extensive professional development in clinical counseling, supervision, and management at the New York State's Department of Substance Abuse Services, and further professional development at the Yale University Division of Training and Consultation in the Medical School's Department of Psychiatry. He is a professional member of the NTL Institute for Applied Behavioral Science, and adviser to students in the American University/NTL Graduate Program in OD and Change.
• Caroline Anne Amollo is a Member in our HumanDHS Global Research Team and HumanDHS Global Research Team.
Caroline Anne Amollo is a believer in Social Justice, currently pursuing a Master's degree in Conflict Resolution at the University of Massachusetts, Boston, with a goal of acquiring knowledge and skills needed to become a part of global change through globalization and egalization by influencing policies that impact developing country communities in order to eradicate poverty and enhance human development without disrupting human dignity. In her home country, Kenya, she has been directly involved with environmental issues that impact human security namely, climate change and resource scarcity, also working against human rights violations like female genital mutilation among other gender issues in the developing world. She has experienced first-hand how these correlate to impact human security locally and globally. She looks forward to commence her doctoral studies in the fall of 2013. [read more]
• Patrizio Gonnella is a lecturer in philpsophy of law at Rome 3 University in Italy. He studies human dignity, prison issues and torture. He is also the President of the NGO Antigone, which is involved in human rights issues.
He wrote (November 9, 2011): I am the president of Antigone, an Italian NGO involved in penal issues and human right protection within the penitentiary system. I am specialized in Human Rights at Padua University. I wrote many essays about prison matters and I am the co-author of the volumes Patrie Galere (Italian prisons) (2005) and Il carcere spiegato ai ragazzi (The prison explained to young people) (2010). Since 1998 I write in the daily nerwspapers Italia Oggi and Manifesto. I cooperate with the Chair of Philosophy of Law at the University of Roma 3. My researche project is on HUMAN DIGNITY AND PUNISHMENT. I am also the author and the radioman of a weekly broadcasting.
• Mehmoona Javad wrote (on July 27, 2013): Dear Linda and Evelin, it gives me hope to see organisations like yours come up on the international scene. ... I am a doctor of Medicine having worked in the rugged north west of Pakistan where as a female I have been respected in a society where the code for women is often rigid, yet amidst all the harshness and violence I have witnessed acts of extreme human compassion and thus in all the surrounding hate and violence I see hope... Kind regards, Sincerely, Mehmoona Javad
• Christina Staudt is a colleague of Dr. Harold Ellens. She is based at Columbia University in NYC, U.S.A.

• Zeynep Kiziltepe, PhD, is a colleague of Hayal Köksal. Zeynep Kızıltepe is Associate Professor at the Bogazici University Faculty of Education Deptartment of Educational Sciences in Istanbul, Turkey.
• Sylvester Lahai has been working in South Sudan as an International Protection Officer for Nonviolent Peace force. He had earlier worked as a Civilian Peace Keeper in Sri Lanka for the same organisation, serving as a child protection officer in the eastern and northern provinces of the country. As a Sierra Leonean, he volunteered with local NGOs assisting in the reunification and reintegration of former child soldiers during and after the end of the bloody civil war in his country. [read more]
• Blanka Angyal graduated with a Masters of Arts and Masters of Education in Counseling Psychology from Teachers College – Columbia University. Blanka has broad experience in Participatory Action Research with youth, elderly, and minority communities. Currently, she is the Clinical Coordinator and part of the international research team at ATOP Meaningfulworld.
Blanka Angyal works with Ani Kalayjian and the Association for Trauma Outreach and Prevention (ATOP) Meaningfulworld, which has received international recognition responding to two decades of global and local disasters. Meaningfulworld Humanitarian Outreach teams have helped rehabilitate survivors from over 45 calamities, helping to transform tragedy and trauma into healing and meaning-making through post trauma growth, resilience, emotional intelligence, mind-body-eco-spirit health, empowerment and artful collaboration through a new world view. ATOP Meaningfulworld's global presence, which aims to raise consciousness and nurture resilience and sustainability among local and global communities, highlights perspectives from vulnerable and marginalized group including children, women and refugees. Taking into consideration the most pressing epidemics facing us globally today, such as wars, domination, bullying, poverty, greed, we offer insight into the development of remedies focusing on collective and individual needs with the promotion of health, unity, and peace by mind, body, and spirit integration. Especial addition is our Forgiveness & Peace Gardens that we have helped develop around the globe to help bring in an added mindfulness to peace. Drawing on two decades of research through ATOP Meaningfulworld's work in DR Congo, Kenya, Rwanda, Burundi, Lebanon, Pakistan, Haiti and Palestine, this panel offers multicultural approaches to health, healing and happiness that are grounded in The 7-step Integrative Healing Model: 1) assess levels of distress, 2) encourage expression of feelings, 3) provide empathy and validation, 4) encourage discovery & expression of meaning, 5) provide information, 6) eco centered processing, and 7) provide breathing and physical release exercises; releasing fear, uncertainty and resentments, integrative flower essences and Bach and other flower remedies. The presentation will conclude with recommendations for research, clinical practice and policy revisions especially placing emphasis on the United Nations Declaration for Human Rights, as well as the United Nations Day on Happiness.
• Volker Berghahn is Seth Low Professor of History at the Department of History of Columbia University, New York City, USA. Volker Berghahn specializes in modern German history and European-American relations. He received his M.A. from the University of North Carolina, Chapel Hill (1961) and his Ph.D. from the University of London (1964). He taught in England and Germany before coming to BrownUniversity in 1988 and to Columbia ten years later. His publications include: America and the Intellectual Cold Wars in Europe (2001); Quest for Economic Empire (ed., 1996); Imperial Germany (1995); The Americanization of West German Industry, 1945-1973 (1986); Modern Germany (1982); Der Tirpitz-Plan (1971); Europe in the Era of Two World Wars (2006); and most recently Industriegesellschaft und Kulturtransfer, Goettingen (2010).
• Courtney Eye Furlong is a research assistant working with Mariana Vergara at Columbia University, New York City, USA. She also participates in Mariana's group Minfulness into Action, and Organisational Leadership Association (MIA OLA) in Teachers College, Columbia University, New York City, USA.
• David Weksler participates in Mariana Vergara's group Minfulness into Action, and Organisational Leadership Association (MIA OLA) at Teachers College, Columbia University, New York City, USA.
• Elizabeth Negrete participates in Mariana Vergara's group Minfulness into Action, and Organisational Leadership Association (MIA OLA) at Teachers College, Columbia University, New York City, USA.
• April Frazier participates in Mariana Vergara's group Minfulness into Action, and Organisational Leadership Association (MIA OLA) at Teachers College, Columbia University, New York City, USA.
• Sandra Allen-Lesibu participates in Mariana Vergara's group Minfulness into Action, and Organisational Leadership Association (MIA OLA) at Teachers College, Columbia University, New York City, USA.
• Jon Mannion supports Mariana Vergara's group Minfulness into Action, and Organisational Leadership Association (MIA OLA) at Teachers College, Columbia University, New York City, USA, as a volunteer. As Mariana, he is nterested in phenomenology and transformations of self and society. His work includes helping in developing an identity and direction through the use of information comunicaiton technologies. To that end he has helped members of the Minfulness into Action group develop their web presence and showed the group some of the potential of learning through the internet. The web page is devloping at betamia.constructing-learning.com. This is hosted on a site which also features Jon's projects in marginalized areas of the Philippines, particularly Manila. He is also hosting a moodle site that may be employed by MIA OLA for community learning and mindfulness exercises and remote dialog.
• Anna Louise Healy participates in Mariana Vergara's group Minfulness into Action, and Organisational Leadership Association (MIA OLA) at Teachers College, Columbia University, New York City, USA.
• Roger Dennis participates in Mariana Vergara's group Minfulness into Action, and Organisational Leadership Association (MIA OLA) at Teachers College, Columbia University, New York City, USA.
• Yvonne Dennis participates in Mariana Vergara's group Minfulness into Action, and Organisational Leadership Association (MIA OLA) at Teachers College, Columbia University, New York City, USA. She works with Nitchen ('our children' in the Lenape language), a community based, non-profit corporation comprised of American Indian parents from North, South, and Central America. We improve the lives of New York City American Indian/Native American/Indigenous/First Nations children and youth by helping them develop into productive, dynamic and well adjusted citizens. We foster intercultural understanding and cooperation/collaboration between Indigenous peoples and non-natives. We address racism by providing accurate historical, cultural and contemporary programming to children, parents and teachers.
Nitchen, Inc. grew out of the Native American Education Program (NAEP), which was federally funded through the Office of Indian Programs and under the administration of the NYC Department of Education Bilingual/Bicultural Department. We advocated for Native students, taught Native cultures, trained teachers and tutored students. However, we needed to provide more services for families and students – not all of their needs were educational. Our parents committee and staff decided to incorporate so we could become an autonomous organization that could better address the needs of our members. At the same time, the National Institute of Health was planning to systematically drug inner city children with Prozac and other pharmaceuticals in an experimental program. Their stance was that inner city children breed violence and drugging them could possibly decrease violence; many of our kids were inner city kids. We felt the urgency to develop a culturally competent and holistic preventative mental health democratically run program for families with at risk children.
Nitchen Inc. became a community based, not-for-profit (501-C3) organization in 1993. Unlike NAEP, Nitchen would serve all Indigenous families, not limit members to just US Indians. NAEP had also founded the Native American Heritage Committee comprised of representatives from a variety of agencies, museums and organizations whose purpose was to eradicate racism and stereotypes about American Indians. It was very successful and for several years, we juried an art show called, "Indians as Children See Them." One of the members was an administrator with the New York State Department of Health and alerted us to some special funding for families with at risk children. We applied and were funded.
We called our family program, the Family Awareness Network. Our intention was to rebuild a vibrant, strong and healthy functioning Native community where kids would feel loved and cherished. One of our main goals was to heal the trauma of historical grief and oppression or post colonial stress syndrome, which is an intergenerational 'dis-ease.' On very little money, we presented our families with a myriad of healing modalities – many traditional. Each year, we held a retreat in a rural area led by a Medicine Person from various traditions. For the first few years, we were contracted by the state. However, our contract was turned over to the City and our troubles began. At the beginning they sent us their small contractees to train because we had such a good track record. However, when our main supporter and the director of mental health died suddenly, he was replaced by a psychiatrist who wanted to end the social work and culturally competent programs and move to a medical model – drug 'em and move 'em out. After fighting for 3 years, we decided to not reapply as we could not ethically support the new guidelines. Our hope is that our Children's Cultural Center of Native America will one day earn enough revenue to support our family program.
• Courtney Mireille O'Connor, an international jurist and operations policy advisor, currently works out of Washington, DC. As both a staff member and consultant for intergovernmental organizations, nongovernmental organizations, and governments in Latin America, Africa, the Middle East, Europe and North America, Courtney (Mireille) has worked on the front lines of, provided advice regarding, and written and educated about public international law, violence prevention, gender equity, peace building, humanitarian operations, armed conflict, protection of forced migrants, and corporate social responsibility. Ms O'Connor's current focus is a multi-sectoral and multi-modal program that can be used anywhere, but with greatest urgency in the world's most violent and resource-deprived communities, to simultaneously heal (psycho-social) wounds and empower participants to prevent violence in their lives and in their communities. See, for example, the recently published Human Total: A Violence Prevention Learning Resource.
• Mark C. Johnson, Ph.D., served as the executive director of the Fellowship of Reconciliation/USA from March 2007 through July of 2013,and carries UN ECOSOC credentials for the International Fellowship of Reconciliation. A 1969 graduate of The College of Wooster in Ohio, and with a 1981 doctorate in sociology from Columbia University in the City of New York, he did his alternative service as a conscientious objector in Lebanon, living and teaching in Beirut for six years. He held various positions with the YMCA from 1981 to 2006. From 2002-2006, while employed by the YMCA of the USA, he was active with the emergent Alliance for Middle East Peace. He serves as vice chair of the board of InterFaith Peacebuilders. He lives in Stony Point, New York and is currently affiliated with the Center & Library for the Bible and Social Justice at Stony Point Center's Community of Living Traditions. He is married and has three adult children.
• Dr. Sohail Mahmood is the Associate Dean & Head of theDepartment of International Relations at Preston University in Islamabad, Pakistan. He heads a large department offering a graduate degree program.
• Rajendra Prasad Pathak, Lecturer at the Ganesh Man Singh Multipal College, Kathmandu, Nepal.
• Fonkem Achankeng I, a Hubert Humphrey International Fellow, is Associate Professor at the University of Wisconsin Oshkosh. Dr. Fonkem served as senior official in the Ministry of Foreign Affairs of Cameroon for 12 years, and was also founder and executive director of the Association for Nonviolence, where he helped to introduce and moderate a third voice in Cameroon in the 1990s in the wake of a very polarized introduction of multiparty politics. Following an interdisciplinary approach, he has published more than 18 titles and presented his research in various regional, national, and international conferences. His research interests encompass peace and conflict studies; postcolonial nationalism and conflict; nonviolence; identity, culture and conflict; human and people's rights; refugees, migration and human services; the working poor; aging; international mediation; crisis intervention in human services; and families with children with disabilities. Please see his two recent books, Nationalism & Intra-State Conflicts in the Postcolonial World (Rowman & Littlefield of Lexington Books, 2015), and British Southern Cameroons: Nationalism & Conflict in Postcolonial Africa (BC, Canada: FriesenPress, 2014). His next book will be Second Chances, Human Service, Crime & Redemption.
Please see:
• Human Dignity & A World Beyond War: Partnerships and Collaborations in Our Global Commons, paper shared at the 2015 Workshop on Transforming Humiliation and Violent Conflict, Columbia University, New York City, December 3-4, 2015.
• The Dignity of the Commons: Re-imagining Life Experiences from the Poor & Homeless to International Politics, pPaper shared at the 2016 Workshop on Transforming Humiliation and Violent Conflict, Columbia University, New York City, December 8-9, 2016.
• Ndemazea Fonkem is Fonkem's daughter. "Dignity has to do with decision-making and the actions we choose to display. We can 'think' in a dignified way, but putting that into action is dignity" (Appreciative Introduction 2017).
• Lucien Xavier Lombardo is Professor Emeritus of Sociology and Criminal Justice.
From working in a maximum security prison in the late 1960's and early 1970's, studying the world of work and prisons in the 1970's and 80's, exploring violence in the 1980's and 90's and the world of children in the 1990's until today, Lucien Lombardo has learned that the road to human dignity, peace and justice starts in childhood: the childhoods of today's adults, the childhoods of children with whom today's adults interact, and the childhoods of the adults today's children become. Starting with this intergenerational perspective on childhood, Lucien Lombardo shows how having today' adults discuss their childhood experiences with human dignity (supports for and violations) provides a foundation upon which the road to becoming better ancestors can be built. [read more]
• Ruth Thomas-Suh is the director of documentary film Reject.
Lou Lombardo kindly wrote (on May 6, 2014): Dearest Evelin and Linda - This past week, one of my friends here in Auburn invited me to a gathering of people interested in prison issues, children, schools, and various forms of violence and harm. We meet on occasion to discuss what we are doing in our different areas of interest and help each other strategize about making our efforts more effective.
This week we viewed a new documentary film called Reject. It was produced and directed by Ruth Thomas Suh. She is the daughter of Herbert Thomas, the author of The Shame Response to Rejection.
I found the film insightful and well documented and I believe it fits well with the work we are doing in Human Dignity and Humiliation Studies. Herbert Thomas was at our gathering to discuss the insights of his writing and the film.... With caring and admiration, Lou

• Anna McDonald has a background in the military and would like to enter peace work.
• Bonnie Selterman taught Human Communication and Culture at New York University in the Steinhardt School of Culture, Education and Human Development for 20 years, and was the recipient of the 2014 Teaching Excellence Award conferred by the NYU Steinhardt Undergraduate Student Government. She has been a certified mediator since 1997, primarily active in community, civil court, and family mediation. She assisted in the implementation of the successful Program for Young Negotiators at Baruch Middle School in NYC, under the auspices of Harvard Law School's Program on Negotiation, and assisted in the coordination and implementation of the successful peer mediation program at Seward Park High School in NYC; and has served as an assistant coach in the Mediation Clinic at Columbia Law School. Bonnie is among a core group of mediators who helped establish the incorporation of mediation as an alternative conflict resolution process offered within the Civil Court System of New York. She collaborated in the creation of the "Make Talk Work" bookmarks, distributed internationally, as part of a public awareness project for Alternative Dispute Resolution undertaken by the CUNY Dispute Resolution Consortium of John Jay College of Criminal Justice. For the past several years Bonnie has been participating in the HumanDHS network and has been serving on its Education Team. Ongoing professional and intellectual interests center on the unrestricted flow of ideas, unrestricted access to ideas, evolution, the dignity of secularism, and the potential for art, music, and nature in conflict transformation. Bonnie writes poetry.
Please see her Appreciative Introduction to the 2015 workshop.
• Swami Parameshananda is the UN and International Representative of Bharat Sevashram Sangha, a worldwide not-for-profit organization in Special Consultative Status with ECOSOC of UN.
• Sophie Andar is a doctoral student focused on violence prevention & peace at Teachers College, Columbia University, NYC.
• Tone Bleie is currently a visiting scholar at the Centre for the Study of Ethnicity and Race at Columbia University in New York City. She is the head and founder of the International Research Group on Reintegration (IRGR) at the University of Tromsø in Northern Norway. She is the past Director of the Centre for Peace Studies at the University of Tromsø, and Senior Analyst at The UN's Inter-Agency Working Group on DDR Professor of Public Planning and Cultural Understanding at the University of Tromsø. She received her education at the University of Bergen in Norway.
• Rosa Bazan is a Spanish human rights professional and mediator visiting New York City. For the last months, she has been doing research on the use of the arts to engage communities and work towards social transformation. So far, she has visited England, France, South Africa, Colombia, Uruguay, and Peru. She is very interested in the HumanDHS approach and the dignilogues. She believes they can be useful tools to engage and work with the community.
• Kyong Mazzaro works with Peter Coleman.
• Judit Andriola has a background of twenty years experience in the areas of training and human resources development. Her focus has been primarily on curriculum design and development, preparation of lesson plans, and coaching and development of internal training staff. Her areas of expertise are organizational assessment, definition of training and non–training needs, and presentation of findings in management briefings. She has recently done work in Mazedonia.
• George Chidieber Iheanacho is the initiator of African Heritage Research and Development Network, an organization aimed at engaging people for cultural, educational, religious, social and political discourse for the purpose of achieving harmonious coexistence, peace and progress considering the dichotomized society we live in. George received his M.A. from the Sebelas Maret University, Surkarta, Indonesia, and his B.A. from the Imo State University, Owerri, Imo State, Nigeria. He also received various certificates from the Institute of the Arts, Surakarta, Indonesia, and the United Institute of Peace, Washington D.C., USA. His areas of interest include: language education, African literature, peace education, human rights, interfaith conflict resolution and negotiation. He has worked as a teacher, trainer and editorial staff of a national newspaper. He has presented papers at local and international conferences/worksops and is a member of organizations including: Organization for the Research of world Peace (ORWP), World Parliament Experiment (WPE), African Literature Association (ALA), as well as American Comparative Literature Association (ACLA). George kindly wrote on November 20, 2017: "Involving in Human Dignity and Humiliation Studies is a great honor to initiate, challenge, and work for human respect, dignity and peace globally. In the near future, I hope to be a doctoral scholar in Human dignity and humiliation studies."
• Stella Nkechi Azuoma is passionate about what she does. She is a Librarian and a teacher by training but a Human Resources and Administrator in practice. She holds degrees in Library Science from Imo State University, Owerri, Imo State, Nigeria, and in Human Resources Management at the Metropolitan School of Business Management, UK. Stella is an engaging and pragmatic professional and also a member of several organizations working to make positive impacts to creating a harmonious society for all. She loves reading, watching movies and trainings as well as working for the welfare and rights of rural women.
• Dr. Zaynab El Bernoussi, or Z, is an assistant professor of international studies at the School of Humanities and Social Sciences at Al Akhawayn University and a member of the Hillary Clinton Center for Women's Empowerment (HCC). Z is also an associated researcher at the History of Human Freedom and Dignity in Western Civilization project. She holds a PhD in political and social Sciences from the Université catholique de Louvain. Z was a Carnegie visiting scholar at the Carolina Center for the Study of the Middle East and Muslim Civilizations. She was also a visiting scholar at the Weatherhead Center for International Affairs at Harvard University and worked on dignity in the Arab Spring with her moral giant, Dr. Donna Hicks. Z's research is at the intersection of postcolonial theory and dignity politics in the global South. She is now working on constitutionalization of human dignity, on global understandings of dignity and development paradigms, and on Sino-Arab relations. See also Visiting Scholar Sheds New Light on Concepts of Dignity.
• John Martin Gillroy is the Founding Director of the Environmental Policy & Legal Design Programs at Lehigh University. His research Interests are: Public-Private International Law, International Legal Philosophy, International & Comparative Environmental Law & Policy. Specifically, the promotion of philosophical methods for the evaluation of law and public policy, especially in terms of the genesis, current dilemmas, and future of the international legal system and the regulation of global environmental risk.
• Raymond G. Helmick, S.J., Priest of the New England Jesuit Province, Raymond Helmick has worked with conflict since 1972. Associate Director, 1973-81, of the Centre for Human Rights and Responsibilities in London, co-founder of the Centre of Concern for Human Dignity (a joint project of the English and Irish Jesuit Provinces), 1979-81, co-founder and Senior Associate in the Conflict Analysis Center, Washington, D.C., from 1983, Professor of Conflict Resolution in the Department of Theology, Boston College, since 1984. [read more]
• Professor David Yau-fai Ho received his doctoral training in psychology and logic in the United States. He was responsible for introduction of clinical psychology into Hong Kong, and served as Director of the Clinical Psychology Programme at the University of Hong Kong from 1971 to 1996. Professor Ho has authored more than 100 contributions in psychology, psychiatry, sociology, and education. He has held professorial appointments in Hong Kong, North America, Hawai'i, Singapore, the Philippines, Taiwan, and Mainland China, and was the first Asian to serve as President of the International Council of Psychologists (1988 - 1989).
David is responsible for introducing clinical psychology into Hong Kong. He is the first Asian to have served as President of the International Council of Psychologists. His recent publications on spirituality include the following:
• Ho, D. Y. F., & Ho, R. T. H. (2007). Measuring spirituality and spiritual Emptiness: Toward ecumenicity and transcultural applicability. Review of General Psychology, 11, 62-74.
• Ho, D. Y. F. (in press). A self-study of mood disorder: Fifteen episodes of exuberance, none of depression. Spirituality in Clinical Practice. [read more]
David kindly wrote on September 12, 2015: "By the blessing of circumstance, David Yau Fai Ho is the passionate author of Enlightened or Mad?, published by Dignity Press in 2014. In separation, being a professor of clinical psychology steeped in a bilingual-bicultural background, experiencing glimpses of enlightenment, or having episodes of "madness" may not be that uncommon. But the confluence of all these is rare, if not unique."
• Guangdong "Nina" Shao, David Ho's dear wife. Thank you for joining us, dear Nina!
• Jorun Pareli Berg is a sociologist with a Cand. sociol. from the University of Oslo in Norway. She received training in family therapy and systemic interaction at the Diakonhjemmet University Collage in Oslo and studied at the Faculty of Journalism Practice at the Oslo University College. She has worked as Chief Information Officer at the Oslo City Government Immigration Agency, as Office Manager in the Ministry of Labour (Aetat), in the Department of Working Life (Arbeidslivstjenesten), as Senior Advisor in the Ministry of Laobour and Welfare Directorate (NAV), and as a family therapist at Doctorgruppen. [read more]
• H. Steven Moffic, M.D., aka Hey-Hey (the name given to him by his oldest grandchild), is the biological grandparent of four grandchildren, but the psychological grandparent of all children. He is retired from the clinical practice of psychiatry and his tenured professorship at the Medical College of Wisconsin on June 30, 2012. Over his career, he has gained the recognition as an award-winning administrator, artist, clinician, and writer. He has been designated as one of our "national treasures" and "da man in ethics" by the American Association of Community Psychiatrists, and was named a "Hero of Public Psychiatry" by the American Psychiatric Association. He wrote "Better Off in Prison? A Psychiatrist Gains New Insight on the State of Behavioral Healthcare After Joining the Staff at a Wisconsin Prison" after serving as a staff psychiatrist at Kettle Moraine Correctional Institute, in Plymouth, Wisc. Trying to keep up his reputation as a "gadfly," Steve continues his commentary for various publications, presentations for professionals and the public, and serves on various organizations and boards.
• Kathy Komaroff Goodman is a founding Principal at ACCORD, a collaborative of conflict management and resolution specialists serving individuals and businesses. Kathy received her M.S. in Negotiation and Conflict Resolution from Columbia University in 2013. Her undergraduate degree is from the University of California, Berkeley in both art history and psychology. Ms. Goodman is a trained mediator and received her training from the New York Peace Institute (NYPI). Her Master's thesis took a comprehensive look at "Engaging emotions in self and parties in the mediation context."
• Karen LaRose is a Columbia University graduate of the program of conflict resolution.
• James M. Jasper, Department of Sociology, CUNY Graduate Center, New York, NYC
See: "Emotions and Social Movements: Twenty Years of Theory and Research," Annual Review of Sociology, 37, pp. 285-303. Abstract:
The past 20 years have seen an explosion of research and theory into the emotions of protest and social movements. At one extreme, general theoretical statements about emotions have established their importance in every aspect of political action. At the other, the origins and influence of many specific emotions have been isolated as causal mechanisms. This article offers something in between, a typology of emotional processes aimed not only at showing that not all emotions work the same way, but also at encouraging research into how different emotions interact with one another. This should also help us overcome a residual suspicion that emotions are irrational, as well as avoid the overreaction, namely demonstrations that emotions help (and never hurt) protest mobilization and goals.
• Nick Bromell's research seeks to change conventional understanding of democracy by showing that works of literature and popular culture can be "bottom-up" expressions of philosophy and political theory. His work also seeks to bring academic scholarship into current public debates.
He is the author of By the Sweat of the Brow: Literature and Labor in Antebellum America (University of Chicago Press, 1992) and Tomorrow Never Knows: Rock and Psychedelics in the 1960s (University of Chicago Press, 2000). His articles, essays, and reviews have appeared in American Quarterly, American Literary History, American Literature, American Music, The Boston Review, Harper's, Raritan, Political Theory, The Boston Globe, The Sewanee Review, The Georgia Review, The American Scholar, Fortune, The New York Times, New England Monthly, and on-line at Alternet, Exquisite Corpse, and Salon.
Bromell was the founding editor of The Boston Review, where he continues to be a contributing editor; he also serves on the editorial board of The Sixties and as an advisory editor to the Class: Culture series published by the University of Michigan Press. He has been President of the New England American Studies Association, and he is the principal convener of Democratic Vistas: An Interdisciplinary Seminar in Political Theory and Cultural Studies. He is an Affiliate Scholar at the Center for American Progress.
• Christine de Michele is a vocalist, songwriter, and educator, see christinedemichele.com.
• Genevieve Vaughan, please see her Intellectual Autobiography from 1998: I was born in Corpus Christi, Texas in 1939 to a wealthy family. My father was a lawyer and so was my mother's father who made money in the oil and gas business. I inherited part of that money and since 1980 have tried to use it for social change towards women's values. Having spent the major part of the money in this endeavor I am now in the process of divesting from the environmental pollution business. I went to Bryn Mawr College in Pennsylvania and later attended graduate school at the University of Texas where I met and married a visiting Italian philosophy professor, Ferruccio Rossi-Landi. I moved to Milano with him in 1963 and then to Rome in 1968. In Italy I first developed a progressive political consciousness and then after my divorce in 1978, my feminist consciousness was raised. I joined a group of international feminists from the FAO which was located near my house in Rome. I also participated in the Italian feminist movement, and attended courses at a Feminist University, the Virginia Woolf Cultural Center. [read more]
• Hassan Abdi Keynan is currently serving as Senior Program Specialist at the UNESCO Regional Office for Eastern Africa Nairobi, Kenya, after having worked with the UNESCO offices in Abuja, Nigeria, and Dhaka, Bangladesh, as Programme Specialist, and, before that, with UNESCO in Islamabad, Pakistan. He is the former Secretary General of the Somali National Commission for UNESCO (until 1988). From 1993 to1995, he was Special Adviser to the Norwegian National Commission for UNESCO, and from 1995 to 1997, he served as a consultant at the Norwegian Institute for Urban and Regional Research, Oslo. He gained his Master of Arts in African Studies, and his Master of Education in Curriculum Development and the Study of Schooling from University of California Los Angeles (UCLA). [read more]
• Dr Chinwe Obianika comes from Nigeria and was introduced by Kingsley Okoro and joins the 2014 workshop with her paper Maintaining the African Culture of Honouring the Elders and Monitoring the Youths: A Case for Igbo Traditional Society.
• Clement Osunwokeh was introduced by Kingsley Okoro and joins the 2014 workshop. Please see their join paper: Okoro Kingsley N. and Osunwokeh Clement (2013) "Common Humanity not Common Community: The Solution to the Global Crisis". In African Journal of Political Science and International Affairs, Vol.7, No1, April, 2013. (12-23).
• Naoko Matsumoto is originally from Kyoto, Japan, and danced for Midori Ballet, Mariko Dance Theater. She has more than 10 years professional experience as a dance teacher. She is also a certified Alexander Technique teacher and a director at Movement Republic Inc., where she supports her students with Alexander Technique and dance education.
• Daniela Romero is a Master's student in International Educational Development at Teachers College, Columbia University. Her research interest is about conflict and education (with focus on Colombia, her home country).
• Seif Sekalala is a doctoral candidate in Communication, Culture, and Media at Drexel University in Philadelphia. Seif is originally a Rwandan-Ugandan-American citizen.
• Dr. Azza Karam serves the Culture mandate at the United Nations Population Fund. A political scientist and economist by training, she has managed international development programs; served as a gender and culture Trainer and Specialist for various international intergovernmental entities; and is a Lecturer on politics and religion in several academic arenas. She has several books and publications to her name. She has worked in the Middle East, western Europe and the United States. [read more]
• Kathy Orchen is part of the Humanitarian Training Program of Ani Kalayjian to become a Meaningfulworld Ambassador.
• Susan Smith is part of the Humanitarian Training Program of Ani Kalayjian to become a Meaningfulworld Ambassador.
• Maxwell Adew is an associate at B-Gifted and part of the consult team that visited the amputee camps to help in the peace, reconciliation, trauma healing, recovery and hope for victims of amputation.
• Neal Gupta works at the Lab for Terrestrial Environments, Department of Science and Technology, Bryant University, Smithfield, RI. We thank Jacqueline Wasilewski, for introducing Neal to our dignity work.
Please see his publications list at https://sites.google.com/site/labyforterrestrialenvironments/publications and the video interview Neal conducted with Evelin Lindner on December 5, 2014 here: CEdR/academic: Culture Education Discussion Research. Cloud and Designed Learning: Dr. Lindner MD, themed World Dignity University, global education, gift economy, forming a no cost education network, zero budget movement, understanding social equality, published on December 7, 2014. See his YouTube Channel CEdr&/academic.

• Rana Tanver is a journalist from Pakistan who spent time at Columbia University on a fellowship.
• Amera (Bibi) Raza is from India/Pakistan and holds a PhD in political science.
• Kristin Slaney is a play-write studying and teaching at Columbia University, New York City, U.S.A.
• Sandra Y. Bowland is a Certified Mediator and Arbitrator by the Supreme Court of Georgia. She has exceptional skills, knowledge and abilities in areas of restorative justice, peacemaking practices, training, education and curriculum development. She is a fellowship, leadership, and service award recipient; a mediator, trainer, presenter, and facilitator; a diversity and leadership development consultant; had developed and designed training's, presentations, workshops, programs and curricula for diverse groups. She has exceptional and extensive experience in working with many from diverse backgrounds and cultures.
• Sindiso Mnisi Weeks is Assistant Professor in Public Policy of Excluded Populations at the School for Global Inclusion and Social Development, University of Massachusetts Boston. She previously served as a senior researcher in the Centre for Law and Society, University of Cape Town (UCT), where she worked on the Rural Women's Action-Research programme combining research, advocacy, and policy work on women, property, and governance/authority under customary law and the South African Constitution. She also taught African Customary Law as a senior lecturer in UCT's Department of Private Law. Dr. Mnisi Weeks obtained a doctorate in Law from the University of Oxford, as a Rhodes Scholar, based at the Centre for Socio-Legal Studies; prior to which she was a Constitutional Court clerk to the Deputy Chief Justice, Dikgang Moseneke. In 2013-2014, she held a fellowship at the University of New Hampshire School of Law and worked on a book manuscript (which has been accepted for publication by Ashgate) on the pursuit of justice and human security in traditional courts in rural KwaZulu-Natal, South Africa.
• Kathy Beckwith writes on August 18, 2015: I have come to HDHS through Dignity Press and the humiliationstudies.org website, then through meeting Linda Hartling here in Oregon, and reading more about the work being done. My book, A Mighty Case Against War: What America Missed in U.S. History Class and What We (All) Can Do Now, is currently under contract and in development at Dignity Press. It is a project of many months (years) of research and writing, and I am so pleased that it's soon to be on its way to readers. I have worked in conflict resolution over two decades, primarily in community mediation, victim-offender mediation and family mediation, and peer mediation for schools, and have published four other books - 2 picture books (Playing War and If You Choose Not to Hit), a young adult novel concerning sexual abuse in the lives of teens, and a curriculum guide for conflict resolution in the elementary school.
• Wayne Beckwith is known locally as a retired teacher of alternative education and industrial arts for high school students, and a current teacher committed to "keeping history actively alive" for children and youth through his work with the local heritage society museum and an Oregon 4-H Wagon Train (along with his five mules). He is a mediator in community mediation and has taken leadership in conflict management activities for the groups he has worked in and with. He just finished "Farm Fest'" where he demonstrated mule-powered homemade ice cream and operating an early 1900s binder, explaining to visitors how things worked in days gone by.
Kathy and Wayne: We have established "family sabbaticals" throughout our adult lives and with our children, and have worked in American Samoa - and in India, both through the Peace Corps and at an international boarding school in South India. We are current volunteers with Friendly Water for the World, an organization working alongside others around the world who want the use of biosand water filters to bring safe water to their families, schools, and clinics. We have traveled in Uganda, Kenya, and India with this work, and Wayne has gone to Nicaragua as well.
• Tissa Janelle Thomas, a PhD student in Language, Literacy, and Culture (LLC) at UMBC, earned her MS in Health Science and BS in Biochemistry from Towson University. Her current research interests encompass ecosemiotics and cultural studies. Her research, "Chromatographic determination of impurity binding affinities on biomineral crystals," published as an undergraduate with Dr. Ryan E Sours, examined the effects of impurity molecules such as phages on crystallization growth rate and morphology. Her master's thesis examined citizen-science health education practices as an early invention in secondary science, technology, engineering and/or mathematics (STEM) education. These research projects inspired her to study the nature of ecology and its cultural representations in science, which she is now pursuing at UMBC. Prior to her doctoral studies, Tissa worked on several STEM education initiatives, such as the Robert Noyce Teacher Scholarship Program at Towson and the Paul's Place Leaders and youth Scholars (P2LayS) program in Pigtown, Baltimore. During this time, she coordinated programs that not only encouraged undergraduates and graduate students to become middle and high school teachers; she also supported youths of Baltimore City who were interested in pursuing college. She facilitated curriculum with evidence-based activities to support students' academic, financial, professional, and cultural wellbeing. Tissa's ultimate goal is to inspire all students to embrace their innate interest in the humanities and STEM by encouraging them to apply their academic expertise in real-life experiences, making learning more enjoyable for these students and potentially leading to favorable careers.
• Lucienne Despinosse Nicholson was born in a small nation in the Global South, Haiti. She arrived in Brooklyn, New York, in the 70's as a young teenager where she landed in East Flatbush, the nucleus of the Caribbean diaspora. It was a time of great turmoil for the same reasons that feed the upheavals the United States continue to face as a nation. In time, Lucienne would learn a lot about her new country including how to deconstruct the superficial packaging of the "American Dream" which has, and continues to fuel the hopes and ideals of would-be immigrants near and far.
An intuitive storyteller hailing from a strong native tradition of oral history, Lucienne uses that ability to engage her community on the most difficult topics shaping the global landscape of intersectionalism. And because she is, according to established social norms, a "Black" woman, Lucienne's sociopolitical consciousness is arched around race, class, gender, nationality, religion, and more. Central to her humanistic engagement in her academic research and community dialogue, is finding a pathway to healing from old wounds when the site of trauma remains under perpetual assault. At this workshop, Lucienne is hoping to engage the full spectrum of our human emotions, including rage in the face of bitter injustices. Her own wrestling has brought her to understand that rage alone is defeating even in its most eloquent presentation. Lucienne is inviting the cohort to split open the location of rage in the face of relentless traumatization and she poses the following question, "How can we use the cellular structure of rage which is indignation, to move us from humiliation to humility and dignity?"
• Daniel Rothbart is professor of conflict analysis and resolution at the School for Conflict Analysis and Resolution, George Mason University, Fairfax County, VA, U.S.A. Professor Rothbart specializes in identity-based conflicts, ethics and conflict, conflict theory and philosophy, the causes of protracted violence, and civilians in war. He chairs the Sudan Task Group — an organization that seeks to build long-term peace in this East African country — and he co-chairs the Program for the Prevention of Mass Violence at his home institution.
• Lyndon Harris was the priest in charge of St. Paul's Chapel at Trinity on Wall Street in the summer of 2001. Amidst a world-turned-upside-down on September 11, 2001, he worked with a volunteer force that rose to 15,000 people. Seeing that St. Paul's had been spared from the devastation, he concluded that, "it was not because we were holier than anyone who died across the street; it was because we now had a big job to do." Day after day, breathing in the Ground Zero toxicity, Harris and the brave volunteers served more than 500,000 meals to courageous rescue workers whose attitude was: We Will Not Leave...until the job is done. Dramatic as they were, the trials and triumphs of 9/11 were the trigger of the aftermath that began on 9/12. For Harris (who registered more than 240 days exposure to Ground Zero) and others like him, his volunteer efforts were repaid by suffering from compromised lung function, post-traumatic stress disorder and depression, the end of his marriage, the loss of his home, and his priestly vocation. The man who had performed sacred rituals in satin robes became a ranch hand shoveling manure, and in those years of recovery he discovered the path to forgiveness. Now, with a new lease on life, Lyndon Harris has a message to share. He also consults with communities to embrace and develop local Gardens of Forgiveness.
• Maria Lund is President and COO of First Sun EAP, a regional provider of employee assistance program services in South Carolina. Maria has over 24 years experience working in the counseling and EAP fields. She has a Master's Degree in Clinical Psychology and is a Certified and Licensed Employee Assistance Professional as well as a Licensed Professional Counselor. [read more]
• Tamara Oakman's work has been published in such magazines as Many Mountains Moving, Philadelphia Stories and Best of Anthology, Mad Poets Review, Fox Chase Review and other online and in print magazines; she has awards in poetry, fiction, non-fiction, and drama and reads poetry and fiction in Philadelphia and the surrounding tri-state areas. She has a BA in English and a Writing Certificate from Temple University and has recently completed her Master's Thesis in English at Arcadia University. She studied Anne Sexton at the Howard Gotlieb Archival Research Center in Boston, MA and creative writing fiction in Umbria, Italy. She has hosted, created and coordinated many events, series, workshops and festivals. She is co-founder, co-editor of APIARY magazine.
• Annecy Baez: Please read on https://therapists.psychologytoday.com/: For the past several years, I have had the honor of helping children, adolescents and adults with symptoms of depression, anxiety, stress and trauma, as well as life transitions, particularly loss and bereavement. I am a bilingual (English/Spanish) culturally sensitive psychotherapist certified in Focusing Oriented Psychotherapy. My approach is supportive, compassionate, and trauma-informed. I integrate somatic approaches and mindfulness. I have training in EMDR and in AEDP (Level 1). I draw from contemporary psychodynamics, cognitive behavioral, relational, interpersonal neurobiology, experiential and body-centered therapies that teaches us that we are all wired for growth and healing. Terapia Bilingue. With couples, I use the Prepare-Enrich online inventory (40-60 min) in English and Spanish. The Prepare-Enrich program is a useful tool for premarital, co-habitating, and married couples to identify areas of strength. I completed my externship in Emotionally Focused Couples Therapy (EFT). Psicoterapia en Español. With mindfulness and acceptance I provide a safe and compassionate environment, free of judgment where you can share openly and honestly. It is my hope that our work together will support your healing, and enable you to move forward on your life journey. Terapia Bilingue.
• Allison Bobick received her MSW degree and an advanced clinical certificate from the New York University Graduate School of Social Work. She completed a fellowship in psychoanalysis from The Institute of Psychoanalytic Education, an affiliate of the NYU School of Medicine, is a member of the National Center for Crisis Management and holds a certificate in university crisis response from the American Academy of Experts in Traumatic Stress. Professor Bobick has extensive experience in the areas of health care, trauma and bereavement. She worked for many years at both NYU/Bellevue and the Mt. Sinai Medical Center and maintains a private practice in NYC. In her role as the Director of Student Advancement at the Touro College Graduate School of Social Work, she is responsible for all aspects of student services including professional development activities and counseling as it relates to students academic and professional performance. Professor Bobick teaches advanced clinical social work practice courses and also has taught courses on diversity and social work values and ethics.
• Hassani Scott is a student at Brown University, Providence, Rhode Island, U.S.A.
• Muloki Augustine Aggrey is a peace builder from Uganada, who participated in the 25th Annual Conference of Human Dignity and Humiliation Studies in Kigali, Rwanda, in June 2015. Please see his Appreciative Greetings (video).
• Mneesha Gellman is Assistant Professor of Comparative Politics at Emerson College, Boston, MA, USA. Her research interests include comparative democratization, post-conflict reconstruction, cultural rights movements, and memory politics in the Global South. [read more]
• Olga V. Lehmann holds a bachelor degree in psychology from La Sabana University, (Colombia), and a Laurea Magistrale in Clinical Psychology: Health, Family relations and Community Interventions from Università Cattolica del Sacro Cuore (Italy). Ph.D candidate in psychology, from Norges teknisk-naturvitenskapelige universitet -NTNU (Norway). Her research interests include death beliefs, logotherapy and existential analysis, silence in ordinary life, emotions, poetic instants, cultural psychology and Idiographic Science.
• Writer/Producer Arthur Kanegis is President and founder of One Films, LLC, a motion picture development and production company dedicated to producing uplifting entertainment that makes a difference. He also founded Future WAVE, a non-profit organization that aims to shift our culture of violence to a culture of peace. He owns all rights to Garry Davis story. Just One! is a labor of love for Kanegis, who has spent seven years researching and developing the Garry Davis Story, including taping extensive interviews in France, Germany and the US not only with Garry, but also with Esther Peter-Davis, Ginia Davis and others who shared in the adventures.
• Qin Shao is a Professor of History at The College of New Jersey and former research fellow at the Radcliffe Institute for Advanced Studies, Harvard University (2007-2008), and at the International Research Center on Work and Lifecycle in Global History, Humboldt University, Berlin, Germany (January-July 2013). Her recent work has focused on the human dimension of rapid urbanization in post- Mao China, especially on such issues as mental health, dignity, property rights, and grass-roots resistance. She is working on a new project about the impact of politically induced and imposed physical displacement under Mao.
She is the author of many articles and the book Shanghai Gone: Domicide and Defiance in a Chinese Megacity. State and Society in East Asia (Lanham, MD: Rowman and Littlefield, 2013). See the summary of this book: Shanghai has been demolished and rebuilt into a gleaming megacity in recent decades, now ranking with New York and London as a hub of global finance. But that transformation has come at a grave human cost. This compelling book is the first to apply the concept of domicide—the eradication of a home against the will of its dwellers—to the sweeping destruction of neighborhoods, families, and life patterns to make way for the new Shanghai. Here we find the holdouts and protesters, men and women who have stubbornly resisted domicide and demanded justice. Qin Shao follows, among others, a reticent kindergarten teacher turned diehard petitioner; a descendant of gangsters and squatters who has become an amateur lawyer for evictees; and a Chinese Muslim who has struggled to recover his ancestral home in Xintiandi, an infamous site of gentrification dominated by a well-connected Hong Kong real estate tycoon. Highlighting the wrenching changes spawned by China's reform era, Shao vividly portrays the relentless pursuit of growth and profit by the combined forces of corrupt power and money, the personal wreckage it has left behind, and the enduring human spirit it has unleashed.
• Awais Anwar is Peace activist and qualified lawyer having post graduate degree of law from university of the Punjab, Lahore Pakistan with practical hand on advocacy and counseling of civil, criminal and family laws in high court. He has been special lecturer on understanding of criminal, civil and family laws and procedure at grass root level. He has been a member of Jail Reforms Committee & Special Jail visitor for providing free legal aid, counseling and advocacy to destitute women and juveniles in prisons.
• Mary Lenz, of Life Promotions, kindly sent us the following biographical description of Bob Lenz (February 5, 2016):
Bob Lenz, author and international speaker, and founder of Life Promotions, speaks to nearly half a million students each year. His public school assembly programs have been consistently rated among the best in the nation by school administrators, teachers, parents, and most importantly, students. His intense passion to instill hope in youth allows him to connect with their hearts and minds like no other speaker can, sharing experiences that help them deal with real life while challenging them to make a difference in their world. He explores sober issues like bullying, self-harm, suicide and substance use while using his unique gift of humor. Somewhere between laughing at one of his embarrassing moments and getting choked up over a true story, students realize their lives have been changed. Watch Ronny's Story to see how Bob connects with students in a powerful way.
Bob's new book Dignity Revolution is in over 30,000 schools thanks to a generous donation from Lifetouch, Inc. Additionally, Deborah Tackmann National Health Teacher of the Year, with licensed teachers, have created the Dignity Revolution Challenge. The message is to share the worth, value and dignity of every person. The Challenge is a customizable, effective, empowering bullying prevention program for schools. This program is different because it brings a message of love for every individual. To bring the Challenge to your area, you can visit for more information www.DignityPledge.com or email info@DignityPledge.com.
• Eileen Barker is a forgiveness teacher, coach and leader in the movement to integrate emotional healing and forgiveness with conflict resolution. A practicing litigation lawyer who rejected the traditional adversarial role, Eileen has focused her practice on mediation and conflict resolution for over 25 years, helping thousands of people resolve disputes peacefully. This work led her into a deep exploration of forgiveness as it relates to resolving conflict and making peace, both with others and oneself. Eileen leads forgiveness retreats, coaches private clients, and is the author of The Forgiveness Workbook and Forgiveness Meditation CD. She is passionate about teaching people how to forgive and how to embrace conflict as an opportunity for healing and transformation.
Her suggestion for a Dignilogue "Forgiveness as a Path to Dignity" in 2016 is as follows: "What role can forgiveness play in bringing love forward in the world, and eliminating the root causes of humiliation? How can forgiveness help us heal the parts of ourselves that feel separate, isolated, and mistrustful? It is only by healing core wounds - both on an individual and societal level - that we can realize our full potential as human beings. Forgiveness is instrumental in releasing the past and enabling us to open to our full potential. As we experience the truth of ourselves as loving, caring, contributing human beings, we are able to recognize our inter-connectedness, and begin creating a new story for humanity.
• Russell Wilkie, MA, is a Licensed Marriage and Family Therapist with over 30 years experience in the helping profession. He has been an associate of The Couples Institute in Menlo Park, CA since 2006. His current interest is in helping couples heal from infidelity by helping them work through the crisis, and eventually, a complete apology and the forgiveness process.
• Poul Poder is associate professor and deputy-director at the Centre for Resolution of International Conflict, University of Copenhagen, Denmark. Poder's research is mainly focused on the areas of emotions and organizational analysis. He has been publishing in the field of social theory with a certain emphasis on the theory of Zygmunt Bauman and Randall Collins. He is currently working in the field between sociology of emotions and conflict theory, focusing on the role of emotions in violence and conflicts. See the article "Understanding three basic emotional dynamics in conflicts: A situational research agenda" in Peace Research – The Canadian Journal of Peace and Conflict Studies, 2014; see also a chapter written together with Daniel Rothbart: "Systemic humiliation as daily social suffering," in the forthcoming book Alleviating World Suffering: The Challenge of Negative Quality of Life, edited by Ronald E. Anderson. He is a member of research management committee at the Department of Political Science at the University of Copenhagen, and a member of the Emotions Research Network at the European Sociological Association.
• Carmela Benett teaches Embodied Leadership for Women.
• Cyrien Kanamugire was born in 1955 in Butare in the south of Rwanda. He studied law at the University of Kigali, where he obtained his "Licence en Droit." A long time journalist, he in the beginning of the nineties worked with the Tribun du Peuple, then with the Catholic journal Kinyamateka, where, since 1999, he is one of the organizers of the Tribune Libre. During the years of war, he joined the Front Patriotique, where he was a journalist with the Radio des Rebelles. [...] Later, Cyrien Kanamugire worked with the Kinyamateka journal and the Inkiko-Gacaca journal, he was furthermore an observer-adviser for the Gacaca jurisdiction in the Province of Kibuye on the edges of the Lake Kivu. [read more]
• Rana Tanver is a journalist associated with daily The Express Tribune, a publishing partner of International New York Times. He kindly wrote on October 17, 2015:
I write on religious conflict, religious violence and terrorism. Religion, either it is Islam, Christianity, Hinduism, Sikhism or Judaism, reflects every aspect of lives of its followers in Pakistan. Other religions influence lives of their followers but Islam being the religion of majority not only influences lives of its followers but also affects those of others too. I write to participate in the efforts to ensure this world a place of dignity by ending humiliation and sufferings at the name of religion. Being a young journalist, I already have taken part in Alliance for Historical Dialogue and Accountability, a 4-month fellowship at Institute for the Study of Human Rights at Columbia University in the city of New York. Being selected, I participated in a Senior Journalists Seminar 2015 hosted by East-West Center at Hawaii University, United States. On my stories on a murder of a minority member, C. M. Naim, professor emeritus at University of Chicago, wrote an article in my appreciation and later wrote a book - A Killing in Ferozewala - and dedicated its title essay to me, see here and here. Having my work close to that of yours, I wish to participate in this conference to take benefit on this specific field and to share my ideas on it with Pakistani perspective. Here are few of my writing samples: "Writing for minorities isn't easy...," "When custodians of law turn into an unruly mob," "Another man arrested over alleged blasphemy in Kasur."
• Downbeat Magazine "Rising Flute Star," Sylvain Leroux studied classical flute in Montreal at Vincent d'Indy – improvisation, composition and World music at the Creative Music Studio, and Fula flute in Guinea. He is a notable player on New York City's African and improvised music scene as leader of the groups Fula Flute and Source, sideman with the Mandingo Ambassadors, and participant in Adam Rudolph's Go: Organic Orchestra and Karl Berger's Improviser's Orchestra. His CD productions include: the cult classic Fula Flute (2002), Source w/ Abdoulaye Diabate (2006), Mansa America (2008), Quatuor Creole (2012)–which was hailed by critics as "perfect contemporary music release," and Les Enfants de Tyabala (2014), a set of field recordings of children in Guinea. He is the inventor of the chromatic tambin–a modification of the traditional Fula flute–which can play in all keys. Since 2013 has conducting a successful innovative music literacy program in Guinea based on his invention.
See www.fulaflute.net
facebook.com/fulaflute
https://sylvainlerouxquatuorcreole.bandcamp.com/album/quatuor-cr-ole
https://www.youtube.com/channel/UCs9hWo0dStYPtGRL518bcnw

• Michael R. Ott holds a Ph.D. in Sociology from Western Michigan University (1998) and a Master of Divinity degree from Princeton Theological Seminary (1975). ... In 2002, he accepted a position as a Professor of Sociology at Grand Valley State University, where he specialized in the study, teaching and advancement of the critical theory of society and religion of the "Frankfurt School." He incorporated this critical theoretical paradigm, which seeks the socio-historical creation of a more reconciled, humane future society. [read more]
• Kebadu Gebremariam is a Doctoral Candidate at the Center for Ethics of the University of Zürich in Switzerland.
• Sharon Strand Ellison, Founder and Executive Director of the Institute for Powerful Non-Defensive Communication, is an an award-winning speaker, international consultant, and the author of Taking the War Out of Our Words. She and her daughter Ami Atkinson Combs also co-authored the audiobook, Taking Power Struggle Out of Parenting, winner of a Benjamin Franklin Award. Sharon has been a Scholar-in-Residence at St. Johns University, MN, and a nominee for Leadership in a Changing World Award, sponsored by the Ford Foundation and the Advocacy Institute. The 11th annual Kaplan Lecturer in Pittsburg PA, Sharon was the recipient of an Honorary Award as a Scholar and Communication Pioneer. Her articles include: "New Roots for Language"; "From Judgment to Curiosity: Is Curiosity an Antidote to Power Struggle?" and "Pitfalls in Best Alternative Dispute Resolution Practices."
Sharon's work is founded on the premise that defensiveness is the greatest "glass ceiling" on our human potential and that using communication methods that defuse defensiveness and power struggle is essential to moving away from destructive conflicts and violence. Her speeches and training programs demonstrate how we have used the "rules of war," not just as a metaphor, but as the entire infrastructure for how we talk to each other. Thus, people are constantly, often unconsciously, prompting each other's defenses — impacting not only our individual lives, but relationships within communities and among nations. Sharon identified four key aspects that shape how we (1) ask questions, (2) give feedback to others, (3) express our own thoughts, feelings, and beliefs, and (4) create clear boundaries. Making small, specific changes in (a) intention, (b) voice tone, (c) body language and (d) phrasing is proving to be extremely effective in prompting others to drop their defenses — often instantly — even in high-conflict situations.
Sharon is dedicated to maintaining a major focus on working with professionals and community organizers who can (1) model and teach non-defensive attitudes and skills, (2) implement them in institutional settings, and/or (3) use them in the context of social change movements, including: Women's Global Health Imperative (selected women scientists working with women's health issues in Africa, Asia, Latin America and Eastern Europe) — A Progressive Scholars and Activists Conference on Anti-Semitism and the Left; New Community Meeting (bringing together LGBT leaders with conservative Christian leaders) — World Trust, Light in the Darkness, and Making Whiteness Visible, diversity films produced by World Trust (Sharon co-authored the questions for white people in the workbooks with the films); San Francisco Bay Area High School (training for 450 freshman after a gang murder); Human Capacity for Peace Conference, What is the Power of Nonviolent Language and Action: From the Individual to Global Settings, UC Berkeley, CA. Listen to a short, thorough CD summary of The Powerful Non-Defensive Communication process: PNDC Principles and Practical Skills
• Noriko Ishihara holds a Ph.D. in curriculum and instruction from the University of Minnesota and is Professor of EFL/TESOL at Hosei University. In 215-17, she is Visiting Professor in Linguistics at the University of California Davis. She also teaches language teachers' professional development courses focused on the language of politeness and respect in Japan and the US. Her areas of interest include pragmatics and discourse, identity and language learning, language teacher development, and peace linguistics.
• Tony Allicino, MA, is the former Director of the Program for Deaf Adults at LaGuardia Community College of The City University of New York. His other field of expertise is inspired, among others, by the anthropological work of Michael Harner, PhD, on Shamanism.
• Kofi Boakye is a Candidate - MBA in Finance at the Gabelli School of Business.
• Sarah Zagoury has worked for international humanitarian organizations in the Middle East, Africa and Colombia. Her responsibilities included program management, advocacy, victims assistance and facilitation. She recently became a certified mediator with the New York Peace institute and holds a LLM in international law from SOAS University of London.
• Edna Adan Ismail is the former Foreign Minister of the (unrecognized) Republic of Somaliland (North-Western Somalia) in the Horn of Africa. She held this office from 2003 until 2006. She had previously served as Somaliland's Minister of Family Welfare and Social Development. She is the director and founder of the Edna Adan Maternity Hospital in Hargeisa, Somaliland. She is an activist and pioneer in the struggle for the abolition of Female Genital Mutilation (FGM) and is President of the Organization for Victims of Torture, Somaliland. [read more]
• Rev. Petra Loewen, MA received her Masters in Munich, Germany. She currently works as a spiritual counselor with an active healing practice in Brooklyn, NY. A graduate from the Institute for Integrative Nutrition (IIN), she is a professional Aromatherapist and Herbalist, utilizing tools like meditation, sound and scent to satisfy the human need to nourish primal hungers, while creating pathways for growth into positive transformations in all of a person's relations.
• Molly S. Castelloe, Ph.D., holds a doctorate from New York University in theater and psychoanalysis. She has presented on the subjects of performance and applied psychoanalysis at national symposia including the Institute for Advanced Study at Princeton University. Her scholarly articles have appeared in international publications and refereed journals including the Journal for the Psychoanalysis of Culture and Society and Clio's Psyche: Understanding the "Why" of Culture, Current Events, History, and Society. She has taught at New York University and is a Professor at Metropolitan College of New York. As an actress, Molly appeared in the critically acclaimed film "Clean, Shaven," a story about schizophrenia. She is proud to have been among the ensemble that made the first bilingual film in Sri Lanka. Inspirations include performer Anna Deavere Smith, political psychologist Vamik Volkan, and pioneering pediatrician D. W. Winnicott.
• Vanessa Avery holds a Ph.D. in religious studies from the University of Exeter, in England, and has been a consultant and trainer on religious diversity for over 15 years. She writes widely on topics of interreligious understanding and non-violence, and is now working on a book entitled The End of Violence (forthcoming from Michigan State University Press). She currently teaches at Fairfield University, Hartford Seminary, and Sacred Heart University. Vanessa's approach to interfaith education has been formed through years of organizational consulting and classroom teaching, integrating cutting-edge scholarship and ancient faith traditions to create broadly accessible learning communities.
• Mechthild Nagel is professor of philosophy, Director of the Center for Gender and Intercultural Studies (CGIS) at the State University of New York, College at Cortland, and most recently, she was a Visiting Fellow at the Max Planck Institute for the Study of Religious and Ethnic Diversity, Göttingen. Dr. Nagel is also a visiting professor at Fulda University of Applied Sciences, Germany. She is author of seven books: Masking the Abject: A Genealogy of Play (Lexington, 2002), co-editor of Race, Class, and Community Identity (Humanities, 2000), The Hydropolitics of Africa: A Contemporary Challenge (Cambridge Scholars Press, 2007), Prisons and Punishment: Reconsidering Global Penality (Africa World Press, 2007), Dancing with Iris: The Philosophy of Iris Marion Young (Oxford University Press, 2010), and The End of Prisons: Voices from the Decarceration Movement (Rodopi, 2013). Her recent coedited book is titled Diversity, Social Justice, and Inclusive Excellence: Transdisciplinary and Global Perspectives (SUNY Press, 2014). She has taught in area prisons in New York state and established a prison education program at a prison in Fulda, Germany. She writes on justice studies, global feminist studies, Africana philosophy. Lately, Dr. Nagel also works with teens at a Youth Center and supervises a college program, teaching philosophy to children in an area high-need elementary school.
Dr. Nagel is founder and editor-in-chief of the online feminist journal Wagadu: A Journal of Transnational Women's and Gender Studies (wagadu.org).
• Gwendolyn Hoeffel is a religious of the Sacred Heart presently living in New York City, where she relocated in 2014 after living fifty years in Japan. Gwen grew up in Cambridge, MA, and Truro on Cape Cod. Upon graduating from Manhattanville College in Purchase, NY, she went to Tokyo, Japan, where she taught at the International School of the Sacred Heart. As she was interested in being a "missionary," Gwen requested and was accepted into the formation program of the sisters of the Sacred Heart in Japan (it is an international Society and in the 1960's, there were foreign sisters from many countries). In the early seventies Gwen did theological studies at Andover Newton Seminary, part of a consortium in the Boston area. She returned to teaching at the International School in Tokyo. In the early nineties, Gwen had the opportunity to study Clinical Pastoral Education and move from school teaching to pastoral and peace and justice work in the diocese of Nagoya, Japan. She assisted and advocated for the refugee seekers and other migrant workers from the Philippines, Brazil, Peru, many African countries, and other parts of the world.
• José Domício Coutinho is the founder of the Brazilian Library in New York. He was born in João Pessoa, Brazil in 1931. He migrated to the United States in 1959. He has a bachelor's degree in Aristotelian Thomistic Theology by the Gregorian University of Rome. He has a bachelor's degree in Anglo-Saxon Languages by the Jesuit University of Recife, Brazil. He has a Master and Ph.D. in Comparative Literature from the City University of New York (CUNY). Please see "A Missionary for Brazilian Literature," by Alexandre Soares, Voices of New York, January 23, 2015.
• Aimee Lace is currently pursuing a PhD in Social-Oranizational Psychology at Teachers College, Columbia University. Her research interests include mediation, negotiation, intercultural communication and team behavior, and sustainable peace. Prior to coming to Columbia, Aimee worked as a consultant for the United Nations Institute for Training and Research in Geneva, Switzerland. She holds a BA in Psychology and in Global Studies from the University of Minnesota-Twin Cities.
• Anastasia Sarantos Taskin's career began as a licensed private detective in Boston, Massachusetts, engaged by criminal defense firms after which she attended Bentley University Graduate School studying accounting, statistics, and organizational management while attending and graduating from Franklin Pierce Law Center in Concord, NH, where she served in the New Hampshire Criminal Appellate Defender's Office and the Civil Law Clinic. Prior to coming to New York City, she was a public and private criminal defense attorney of misdemeanors and felonies for adults and juveniles and a civil litigator. She took the bar in New York and opened her own practice in NYC primarily practicing immigration, criminal defense and advisor to commercial start ups and not-for-profits, much of which is pro bono. In addition, she is, as of 2014, a trained mediator and has engaged in mediations related to commercial matters, partnership and family business disputes or decisions, end of life matters, and interfaith and intercultural disputes within philanthropic organizations in the community.
She is interested to proceed on her track to becoming a mediator of violent and non-violent community disputes and also, to understand and learn techniques, strategies and overall knowledge for dealing with political, social, religious, and cultural agendas of varied ethnic, race, and religious parties whose very core impulse is to utilize "humiliation" as a tactic and where admission/exposure of a humiliating act (eg: a confession, peaceful agreement, admission of responsibility, escaping a gang etc..) or opinion can have significant, mental, social and /or life-threatening consequences.
• Venera Kusari is a Project Coordinator for the Urban Violence Prevention project at the Advanced Consortium on Cooperation, Conflict, and Complexity (AC4) at Columbia University. She coordinates all activities related to the project and facilitates collaboration between AC4 and other institutions within Columbia University and outside to design and support projects that aim to prevent and eliminate youth violence. She has extensive experience with international NGOs in the Balkans, mainly in Kosovo. She has worked on issues as diverse as disaster relief, refugees, gender equality, and minority rights in conflict and post-conflict contexts. She holds a Master's degree in Negotiation and Conflict Resolution from Columbia University. Her research focus is on complex dynamics in conflict, communication and conflict, justice and conflict, power asymmetries, and sustainable peace. Dedicated and passionate to bring social change through shaping public policies that ensure greater access to quality education, peace education, and fairness in social, political, legal, and economic systems that safeguard fundamental human rights.
• Holly O'Grady is the Founding Director of Garden Stories Leadership Workshops. Garden Stories Leadership Workshops empower children ages 10 and up to become more confident in expressing their ideas and discovering the rewards of working collaboratively. The idea for this endeavor was created in response to Holly's rapidly developing East Village neighborhood with dwindling green space and the tremendous resource that community gardens could offer children who live so far from any kind of a natural environment. Many of the children in the programs currently live in public housing. Through her 20 years of work in learning and development in corporate America, Holly also concluded that learning to work collaboratively should start at a younger age. Garden Stories draws on leadership lessons from community gardens as a source for inspiration as well as an opportunity for hands on gardening.
• Vicky Jan Isler, Mediators Beyond Borders International, Co-Chair UM Working Group, UN Women
• Denyse Kapelus is a member of the Humiliation & Dignity Community in New York City. Born in South Africa and an immigrant to the U.S. Denyse has spent a lifetime living and working in the realm of children and families, evolving into the sphere of the elderly with particular focus on community support and the mitigation of loneliness often accompanying shame and loss of previously held autonomy and dignity. Prior to her immigration in 1979 she served as the Senior Supervisor of The Hebrew Nursery School Association of Cape Town & oversaw the staffing, administration & curriculum building of 18 pre-primary schools. She holds a Master's Degree in Early Childhood Education. The field of parent education drew her to the vital aspect of support & validation for all caregivers across the spectrum. In 1986 she founded and directed Professional Nannies Institute in NYC and for 27 years she assisted nannies in gaining well paid employment and fair working conditions.
Services included continuing education for nannies and serving as a resource for the child care needs of families and ongoing relationships between employer and employee to optimize a healthy environment for children. Her personal professional growth extended to the acquisition of coaching skills & currently ElderMediation. Aging in Place has evolved as a focus of Denyse's volunteer work with LILY (LIFEFORCE IN LATER YEARS) an elderly visiting program based in Morningside Heights, NYC. Attention to the evolving needs of the aging population with accompanying support & mitigation of isolation serves as a bulwark against the prevalence of Elder Abuse which is intrinsic to those experiencing diminished capacity. The expression from "cradle to grave" sums up Denyse's career & personal journey.
• Ye Chen, Columbia University.
• Mehnaz Afridi, brought to us by Harriet Jackson.
• Alanna Fisher, brought to us by Mariana Vergara.
• Elsy Mecklembourg-Guibert, brought to us by Mariana Vergara.
• Ana Jimenez-Bautista, brought to us by Mariana Vergara.
• Arndt Hassel is a researcher at the Centre for European Policy Studies, a Brussels-based think tank, where he currently focuses his professional work on EU energy and climate policies. His passion is to better understand the interrelation between humiliation and suffering in individuals and society. This includes the psychological effects of humiliation in individuals (mental illness), covert humiliation in society (particularly in education and parenting), as well as pre- and perinatal effects on humans. A major focus of his interest are policies and methods for preventing and healing humiliation (and trauma) which, in his opinion, will lead to an effective increase in well-being.
• Alberto Collazzoni, PhD, is a clinical psychologist. He was born in Ascoli Piceno (AP), Italy, in 1985.
He got his master degree (2010) and Ph.D. in clinical psychology at the University of L' Aquila, Italy, Department of Biotechnological and Applied Clinical Sciences (DISCAB, 2015), where he also had a year of postdoc (2017). His main topic research is the association between humiliation, past familial negative events, and psychopathology.
He had a training in cognitive behavioral therapy (CBT, 2013-2017) at the SPC (School of Cognitive Psychotherapy), Rome, Italy.
He spent 5 months as an assistant project scientist at UCLA, Los Angeles, California (Laboratory of Stress, October 2017/February 2018).
Alberto is married to Giorgia and they live in West Hollywood (California). Their hobbies are hiking and traveling (... and tasting good food around the world!!!).
He currently works as a registered psychological assistant at the Renewed Freedom Center (RFC), Los Angeles, California.
• Spes Manirakiza is a leading expert on community-based approach to peacebuilding, women's empowerment and leadership, with Seventeen years of experience with international non-governmental organizations. Originally from Burundi, Spes has been providing strategies for preventing conflicts that lead to violent extremism in Zanzibar and other regions of Tanzania with a focus on women and youth. "Women and mothers have a key role in preventing emerging violent extremism throughout the world. They need a safe space to share their testimonies, knowledge and recognition for their role."
• Irene Javors, M.ED. is a licensed mental health counselor She is in private practice in New York City. She is the author of Culture Notes: Essays on Sane Living (2010); and a volume of poetry, Mists of Memory (1986) She is a member of PEN. She is on the faculty of the Mental Health Counseling Program, Ferkauf Graduate School of Psychology, Yeshiva University. She writes on topics involving culture and psyche.
• Dr. Robert Paul Churchill, ​Elton Professor Emeritus, George Washington University, ​has been a professor of philosophy for 45 years, and has written and researched extensively on human rights, gender violence, toleration, and nonviolent resistance. His most recent book, Women in the Crossfire: Understanding and Ending Honor Killing, is forthcoming from Oxford University Press.
• Dr. Brian D'Agostino is an interdisciplinary social scientist, educator, author, and speaker, with publications and other professional qualifications that span psychology, mathematics, political-economy, and public policy. He is a researcher and consultant and holds a Ph.D. and two other degrees from Columbia University. Dr. D'Agostino is Communications Director of the International Psychohistorical Association and author of The Middle Class Fights Back: How Progressive Movements Can Restore Democracy in America (Praeger 2012). He has addressed the NYC Panel for Educational Policy and NYS Senate Education Committee and lectured for the general public and academic audiences. His publications have appeared in the peer-reviewed Political Science Quarterly, Political Psychology, and Review of Political Economy, as well as popular publications including New York Daily News, Z Magazine, Bulletin of the Atomic Scientists, and Living City. Brian lives in New York City with his wife Constance L. Benson. See bdagostino.com/. "Dignity is a transformative concept that can bring liberals and conservatives together to effect meaningful social change" (Appreciative Introduction 2017).
Please see:
• Dignity, Humiliation, and Social Transformation, in Psychohistory News, vol. 37, no. 1 (Winter 2018), an overview of the 2017 Workshop on Transforming Humiliation and Violent Conflict, Columbia University, New York City, December 7 - 8, 2017.
• Antti Pentikäinen is (born October 7, 1972 in Helsinki, Finland) has been the Executive Director of the Church Relief Service since 2004. Pentikäinen has served as Adviser to President Martti Ahtisaari and as CFO of the Crisis Management Initiative (CMI). He has also served as deputy secretary of the Helsinki Process for Foreign Affairs. In addition, he has had various tasks in the Ministry for Foreign Affairs, the EU and the United Nations.
He is a Special Envoy for Prime Minister of Finland as Executive Director and Convener of the Network for Religious and Traditional Peacemakers, which builds bridges between grassroots peacemakers and global players in order to strengthen the work done for sustainable peace. The Network strengthens peacemaking through collaboratively supporting the positive role of religious and traditional actors in peace and peacebuilding processes. The Network for Religious and Traditional Peacemakers was founded in 2013 as a concrete response to the risen awareness of the need to include grassroots leaders and authorities in the work done to build sustainable peace. Since its founding, the Network has grown into a community of peacemakers ranging from grassroots religious and traditional actors to international NGOs, think tanks, and academic institutes.
• Viena Pentikäinen is Antti Pentikäinen's daughter. "Dignity is respect and empathy" (Appreciative Introduction 2017).
• Ylva Sköndahl is from Sweden and was an intern at the Network for Religious and Traditional Peacemakers in 2017.
• Candice Nompumelelo Mama is a speaker and producer, and a Cliffcentral Host from South Africa. Her interests are forgiveness and trauma. "It's integral to know that dignity to others is as important as self-dignity" (Appreciative Introduction 2017).
• Linné Deacon is interested in reconciliation and diversity intelligence, "empowering those in impoverished countries - giving them opportunities to succeed without robbing them of dignity" (Appreciative Introduction 2017).
• Katherine Stoessel is a conflict resolution specialist with expertise in mediation and restorative practices / restorative justice. For 15 years she lived in the UK and worked as a mediator, trainer and restorative justice facilitator in the criminal justice and education sectors. She is a graduate of MD-ICCCR in the late 90's.
• Rambabu Talluri is a social worker (MSW) and lawyer (LLB and LLM), specialized in youth development.
• Rambabu Talluri's wife Maria E. Guillen's interests are human rights dignity, dignity for immigrants.
• Yesupadam Bobbili is a Roman Catholic priest and a professional classical Indian singer.
• Michael C. Brannigan is a Speaker, Author and Professor of Ethics, Intercultural Ethics, Medical Ethics, and Asian Philosophy: "How did I get here? My passion for intercultural studies, ethics, and healthcare as a professor of ethics has a long history. "About me" is really "about us." My journey began in Fukuoka, Japan, my mother's birthplace and mine. That's where she, Misae Kimura, and my Irish-American father, Tom Brannigan, fell in love and generated four children, I being the first, ichiban. My two sisters, identical twins Maggie and Marie, were born three years later in Yokohama. My brother Tom saw the light of day just outside of Chicago while we were en route to Newport, Rhode Island, where my dad's parents settled from their Irish roots.
We were the only Japanese, or Asians for that matter, in an Irish-Catholic neighborhood called Newport's Fifth Ward. There, everyone walked. I always visited my grandparents just a few blocks away. Grandma always had food on hand, and Grandpa fed me a diet of books and magazines. It was probably his missionary magazines that inspired me to enter our diocese's college seminary and afterwards Belgium's prestigious Katholieke Universiteit te Leuven to study theology. Though I later left the seminary, I completed my Masters degree in Religious Studies and went on to complete my Ph.D. in Philosophy at Leuven's Hoger Institute der Wisbegeerte." [read more]
• Barbara Bodine kindly wrote on August 19, 2017: "I have been working almost three decades on promoting Dignity and Peace both locally and globally. I have prepared much DignityWorks and Campaigns, songs, video and the concept for a global Dignity Work Force, and Dignity Youth Corps." See, for instance, the Philadelphia for Dignity Project, which is a multi-level, multi-benefit campaign created to raise awareness and funds for Dignity Housing, a unique Philadelphia based organization that provides permanent housing for the homeless. This organization is founded and guided by currently and formerly homeless people.
• Michelle Jones is interested in critical prison studies, collateral consequences of criminal conviction, and leadeship. "Dignity means being who you really are without molestation, violence of condemnation" (Appreciative Introduction 2017). Please see "From Prison to Ph.D.: The Redemption and Rejection of Michelle Jones," by Eli Hager, New York Times, Septermber 13, 2017.
• Michael Sherwin, musicologist, and Rose Sherwin.
• Suki Rae is a classically trained flutist, singer, and songwriter. She has been performing internationally in festivals, concerts, churches, ad infinitum for over thirty years. She has won many awards including ASCAP and this year her song, "Waitin for the Light" was chosen as a Semi-Finalist in the Song of the Year Contest. She has been musician in residence at many locations including: Israel, Spain and Cornell University. She has appeared on Radio including John Schaefer's "New Sounds" and Television. She has also acted, directed and written in Theater and Film. She was awarded a Lower Manhattan Cultural Council grant to lead peace songwriting workshops culminating in a concert of original work with students at St. Marks Church. She wrote, acted in, directed and produced an autobiographical musecical of her songs in "I Don't wannabe a Wannabe" at the Writers Voice in New York City. She appears in the documentary "Dig your Soul on the Streets" with the rock band OASIS. She has released seven recordings- six of original music on Reverence for Life Records. Reviews for her latest CD, "Can't Stop Now" ... "Wholesome, enjoyable and uplifting - Suki Rae knocks it out of the park - this record is an innovative and fresh patchwork of creative musical art." Jacob Aiden Tuned Loud Magazine. You can buy Suki's music on: spotify; itunes; amazon.com and CDBAY.com. Website www.sukiatry.com.
• Sean Keller, Local Futures' Outreach Coordinator. Helena Norberg-Hodge is founder and director of Local Futures, a non-profit organization "dedicated to the revitalization of cultural and biological diversity, and the strengthening of local communities and economies worldwide."
• Mary Bakhoum, her son Sameh Khouzam, and her daughter Suzy Khouzam.
Mary Bakhoum is an Egyptologist. Her expertise includes Egyptian Hieroglyphics, Hieratic, Demotic, old Greek, and Coptic, together with the ancient history, religion, art, and culture. She has also studied English, French, and German. She lives in Cairo, Egypt... In 1957, she earned her Master in Egyptology. She then worked as a teacher, became the headmistress of a secondary school for one year, and then was appointed supervisor for a number of schools in the ministry of education. Mary shares a deep interest in dignity. [read more]
Sameh Khouzam is an Egyptian engineer with a keen interest in architecture, including the dignity of architecture and how architecture impacts dignity. "Dignity is our life," this is his motto: "If the real meanings of dignity are among all of us there will be no more hopeless."
[read more]
• Hello, everyone! My name is Janice Gilligan White and I am a blogger for targets of workplace bullying after experiencing its horrific effects. I spent 27 years in the customer care field, with the last 16 of those in the aviation industry. My specialties included team building, inclusiveness, and service with excellence, focusing both on the employee and the customer. I have a BA in Psychology and am affiliated with the Workplace Bullying Institite. My website, The Empowered Employee, is launching in late October as a way to spread awareness, knowledge, and the resources that are available to those that face workplace aggression. I am a proud mother of two, am an avid traveler, and reside in New Jersey. I am so excited to join such a wonderful group of people. I look forward to learning more and joining the rest of you in contributing to making the world a more dignified, humane place.
• Kayhan Irani has been a student and teacher of the Theatre of the Oppressed model designed by Augusto Boal.
• Whitney Hess is a coach, writer, and designer on a mission to put humanity back into business. She helps leaders and teams bring their whole selves to their work, through coaching, facilitation, mediation, assessments, and more. Whitney believes empathy builds empires.
Whitney guides human-centered business practices around the world — transforming process, communication, and culture. She shows individuals and organizations how to gain self-awareness, identify blind spots, overcome obstacles, and reach their true potential. As a result, they better serve their customers, their communities, and themselves.
After more than a decade of leadership in user experience, Whitney transitioned from consultant to coach to make an even greater impact. She is a Certified Integral Coach through New Ventures West and a Professional Certified Coach (PCC) with the International Coach Federation. A two-time graduate of Carnegie Mellon University, Whitney holds a Master's in Human-Computer Interaction and a Bachelor's in Professional Writing and HCI. She writes on her blog Pleasure & Pain, co-hosts the podcast Designing Yourself, and speaks at conferences and corporations worldwide. She is featured on podcasts and in the press for her results. Above all, Whitney lives and works in alignment with her values. Operating as a "not-just-for-profit," a Public Benefit Corporation, and Certified B Corporation, Whitney is committed to using business as a force for good.
A native New Yorker, Whitney currently lives in Hell's Kitchen with her partner Fredrick, after stints in the Florida Keys, San Diego, and Japan. They are in the early stages of planning their circumnavigation.
• Dr Nachiketa Mittal, Assistant Professor of Law in the National Law University Odisha, India. In the US, she spoke in the International Conferences on Constitutional Law and International Arbitration in Chicago and Atlanta in 2018, followed by her guest lecture in the University of Toledo School of Law.
• Amy Silverman is the Founder and Director Connection Camp from 2016 to present in New York. Connection Camp is a summer camp-style experience for grown-ups, with a focus on fostering connection in all its forms – connection with self, with other, nature, through play, and through collaboration. Through a variety of conscientiously-curated participatory workshops, individually-focused guided practices, playful camp activities, evening dance parties and campfire gatherings, and on-site health and wellness providers, Connection Camp offers more than a weekend getaway, a rustic retreat, or a chance to meet new people. It's a radical opportunity for participants to get curious, get playful, get real, and get plugged into a vibrant sense of community. For four days and three nights each summer, campers put our technology and work aside and say yes to the beauty of nature, deepening relationships, and unbridled play.
• Larry Lee, MSW., is considered by some to be the father of Asian American social workers in New York City Larry is a catalyst for change. Through his efforts, the first Mandarin and English, dual language and dual culture, public school in New York was founded. Selected one of the top schools in the country, P.S. M184 induced the dual language school and bilingual Asian language program movement.
Larry created the only formal practice model to help survivors of Gender-based Violence recover from trauma. By building trust and raising hope this award-winning intervention strategy lays the basis for healing. The survivor chooses the direction and magnitude of the change.
Larry is a distinguished administrator. After 11 years, he recently stepped down as the executive director of Womankind, formerly known as the New York Asian Women's Center. During Larry's tenure Womankind doubled in budget and staff size.
At the NYC Administration for Children's Services, Division of Child Care and Head Start Larry was associate commissioner. He administered the largest subsidized child care system in the nation with an annual budget of $750 million dollars.
As a leader of the Asian American community Larry serves on the Board of Directors of the Coalition for Asian American Children and Families (CACF).
Larry has been honored as a leading New Yorker; an exceptional social worker; top volunteer; and, outstanding alumnus of Hunter College. A civic advocate, he was the first citywide commissioner of the New York City Voter Assistance Commission (VAC). WCBS-TV highlighted Larry as an inspiring individual whose extraordinary civic accomplishments "fulfill the dream of Martin Luther King."
As a child Larry lived in public housing and attended New York City public schools. Born in Brooklyn, he now resides in Manhattan's Lower East Side.
• Robert Anderson an adjunct instructor at the Morton Deutsch International Center for Cooperation and Conflict Resolution (MD-ICCCR).
• Hannah Voss is a soprano from Portland, Oregon. She has appeared as a soloist in OperaBend, Oregon, the Astoria Music Festival Operatic Apprentice Program in Astoria, Oregon, and the Tuscany Summer Music Festival in Sarteano, and Sienna, Italy. Her most recent engagement included one act operas with VOX Northwest's Artist Program in Portland, Oregon. Hannah received her bachelor's degree in Biology at Pacific Lutheran University in Tacoma, Washington. She is a full-time Clinical Research Coordinator for neurological clinical trials with Providence Health. (She contributes, among others, in singing "Make Our Garden Grow" from Candide by Bernstein, or "Somewhere" from West Side Story also by Bernstein).
• Peter Pollard is the Services for Male Victims Fellow at the Office for Victims of Crime within the U.S. Department of Justice, Office of Justice Programs. Most recently, Mr. Pollard worked as the communications and professional relations director for 1in6, Inc., a national organization serving men who have had unwanted or abusive sexual experiences, and as a group facilitator for males participating in an intimate-partner-abuse-prevention program. Additionally, since 2003, Mr. Pollard has been the Western Mass Coordinator of SNAP (Survivors Network of those Abused by Priests), a national organization supporting women and men abused by religious authority figures. Mr. Pollard previously served as a social worker and child-protection case manager for the Massachusetts Department of Social Services. He has extensive training and experience in conflict resolution including mediation, restorative practices, and Motivational Interviewing. He has written extensively and conducted many presentations about child sexual abuse and about overcoming barriers to engaging males who have experienced trauma. Mr. Pollard holds an M.A. in Public Administration from Harvard University's Kennedy School of Government and a B.A. in Human Services from Springfield College.
• Talia Werber's background is in law (with mediation training), civics, and politics. She founded Civic Juice, a website focused on how to bring positivity and wonder to the areas of politics, policy, and civic life.
• Carmen Alejandro Valle got her childhood education of guitar studies of various genres from the American School of Music in Chicago, Illinois. Her father gave her private vocal lessons within traditional opera, and her vocal range is messa soprano. In November 1996, she earned her Bachelors of Arts at Fordham University, Bronx, NY.
Since January 2011, she is a bilingual guitar instructor at Relax Music. She prepares students of all levels for live performances and recitals in diverse music genres. Since July 1, 2013, she is the music director of ECN Band. From November 2005 to May 2006, she was at Julliard Music School in NYC, studying orchestra conducting under the supervision of Maestro Vicente La Selva. In the spring semester 2019, she will commence music composition studies.
Her performances: 1. Show of Tony Quintana Channel (46 Television Presentations), Chicago, Illinois. 2. Caguas, Puerto Rico: Presentations at Cultural Festivals Participation at Fundraising events for the Edison School of mentally impaired children. 3. Valencia, Spain: Commissioned by Copelia Ballet School to Perform musical compositions for International Red Cross. 4. Milan, Italy: Accompany father in vocal performance.
• Ritu Chopra, Founder of an organization helping survivors of domestic violence (DV) to live their lives with dignity and uplift themselves from their unpleasant past, also engaged in training children of trauma, and incarcerated youth with trauma based communication.
• Diane Perlman works with psychologists for social responsibility. She is a clinical and political psychologist, interests in conflict resolution, nuclear issues, collaborative divorce, court-free mediation, health coach.
• Elaine Meis, formerly a consultant in the software business working with Silicon Valley startups and other clients on marketing strategy and public relations. With her former husband, she was a conscientious objector to the Vietnam War. Together they took a stand against President Ford's conditional amnesty program, which failed to acknowledge the contribution draft resisters made to ending the immoral war, and then helped set a precedent for the government to drop the impending indictments of many draft resisters. Elaine recently moved from the west coast to Harlem, New York, and attended the 2018 and 2019 Workshops on Humiliation and Violent Conflict to explore how a greater sense of dignity can be cultivated in her new community and beyond.
• Shahid Khan came to United States in 2010 and has established a non-profit organization, National Youth Organization of Pakistan Inc., in 2014. [read more]
• Curt Lamb PhD, M.Arch, MSc Econ: After receiving graduate degrees in political science and architecture, Curt Lamb entered the practice of architecture where he served for 10 years as founding principal of a mid-size design practice. In 1991 he left that practice to join the Boston Architectural College. At the BAC, he oversaw a wide variety of educational programs in architecture, interior design and landscape architecture. While at the BAC he developed an extensive continuing education program for design professionals and on-line degrees in architecture, sustainable design and historic preservation. Lamb continues to serve on the BAC faculty, directing Masters Theses projects in sustainable design and historic preservation. He also serves as a mentor to several MIT student teams each semester that have received grants to start businesses related to their their learning and experience.
• Fatma Susan Tufan is a student at Columbia University in New York City.
• Morgan Evans (Founder, Business Casual LLC) is an organizational designer who works with a range of clients to create clear systems of support and accountability for culture, values, and people-related operations. She has a solid track-record of providing value for large, established companies on the forefront of the tech industry, such as Slack and WeWork, as well as owner-operated businesses navigating growth in creative fields like experiential design. With a Masters in Organizational Change Management, she is a trained mediator, an experienced facilitator, and a community organizer. Previously she was a full-time employee at Etsy where for over 7 years she played a crucial role in fostering a thoughtful and healthy organizational culture during a time of rapid company growth. Morgan has worked with a wide range of organizations, from small nonprofits to creative agencies, in addition to tech companies at various stages of development, as well as city government. She is passionate about designing processes that enable organizations to tackle complex challenges, see mistakes as opportunities, and give effective feedback. You can read more about her feedback philosophy here and her company here.
• Claudia Thimm is from Hamelin in Lower Saxony, Germany.

• Karen Hopenwasser, M.D., is a psychiatrist in New York City who has done decades of work with people with complex trauma. She is a Clinical Associate Professor of Psychiatry at Weill Cornell Medical College.

• Erin Kincaid is the Senior Director of Education and Prevention for a domestic violence shelter located in Dallas Forth and now a student with Eastern University, completing her Masters in Theological & Cultural Anthropology under the supervision of Dr. Meneses.
• Cynthia Guyer, Executive Director, Global Dignity, and Alanna O'Donnell, Home Office Director, Global Dignity, New York City.
• Harley Hessel, documentary, film and research, London, UK.
• Hannah Sherak is an alumni of Columbia University School of Social Work (MSSW, 1992) who moved back to NYC upon my retirement in 2016. I am the child of German Jewish holocaust survivors, who has been developing relationships with historians in my mother's birth place, in a process of healing and education. My sons and I recently spoke with students at a vocational high school, mostly about Germany's history, but also about worrisome contemporary signs both in the US and in Europe.
• Carolyn Lin, Teacher of Taiji, Qigong, Meditation, and Scholar of Daoism, Nanlaoshu, New York City. Carol started taijiquan at the age of 18. She studied with Master Koo from 1978 until his passing in 1999. For three years Carol studied hsing-yi and Chen-style taijiquan with Mr. Xiuming Jin. Her current teacher is Master Jeffrey Yuen, a priest trained in the arts of Taoism. Carol is a founding member and current president of the Society for Nanlaoshu.
• Michele Kern-Rappy ESq., is a Senior Settlement Coordinator for the Unified Court System in New York County.

• Shawanna Vaughn is the Director at Silent Cry Inc. in New York City.
• Cassandra Langer is the Director of Scholarship at Legion Group Arts and is based in the Greater New York City Area. She is an author, critic and art historian, and the world's leading authority on the life and work of Romaine Brooks. She directs Legion's scholarship and research projects. She also leads the search for lost works and ephemera. A former Smithsonian Fellow, she published Romaine Brooks: A Life in 2015, and anchored the symposium on Brooks at the Smithsonian in June, 2016. Dr. Langer is the author of several books including Mother & Child in Art (New York: Crescent Books, 1992).
• Rabbi Bob Kaplan is the Director of the Center for Community Leadership in New York City.
• Deborah Hillman, Ph.D., has a background in anthropology, focusing on dreams, elders, youth at risk, and consciousness studies. She also makes and exhibits art (currently collage and mixed media) and works to uphold the dignity and personhood of people who live with dementia.
• Dawn Ravella is a Program Developer, Community Organizer, a Mission & Outreach Director, in Bronxville, New York. She is an Adjunct Professor at Fordham University and Director of Mission and Outreach at the Reformed Church of Bronxville. This is her self-description: I organize and mobilize people of faith and conscience to address issues around poverty, justice, and healing. I provide counseling and support groups, initiate economic development projects, and implement educational programs relating to anti-poverty initiatives, social justice issues, and spiritual growth. All of these are designed to engage community members in compassionate service to promote the unique and sacred dignity of every individual. Through relationship building and reflection in community we are moved to mobilize for change while looking deeply at our own interconnectedness, growth, and spirituality, to create a culture of kindness and peace. My specialties: community organizing on social justice issues, creating and maintaining programs and projects, developing volunteer leadership.
• Angélica L. M. Walker is a Brazilian licensed attorney from São Paulo, Brazil, with over 15 years of experience in civil and labor law litigation. She is a member of the OAB/SP (Sao Paulo Bar Association). Ms. Walker is a Foreign Law Consultant licensed by the Supreme Court of the State of New York Appelate Division - Second Judicial Department. She earned a LLM in 2008 from Cardozo Law School in New York and she is a member and actively participates in events of the Brazil-USA Chamber of Commerce; the American Bar Association (ABA), International MediationSection; CBAr (Comite Brasileiro de Arbitragem), and Grupo de Estudos de Mediacao Empresarial. In her spare time, Ms. Walker is also a highlight tour guide at Metropolitan Museum of Art (Met) in English and Portuguese, and is an art dealer accredited by NYU.
• Christopher Cooper is the CEO at the Law Office of Christopher Cooper, Inc. He was a student at John Jay College of Criminal Justice in New York.
• Xiaojue Hu is a psychiatrist in New York City.
• Jeannie Filippini is an expert in assisting with research and transcription of memoirs, the organization and preparation of documents and books for museum archivists and researchers, she has assisted clients with a variety of physical and cognitive challenges including Alzheimer's disease, blindness, shingles and muscular weakness.
• Audrey Hurley is an opera singer (soprano) who holds degrees from Angelo State University (BA), Colorado State University (MM), and Boston University (PD). She currently resides in New York City. Read on her website: "Hurley's deep and plummy voice gave emotional weight to Elvira's regrets." - Brian Schuth," The Boston Musical Intelligencer. See also her Facebook page.
• Monika Gude lives in the U.S.
• Miren Onaindia Olalde is Professor on Ecology at the University of the Basque Country/Euskal Herriko Unibertsitatea (UPV/EHU) and Director of the UNESCO Chair in Sustainable Development and Environmental Education. Lecturer in the Biology degree as well as in Master's and Doctorate programmes. She is the director of the Master in "Environment and Sustainability" of the UPV/EHU. She has been a visiting professor at several universities: University of Oxford (1990 and 1998), University of Veracruz, Mexico (2003), University of Santo Domingo, Dominican Republic (2004), University of Nevada-Reno, USA (2014), National University of La Pampa, Argentina (2016) , Universidad Regional Amazónica Ecuador IKIAM (2017).
The research topic focuses on the study of biodiversity, landscape and evaluation of ecosystems, with application to the landscape sustainable management. She has directed 14 Doctoral Theses and 30 Master projects. She has published a total of 70 papers in scientific journals, books and book chapters, and 20 pedagocical publications. She is a member of the Scientific Committee of the Spanish Committee of the MaB-UNESCO program of Biosphere Reserves (Ministry of Rural and Marine Environment) since 2008, of which she was president between 2008 and 2012. Representative of the university in the Patronage of the Armañón Natural Park / Bizkaia from 2009 to 2017. She has held the positions of Deputy Dean at the Faculty of Sciences (1997-2000) and Director of International Relations for the UPV/EHU (2000-2001).
• Erin Daly is Professor of Law at Delaware Law School and a co-founder of the Dignity Rights Project. She served as Interim Dean and Vice Dean of the Law School in 2013-2015.
She is the Director of the Global Network for Human Rights and the Environment and also serves as the US National Correspondent for the Centre international de droit comparé de l'environnement (CIDCE) at Limoges, and as the Vice President for Institutional Development at the Université de la Fondation Aristide in Haiti. She works with UN Environment on judicial workshops to promote implementation of constitutional environmental rights. [read more]

• James "Jimmy" May is a colleague of Erin Daly and professor in the Law Department at Widener University School of Law in Delaware, U.S.A.

---
Details of the Convening Organizations
The Center for International Conflict Resolution (CICR) is part of the Columbia University Conflict Resolution Network (CU-CRN), which was superseded, in 2009, by the Advanced Consortium on Cooperation, Conflict, and Complexity (AC4), as is the International Center for Cooperation and Conflict Resolution (ICCCR), and Human Dignity and Humiliation Studies (HumanDHS) that aims at contributing to the resolution of international deadly conflict through research, teaching and fieldwork.

CICR's location within the Institute of War and Peace Studies at Columbia University 's School of Public and International Affairs allows for research collaborations inside and outside of the university with academics and practitioners from governmental, non-governmental and international organizations. The CICR faculty advisory includes Professors Richard Betts, Page Fortna, Robert Jervis and Jack Snyder. Former U.S. Senator George Mitchell joined the Center as a Senior Fellow in July 2002.

The Columbia University Conflict Resolution Network (CU-CRN) was founded in 1997 by a voluntary group of faculty members from throughout the University interested in conflict resolution. The result of their efforts was a broad-based multidisciplinary conflict resolution resource for the entire Columbia community to use to strengthen the research, teaching and training initiatives of its independent schools and departments. CU-CRN was superseded, in 2009, by the Advanced Consortium on Cooperation, Conflict, and Complexity (AC4).

The International Center for Cooperation and Conflict Resolution (ICCCR) was founded in 1986 by Morton Deutsch. It is at present headed by Peter Coleman, with Beth Fisher-Yoshida as Associate Director. ICCCR is an innovative Center dedicated to advancing the study and practice of conflict resolution. ICCCR's mission is an educational one: to help individuals, schools, communities, businesses and governments better understand the nature of conflict and develop the skills and settings that enable them to resolve conflict constructively.

Human Dignity and Humiliation Studies (HumanDHS) was founded by Evelin Lindner in 2002 as a partner institute of the Columbia University Conflict Resolution Network (CU-CRN), which was superseded, in 2009, by the Advanced Consortium on Cooperation, Conflict, and Complexity (AC4). HumanDHS's mission is to contribute to reducing - and ultimately eliminating - destructive disrespect and humiliation around the world. HumanDHS's efforts focus on generating research, disseminating information, applying creative educational methods, as well as devising pilot projects and policy strategies.