edited by Chipamong Chowdhury, Michael Britton, and Linda Hartling
2020

Lake Oswego, OR: Dignity University Press, an imprint of Dignity Press

Table of Contents
Preface
Chipamong Chowdhury

Foreword
Linda M. Hartling
Chapter One
Introduction
Michael Britton
Chapter Two
Growing Human Dignity and Humiliation Studies: Without Falling Prey to Neoliberal Norms
David C. Yamada
Chapter Three
Everyday Dignity: The Surprising Power of "Small" Acts
Claudia E. Cohen
Chapter Four
Reclaiming Common Bases of Human Dignity
Janet Gerson
Chapter Five
The Language of Respect and Dignity for Intercultural Understanding and Conflict Resolution: Application to Diplomacy and Education
Noriko Ishihara
Chapter Six
Dignity and Therapeutic Jurisprudence: How We Can Best End Shame and Humiliation
Michael L. Perlin
Chapter Seven
Humiliation, Social Justice, and Ethno-Mimesis
Maggie O'Neill
Chapter Eight
School Discipline: A Prosocial Perspective
Philip M. Brown
Chapter Nine
Mindfulness, the Reawakening of Black Dharma, and Mastering the Art of Policing
Tony Gaskew
Chapter Ten
Suspension Bridge Mental Health Network for Human Dignity
Michelle Jones
Chapter Eleven
Human Dignity and Human Rights Terms in Transition
Zaynab El Bernoussi
Chapter Twelve
On the Problem of Evil and Violations of Human Dignity: A Moral Approach to Transforming Humiliating and Degrading Treatment of Person
Kebadu Mekonnen Gebremariam
Chapter Thirteen
World Dignity University Initiative in the Amazon Rainforest: A Transformational Learning Experience
Mariana I. Vergara Esquivel
Chapter Fourteen
Full Circle: With Gratitude to Our Dearest Evelin Lindner
Judith Revesz
Chapter Fifteen
Moving Beyond Humiliation: A Relational Conceptualization of Human Rights
Linda M. Hartling
---
Honoring Evelin Lindner
December 6, 2018
Workshop on Transforming Humiliation and Violent Conflict
Teachers College, Columbia University, New York City


What an honor! Thank you so much, dear Linda, Mike, Chipa, and All of You, for giving Evelin a book as a gift!
Evelin is on her knees!

Videos:
• The Dignity Community Honors Evelin Lindner, part 1, December 5, 2018
• The Dignity Community Honors Evelin Lindner, part 2, December 6, 2018
December 5, 2018
board meeting with our dear
Linda Hartling
, who was leading the meeting as lovingly as always!
Please see also
Good News December 2018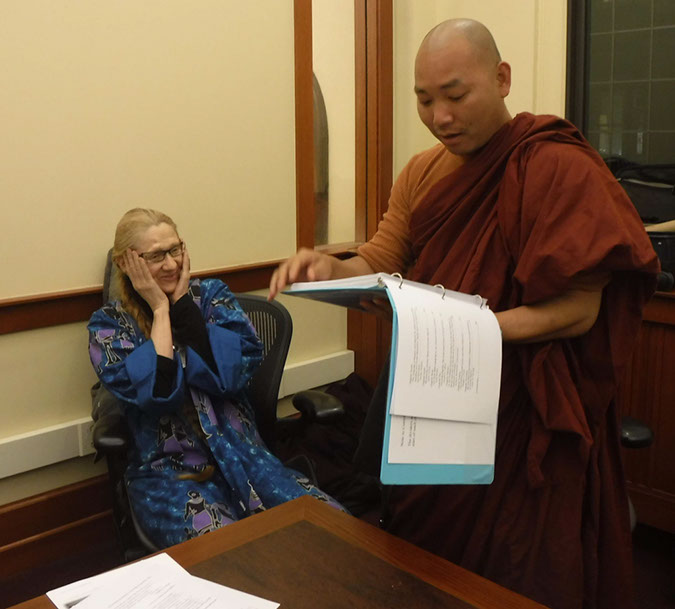 Evelin is completely surprised! Our dear dignity family has created a book with essays to honor her service to our shared dignity work! What an incredible gift of love!
Bhante Chipamong Chowdhury had the initial idea and was supported by Linda Hartling and Michael Britton in collecting and editing essays from members of our dignity community.
• Please click on the picture above or
here
to see more photos.