World Art for Equal Dignity
HumanDHS is primarily grounded in academic work. However, we wish to bring academic work into "real life" as well. Our research focuses on topics such as dignity (with humiliation as its violation), or, more precisely, on respect for equal dignity for all human beings in the world. This is not only our research topic, but also our core value, in line with Article 1 of the Human Rights Declaration that states that every human being is born with equal dignity (that ought not be humiliated). We agree with Shibley Telhami, Anwar Sadat Professor for Peace and Development, who advocates the building of bridges from academia as follows, "I have always believed that good scholarship can be relevant and consequential for public policy. It is possible to affect public policy without being an advocate; to be passionate about peace without losing analytical rigor; to be moved by what is just while conceding that no one has a monopoly on justice." We would like to add that we believe that good scholarship can be relevant and consequential not only for public policy, but for raising awareness in general.

To promote the HumanDHS vision of a world of equal dignity for all, away from practices of humiliation, art may contribute, locally and globally. Please see an article by Koichi Nagashima on what he calls a glocal approach to developing culture throughout the world. This article is written for architecture but it applies equally to other cultural realms.
---
We look for interested people, who would like to develop our WArtED page. Please see our Call for Creativity..

---
Dale Lamphere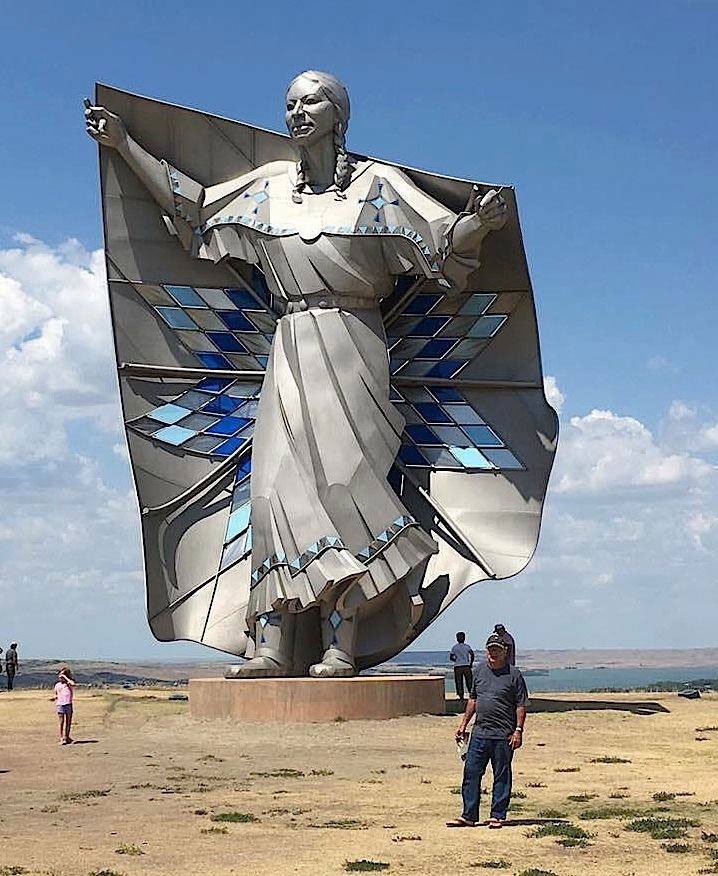 Wikipedia:
Dignity
(a.k.a. Dignity of Earth & Sky) is a sculpture on a bluff overlooking the Missouri River near Chamberlain, South Dakota. The 50-foot high stainless steel statue, by South Dakota artist laureate Dale Lamphere, depicts an Indigenous woman in Plains-style dress receiving a star quilt. According to Lamphere, the sculpture honors the culture of the Lakota and Dakota peoples who are indigenous to South Dakota. Assisting Lamphere were sculptors Tom Trople, Jim Maher, Andy Roltgen, and Grant Standard.
---
Bharti Dixit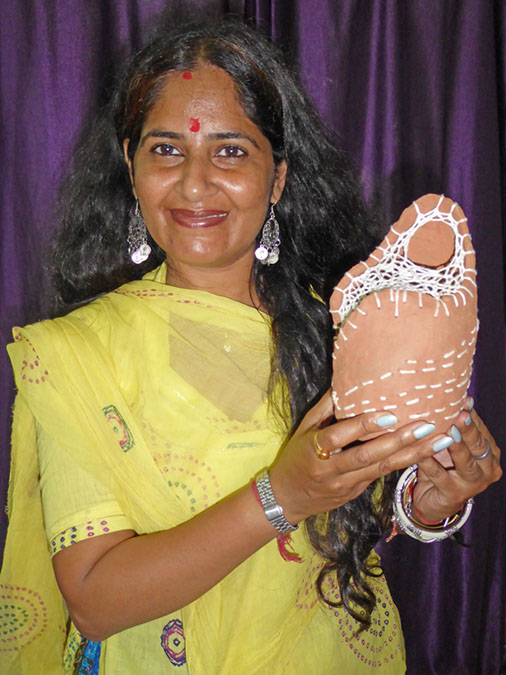 Bharti Dixit, Indore, India, 7th August 2017
Please click on the image above or
here
to see more of her art, and see a short
video
, where she explains one of the pieces of her art. She expresses the human condition with all its vulnerabilities, fragility, fallibility, and painfulness, and connects it with Indian history and traditions. She captures what all humans share, namely, how we can get trapped in unsolvable dilemmas - dilemmas where we should be hard and soft, and often are hard and soft at the very wrong places - and then she approaches this shared human predicament from an Indian perspective!
---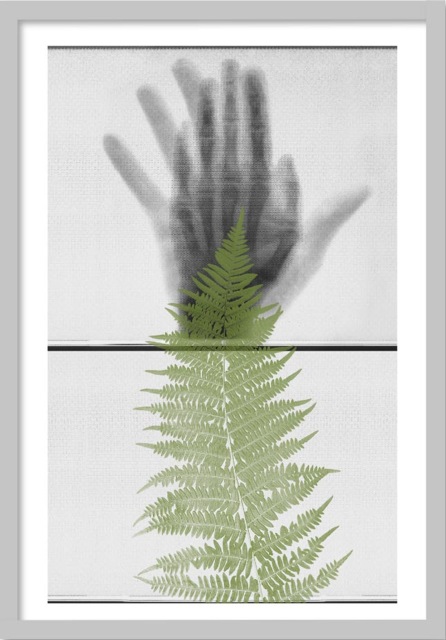 Thank you for your wonderful gift of a
picture of a fern-hand
, dear Esben!
Please click on the image above to see it larger.
---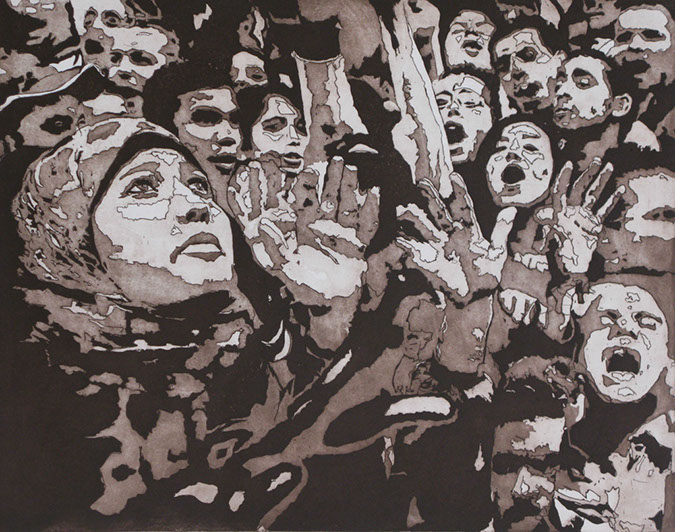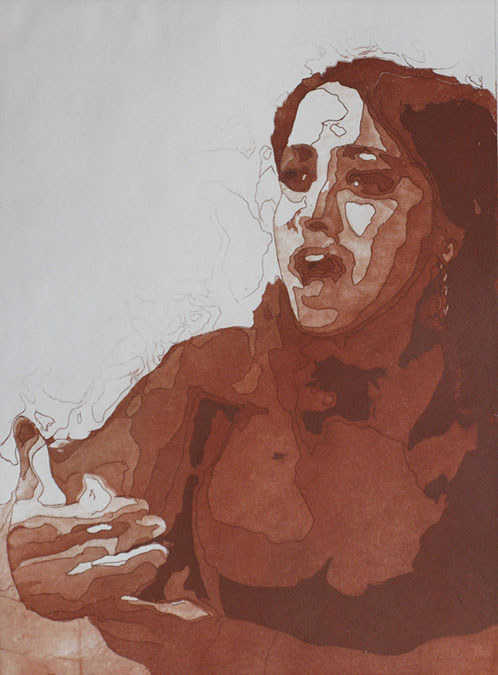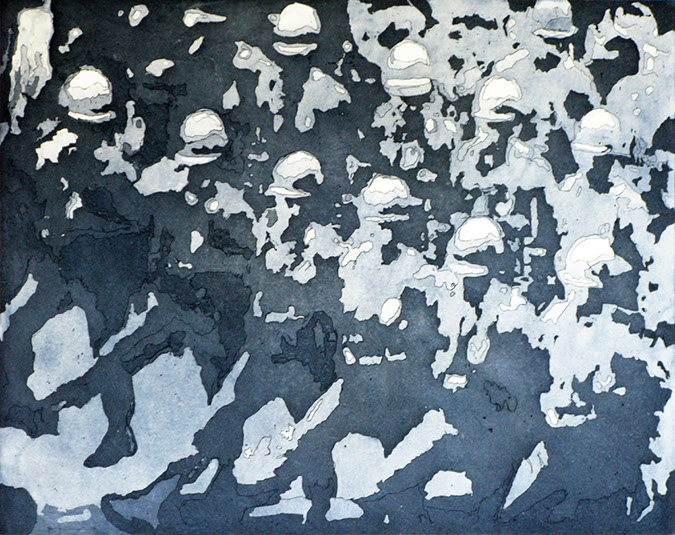 Anton Verwey kindly wrote on 29th May 2016:
Back in 1998, in my office in Hargeisa, Somaliland, I met with Evelin Lindner. She did her research on the dynamics of humiliation as a factor at both personal and societal levels of promoting (further) violence and war. Obviously Somalia, Somaliland and Rwanda were the main focus of our discussions at the time. We stayed in touch. Evelin and her friends meanwhile founded Human Dignity and Humiliation Studies.
When Evelin saw some of my work in 2014, she asked me whether I could do something on the theme "humiliation - human dignity". Once I focussed on the subject I noticed humiliation much more often than before, in the behavior of individuals of all stripes, in misinformed collective behavior as well. This realization led to the making of this series of engravings. I could have made very many different choices and chose what resonated with me most. There are many more engravings burgeoning in my head, but - may be - it is time to move on, while for always, committed to the subject and likely to take it up in some form again.
Please click in the images above or
here
to see more.
---
Found on the website of Gerd Leonhard, Futurist, Author and Keynote Speaker Basel / Switzerland www.futuristgerd.com. We also appreciate the adaptation by Luis T. Gutiérrez, see the picture at the bottom.
Please click on the images to see them larger.

---
George Riad Krohn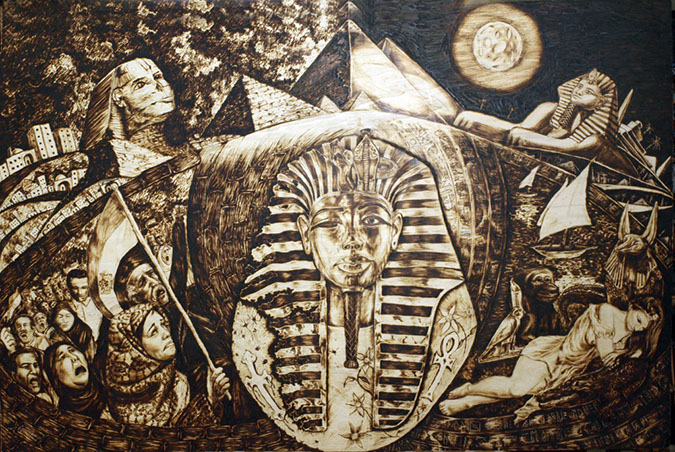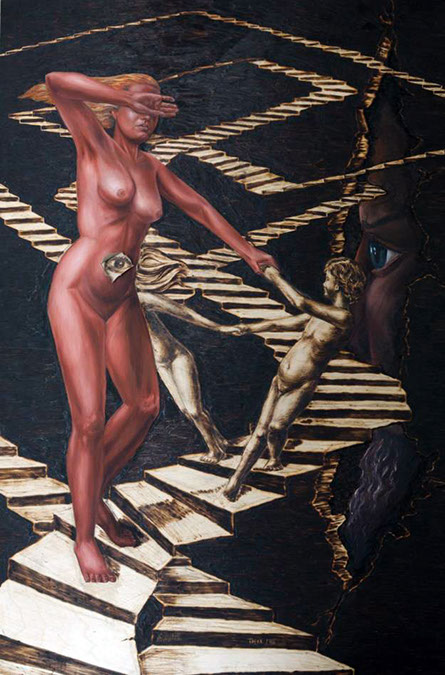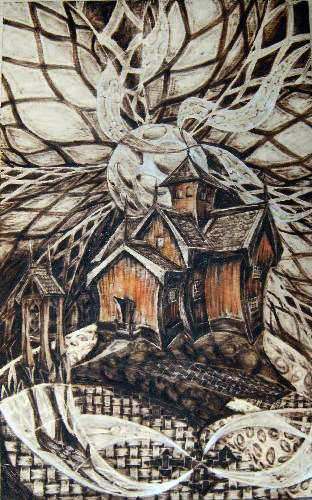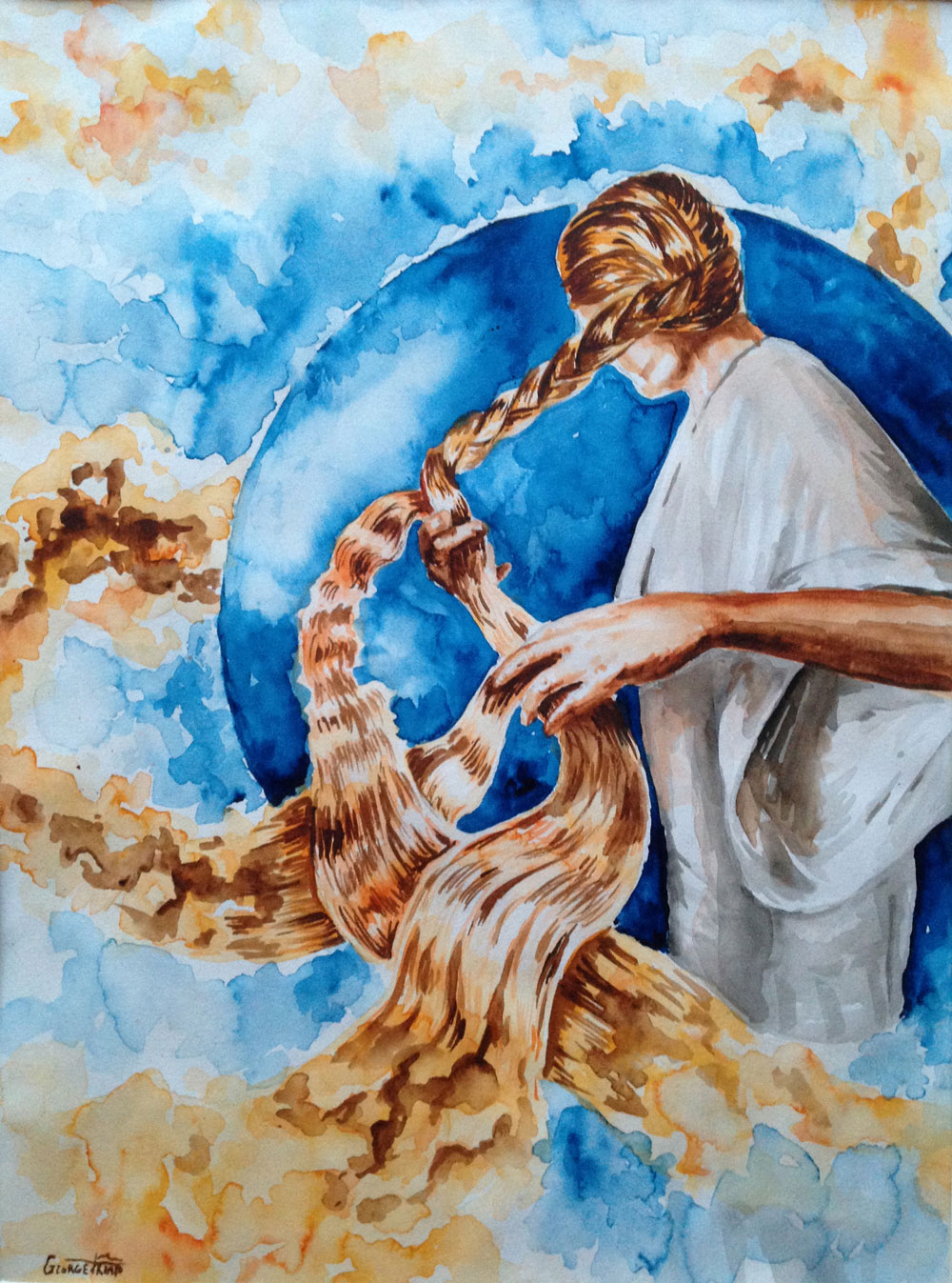 George Riad Krohn
was born in Alexandria in Egypt 1981. ​He barely avoided being arrested for making his freed motives. He is now living in Norway. Please click on the photos at the top or
here
to see more of his art.
The image at the bottom shows a water color painting of Evelin Lindner as she brushes her hair, painted in 2015 of a photo taken on 27th July 2015 on Nøtterøy. Please click on the image to see it larger.
---
---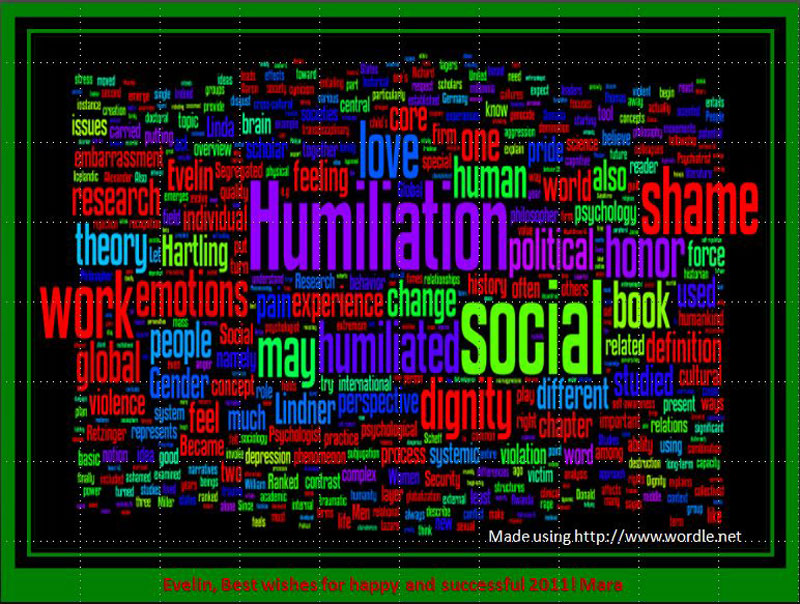 Mara Alagic
sent this picture as 2001 New Years Greeting! Thank you, dear Mara!
Please click on the image to see it larger.
---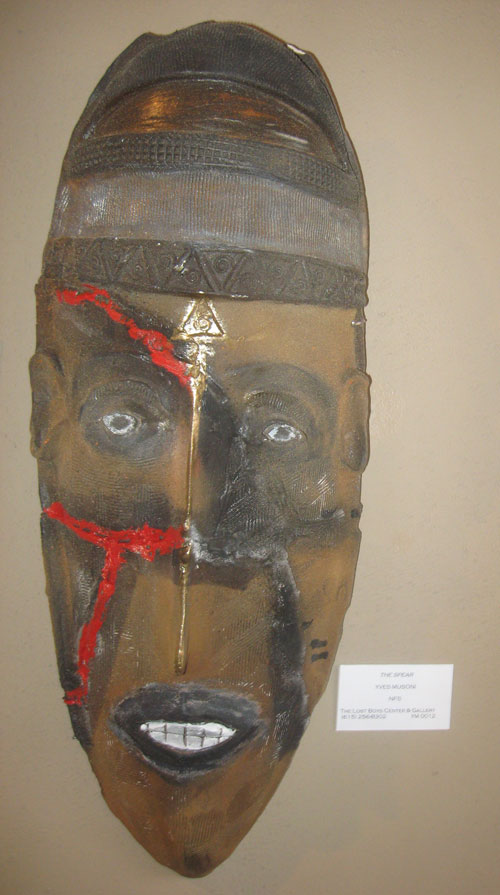 The Spear: This mask represents the genocide of Tutsis. The broken spear on the nose of the mask symbolizes that the survival of the Tutsis in the Great Lakes Region of Africa is still a major issue in terms of preventing another genocide because Tutsis are perceived as a segment of the Rwandan population, not as a social group spread over a large part of The Congo as well. The healed wound on one side of the mask symbolizes the well-known Tutsi's genocide that I perceive like a tree that hides the forest. The other side represents the little-known genocide of Tutsis from Congo.
Please click on the image to see it larger.
---
From left to right: (1) Mask of the Soul, (2) Sea of Hope, (3) Where Do the Raindrops Go?
(Please click on each picture to see it larger)
P. Patten 2001
These three images are representative of the illustrations found in the book "Soul in Mortal Chrysalis - Art, Poetry, and Prose for the Theological Millenium," by Pegge Patten (art), Mark Singer (poetry), and Leon Lombard (prose); 2001. More of the illustrations for this book can be viewed at
Pegge's web site gallery
From left to right: (1) Dee Dee, (2) Lora, (3) Lori
(Please click on each picture to see it larger)
P. Patten 2000
These three images are representative of the set of thirty abstract portraits of my alters. Dee Dee (shock), Lora (rage), and Lori (run) are core personalities in my internal system that have integrated with the others for the healing that I now enjoy. More of the portraits can be viewed at
Pegge's web site gallery
From left to right: (1) 1974 - Old Man's Face, (2) 1976 - Bird on my Shoulder, (3) 1982 - Self Portrait Tree, (4) 1996 - Humiliation, (5) 1997 - Bleeding Angel
(Please click on each picture to see it larger)
P. Patten
Five Pieces on Humiliation and Healing
The five images I am sharing here represent stages of growth and healing in my process of addressing Humiliation. They can be said to express: reaching emotions, discerning sound advice, assessing my condition, identifying meaning about my emotions, honoring my pain with hope. This work is representative of the work of my life in art and continues to bring me peace and dignity in the healing process.
---
This
Imagination Without Borders
website introduces the work of Japanese visual artist Tomiyama Taeko and, to a lesser extent, the paintings and prints of Maruki Toshi & Maruki Iri and Eleanor Rubin. All four think of themselves as political artists and see their work as a protest against social injustice and the suffering such injustice causes. All four were deeply affected by World War II and their art reflects their shared belief that war is a disaster for everyone. Japanese today are still grappling with the effects of World War II, or the Asia-Pacific War, as that conflict is known in Japan. Largely because of the inconsistent and ambivalent actions of the government, Japanese today are widely seen as resistant to accepting responsibility for their nation's violent actions against others during the decades of colonialism and war.
---
SECOND SKINS: Cloth and Difference 30 April 2009
at
Iniva - Institute of International Visual Arts
in London, UK.
The Second Skins symposium looks at the way in which clothing is part of expressing our individuality. Like a skin, it protects us, connects us to - or distinguishes us from - one another, and communicates something about our beliefs, values and aspirations. Clothing and cloth can also be seen as a means by which to free oneself from societies' constraints of social, racial and cultural conformities and hierarchies. Second Skins was instigated by Christine Checinska and is organised in partnership with Iniva with support from Goldsmiths, University of London and A Foundation.
Please click in the middle of the pictures to see them larger. You see on the left side G'nang G'near (photo by Greg Semu, Rosanna Raymond), and on the right side the flyer for the exposition (with a film still from The Nightingale

Grace Ndiritu, 2003, on top).
---
A picture of a sign in front a car repair service in Portland, Oregon, sent to us by Linda Hartling on March 2, 2009.
Please click on the images to see it larger.
---
Zuzka Kurtz, artist and designer, was born in 1954 in Prague into the third generation of a family of designers and artists. In 2009, she created the art installation "My Inner Sole" in California at the SlaughterHouseSpace (June 26, 2009 through July 26, 2009).
In the mid sixties Zuzka and her family emigrated to Israel. In the early seventies Zuzka moved to Italy and following an art education in Rome, she emigrated to New York and in 1984 established FABRICOLOGY.
Her passion for textiles and textile history led her to work with embroiderers in the war-torn Kashmir, the master weavers of the holy city of Varanasi as well as with ikat weavers in Burma, Vietnam, Thailand, Italy and Ghana. It was there that she revived and reinvented the various traditional patterns of these proud artisans. Her original designs under the label ZUZKA were sold in the finest department stores and boutiques in the US (Bergdorf, Neimans, Saks), Britain (Browns), Japan (LOFT), Hong Kong (Joyce), and Italy (Biffi ). Her experience also includes costume designs for opera: "She lost her voice" (Kristin Norderval), Dance: "Poem" (Wendy Osserman Co.), MTV: (Yoko Ono), and more.
Since 2002, Zuzka joined an Italian company, LUMINEX, in developing and designing optical fiber fabrics, a ground breaking technology in textile. In November 2008, a first ever performance of "Poem of Ecstasy" by Scriabin opened at the Baryshnikov center in New York with all dancers wearing costumes in optical fiber fabrics lit by L.E.D and designed by Zuzka.
Currently Zuzka is working on a multi media installation that explores historical and cultural perceptions through shoes. The installation will be exhibited in Healdsburgh California at The Slaughterhouse Space in the summer of 2009.
---
Visting the Bergen Kunstmuseum on 29th June 2008, as part of our 11th Annual Conference: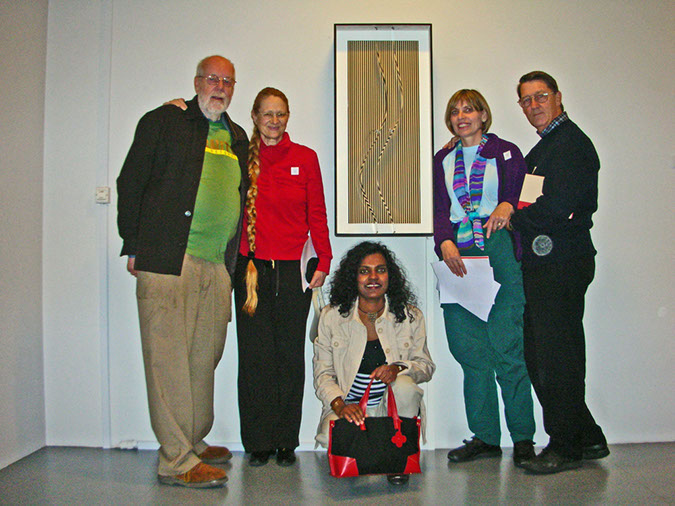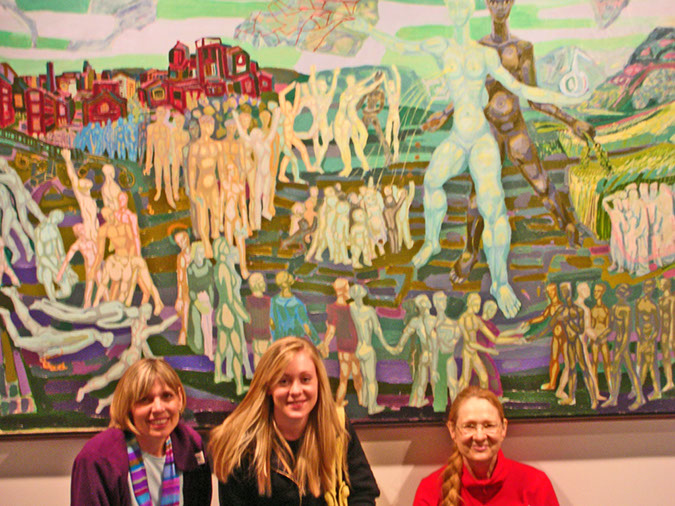 • Left: Kinetic Art by Argentine Julio Le Parc - "Multiple" (1968, a motor propels polished metal bands, which reflect and rotate the painted background strips, thus creating novel perspectives - this could be a suitable metaphor for our HumanDHS work: taking core ideas and creating something new).
• Right: Arne Ekeland - "Sisters of Liberty" (1938). Text on the leaflet of the museum explaining Arne Ekeland's 'Sisters of Liberty': Arne Ekeland is one of the most unusual figures within Norwegian 20 th century art. He expressed clear political convictions through a highly personal style, rich in symbolism. One of Ekeland's chief works is the
Sisters of Freedom
. This was a proposal he submitted to a competition for decorating the main auditorium of Oslo 's city hall. The pictorial program would have covered three walls. On one side wall, human figures would be depicted as isolated individuals in society, with war as their only source of community. The other side wall would show a multitude protesting against the governing powers. In the picture intended for the central wall,
The Sisters of Freedom
, we see 'a new earth.' Here, a black woman and a white woman remove the 'false borders between nations', and thus unite the entire world's liberated peoples, farmers and industrial workers. Although the jury purchased Ekeland's proposal, they nevertheless rejected it, arguing that the motifs were morbid and the literary context unclear. In all likelihood, Ekeland's vision of society was too radical. It lacked the 'festive effect and Norwegian character' found in Henrik Sørensen's winning proposal.
Please click on the pictures or
here
to see more photos from Evelin's camera.
---
Visting the Bergen Kunstmuseum on 29th June 2008, as part of our 11th Annual Conference: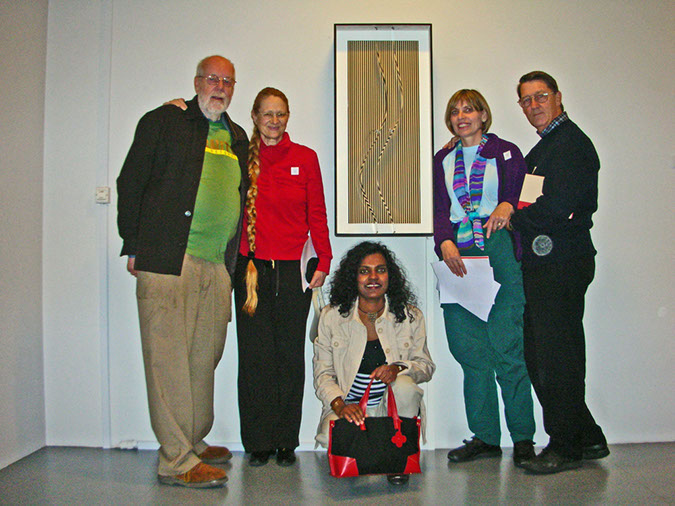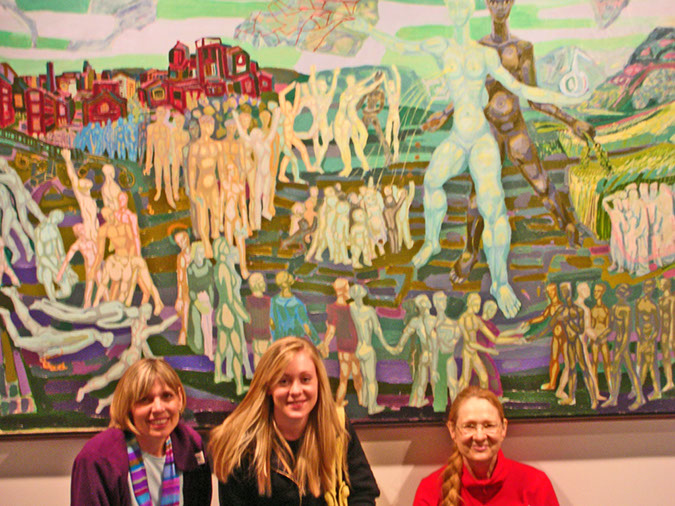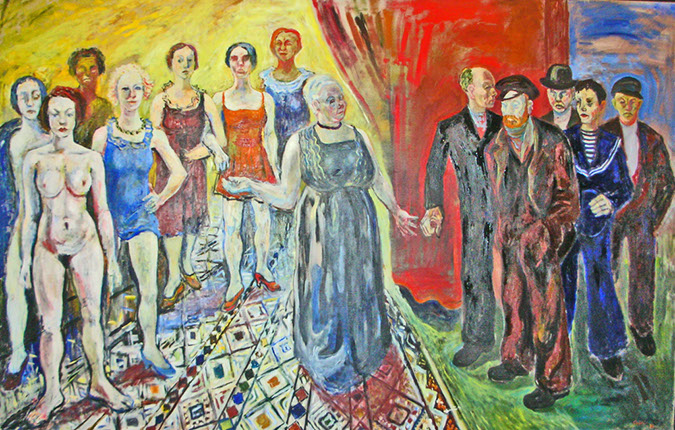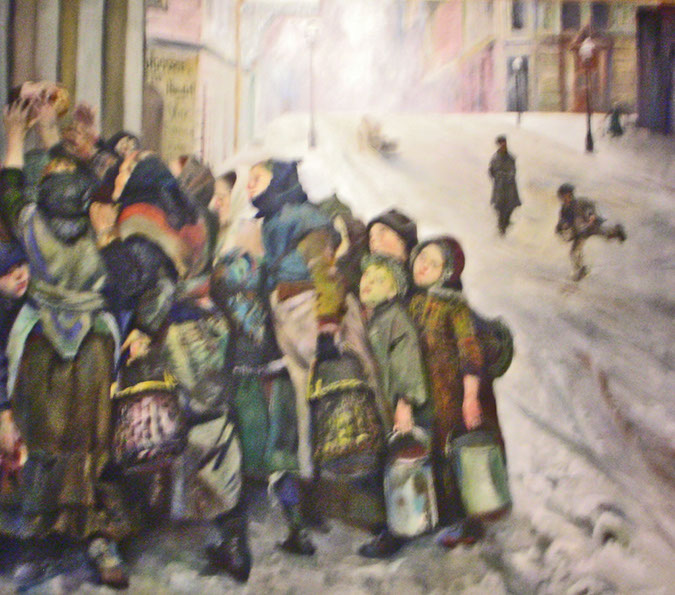 • Left: Kinetic Art by Argentine Julio Le Parc - "Multiple" (1968, a motor propels polished metal bands, which reflect and rotate the painted background strips, thus creating novel perspectives - this could be a suitable metaphor for our HumanDHS work: taking core ideas and creating something new)
• Middle: Arne Ekeland - "Sisters of Liberty" (1938)*
• Right: two pictures of humiliation - Reidar Aulie "The Brothel" (1933), and Christian Krohg - "The Fight for Survival" (1890).
*Text on the leaflet of the museum explaining Arne Ekeland's 'Sisters of Liberty': Arne Ekeland is one of the most unusual figures within Norwegian 20 th century art. He expressed clear political convictions through a highly personal style, rich in symbolism. One of Ekeland's chief works is the Sisters of Freedom . This was a proposal he submitted to a competition for decorating the main auditorium of Oslo 's city hall. The pictorial program would have covered three walls. On one side wall, human figures would be depicted as isolated individuals in society, with war as their only source of community. The other side wall would show a multitude protesting against the governing powers. In the picture intended for the central wall, The Sisters of Freedom , we see 'a new earth.' Here, a black woman and a white woman remove the 'false borders between nations', and thus unite the entire world's liberated peoples, farmers and industrial workers. Although the jury purchased Ekeland's proposal, they nevertheless rejected it, arguing that the motifs were morbid and the literary context unclear. In all likelihood, Ekeland's vision of society was too radical. It lacked the 'festive effect and Norwegian character' found in Henrik Sørensen's winning proposal.
Please click on the images to see them larger and to see more pictures of our visit to the museum.
---
Dan Baron Cohen kindly wrote (13th May 2008):
The first 'dialogic theatre-sculpture' narrates the story of the indigenous peoples of Brazil (a monument with an intimate internal stage where Brazil's authorities were invited to dance in 2001, to transform the historical memory of genocide, exclusion and denial and political unconscious within Brazilian national identity into a multicultural and democratic future of peace and social justice).
The second 'dialogic theatre-sculpture' narrates the story of the massacre of the landless peasants in southern Para, of the indigenous peoples of the region, and of the Amazon forests, another national intimate stage of formation, performance and personal/social transformation.
Please click on the images to see them larger.
---
Artists for Peace speaks with the voice of all artists to revive the vision of freedom and justice for all, not simply as a utopian dream, but as an achievable reality in a peaceful world. In this age of weapons of mass destruction, Peace is essential for human survival and can be established and nurtured by the Arts in every aspect of life. Art is healing to the spirit, in our homes, the public environment, and in our understanding of the Earth, from urban planning and architectural design to landscaping and restoration of the rights of Nature.
Launched in 2003 in the face of lawless aggression, Artists for Peace opposes the arbitrary demolition of multilateral organizations and international agreements and denounces empire building and American domination over other members of the family of nations. Artists for Peace will manifest to global audiences what is common in the Arts of all times and all people in an effort to build universal brother and sisterhood and to give birth to a world of true compassion and generosity. Artists for Peace will illuminate the intrinsic Peace of life and creation, and honor the work of great past and contemporary peacemakers by creating public information programs and edu-media projects that show the Arts as the wise voice of human societies.
To enhance the well being of artistic communities and individual artists, works of art by Artists for Peace members will be displayed in a Visual Gallery on the World Wide Web and promoted via Internet announcements to progressive and political segments of the population of every nation. These offerings will provide a glimpse of an ideal future where the Arts provide a center of gravity for global social awareness rather than being relegated as mere products for museums or commercially marketed in interior decorator galleries. The public will be reminded that as a free people we must all actively support a social, aesthetic environment and protect the natural world from which all arts ultimately derive. This progressive, international audience will prefer to purchase fine art through Artists For Peace' Virtual Gallery, knowing that a portion of the purchase price is being generously donated to support specific activities for world peace and human understanding.
---
The Tribal Gallery was born with the ambition of bringing Australian Indigenous Artwork to the public and supporting and creating opportunities for the indigenous People and their Culture.
---
Tina Cooper, from the small British Isles Jersey, now based in Australia, and Peter Mulcahy, an Aboriginal Artist and a descendent from the Kamilori nation of northern New South Wales, together with a larger team of artists, make glass objects that entail elements from Aboriginal art in innovative and powerful ways. Seen on 12th August 2007, in Montville, Australia, with Diane Summer (Shop: 4 Mayfield, 127-133 Main St. Montville Q 4560.)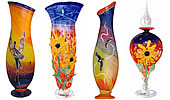 ---
Patricia Wong Hall (Risha) explains her work as follows (July 29, 2007):
I am a transformation artist and an abstract expressionist painter (acrylic paints and mixed media). A couple of my abstract paintings, "Renewal" and "The Soul of Asian America," have been published recently in art journals. My artworks are about healing from loss and grief (especially with regard to racism); transforming loss into works of joy.
My Asian American family has lived in the USA for over five generations now. For decades, I have been asked (sometimes on a monthly basis), "What country are you from?" When I say that I am from California, the response is often "No, where are you really from?" As Prof. Frank Wu writes in his book Yellow, these questions make him feel as if he is not a "real" American. Asian Americans (or Asian Pacific Americans) call this the "perpetual foreigner" syndrome. One of my ancestors worked to help build the railroads in California during the 1800's.
Most of my creative works - especially my articles, poems and book on bias or hate crime (see also rowman) are about eliminating negative stereotypes of Asians and Asian Americans. Ignorance and wartime hysteria are some of the reasons why the Japanese and Japanese Americans were incarcerated in concentration camps during World War II and I hope this never happens again in the U.S. Ignorance and hatred continue to fuel hate crimes against people of color (globally).
Some of my abstract paintings (off line) deal with bias or hate crimes, racism, sexism and other "isms." I have been a social justice and peace activist for decades. I was born and raised in a Buddhist family and have been studying conflict resolution for many years.
----- Patricia Wong Hall (Risha, ethicalworld[@]gmail.com)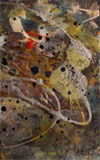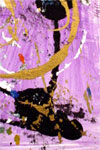 From left to right: Grace, Renewal, the Soul of Asian America (all 2007), and Justice (2008).
---
Spivey, Nigel (Ed.) (2005). How Art Made the World: How Humans Made Art and Art Made Us Human. [London]: BBC Worldwide.

Spivey, Nigel (2005). How Art Made the World. London: BBC Books.
---
---
This is a 3-day group workshop exploring the relationship between art & ecology. Please see more at http://www.promidnord.net/.
---
Art From The Arctic, a 60 minute film directed by David Hinton, first broadcast on BBC FOUR on 21 February 2006 as part of Climate Chaos - a major season of BBC programmes on the science behind and issues surrounding climate change.
Please see also http://www.capefarewell.com/content/media-film.php.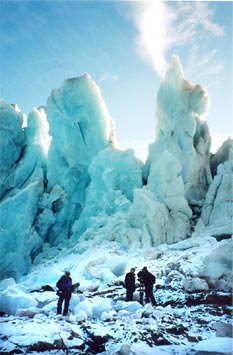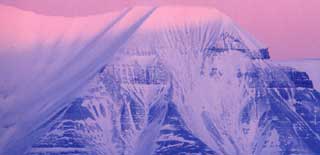 Left picture: Director David Hinton, cameraman Philip Chavannes and sound recordist Albert Bailey filming at Kongsfjord.
Right picture: The minimalist art of photographer Pål Hermansen draws on the stark beauty and polar simplicity of the High Arctic.
---


Judith Peck
Judith Peck wrote on 11th April 2007: I came across this site and thought that you might find my work valuable. I have been painting my work on history and healing for thirty years and am always looking for ways to exhibit the work, not an easy task. I am attaching some images of my oil paintings for you to see. Most of the actual pieces are
12"x12". If these pieces can be used in any way by your organization, please let me know. I am also looking for a writer who can do my work justice.
Judith participates in the juried art exhibition at the Columbia Art Center, May 17, 2007 to June 17, 2007, on the topic of Conflict/Peace: Finding Common Ground featuring diverse interpretations of the theme in many different media.

Judith Peck
From left to right: Cultural Obliteration, Light, Salting Judea, Bird on Wire, and Fragment, Tikkun Olam, Memorbuch, Silencing Eve, and Dragged, White Rose, Broken Tradition, Family Tree and Continuum.
Judith has been painting on history and healing for thirty years and looks for a writer who can do her work justice.
---


This is largely a show about misunderstanding and misinterpretation. In a way, it is our intolerance of different ways of living and different belief systems that have led to a persistent undercurrent of nervous tension—an endless sense of non-specific threat. It seems that the focus of politics today is to play on people's fears, their inability to assess threats, their ignorance so that consistency and law seem to have little to do with governance.
Just as politics and religion make dangerous bedfellows and tend towards totalitarian extremism, politics and art do not lie well together. The history of social expression through art and political commentary through art can be evidenced through such masterpieces as The Execution of Emperor Maximilian of Mexico by Manet or Picasso's Guernica or Mark di Suvero and Rikrit Tiravanija's Peace Tower. The use of history to allow us to learn from our mistakes in the past is commonplace (think of the great anti-Nazi paintings that Anselm Kiefer made in the 1980s). Art has an important role to play as a catalyst for society. It should be a harbinger of future problems and a stimulant to avoid falling into the same traps that we have fallen into before.
In this respect, art subscribes to idealism and it is this aspect of contemporary art creation that ALBION and the artists are interested in exploring with this exhibition...
Read more at http://www.allinlondon.co.uk/whats-on.php?event=12994 and see the gallery's website http://www.albion-gallery.com/.
---


Osman Andrew Young
Osman Andrew Osman is living in Cairo and teaching art. Please see here some of his calligraphies. Among others, they express peace, and the cry for hope and help.

These pictures were taken in January 2007. Please click here or on either of the pictures to see more artwork!
---
Ramses Wissa-Wassef
Since 1952 two generations of weavers have developed in the Art School Ramses Wissa Wassef established with his wife Sophie at Harrania, near Giza. A second generation of weavers guided by the Wissa Wassef's daughters Suzanne and Yoanna, continue to produce wool and cotton tapestries that are remarkable and unique works of art.

Evelin Lindner became acquainted with Ramses Wissa-Wassef's work through his widow and his daughters, whom she met in 1984. Ramses Wissa-Wassef's invaluable contribution to the world is his quest for creativity. Among his many achievements is his conviction that poor farmers' children, in the villages near the pyramids of Gizeh, should be able to express their imagination without "guidance" by experts. The success was impressive. Today, Wissa-Wassef carpets are priceless and decorate many a public building around the world. The richness of the themes - village scenes, plants, animals, people - is overwhelmingly beautiful. Ramses Wissa-Wassef liberated and nurtured creativity, excellence, and innovativeness, where others would not even have dared to even search.
These pictures were taken on Saturday, 20th January 2007. Please click here or on the pictures to see more photos.
19 November 2012– 1 December 2012, from http://www.coningsbygallery.com:
Tapestry Weaving from The Rames Wissa Wassef Art Centre, Cairo
Celebrating the centenary of Ramses Wissa Wassef and the 60th anniversary of the founding of the Art Centre
The dazzling tapestries produced by the weavers at the Ramses Wissa Wassef Art Centre near Cairo are world renowned for their gorgeous colour and astonishing detail. These evocative and inspirational tapestries depicting people, places and nature have been acquired by international museums including the Metropolitan Museum of Art, New York, The Museum of Modern Art, Stockholm, The Royal Museum of Scotland, The British Museum, London, The Victoria & Albert Museum, London. The Petrie Museum of Egyptian Archaeology, London. The Bristol City Museum, The Royal Albert Museum, Exeter and the Whitworth Art Gallery, Manchester.
The Coningsby Gallery exhibition and sale is a rare chance to view and buy new examples of these remarkable works and to marvel at the unique philosophy that has inspired them. Incredibly, these tapestries have been woven by individuals who have had no formal art training. The Ramses Wissa Wassef Art Centre at Harrania near Cairo, is a continuing experiment in tapestry weaving.
It was founded in 1951 by the Egyptian architect, Ramses Wissa Wassef to test his theory that all children are born with innate artistic ability but this ability is stifled by traditional training and adult interference. At his new Art Centre, Ramses began teaching young Egyptian village children how to weave, then left them to develop their own artistry. He laid down three rules: no copying, no preliminary designs and no adult criticism. He wrote: "I had this vague conviction that every human being was born an artist but that his gifts could be brought out only if artistic activity was encouraged from early childhood by way of practising a craft. The creative energy of the average person is being sapped by a conformist system of education and the extension of industrial technology to every sphere of modern life"
Sixty years on and several generations later, the Art Centre's tapestries are a triumphant vindication of Wissa Wassef's theory. Critics have declared them "breathtaking", "uplifting", "almost overwhelming in their density of imagery….monumental". Visitors have recorded their comments including: "Luminescent, strikingly beautiful and vivid.", "Thank you for a stunning & humbling exhibition", "Walking through the door and facing the "Hymn to the Sun" brought tears to my eyes. The tears rarely had time to dry. I was so moved by seeing such paradisiacal scenes that they were constantly shed."
This year's exhibition features some 40 new wool tapestries and 40 cotton weavings, all uplifting visions of Egyptian life in the classic Wissa Wassef style that would make unforgettable Christmas presents. Prices range from £250 to £4000. All proceeds from the sale of the tapestries will go the Art Centre.
All proceeds from the sale of the tapestries will go the Art Centre.
*Members of the media are welcome to attend the Private View to be held on Monday, 19th November from 6pm – 9pm and should contact Barbara Heller for an invitation.
For further information and images please contact Barbara Heller, 36 Camden Square, London NW1 9XA, Tel: 020 7267 1034, e-mail barbara[@]wissa-wassef-arts.com
Visit www.wissa-wassef-arts.com
---
The Aga Khan Cultural Services
These pictures were taken on Tuesday, 16th January 2007, in Cairo, Egypt. The Aga Khan Cultural Services-Egypt are restaurating Aslam al-Silahdar Mosque at El Midan Azlam (colloquial Azlaan), behind Bab Zuwayla, in Islamic Cairo, after having finished Umm al-Sultan Sha-ban.
Dina Bakhoum and her family are dear friends.
Please click here or on the pictures to see more photos.
---
Maurice Benayoun is a transmedia artist born in 1957. His work explores the potentiality of various media from video, to virtual reality, Web and wireless art, public space large scale art installations and interactive exhibitions. Maurice Benayoun's work has been widely exhibited all over the world and received numerous international awards and prizes.
Co-founder in 1987 of Z-A (Paris) a pioneer Computer Graphics and VR lab, Maurice Benayoun, between 1990 and 1993, wrote with François Schuiten and directed The Quarxs, the first HDTV CG series widely awarded and broadcast in more than 15 countries. In 1993, he is prize-winner of the Villa Medicis Hors Les Murs grant of the Foreign Ministry for his Art After Museum project, a contemporary art collection in virtual reality. After 1993, he creates VR, Web art and interactive art installations. Among them, in 1995, the Tunnel under the Atlantic, televirtual project linking the Pompidou center, in Paris, and the Museum of contemporary art, in Montreal. In 1998, he won the Golden Nica, Prix Ars Electronica, Interactive Art category for World skin, a Photo Safari in the Land of War. Both works are considered by critics as major works in the field of interactive art. Invited artist at the ZKM, Germany, Ars Electronica Center Austria, ICC Tokyo, Art Center Nabi Seoul, National School of Fine Arts Paris. Professor of media art at the university Paris 1, Pantheon-Sorbonne, he is co-founder and co-director of the CITU research center (Création Interactive Transdisciplinaire Universitaire) that he is currently co-directing.
His work has been exhibited in personnal exhibition in museum all around the World : Centre Pompidou Paris, Museum of Contemporary art of Lyon, Montreal, Kiasma Museum Helsinky, Inter-Communication Center (ICC), Tokyo, Art Center Nabi, Seoul Korea, Uiijeaongbu Art Center, Korea, ZKM Karlsruhe, Germany, Ars Electronica Center Linz, Austria. Maurice Benayoun got many major awards and prizes for his work (list on the web site).
Beside his art works, Maurice Benayoun is involved in many big exhibitions, large scale events and architecture projects for the conception and direction of the interactive scenography. Just to mention some of them: the Navigation Room (1997) and the Membrane (2001) for the Cité des Sciences de la Villette, the Panoramic Tables for the Planet of Visions Pavilion for Hanover EXPO2000, the Multimedia Tour for the Abbaye de Fontevraud and the Blue Station, interactive metro station competition won with the French architect Jean Nouvel.
Please see also The Dump, a project starting on 3rd October 2006.
---
Fernando Botero
The Paintings of Fernando Botero: Fighting Torture with Art
By Mike Whitney, Seattle, Washington
The Columbian artist Fernando Botero has produced a brilliant collection of life-sized paintings depicting the horrors of Abu Ghraib.
Please read the entire article at http://www.counterpunch.org/.

"ART20, The Thames and Hudson Multimedia Dictionary of Modern Art" explains:
"Fernando Botero, Colombian painter. In 1948, he started work as an illustrator. In 1950, he went to Europe, where he attended the Academy of San Fernando in Madrid, copied Velázquez and Goya in the Prado and admired the frescoes in Florence. He went on a long visit to Mexico in 1956-57 and the experience of Muralism significantly influenced his future direction. In his own work, he introduced inflated forms, puffing up to an exaggerated size human figures, natural features, and objects of all kinds, celebrating the life within them while mocking their role in the world. He combined the regional with the universal, constantly referring to his native Colombia and also creating elaborate parodies of works of art from the past - whether Dürer, Bonnard, Velázquez or David. Not without humour, the symbols of power and authority everywhere - presidents, soldiers and churchmen - are targeted in his attacks on a society still infantile in its behaviour."
---
Hans Hamid Rasmussen
Born in Algeria 1963, where he and his family faced humiliation in various forms. He now lives and works in Oslo. Rasmussen studied at the Photo Academy, Bauhaus school, Stockholm and at The Academy of fine Art in Oslo. His works have been exhibited among others at KIASMA, Stenersen museum, Oslo, Norrköping Art Museum, Henie Onstad Art Centre, Olso, Borås Art museum, Momentum, Moss, The 26 Bienal de São Paulo, Museo Nacional de Bellas Artes in Buenos Aires, …
Hans Hamid is using thread and needle for his art. Please see his work at http://du-store-verden.no/. See here his work "Eye":
---
Abdi Roble
Against Forgetting: Beyond Genocide and Civil War
January 26--April 1, 2006, Intermedia Arts, $2 suggested donation
Photography by Abdi Roble, Paul Corbit Brown and Mike Rosen
This exhibition includes powerful graphic imagery depicting violence against humanity.
Abdi Roble's photographs entitled The Somali Diaspora are a part of the Somali Documentary Project (http://www.somaliproject.org/), whose mission is to use photography to produce an archival record of the members of the Somali Diaspora while they are still engaging in the cultural practices of their homeland. Its hope is that this record will draw international attention to the plight of Somalia, educate Americans about these new immigrants and provide Somalis with a photographic record of their early experience in this country. Abdi Roble feels a responsibility to give Somali immigrants coherence through this photographic project that their homeland is not able to provide.

The Somali Documentary Project
Two years ago, documentary photographer Abdi Roble set about documenting the surviving traditions of the first generation of Somali immigrants in Columbus, Ohio as people adjust to new language and customs, while simultaneously trying to maintain their own. The ensuing series of photographs were the first in what has become an ongoing, expansive initiative, the Somali Documentary Project. The mission of this project is to create an archival record of the Somali Community before it assimilates into the host culture, to educate the host culture about this new community in its midst and to draw international attention to the condition of Somalia and the plight of the Somali people. Abdi is joined in the Somali Documentary Project by writer, Doug Rutledge, photography editor, Stanley Kayne, and project manager, Tariq Mohamed.

The Somali Documentary Project we will be Minneapolis in the fall of 2006 to document the Somali Diaspora in Minnesota. Please see http://www.artsmidwest.org/programs/somaliproj.asp.)
Paul Corbit Brown is a freelance photographer dedicated to Human Rights, Social
Justice, and Environmental Responsibility. Please see his work at http://www.register-herald.com/, http://www.intermediaarts.org/, and http://www.wordwarriorspress.com/letters/!
---
AHRC Diaspora Programme

The AHRC Diaspora project is a regional network based upon arts, migration and diaspora (see also http://www.lboro.ac.uk/) and out of it has emerged an image makers sub group led by John Perivolaris (Photographer). John is currently developing an arts project with the Somali communities in Leicester, UK. Please also see www.saemp.org.uk

---
Naomi London
Please see Naomi London's sculpture HOPE!
---
Peter Max
We extend our warm thanks to Peter Max and Victor Zurbel for their willingness to support our work.

With their help, we wish to engage in building the Fourth Sector also in our work. On the website of the Fourth Sector Network this is explained as follows: "Over the past few decades, the boundaries between the public (government), private (business), and social (non-profit) sectors have been blurring as many pioneering organizations have been blending social and environmental aims with business approaches. There are many expressions of this trend, including corporate social responsibility, microfinance, venture philanthropy, sustainable businesses, social enterprise, privatization, community development and others. As this activity matures, it is becoming formalized as a 'Fourth Sector' of the economy." See also KaosPilots.
---


Kenneth Hemmerick
Kenneth Hemmerick is an interdisciplinary fine artist who hails from Montréal, Canada. Please view examples of his work in arts. music, video and ideas at: www.kennethhemmerick.com.
Kenneth combines art with a broader range of interests and activities. Please see here his Guide in Humane Awareness. He created this ebook and guide because he felt that it was necessary to discuss humane concepts in a non-religious context. He writes: "All too often the discussion of kindness, cruelty and humaneness is left to religion, yet these principles are intrinsic, or should be, to human nature."
In 1998, Kenneth created a Suicide Prevention Help Web site for those who are despairing and contemplating suicide. Since the site's creation, he has answered thousands of letters from individuals of all ages, and from all over the world, responding with a few kind words and links to sites appropriate for the situation that they are experiencing.
The Guide in Humane Awareness was also created to provide additional awareness and support to people who write to Kenneth through Suicide Prevention Help. He feels that if one is depressed, often a "gift" is deeply appreciated and valued, especially if there are no strings attached. With the completion of A Guide in Humane Awareness, he is now sharing this material with people who ask for help. Kenneth suggests that at the heart of suicidal impulses is a lack of awareness of kindness, cruelty and humaneness in one's life. It has been suggested that he create a guide specifically for children.
---
Deborah Koff-Chapin
Deborah Koff-Chapin has given her kind permission to us to place some of her pictures on our website so as to start giving life to our World Art for Equal Dignity project. We thank Adair Linn Nagata for making us aware of Koff-Chapin's work.
Deborah wrote to us (15th January and 6th March 2012): "You might find some images interesting from my 'Interpretive Touch Drawing' page. Particularly, I am thinking of the three years i drew at the 'Engaging the Other Conference'. You can see three separate galleries for 2006, 2007 and 2008 on the gallery page...
See also the images from the Engaging the Other conferences: this page has a gallery of drawings I created at the Seeds of Compassion conference with Archbishop Desmond Tutu and the Dalai Lama, among others. Blessings, Deborah"
---
Sara Green and ART
Please see here the January 2005 report of ART, Art for Refugees in Transition:
On Thailand: The year began with a return visit to northern Thailand where we evaluated and then helped to expand ART's pilot program in two Burmese refugee camps in Mae Hong Son Province. Over 600 children and 50 adults participated in the intergenerational traditional arts program. The response was overwhelming and more teachers were recruited and trained in order to accommodate the additional children who were interested.
This summer, the program was handed over to the refugees and is now fully self sustaining. The refugees themselves are running the program, coordinating the classes, performances and festivals. They even built an additional structure in each camp to house the musical instruments and costumes. We could not have asked for a better outcome.
On Colombia: In October, 2004, ART was approached by the Caring for Colombia Foundation, a New York based foundation that helps to fund and implement humanitarian programs in Colombia. ART traveled to Colombia in December to explore the feasibility of establishing our traditional arts programs for in-country refugees fleeing from Colombia's drug and guerrilla wars. After two weeks of traveling around the country, we concluded that ART's work was needed and welcomed at all of the locations we visited.
The highlight of our visit was Popayan, a small city in the mountains south of Cali. Popayan has a large community of internal refugees displaced by over 40 years of civil war that lives in the hills at the edges of the city. The community is spread across several shanty towns, with no running water and little, if any electricity.
Currently, there is a local NGO (Non Governmental Organization) working with the community – providing literacy programs for the children and adults. The NGO – Foundacion Infantil y Junevil del Cauca - has asked ART to partner with them to implement our traditional arts program in one of the displaced communities – Gran Conquista. The NGO has money in its budget for a project next year, is looking for a project to support, and would like ART to be that project! In addition, the University of Cauca (Popayan is located in the state of Cauca) has also asked to partner with ART. The University will assign students from its anthropology, music, ethnology, psychology and other departments to help ART institute and then administer the program; the students will earn academic credit for this work.
The Bogotá office of the United Nations Development Program (UNDP) expressed great interest in ART's work as well. After several successful meetings with them, UNDP asked to partner with ART for the International Human Development Report they are preparing in partnership with the Colombia operations of UNESCO. The specifics of the partnership are now being worked out, but the fact that they are so interested in ART's work is very positive. And finally, after meeting with the UNDP program officer for Conflict Prevention and Recovery, UNDP offered financial assistance to ART.
---
Hilarie Roseman
Hilarie Roseman kindly sends us the four paintings you see further down (27th May 2005). She explains:
These four painting I did after I visited Baxter Detention Camp for refugees in South Australia. It is situated in the desert. You are only allowed to have your eye glasses when you go to visit the refugees housed there. (Ours came on a boat). Australia has a long history of being not only cruel but treating prisoners in a totally inhumane way - we have Norfolk Island on the East Coast, and Sarah's Island off Tasmania, and Port Arthur also in Tasmania. We are continuing to torture people in detention camps, by isolation (they do not see the surrounding countryside, but only a square quadrangle etc). The children born there are mute. They watch people try to kill themselveves by slashing their wrists or slowly going into deep depression. My paintings are of a child in deep depression, a father crying, a mother running forward with a hankerchief, she was pregnant, and myself being searched. There are still 63 children in detention camps, some on islands, in Australia.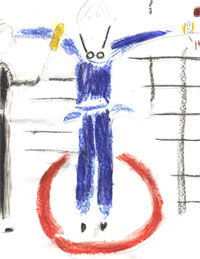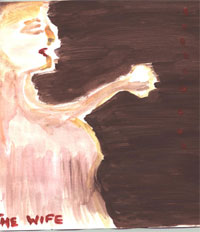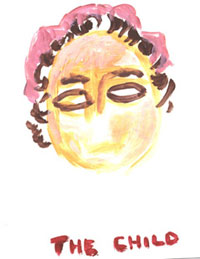 Hilarie Roseman, please click on the pictures to see them larger
---


Performers from Indonesia and Sri Lanka play out their stories in mask music and dance in a outdoor torchlit promenade under the stars. Tales of hope from the people of the tsunami.
---
There are 17 million refugees and displaced persons in the world today. Eight million are children. United Nations High Commissioner for Refugees, 2004.
A.R.T. provides curriculum and training programs to engage both children and adults in refugee camps in visual, performing and creative arts drawn from their own cultures. These activities provide international relief institutions with tools to help refugee communities recover from the trauma, terror and dislocation of war.
Please see here the January 2005 report of ART, Art for Refugees in Transition.
---
Evelin Lindner
Drawings that Evelin made in Egypt 1984-1991.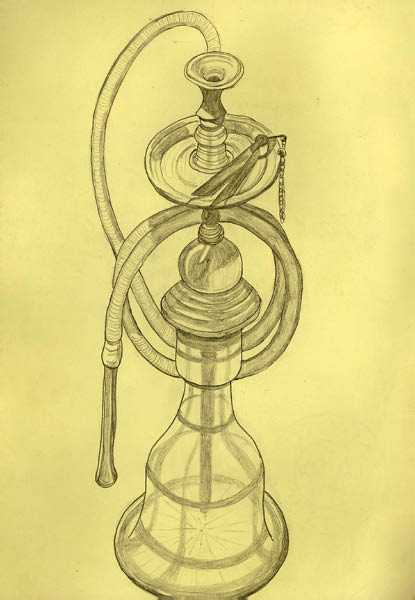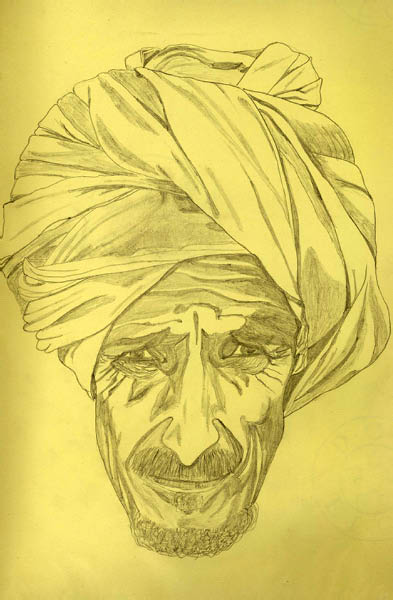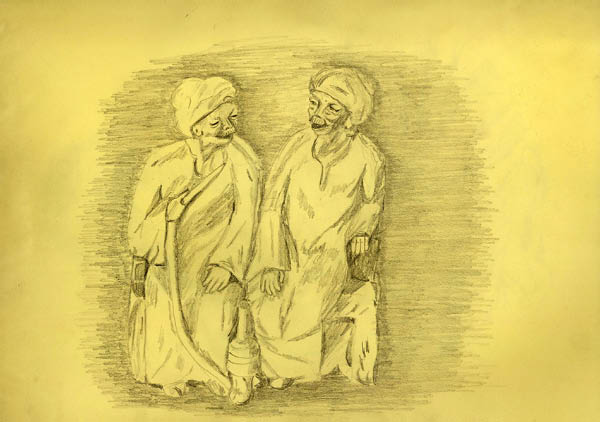 Drawings made by Evelin in Egypt, 1984-1991.
Please click on the pictures above, or here, to see more drawings.
---


Links
Please note that the entire HumanDHS website is maintained by volunteers, since its inception in 2003, and this is mainly done by Evelin Lindner. Until 2012, she usually pasted interesting news into this Links section. From July 2012 until 2017, she tagged interesting information on delicious.com. From 2017 onward, you see Evelin's personal list of interesting web links on Twitter: Follow @evelinlindner
Guernica
"The Story of a Painting that Fought Fascism," by Fiona Macdonald, BBC, 6 February 2017: "Opening during the Spanish Civil War, the 1937 Paris Exhibition allowed artists to speak out against brutality. Fiona Macdonald looks at a moment when paintings became propaganda." We thank PL Silve for making us aware of this article!
Bridges Art Gallery
The Bridges Organization oversees the annual Bridges conference on connections between art and mathematics. We thank Mark Singer for making us aware of this initiative.

Talent for Humanity
See their video presentation.
Global Water Dances
Global Water Dances is a world event planned for June 25, 2011. On this day, a 24 hour series of dances around the globe will be danced, centered around water issues. Beginning in the Western Pacific Rim, and encircling the globe, the series of dances will also be broadcast online...
Please read more at http://www.globalwaterdances.org/event.html.
The Imagination Age
The imagination age is a concept that states that the economy and culture of advanced economies is moving beyond the Information Age in to an age where creativity and imagination over analysis and thinking will become the primary creators of economic value.
See, among others, The Imagination Age. with artist, writer, and cultural philosopher Rita J. King as the Director General of the Imagination Age. She first introduced the phrase imagination age as a cultural and economic philosophy.
The Institute For Figuring
The Institute For Figuring is an organization dedicated to the poetic and aesthetic dimensions of science, mathematics and the technical arts. The Institute's interests are twofold: the manifestation of figures in the world around us and the figurative technologies that humans have developed through the ages. From the physics of snowflakes and the hyperbolic geometry of sea slugs, to the mathematics of paper folding, the tiling patterns of Islamic mosaics and graphical models of the human mind, the Institute takes as its purview a complex ecology of figuring.
Ethylene Tetrafluoroethylene (ETFE)
Ethylene Tetrafluoroethylene (ETFE), a fluorocarbon-based polymer, is a durable, adaptable plastic that is opening new horizons for artists and builders.
Enduring Creation: Art, Pain and Fortitude
Spivey, Nigel (2001). Enduring Creation: Art, Pain and Fortitude. Berkeley, CA: University of California Press.
World Culture Open Centers
World Culture Open Centers (WCO Centers) facilitate the growth and development of individuals and communities by offering free space for the practice of creative arts, holistic wellbeing and humanitarian service. The Centers provide a platform for users to create, explore, learn and contribute their knowledge and skills in an environment of harmonious cultural exchange. The Centers are offered free of charge to users in order to foster a movement of sharing and a sense of ownership among members of the WCO community.
See also similar initiatives: www.kvopencenter.org and www.myspace.com/manhattanwcocenter !
Jim Mott, the Itinerant Artist Project
A few years ago, a folksinger suggested that if I wanted to survive as a painter I might have to get used to staying in other people's houses. That was the seed for my idea of an Itinerant Artist Project.
Although the project eventually came to embrace a complex set of interests and motivations, its appeal to me owes a lot to its emulation of the folksinger model: bringing my art into people's lives while having a more or less supportive, interested audience to interact with, day after day. It struck me as - and has proven to be - a welcome contrast to the usual routine that most artists take for granted: working in isolation, then, maybe once a year, meeting a small crowd at an exhibition opening for a few hours.
Please read more on http://www.jimmott.com/2iaphome.html.
Please see Genevieve Vaughan's work on the Gift Economy!
Mobile Snaps Reveal Invisible Art
By Mark Ward
Technology correspondent, BBC News website, San Diego
Scottish researchers are turning to camera phones to help bridge the virtual and real worlds.
Using image-matching algorithms the researchers have found a way to adorn the real world with digital content...
Read the entire article at http://news.bbc.co.uk/go/pr/fr/-/1/hi/technology/6938244.stm.
The Cognitive Science of Art: Ramachandran's 10 Principles of Art, Principles
As a starting point for the attempt to discover universals in art based on our knowledge of neuroscience, and visual neuroscience in particular, V.S. Ramachandran has proposed ten principles of art (eight of which come from the paper he wrote with William Hirstein, titled "The Science of Art") .