Welcome to Human Dignity and Humiliation Studies (HumanDHS)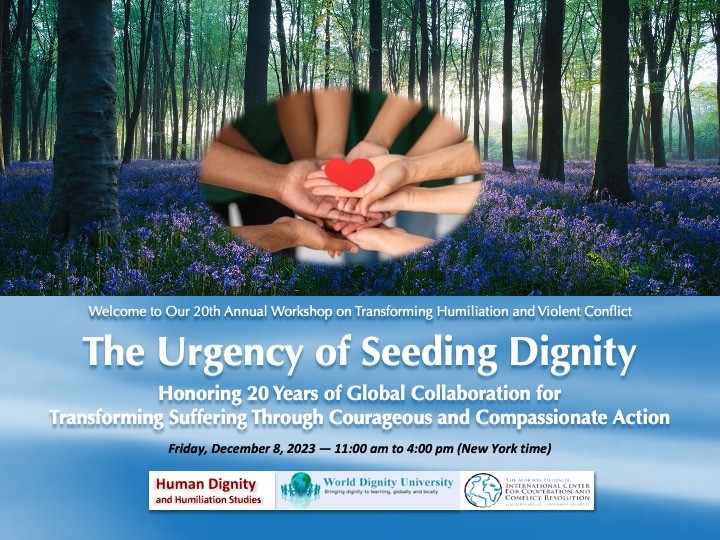 HumanDHS is a transdisciplinary academic field and a global network and collaborative community of concerned scholars, researchers, educators, practitioners, creative artists, and others. We wish to stimulate systemic change, globally and locally, to open space for dignity, mutual respect, and esteem to take root and grow. Our goal is to foster healing from cycles of humiliation throughout the world, ending systemic humiliation and humiliating practices, and preventing new ones from arising. We wish to open space for feelings of humiliation to be transformed into action that dignifies the lives of all people and replenishes our planet.

We suggest that a frame of cooperation and shared humility is needed — rather than a mindset of humiliation — if we wish to build a better world, a world of equal dignity for all.

We do our best to cultivate a relational climate characterized by dignity, walking our talk, and mutual growth. For more than a decade, our relational approach has been more than sustainable, it has offered a new model of collaborative action, a replenishing relational-organizational climate that is constantly evolving and growing with — rather than at the expense of — the people involved. Michael Britton wrote on July 18, 2015: "I feel fortunate to have found a home in HumanDHS where the labors of inquiry, honesty, integrity, dignity, trust and trustworthiness, humility are at the heart of who we are and what we do."

We are currently around 1,000 personally invited members, with more than 2,000 more people supporting our work and more than 8,000 friends on our address list, while our website is being accessed by ca. 40,000 people from more than 180 countries per year since its inception in 2003. A new educational effort emerged from the network on 24th June 2011, the World Dignity University (WDU) Initiative, and anyone interested in educating or learning in dignity is invited to contribute. Not-for-profit Dignity Press is flourishing since 2012 with its imprint World Dignity University Press.

We organize two conferences per year. We gather for one global conference at a different location each year, which has led us since 2003 to Europe (Paris, Berlin, Oslo, Dubrovnik), Costa Rica, China, Hawai'i, Turkey, Egypt, New Zealand, South Africa, Rwanda, Chiang Mai in Northern Thailand, Indore in Central India, and the Amazon in Brazil. Then we come together a second time each December for our Workshop on Transforming Humiliation and Violent Conflict at Columbia University in New York City, with Morton Deutsch as our honorary convener since 2003. We have gathered more than 30 conferences all around the world since 2003. See where we stand.

The nomination for the Nobel Peace Prize in 2015, 2016, and 2017 gave all our members great courage and has already been life-saving for many.

If you wish, please see here a short welcome video clip, the status of our work, and then enter our website in more depth here, or through the links on the upper left side of this page. We often use #dignism when we upload videos on YouTube (see also Evelin Lindner's channel).

When you click on the picture above, you are see our 20th Worksop on Transforming Humiliation and Violent Conflict, titled "The Urgency of Seeding Dignity: Honoring 20 Years of Global Collaboration for Transforming Suffering Through Courageous and Compassionate Action," online and in New York City, hosted by The Morton Deutsch International Center for Cooperation and Conflict Resolution (MD-ICCCR) Columbia University, Teachers College (TC), New York City, in cooperation with the World Dignity University initiative, December 8, 2023. It is the 39th Annual Conference of Human Dignity and Humiliation Studies.
A very warm welcome to our future conferences! Please see an overview here.

Please be aware that our work is a labor of love, maintained entirely by volunteers who give their time and energy as a gift. All our efforts are pro bono and not-for-profit endeavors, there is almost no money involved. The idea for this global work was born in 2001, and this website came into being in 2003. Ever since, this work continuous to evolve. In 2011, the websites of the World Dignity University (WDU) Initiative and the Dignity Press were created. All our websites are intentionally designed as complex archives to inspire people who are sincerely interested in exploring the topics of dignity and humiliation. We avoid any "marketing" of our organisation.

For our leadership tasks we particularly welcome people who have just retired and would like to offer their expertise for a good cause and commit some years of their life to build a new career for themselves, a career that draws its validation not from a salary but from meaningfulness. Futhermore, if you know about any dignity-IT-volunteers for our WDU platform, we would be very glad if you could introduce us! (Knowledge of Joomla would be essential, and the capability to program using Python, Django, databases, and html.)

News Headlines and Social Media
1. Celebrating Everyone's Contribution to Our December Workshop! sent out on February 7, 2022 (backup on this website)

2. Twitter at Follow @evelinlindner: News that might be of interest for the HumanDHS network members
(since 2017 tagged by Evelin Lindner on Twitter, from 2012 until 2017 news were on delicious.com)

3. Digniblog: News from within our network

4. Digniworld Facebook | Digniworld Wordpress | Digniworld Twitter | Digniworld Instagram
(created by Michael Boyer in 2019)