The "Prisoner's Testament" Peace Award
Please click on the pictures of the diploma and silver medal to see them larger.
Dear Friend!

Please be invited to share the honor!

Please read about the prize, see the award ceremony, and the invitation and program!

Please see also Evelin's takketale (acceptance speech).

Each year, Aktive Fredsreiser – Travel for Peace awards the following: Fangenes Testamente (The Prisoner's Testament) and Blanche Majors Forsoningspris (Blanche Majors Reconciliation Award) in order to shine the spotlight on individuals and organisations that have contributed to peace making processes and to conflict resolution.

Evelin Lindner received this award in 2009 and the entire Human Dignity and Humiliation Studies network is deeply honored!
Aktive Fredreiser - Travel for Peace

Aktive Fredsreiser - Travel for Peace is working to give young people faith in that conflicts can be resolved and peace can be created, and that their own attitudes are decisive. Travel for Peace is a non-profit organisation and its surplus is donated to idealistic organisations that work for peace, human rights and just distribution. The headquarters are based in Risør, Norway.

Travel for Peace arranges themed travel for young people and adults. The focus of these journeys is to put oppression and war into perspective to human rights and tolerance. The journeys usually go to Poland, Germany and the Czech Republic, but also to other destinations, such as, South Africa, Gambia, the Baltic States, France, the Ukraine and Romania. Over 10,000 young people and adults travel with Travel for Peace every year. Many of the people working for Travel for Peace are idealists who don't mind putting in some elbow grease without getting paid for it. That's why our peace travels are cheaper and available to many people.

The "Fangenes Testament" peace award is given to individuals or groups who have shown exceptional efforts to convey knowledge of conflict or peace-building processes in a way that is understandable to most people. Or, as it is written in the bylaws: "to the person or persons, who, in writing, speech or action, contribute to promoting better understanding of evil so that we will be enabled to build barriers against it in our own minds." Our desire and hope is that the award will inspire and encourage more people to engage in conveying how conflicts arise and can be solved.
The prize consists of a hand-painted certificate and NOK 50,000, and is handed out in cooperation with the Norwegian Peace Research Institute (PRIO). The name "Fangenes Testament" has been created by Tollef Larsson. Ever since he languished in a concentration camp during the Second World War, he had the desire that we as a society should place greater focus on what we have learned about the problem of evil. The legacy he and Active Peace Travel wants to give generations to come, is knowledge. The funds for the prize are covered by the surplus from Active Peace Travel youth trips to concentration camps.

Tollef Larsson asks:
• How do conflicts arise, and how can they be solved?
• Why do people resort to violence as a tool in conflict?
• If conflicts can not be resolved, how can we live with them?

Helga Arntzen

Helga Arntzen is the founder of Active Peace Travel and the foundation White Buses to Auschwitz. She writes: "I want to make the world a better place" "I know what it is like to be refugee. I know what it is like to be a lonely child longing for security and care. I have been brainwashed and fooled by political propaganda. Many of these bitter experiences from my childhood are now used as the driving force for the work I do now, trying to make this world a little bit better." says Helga Arntzen, founder of Active Peace Travel (Travel for Peace) and the foundation, White Buses to Auschwitz.
Helga Arntzen was born in Heidelberg in South Germany in 1942. When she was six years old, her mother took her and her brother with her to Berlin. Helga remembers this journey as one long "refugee nightmare." Her grandmother lived in the Soviet occupied part of Berlin, and to get there, they had to travel through rough terrain and armed Russian guards with German Shepherd dogs. - "I remember amongst other things that we were seeking shelter with a family who put themselves in grave danger by taking us in," says Helga. This journey and the kindness of strangers made a big impression on the six year old.
Helga started school in the east zone, but soon ran into problems because she was not a member of the Communist Pioneer movement. As soon as she became a member she received a lot of positive attention and good grades. - "I was aware that we were brainwashed. We were taught that people in the West were suppressed by the Americans, and wanted help to be able to live a life as free and democratic as we lived in the East. But we were not allowed to receive radio transmissions from the West, and to read something that was written in the West was not allowed. This was not looked upon as a limitation of our freedom but rather as a protection against Western propaganda, which would undermine our democracy," says Helga. After a five-year stay in Berlin, Helga's mother took her back to Heidelberg, and placed her with her father. Helga's mother moved to Frankfurt. This happened just before the widespread worker's revolt of 1953, which led to a mass exodus of East Germans to West-Berlin, which in turn led to the building of the Berlin Wall in 1961. - "It was a shock to come to the West and discover that everything that I had been told simply wasn't true. When I saw what kind of a system I had been forced into in the East, I experienced a great desire to tell people around me what was really going on there. But few were interested – most people were preoccupied with their own material gain."
In 1962 she married a Norwegian who studied in Heidelberg to become a doctor, and moved with him to Risør in Norway. She had started a number of humanitarian undertakings and branch offices of idealistic organisations. The environmental organisation, The Future in Our Hands, the aid organisation Save the Children, and Amnesty International, came to Risør because of Helga's initiative. She also started the Resource Group Against Drug Abuse in Risør and Sutukobas Venner/Sutukobas Friends. In 1992, she established the Foundation White Buses to Auschwitz. Neo-Nazism was on the rise in Norway. Helga wanted Norwegian youth to see the horrors that Nazism had led to and give them the belief that they could be involved in shaping a better world. Helga founded Travel for Peace in 1998. Nowadays around 20,000 Norwegian young people travel each year on fact-finding trips to Poland and Germany. We believe that this has contributed to the fact that neo-Nazism in Norway has become weaker over the past 15 years.

Please see here also a link to Landeskogen Peace Center.

Prize recipients:
• 2002: Professor of Political Science Bernt Hagtvet
• 2003: Judge at the European Court of Human Rights in Strasbourg Hanne Sophie Greve
• 2004: Professor Arne Johan Vetlesen
• 2005: Priest Bård Mæland and The Norwegian Peace Corps
• 2006: Erling Borgen
• 2007: Kåre Lode
• 2008: Edvard Hauff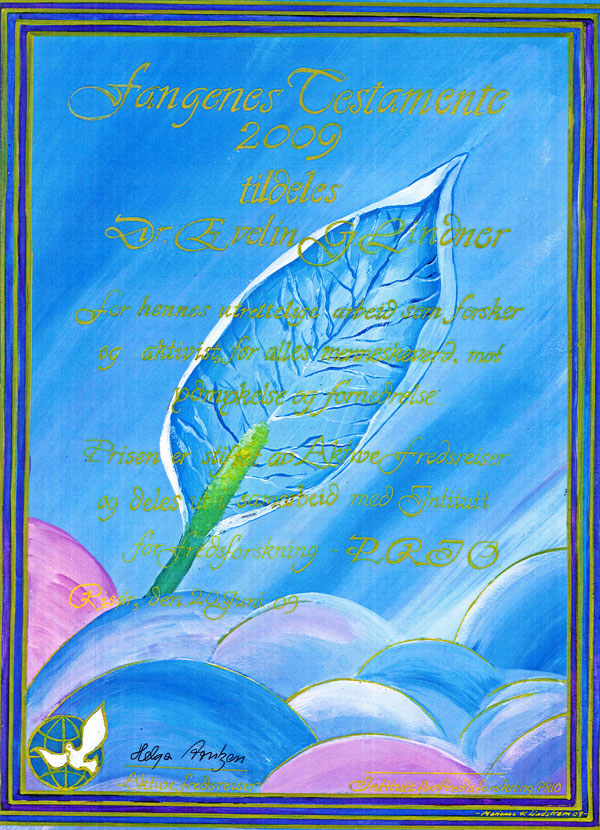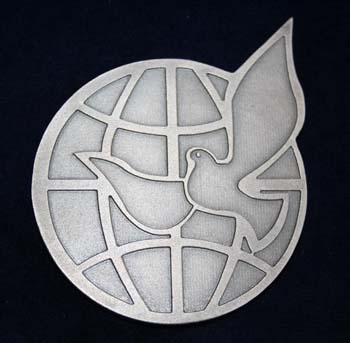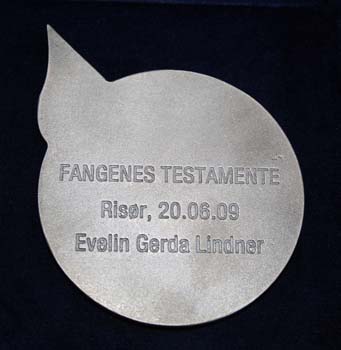 20th June 2009:This is the prize diploma and silver medal! The medal can be admired in the Peace House in Risør. The diploma has been created by the artist Marianne Kristiansen Lindstrøm. The medal has been made in Poland, and is a gift by Travel Project.
Please click on the medal above or here to see more photos.
Please click on the diploma or here to see it larger.
20th June 2009:Please click on the pictures or here to see more photos.
These are the photos from Evelin's camera. Thank you, dear Kamilla and dear sweet Syse-family children for taking all those lovely photos!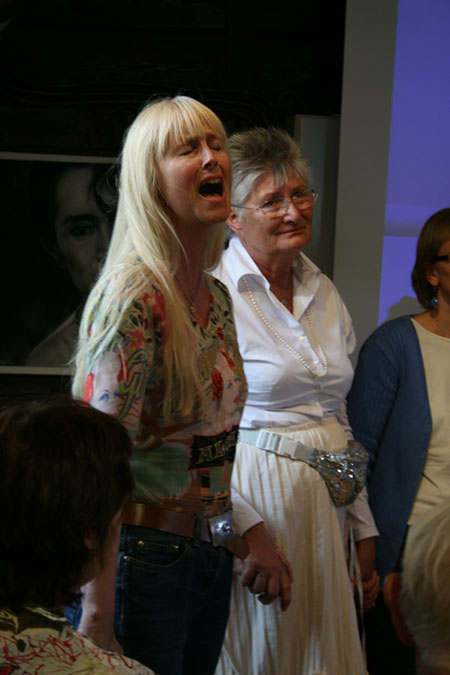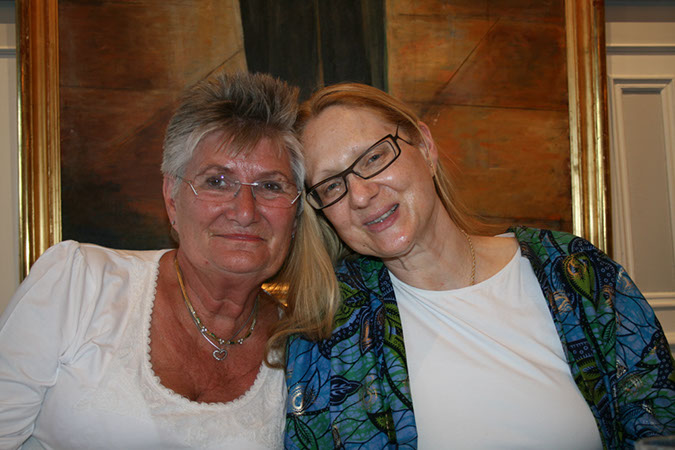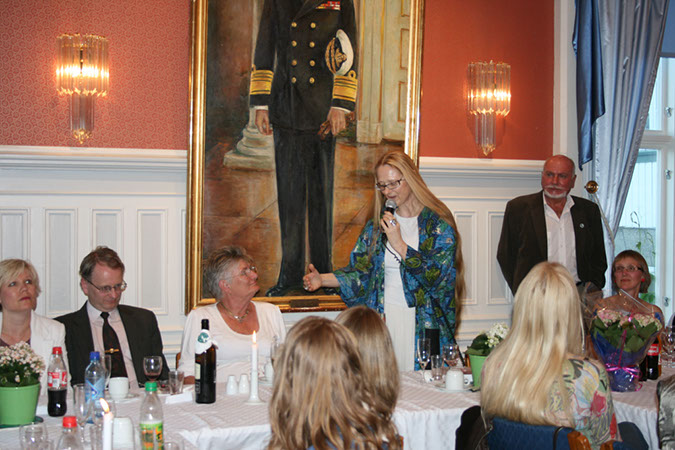 20th June 2009: These the photos come from Gunn Heidi's camera. Please click on the pictures or
here
to see more photos.
Thank you, dear Kamilla and Uwe for taking all those lovely photos!