World Relationships for Equal Dignity (WRelationsED)
HumanDHS is primarily grounded in academic work. We are independent of any religious or political agenda. However, we wish to bring academic work into "real life." Our research focuses on topics such as dignity (with humiliation as its violation), or, more precisely, on respect for equal dignity for all human beings in the world. This is not only our research topic, but also our core value, in line with Article 1 of the Human Rights Declaration that states that every human being is born with equal dignity (that ought not be humiliated). We agree with Shibley Telhami, Anwar Sadat Professor for Peace and Development, who advocates the building of bridges from academia as follows, "I have always believed that good scholarship can be relevant and consequential for public policy. It is possible to affect public policy without being an advocate; to be passionate about peace without losing analytical rigor; to be moved by what is just while conceding that no one has a monopoly on justice." We would like to add that we believe that good scholarship can be relevant and consequential not only for public policy, but for raising awareness in general.

---
We look for interested people, who would like to develop our WRelationsED page. Please see our Call for Creativity.

---
Our quest for dignity aims at building bridges from social science to other areas of life. We wish to envision novel ways for people around the world to build relationships across frontiers and learn from each other. Ecotourism is a way to get acquainted with the nature of our globe and to contribute to its ecological sustainability. In the same way, relation-building tourism can shape relationships and help contribute to the social sustainability of our globe. Exchange programmes between countries are based on this spirit, as is the partnering of cities, or people helping people in need who live far away. We think that such activities ought to be widened and new creative ways be found, ways that do not exploit the suffering of people in want for the satisfaction of the rich, but dignify everybody.
---


Links

Please note that the entire HumanDHS website is maintained by volunteers, since its inception in 2003, and this is mainly done by Evelin Lindner. Until 2012, she usually pasted interesting news into this Links section. From July 2012 until 2017, she tagged interesting information on delicious.com. From 2017 onward, you see Evelin's personal list of interesting web links on Twitter: Follow @evelinlindner
Garry Davis: World Citizenship, World Passport, World Presidency, World Service Authority, World Government of World Citizens, World Government House
Wikipedia: Sol Gareth "Garry" Davis (July 27, 1921 – July 24, 2013) was an international peace activist who created the World Passport, a fantasy travel document based on his interpretation of Article 13(2), Universal Declaration of Human Rights and on the concept of world citizenship. Previously Davis had worked as a Broadway stage actor and served as an American bomber pilot in World War II. He was a devoted World Federalist, although a consistent critic of the World Federalist Movement (quoted from Wikipedia).
Our dear Garry Davis went into hospice care on 18 July 2013, and died six days later. We mourn him in deep admiration for his life work and resonate with every word in Rene Wadlow's lovely reflection on Garry Davis: « And Now the People Have The Floor »
See also:
• Garry Davis's Speechat the 2007 Workshop on Transforming Humiliation and Violent Conflict at Columbia University in New York
• Garry Davis at the 2009 Dignity Conference in Honolulu, Hawai'i
• World Citizen Radio with Garry Davis interviewing Evelin Lindner, Global Radio Alliance, Sunday, November 11, 2012
• Garry Davis and Mariana Vergara in Dialogue on the World Passport at the 2012 Workshop on Transforming Humiliaton and Violent Conflict at Columbia University in New York: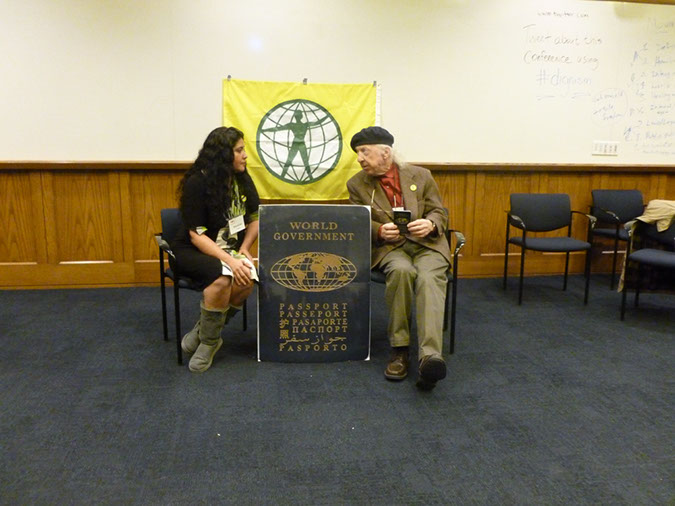 Please click on the picture above or here to see all the 177 photos of Day One of the 2012 Workshop
• Please see also The World Is My Country, and the documentary on Garry Davis by Arthur Kanegis:
New UN Chief Guterres Plans to Focus on Human Dignity
NEW YORK (IDN-INS) - On December 12, 2016, António Guterres will be sworn in as the next United Nations Secretary-General. In his vision for the post, Guterres - a former Prime Minister of Portugal and UN High Commissioner for Refugees - has said that the world body is uniquely placed to connect the dots to overcome global challenges and further strengthen the nexus between peace and security, sustainable development and human rights policies. [IDN-INPS – 11 December 2016]
Wendell Berry Agriculture for a Small Planet Symposium July 1, 1974
The Berry Center, July 4, 2014
Today marks the 40th Anniversary of Wendell Berry's speech about the culture of agriculture that was delivered at the "Agriculture for a Small Planet" Symposium in Spokane, Washington. The first few lines of this speech, written on a yellow legal pad in route to the symposium, inspired his book The Unsettling of America: Culture and Agriculture published in 1977. Berry's speech was also a catalyst for the launch of the Tilth Movement in the Pacific Northwest. "Your symposium, as well as a lot of other meetings I've been to in other parts of the country, proves the literature of a thoughtful and even known constituency for a better kind of agriculture," wrote Berry in a letter to Gigi Coe and Bob Stilger following the Symposium (July 4, 1974).
An Interview With Dr. Nora Sveaass: Why Torture is Wrong
by Nilantha Ilangamuwa
... A state that allows torture to happen not only violates international human law but creates a room that is extremely destructive. It undermines the trust and confidence that every society must contain, and such practices open up for more violence and disrespect of human rights. What was attempted as part of the war against terror was to create the picture that better one guilty than many innocent. But there is absolutely no justification for torture. And this campaign has also been used as a way of getting rid of or pacifying opposition. A lot of human rights violations over the last years have taken place under the auspices of fighting terror. The campaigns to fight this are extremely important. In addition, it has been argued, especially from people trained in interrogation and forensic psychology that torture, in addition to be totally wrong, also brings about wrong or false intelligence...
Read more at http://www.counterpunch.org/2013/10/11/why-torture-is-wrong/.
The System Improvement Process
SIP was developed to solve any difficult large-scale social problem. This includes the "excessive humiliation problem." Systems Engineer Jack Harich invites all researchers to study SIP (in a personal message, 15th January 2013).
uBuntourism
uBuntourism is about co-creating social spaces with diverse communities in Cape Town/South Africa that offer safe and socially responsive opportunities for collective story-telling and story-making. This is with interested domestic and international visitors, inspired by engagements of shared interest/need.
Mapping the World's Facebook Friends
Where are the world's Facebook friends? This visualisation, designed by Stamen and Stanford graduate in International Relations Mia Newman, measures the connections between countries around the world. Click on a country to see where most of its friends are. Countries are sorted by a combination of how many Facebook friendships there are between countries, and the total number of Facebook friendships there are in that country.
The Equality Trust
The Equalit Trust is an independent, evidence based campaign working to reduce income inequality in order to improve the quality of life in the UK.
UK income inequality is among the highest in the developed world and evidence shows that this is bad for almost everyone.
People in more equal societies live longer, have better mental health and are more socially mobile. Community life is stronger where the income gap is narrower, children do better at school and they are less likely to become teenage parents. When inequality is reduced people trust each other more, there is less violence and rates of imprisonment are lower.
If we want to build a better society, it is essential we take action now to reduce the gap between rich and poor. The Equality Trust is working with others to build a social movement for change. We analyse and disseminate the latest research, promote robust evidence-based arguments and support a dynamic network of campaign groups across the country.
Walk Softly and Listen Carefully: Building Research Relationships with Tribal Communities
The National Congress of American Indians Policy Research Center and Montana State University's Center for Native Health Partnerships are pleased to share a new resource. Walk Softly and Listen Carefully: Building Research Relationships with Tribal Communities was produced with insights from those involved with tribal research in Montana and elsewhere. Increasingly, tribal leaders acknowledge that research is a key tool of tribal sovereignty in providing data and information to guide community planning, cross-community coordination, and program and policy development. Efforts to address longstanding issues, such as health disparities for American Indians and Alaska Natives (AI/AN), have increasingly used partnership research approaches. This document seeks to strengthen these partnerships by providing insight about how culture, sovereignty, and experience matter in research with Native communities. You may download a copy of the report here: http://cnhp.montana.edu/WalkSoftly.htm .
Omegle
Omegle is a way of connecting globally: "When you use Omegle, we pick another user at random and let you have a one-on-one chat with each other. Chats are completely anonymous, although there is nothing to stop you from revealing personal details if you would like."
Litløy Fyr
Litløy lighthouse and the quarters of the lighthouse keepers were built in 1912. In 1991 the lighthouse was automated and in 2003 the lighthouse keepers left. The Coastal Authorities sold the estate to Ellen Marie Hansteensen in 2006. She is today the only private owner in Norway of a lighthouse which is still running. She has opened this unique lighthouse to guests who wish to experience this extraordinary place and its breathtaking surrounding, be it as volunteers, who wish to help her develop it, or as paying guests. See Evelin Lindner's pictures of her stay on Litløy fyr in 2010.
Tourism, Progress, and Peace, Book Edited by Omar Moufakkir and Ian Kelly
Tourism has the potential to contribute to world peace, and through appropriate management, to address current realities such as globalization, migration, conflicts, prejudices and poverty. By providing a range of international perspectives and case studies, this book discusses the interrelation between peace, conflict resolution and tourism, the role of industry and the role of the individual, and tourism as a catalyst for change and development. Exploring the ideas that there is more to peace than the absence of war and that there is more to tourism than economic interests, this book is the first of its kind and an essential resource for researchers, students and policymakers in tourism and related subjects.
'Historic' day as first non-Latin Web Addresses Go Live (6th May 2010)
Egypt's Ministry of Communications is amongst the first live web addresses Arab nations are leading a "historic" charge to make the world wide web live up to its name. Net regulator Icann has switched on a system that allows full web addresses that contain no Latin characters. Egypt, Saudi Arabia and the United Arab Emirates are the first countries to have so-called "country codes" written in Arabic scripts. The move is the first step to allow web addresses in many scripts including Chinese, Thai and Tamil. More than 20 countries have requested approval for international domains from the Internet Corporation for Assigned Names and Numbers (Icann). It said the new domains were "available for use now" although it admitted there was still some work to do before they worked correctly for everyone. However, it said these were "mostly formalities".
Read more at http://news.bbc.co.uk/2/hi/technology/10100108.stm.
Friendship Across Borders
The mission of Friendship Across Borders is a heartfelt misson for all those, who contribute to the FAB peace process between Palestinians, Jewish Israelis and Germans/Europeans, promoting mutual understanding, trust and reconciliation, across borders, walls and fences. "In October 2003, a young female Palestinian attorney carried out a suicide attack at a restaurant in Haifa that was run jointly by Jewish and Arabic Israelis. She intended to avenge the death of her brother who had been killed in front of her eyes by Israelis soldiers. Parents and children, Jewish and Arabic Israelis died and many people were injured. The day after the attack, Israeli soldiers destroyed the house of the Palestinian woman's family and the entire area of the West Bank was sealed off. This incident was neither the beginning nor the end of the spiral of violence and revenge in the Middle East. Yet, it was the impuls needed for Brigitta Mahr to found an organisation called "Friendship Across Borders – FAB"
World Wide Web Foundation
The World Wide Web Foundation envisions a world where all people are empowered by the Web. They write in their mission statement: "Everyone – regardless of language, ability, location, gender, age or income – will be able to communicate and collaborate, create valued content, and access the information that they need to improve their lives and communities. The creativity of the billions of new Web users will be unleashed. The Web's capabilities will multiply, and play an increasingly vital role in reducing poverty and conflict, improving healthcare and education, reversing global warming, spreading good governance and addressing all challenges, local and global. The unique mission of the World Wide Web Foundation is to realize the above our vision through transformative programs which advance the Web as a medium that empowers people to bring about positive change."
weltwärts – Der neue entwicklungspolitische Freiwilligendienst
Viele junge Menschen haben Interesse an einer ehrenamtlichen Arbeit in Entwicklungsländern. Die Zahl entsprechender Anfragen an das Bundesministerium für wirtschaftliche Zusammenarbeit und Entwicklung (BMZ) überstieg in der Vergangenheit bei weitem das Angebot. Das BMZ hat daher den neuen, aus öffentlichen Mitteln geförderten Freiwilligendienst "weltwärts" ins Leben gerufen. Die Ziele von weltwärts "Lernen durch tatkräftiges Helfen" ist das Motto des Freiwilligendienstes. weltwärts soll das Engagement für die Eine Welt nachhaltig fördern und versteht sich als Lerndienst, der jungen Menschen einen interkulturellen Austausch in Entwicklungsländern ermöglicht. Durch die Arbeit mit den Projektpartnern vor Ort in den Entwicklungsländern sollen die Freiwilligen unter anderem lernen, globale Abhängigkeiten und Wechselwirkungen besser zu verstehen. Den Projektpartnern soll der Einsatz im Sinne der Hilfe zur Selbsthilfe zugute kommen. weltwärts soll gegenseitige Verständigung, Achtung und Toleranz fördern: Gemeinsames Arbeiten und Lernen kennt weder Rassismus noch Ausgrenzung. Der neue Freiwilligendienst wird einen wichtigen Beitrag zur entwicklungspolitischen Informations- und Bildungsarbeit leisten und den Nachwuchs im entwicklungspolitischen Berufsfeld fördern.
Entwicklungspolitischen Schulaustauschprogramm ENSA
Das Entwicklungspolitischen Schulaustauschprogramm ENSA fördert den entwicklungspolitischen Schulaustausch zwischen Deutschland und Ländern in Afrika, Asien und Lateinamerika. ENSA bietet einen finanziellen Zuschuss für Flugkosten und Aufenthalt und begleitet die Schulgruppen mit Vor- und Nachbereitungsseminaren.
World Wide Web Foundation
The World Wide Web Foundation envisions a world where all people are empowered by the Web. Everyone – regardless of language, ability, location, gender, age or income – should be able to communicate and collaborate, create valued content, and access the information that they need to improve their lives and communities. The creativity of the billions of new Web users must be unleashed. The Web's capabilities will multiply, and play an increasingly vital role in reducing poverty and conflict, improving healthcare and education, reversing global warming, spreading good governance and addressing all challenges, local and global. The unique mission of the World Wide Web Foundation is to realize the above our vision through transformative programs which advance the Web as a medium that empowers people to bring about positive change.
Making the Most of Map Data
A competition aimed at making the most of map data has been launched. Backed by UK mapping agency Ordnance Survey, the GeoVation competition aims to find new ways for geography to empower citizens. Ideas already submitted include a service that lets pedestrians map safe routes based on the location of CCTV cameras. Another suggests a text alert service to alert 999 callers to their nearest defibrillator. The initiative comes as the Home Office releases nationwide crime maps. The map proved so popular that the website initially struggled to cope with demand. ...There are three broad themes for the GeoVation prize - crime, health and the environment, although entrants can come up with other ideas. "This is all about investing in worthwhile, exciting and innovative uses of geography," said GeoVation founder John Abbott. "We believe geography can play a real part in addressing some of the world's big challenges and we want to unleash people's creative potential," he added. The competition is open to anyone and entrants are free to suggest the use of any resources, such as Google Maps or OS OpenSpace. The ten shortlisted candidates will be asked to pitch in a Dragons' Den style arena at the end of January. The outright winner will claim a prize fund of £10,000 to develop their idea. Two runners-up will be awarded £5,000 each. The closing date for entries is 4 January 2010....
See more at http://news.bbc.co.uk/go/pr/fr/-/2/hi/technology/8330346.stm.
Andaman Discoveries
The devastation of the December 2004 Tsunami killed nearly 300,000 people and caused $15 billion in damages. Over a million people were displaced from their homes. In Thailand, the tourist industry, which sees over 5 million visitors a year and over $7 billion come into the country is was badly affected. Andaman Discoveries has been working with local villages to bring tourists in to help with restoration. Some even take the option to do a 'home stay', living and eating with local families, to help with the reconstruction. It's a new approach to tourism which places most emphasis on channelling goodwill and resources to protecting the local cultures, which so far have been unscathed by mass, package-holiday tourism.
The Cost of Digital Exclusion
Ms Lane Fox, the UK's Digital Champion, is considering ways to get the four million poorest Britons to sign up to the internet. Research commissioned by her office showed that technology can provide a "route out" of poverty. She is also hoping to galvanise broadcasters to put internet storylines in soap operas. "The jury is still out" on whether broadcasters will adopt such a storyline, she told the BBC. But it could be a good way of bringing the issue of digital exclusion to a wider audience, she added. The co-founder of lastminute.com was describing her new role and how she intends to tackle the issue of digital exclusion. Some 10 million adults in the UK have never been online and Ms Lane Fox is targeting the poorest 4 million, with the aim of getting a large proportion of this group online by 2012.
Read more at http://news.bbc.co.uk/go/pr/fr/-/2/hi/technology/8302598.stm.
Netroots Nation
Netroots Nation amplifies progressive voices by providing an online and in-person campus for exchanging ideas and learning how to be more effective in using technology to influence the public debate. Within that campus, we strengthen community, inspire action and serve as an incubator for progressive ideas that challenge the status quo and ultimately affect change in the public sphere.
Bold Rwanda Takes Broadband Leap
Landlocked Rwanda is weeks away from completing a link to a new fibre-optic network promising high-speed internet for East Africa, officials say. Engineers expect the capital, Kigali, to be connected to newly-arrived undersea cables in Kenya by November. A national fibre-optic ring is due to go online early in 2010.
Read more at http://news.bbc.co.uk/go/pr/fr/-/2/hi/technology/8266290.stm.
Push for 'Instant-On' Web Search
By Maggie Shiels Technology reporter
BBC News, Silicon Valley
A company that provides "instant-on" computing will bring "instant search" to the PC for the first time. Splashtop, made by DeviceVM, already lets consumers access email, chat with friends, share photos or surf the web seconds after turning on their PC. The deal involves three search leaders including Yahoo in the US and Japan, Baidu in China and Yandex in Russia. DeviceVM's Dave Bottoms said the deals make sense because web searching is fundamental to computer users. "Search is the tip of the iceberg in being able to offer a lot of different web services, but when you think about where people spend their time online, it's in search," Mr Bottoms, senior director of product management, told BBC News. "I think this is the next new start experience frontier we are witnessing at the device level." A web analytics firm, Comscore, found that in June alone Americans conducted more than 14 billion core searches, up from 10.8 billion in 2008. "A lot of people use search as a basic navigation tool," said DeviceVM's marketing director Sergey Krupenin. "Instead of typing in Facebook.com in the address bar, users are typing it into the search box."...
Please read more at http://news.bbc.co.uk/go/pr/fr/-/2/hi/technology/8165258.stm.
Wireless Power System Shown Off
By Jonathan Fildes Technology reporter
BBC News, Oxford
A system that can deliver power to devices without the need for wires has been shown off at a hi-tech conference. The technique exploits simple physics and can be used to charge a range of electronic devices over many metres. Eric Giler, chief executive of US firm Witricity, showed mobile phones and televisions charging wirelessly at the TED Global conference in Oxford...
Read more at http://news.bbc.co.uk/go/pr/fr/-/2/hi/technology/8165928.stm.
East Africa Gets High-Speed Web
The first undersea cable to bring high-speed internet access to East Africa has gone live. The fibre-optic cable, operated by African-owned firm Seacom, connects South Africa, Tanzania, Kenya, Uganda and Mozambique to Europe and Asia....
Read more at http://news.bbc.co.uk/go/pr/fr/-/2/hi/africa/8165077.stm.
Blood, Sweat And T-shirts & Blood, Sweat and Takeaways
When it comes to food, the Brits are spoilt for choice. Many simply take it for granted that it's possible to buy whatever food they want, whenever they want it, all year round. But what about the human cost of producing all this cheap food for our convenience? In the follow-up to the Bafta-nominated BBC Three series Blood, Sweat And T-shirts, six young British consumers travel to South East Asia to see just what's involved in producing the food they take for granted. The intrepid six are fussy eater Jess (19), fast-food fan Manos (20), fitness fanatic Olu (25), luxury food lover Lauren (21), keen cook Josh (20) and ethical shopper Stacey (20). They must catch, harvest and process food products that are eaten every day in the UK, as they go behind the scenes of the tuna, prawn, rice and chicken industries. They also eat, sleep and live with the food workers in the poorest regions of Indonesia and Thailand and see how they fare living on the same wage – the average for such workers being around £3 a day. In tonight's first instalment, the Brits enter Indonesia's tuna industry in Bitung, on the island of Sulawesi. In the UK, over a billion tins of tuna are consumed each year and Bitung's canneries supply many of our supermarkets and sandwich chains. Living with the workers in their basic conditions, the Brits endure the 90-degree heat of the tuna canneries and struggle with the harsh realities of life on a traditional wooden tuna boat in the Western Pacific. The extreme conditions affect them all – as does the hand-to-mouth existence of those they are living with. After seeing the reality, will biting into a tuna sandwich ever be the same again? Next week, the food lovers journey on to live and work alongside workers in the prawn industry.
Blood, Sweat And Takeaways, Ep 1/4 Tuesday, 19 May, 2009m 9.00-10.00pm, BBC THREE.
Travel for Peace
Travel for Peace is working to give young people faith in that conflicts can be resolved and peace can be created, and that their own attitudes are decisive. We are a non-profit organisation and our surplus is donated to idealistic organisations that work for peace, human rights and just distribution. Our headquarters are based in Risør, Norway...
Please see more at http://www.aktive-fredsreiser.no/aktiv_english/aktiv_english.htm
India Plans Cheap Laptop Option
India says it is planning to produce a low cost gadget intended for use by school children and students. The storage device has been developed as part of a broader national plan to update the technology used by Indian colleges and schools...
Please see more at http://news.bbc.co.uk/go/pr/fr/-/2/hi/technology/7864806.stm.
International Standards of Green Travel? BBC World News Television "fast:track: Luxury Travel," December 12, 2008
Question asked in the programme: Are environmental concerns demoted in list of priorities in times of economic crisis? And: Will universal standards of green travel emerge?
Questions to be asked by tourists: How does a hotel handle energy, waste, and water? And does the community: receive something back? Are local people employed not just behind the desk but in the running of the business?
Featured, among others:
• Tourism Concern fights exploitation in tourism. We are an independent, non-industry based, UK charity. We have a membership of almost 900 and we work with partners in over 20 destination countries to ensure that tourism always benefits local people. We are the only organisation in Europe actively campaigning on tourism and human rigths issues. We work tirelessly to expose and challenge tourism's exploitative practices. Tourism Concern takes a solution driven approach and has played a crucial role in promoting forms of tourism that provide meaningful benefits to people in destination communities.
• The Rainforest Alliance works to conserve biodiversity and ensure sustainable livelihoods by transforming land-use practices, business practices and consumer behavior. Based in New York City, with offices throughout the United States and worldwide, the Rainforest Alliance works with people whose livelihoods depend on the land, helping them transform the way they grow food, harvest wood and host travelers. From large multinational corporations to small, community-based cooperatives, we involve businesses and consumers worldwide in our efforts to bring responsibly produced goods and services to a global marketplace where the demand for sustainability is growing steadily. We set standards for sustainability that conserve wildlife and wildlands and promote the well-being of workers and their communities. Farms and forestry enterprises that meet our comprehensive criteria receive the Rainforest Alliance Certified™ seal. We also work with tourism businesses, to help them succeed while leaving a small footprint on the environment and providing a boost to local economies.
• Geoffrey H. Lipman Geoffrey Lipman is Special Advisor to the Secretary General of the World Tourism Organization. He is Chair of Green Globe 21 the responsible/sustainable tourism group and of Green Global Village (GGV) its consultancy arm. He is President of the International Council of Tourism Partners (ICTP) – a platform connecting socially responsible tourism organizations & people. He has served as Tourism Envoy for the Administrator of the UNDP and is Tourism Advisor to the Commonwealth & the World Economic Forum. He is a Board Member of Great Canadian Railway Company. He was the first President of the World Travel & Tourism Council (WTTC), the global business leaders forum. Between 1990 and 1999 he shaped its agenda during its growth from 10-100 members and the positioning of Travel & Tourism as the world's largest industry as well as its Millennium Vision for open markets, elimination of barriers and sustainable development. Geoffrey Lipman spent: 20 years with the International Air Transport Association (IATA), where he was Chief of Staff and Head of Government Affairs, later as Executive Director of IFAPA, a foundation representing passengers & as partner in Global Aviation Associates, a strategic airline consultancy specialising in government relations and competition matters He has written and lectured around the world on tourism strategy, sustainability and airline liberalization, co-authored books on opening up European Aviation and established a Think Tank on Free Trade in the Air. He was a member of 2 European Union High Level Commissions - on Airline Liberalization and on Tourism Employment as well as a member of the UK Roundtable on Sustainable Development. He is a Fellow of the Tourism Society and the Australian Tourism Research Association; Member of the President of Zambia's Business Advisory Council and the Ethiopia Think Tank and Senior Tourism Research Fellow at George Washington University in the US.
Schools in England Will Have to Give Pupils Sex and Relationship Lessons from the Age of Five
Lessons about personal, social and health matters including sex and relationships will be compulsory in all England's schools from ages five to 16...
Please read more at http://news.bbc.co.uk/go/pr/fr/-/2/hi/uk_news/education/7684810.stm.
African Free Trade Zone Is Agreed
The leaders of three African trading blocs on Wednesday agreed to create a free trade zone of 26 countries with a GDP of an estimated $624bn (£382.9bn).
It is hoped the deal will ease access to markets within the region and end problems arising from the fact several countries belong to multiple groups. The deal also aims to strengthen the bloc's bargaining power when negotiating international deals. Analysts say the agreement will help intra-regional trade and boost growth. The three blocs which struck the deal were the Southern African Development Community (SADC), the East African Community (EAC) and the the Common Market for Eastern and Southern Africa (Comesa)...
Please read more at http://news.bbc.co.uk/go/pr/fr/-/2/hi/business/7684903.stm.
Hi-tech Brings Families Together
Technology is helping families stay in touch like never before, says a report. Instead of driving people apart, mobile phones and the net are helping them maintain social ties, says the Pew Internet report. Families are also among the keenest users of technology, the survey of 2,252 Americans revealed.It found that using the net was often a social activity within families, with 51% of parents saying they browsed the web with their children. "Some analysts have worried that new technologies hurt family togetherness, but we see that technology allows for new kinds of connectedness built around cell phones and the internet," said Tracy Kennedy of the University of Toronto who helped to write the Networked Families report...
Please read more at http://news.bbc.co.uk/go/pr/fr/-/2/hi/technology/7679734.stm.
Community
Many communities these days find themselves under extraordinary stress. Even in affluent communities, taking care of one another - educating our kids, caring for the ill, helping people who need a hand - is proving difficult. In less-than-affluent communities, the stresses of extreme poverty, oppression, environmental injustice, failed educational systems, and diseases like HIV/AIDS are making life a daily challenge. To solve problems like these takes more than individual action - it takes community action. Communities of all kinds need to work together, thinking about the problems they face in a holistic way, and working to strengthen the fabric that binds us together.
Web Worlds 'Useful' for Children
Virtual worlds can be valuable places where children rehearse what they will do in real life, reveals research. They are also a "powerful and engaging" alternative to more passive pursuits such as watching TV, said the BBC-sponsored study. The research was done with children using the BBC's Adventure Rock virtual world, aimed at those aged 6-12. The researcher said the BBC should have involved children early on to guide development and provide feedback...
Please read more at http://news.bbc.co.uk/go/pr/fr/-/1/hi/technology/7415442.stm.
Web in Infancy
The world wide web is "still in its infancy", the web's inventor Sir Tim Berners-Lee has told BBC News... "What's exciting is that people are building new social systems, new systems of review, new systems of governance. "My hope is that those will produce... new ways of working together effectively and fairly which we can use globally to manage ourselves as a planet."..
Please read more at http://news.bbc.co.uk/go/pr/fr/-/2/hi/technology/7371660.stm.
Design Revamp for '$100 Laptop'
The wraps have been taken off the new version of the XO laptop designed for schoolchildren in developing countries. The revamped machine created by the One Laptop Per Child (OLPC) project looks like an e-book and has had its price slashed to $75 per device. OLPC founder Nicholas Negroponte gave a glimpse of the "book like" device at an unveiling event at the Massachusetts Institute of Technology. The first XO2 machines should be ready to deliver to children in 2010. Mr Negroponte said he hoped the design would also be used by other manufacturers...
Please read more at http://news.bbc.co.uk/go/pr/fr/-/1/hi/technology/7411904.stm.
Avaaz
Avaaz.org is a new global web movement with a simple democratic mission: to close the gap between the world we have, and the world most people everywhere want. "Avaaz" means "Voice" in many Asian, Middle Eastern and Eastern European languages.
Across the world, most people want stronger protections for the environment, greater respect for human rights, and concerted efforts to end poverty, corruption and war. Yet globalization faces a huge democratic deficit as international decisions are shaped by political elites and unaccountable corporations -- not the views and values of the world's people.
Web Desktop Targets 'Cybernomads'
A virtual desktop aimed at users who access the web via cybercafes is attracting interest from organisations set up to bridge the digital divide
Offered by Luxembourg-based start-up Jooce, it is being billed as a way of personalising any computer...
Please read more at http://news.bbc.co.uk/go/pr/fr/-/1/hi/technology/7267534.stm.
Intel Backs Wireless Africa Plan
Intel chairman Craig Barrett is on a tour of Africa
Craig Barrett
Africa needs to embrace wireless broadband as a potential solution to the digital divide, the chairman of Intel Craig Barrett has said.
"It's cheaper, easier and more efficient to communicate wirelessly," he told the BBC News website...
Please read more at http://news.bbc.co.uk/go/pr/fr/-/1/hi/technology/7070859.stm.
Uruguay Buys First '$100 Laptops'
The first official order for the so-called "$100 laptop" has been placed by the government of Uruguay. The South American country has bought 100,000 of the machines for schoolchildren aged six to 12. A further 300,000 may be purchased to provide a machine for every child in the country by 2009...
Please read more at http://news.bbc.co.uk/go/pr/fr/-/1/hi/technology/7068084.stm.
'$100 laptop' to Sell to Public
By Jonathan Fildes
Science and technology reporter, BBC News
Computer enthusiasts in the developed world will soon be able to get their hands on the so-called "$100 laptop".
The organisation behind the project has launched the "give one, get one" scheme that will allow US residents to purchase two laptops for $399 (£198).
Please read the entire article at http://news.bbc.co.uk/go/pr/fr/-/1/hi/technology/6994957.stm and on http://www.xogiving.org/.
Documentary Series Indian School
Indian School is a fast-paced documentary series, following a remarkable year in one of the world's fastest growing cities; Pune near Mumbai. The series gets under the skin of India's middle classes, exploring their dreams and anxieties in a world that seems to be changing every day.
See more on http://www.bbcworld.com/Pages/ProgrammeMultiFeature.aspx?id=87 and on http://www.open2.net/aboutseries.html.
Mobile System Promises Free Calls
A new way of making calls directly between phones, for free, is being trialled by a Swedish company. It is hoping to dramatically improve communications in the developing world. Swedish company TerraNet has developed the idea using peer-to-peer technology that enables users to speak on its handsets without the need for a mobile phone base station. The technology is designed for remote areas of the countryside or desert where base stations are unfeasible. Projects backed by TerraNet recently launched in Tanzania and Ecuador...
Please read the entire article at http://news.bbc.co.uk/go/pr/fr/-/1/hi/technology/6987784.stm.
Park to Peace
400 cities and towns dedicated a park to peace. Please view the original promotional flyer for ?Peace Parks Across Canada,? in either French or English.
'$100 Laptop' Production Begins
By Jonathan Fildes
Science and technology reporter, BBC News
Five years after the concept was first proposed, the so-called $100 laptop is poised to go into mass production.
Hardware suppliers have been given the green light to ramp-up production of all of the components needed to build millions of the low-cost machines.
Previously, the organisation behind the scheme said that it required orders for 3m laptops to make production viable.
The first machines should be ready to put into the hands of children in developing countries in October 2007.
"There's still some software to write, but this is a big step for us," Walter Bender, head of software development at One Laptop per child (OLPC), told the BBC News website.
Read more at http://news.bbc.co.uk/go/pr/fr/-/1/hi/technology/6908946.stm.
Nacel Open Door
The origins of Nacel date to 1957, when two language teachers from France began organizing summer sessions in England for French teenagers. Their goal was to provide opportunities for students to extend language learning and knowledge of another culture through a well-organized and affordable summer program. During the sixties these programs grew steadily and spread to Ireland. In l969, the organizers decided to ask some American teachers of French to arrange a summer homestay program for French teenagers in the United States. Over succeeding years, programs with Germany, Spain, Mexico, and Canada were added.
Please read more on http://www.nacelopendoor.org/.
Global Net Use Makes Rapid Rise
The net is helping to close the digital divide between industrialised nations, suggests a report.
The annual e-readiness rankings by the Economist Intelligence Unit (EIU) shows Asian and African nations catching up with big net users such as Denmark
...
MOST E-READY NATIONS
1) Denmark
=2) US
=2) Sweden
4) Hong Kong
5) Switzerland
6) Singapore
7) UK
8) Netherlands
9) Australia
10) Finland
11) Austria
12) Norway
13) Canada
14) New Zealand
15) Bermuda
16) South Korea
17) Taiwan
18) Japan
19) Germany
20) Belgium
...
Please read the entire article at http://news.bbc.co.uk/go/pr/fr/-/2/hi/technology/6583141.stm.
High-Speed Web Boost for Africa
Kenya, Burundi and Madagascar have secured $164.5m (£83.3m) from the World Bank to help roll-out high-speed internet networks.
The World Bank said the money was being made available to boost business competitiveness in the region...
Please read the entire article at http://news.bbc.co.uk/go/pr/fr/-/1/hi/business/6525537.stm.
Teens 'Turn to Social Websites'
More than half of all net-using American teenagers use social networking sites, research suggests. The study for the Pew Internet Project involved 935 teenagers and found 55% of American youths aged 12-17 had accounts at sites such as MySpace and Facebook. It found that the sites were more popular with older teenage girls who tend to use them to keep in touch with their existing friends. By contrast, boys were much more likely to use the sites to find new friends. Websites such as MySpace give users a chunk of webspace they can personalise with images, video and blog entries. To this they add a messaging system that lets members keep in touch with friends on the same network.
Please read the entire article at http://news.bbc.co.uk/go/pr/fr/-/1/hi/technology/6235503.stm.
Peuplade
Un site de quartier, pour redécouvrir son quartier... Peuplade est en somme un cousin des blogs de quartier, des apéros et repas entre voisins, des maisons des associations, des réseaux d'échange de savoir.
Please read also on http://news.bbc.co.uk/:
Parisian neighbours meet online
By David Reid
Reporter, BBC Click
Cities may cram people together like sardines in a supermarket, but many of those living an urban life can end up feeling more lonely than on a picnic on Pluto. But one French networking website is trying to change all that. Just as most Parisians are too cool to visit the Eiffel Tower, most of us ignore the possibilities for friendships immediately outside our front door. French social networking website Peuplade aims to bridge that small but often insurmountable gap by putting neighbours in touch with each other. It also wants you to meet people different from your usual crowd. "In life today we get to meet people in a very specific situation and social background. You meet people from your school, from your family or from your work," said Jérémie Chouraqui, a lawyer and one of the founders of Peuplade....
Please read the entire article on http://news.bbc.co.uk/go/pr/fr/-/1/hi/programmes/click_online/6233429.stm.
New Climate Change Awards for Responsible Tourism Day
International Council of Tourism Partners and Mondial Global Energy Announce new Climate Change Awards for Responsible Tourism Day
London, 9th November 2006/eTN: In the spirit of Responsible Tourism Day, the International Council of Tourism Partners a civil society travel organization and Mondial Global Energy (MGe) a tourism group committed to renewable energy solutions announced the Annual Tourism Climate Change Awards. They will be given for the company, organization or individual judged to have made the greatest contribution to providing leadership in responding to Climate Change issues in the tourism sector.
Two Awards were announced:
- A World Tourism Responsible Energy Award with a global focus
- A Mission Africa Responsible Energy Award focusing on Africa
More at http://www.travelwirenews.com/.
Children in the Wilderness
Children in the Wilderness Southern Africa is made up of four independent companies each with their own Board of Trustees. Each company operates independently but under the direction of Children in the Wilderness Southern Africa.
Sara's New York Homestay
International students, visitors, interns or executives who come to New York, Los Angeles, Paris or London for a short period of time (1 to 12 months) will be pleased with our friendly and outstanding personal service at Sara's Homestay.
• Homestays with carefully selected warm and welcoming families, in safe neighborhoods, near public transports.
• Shared Apartments (Apartment Sharing) with carefully selected single person
• Furnished Studios and Apartments (Manhattan Only) We have carefully selected for you a number of very attractive studios and 1 or 2 bedroom apartments in all areas of Manhattan as well as some of the best areas of Brooklyn and Queens. All are fully furnished. Many have quite luxurious features in top neighborhoods and others a bit more modest ones at very attractive prices. Most can be shared.
Servas International
Servas International is the world federation of non-profit, non-governmental national Servas groups
• through Servas Groups we foster networks of hosts and travellers
• encourage personal contacts among people of different cultures, backgrounds and nationalities
• help build world peace, goodwill and understanding
Servas US
Servas is an international, non-governmental, interracial peace association run in over 100 countries by volunteers. Founded in 1949 by Bob Luitweiler as a peace movement, Servas International is a non-profit organisation working to build understanding, tolerance and world peace. It operates through a network of Servas hosts around the world who are interested in opening their doors to travellers, and, "on the other side of the coin", many open-minded travellers who want to get to know the heart of the countries they visit. SERVAS International has consultative status as a non-governmental organisation with the United Nations Economic and Social Council, currently with representation at many of the UN's hubs of activity. There are over 13,000 Servas "open doors" scattered throughout almost every country in the world. Through SERVAS, travellers have opportunities to meet hosts, their familes and friends and join in their everyday life. Where convenient, hosts may offer two nights' accommodation and invite travellers to share a meal. Names and addresses of hosts appear in annually produced lists which are made available to approved travellers. Servas hosts are just a cross-section of ordinary people.g
Hospitality Club
Hospitality Club is supported by volunteers who believe in one idea: by bringing travelers in touch with people in the place they visit, and by giving 'locals' a chance to meet people from other cultures we can increase intercultural understanding and strengthen the peace on our planet.
Couch Surfing
CouchSurfing.com helps people make connections worldwide. You can use the network to meet people and then go and surf other members' couches! When you surf a couch, you are a guest at someone's house. They will provide you with some sort of accommodation, a penthouse apartment or maybe a back yard to pitch your tent in. Stays can be as short as a cup of coffee, a night or two, or even a few months or more. When you offer your couch, you have complete control of who visits. The possibilities are endless and completely up to you.
NPR (National Public Radio)
NPR (National Public Radio) is an internationally acclaimed producer and distributor of noncommercial news, talk, and entertainment programming. A privately supported, not-for-profit membership organization, NPR serves a growing audience of more than 25 million Americans each week in partnership with more than 800 independently operated, noncommercial public radio stations. Each NPR Member Station serves local listeners with a distinctive combination of national and local programming. With original online content and audio streaming, npr.org offers hourly newscasts, special features and eight years of archived audio and information.
Podcasts Reach Peruvian Villages
Despite this, a new pilot project is using podcasting to get important agricultural information to farmers. The farmers do not yet have the means to listen on portable MP3 players. But UK charity Practical Action has married old and new technology to podcast twice-monthly updates to eight information centres in the Cajamarca region...
Please read the entire article at http://news.bbc.co.uk/1/hi/technology/4688882.stm
Global wi-fi plan
Heavyweight firms such as Google and internet telephony outfit Skype are to invest in an embryonic plan to share wi-fi access around the world. They have joined with venture capital firms to plough $22m (£12.6m) into Fon, a three-month-old Spanish startup. Fon, which has already attracted 3,000 subscribers, aims to build a network of broadband users to share connections wirelessly when away from home...
Please read the entire article at http://news.bbc.co.uk/1/hi/technology/4686914.stm.
Global Citizens Network
Global Citizens Network recognizes the interdependence of people around the world, and that social and economic injustice, racial and ethnic inequality, and ecological loss affect all people. But through cooperative effort, individuals of all cultures can experience and enhance their ability to make a difference in their community and their world. To foster that cooperation, Global Citizens Network sends short-term teams of volunteers to communities in other cultures where participants immerse themselves in the culture and daily life of the community. Each volunteer team is partnered with a local grassroots organization active in meeting local needs. Global Citizens Network creates a worldwide network of people and organizations commited to addressing global issues.
The International Institute for Peace through Tourism
The International Institute for Peace through Tourism (IIPT) is a not-for-profit
organization dedicated to fostering and facilitating tourism initiatives which
contribute to international understanding and cooperation, an improved quality
of environment, the preservation of heritage, and through these initiatives,
help to bring about a peaceful and sustainable world.
International Council of Tourism Partners (ICTP)
Tourism Against Poverty campaign, message from Geoffrey Lipman, ICTP President, June 2005:
Dear Tourism Partners,
A few weeks ago I identified a micro reason for joining the Tourism against Poverty Campaign – the fact that a donation as small as 50p to British Airways Change for Good Campaign can stop 20 children in Africa from going blind for a year.
Now we are seeing the macro level campaign stepped up.
The European Union has initiated action to establish a so-called voluntary levy from airline passengers to provide funds for the war on poverty. This in response to a call from French President Jacques Chirac.
Looking to next month's G8 in Scotland UK Prime Minister Blair will travel to Washington to seek support from President Bush for action to eliminate debt for the poorest countries, to make trade fairer and to increase aid. At the same time Chancellor Gordon Brown will step up the campaign with Finance Ministers starting with the EU and proceeding to incorporate the other world leaders from industrialized and emerging markets.
Brown says that the actions proposed would mean that the world's poorest countries would eliminate 15 billion dollars worth debt servicing costs between now and 2015. He also says that related proposals for an International financing facility would save 5 million lives in the same time period.
The G8 is not the end of the road – it's just another important stepping stone on the long road towards fairness and decency and the implementation of the millennium Development Goals by 2015.
ICTP believes that the world's largest industry should strongly support these initiatives and step firmly down this road – not the least because tourism is the single most important sector for trade and export income for the world's poorest countries. And because we create the kinds of local economic activity that can over time build sustainable self-reliant economic structures based on entrepreneurship, micro-enterprise and local community involvement.
Please join us.
Geoffrey Lipman
President ICTP
The Experiment in International Living
In 1932, a small group of young Americans sailed across the Atlantic fueled by the power of an idea. Their mission was to foster peace through understanding, communication, and cooperation. After 73 years and more than 65,000 participants, The Experiment in International Living continues to be a leader in the field of international cross-cultural education for high school students.
Experiment in International Living programs challenge young people to open their hearts and minds to the world. Each program in 27 countries around the globe immerses participants in the daily life of another culture. For three to five weeks, Experimenters focus on themes such as community service, language study, ecology, travel, or the arts, as they enjoy life with their host families and participate in activities with their group. The centerpiece of this cutting-edge exchange program is the homestay -- based on the belief that the best way to understand another culture is to live as a member of one of its families.
Supported by experienced group leaders and in-country guides, students build communication skills, increase their self-confidence, and enhance their global awareness. Whatever their destination and focus, all Experiment programs engage students in a profoundly moving educational journey of cultural exploration and discovery.
Laboratory of Experimetal Tourism (Latourex)
Please read an article entitled Experimental Tourism Catches On (at CNN.com./travel, published on Monday, September 1, 2003), about Joël Henry, the French founder of the Laboratory of Experimental Tourism (Latourex), who has developed dozens of ideas since coming up with the concept in 1990.
Cuada
In 1991, Lindner spent 6 months on Flores. Flores is the most western of the Azores islands of Portugal, located in the middle of the Atlantic. Together with Teotonia and Carlos Silva, and Hil Peers, she developed a project aiming to make the uniquely authentic villages of Flores accessible to ecotourism. Teotonia and Carlos have since developed the project Aldeia da Cuada.
Kapawi Ecolodge and Reserve
The Kapawi project was initiated in 1993 by Carlos Perez Perasso, founder of Canodros and leader of the Ecuadorian journalism through El Universo the major newspaper in Ecuador, through his vision and passion to nature his goal was to commence a new trend in ecotourism, in partnership with the FINAE Federation of Achuar Indigenous People in Ecuador, by providing a monthly means of economic support and jobs to the Achuar superior to the relatively limited lifestyle in an area of 5.000 square kilometers with a population of 4,500 people in 60 communities. In 2011, all installations will be transfer at any costo to the Achuar people.
The lodge accommodates up to 50 visitors with double and triple accommodations and was built in accordance to the Achuar concept of architecture.
Kapawi is the largest community-based project ever developed in Ecuador. It was developed and built in co-ownership with the private enterprise Canodros. Kapawi was created to provide high service in one of the most remote and pristine areas of southeastern Ecuador, away from oil exploitation and other destructive practices.
At the moment up to 70% percent of all the employees that work at the lodge are Achuar. Canodros also buys products and services for the lodge in the nearby communities. Tourist visitors give a contribution of US $10 dollars as an entrance fee. For these communities the main income comes from ecotourism.
Kapawi has also provided a launching platform for the Achuar as it has brought the area to the attention of many people from non governmental organizations that invested money and time to develop projects to reinforce the structure of the FINAE organization and develop different projects parallel to ecotourism such as: health, communications, transportation, and education for the entire Achuar territory.
The Smangus in Taiwan
Taiwan's Aboriginals, whom anthropologists believe originally migrated from Malaysia or Indonesia, are among the country's most deprived communities.
Mangus and his Atayal people settled on a remote mountain in Hsinchu County after a journey from Nantou County some 400 years ago. Today, 135 descendents of those early settlers have founded the first Israeli-style kibbutz "socialist commune" in an effort to protect their culture and tap the eco-tourist dollar. Please read more in Taipeh Times, in an article entitled "Smangus is God's tribe."