A Moratorium on Humiliation (MH)
HumanDHS is primarily grounded in academic work. We are independent of any religious or political agenda. However, we wish to bring academic work into "real life." Our research focuses on topics such as dignity (with humiliation as its violation), or, more precisely, on respect for equal dignity for all human beings in the world. This is not only our research topic, but also our core value, in line with Article 1 of the Human Rights Declaration that states that every human being is born with equal dignity (that ought not be humiliated). We agree with Shibley Telhami, Anwar Sadat Professor for Peace and Development, who advocates the building of bridges from academia as follows, "I have always believed that good scholarship can be relevant and consequential for public policy. It is possible to affect public policy without being an advocate; to be passionate about peace without losing analytical rigor; to be moved by what is just while conceding that no one has a monopoly on justice." We would like to add that we believe that good scholarship can be relevant and consequential not only for public policy, but for raising awareness in general.

---
We look for interested people, who would like to develop our MH page. Please see our Call for Creativity.

---
To promote a world of equal dignity for all, away from practices of humiliation, our dignity network wishes to promote declarations that call for a Moratorium on Humiliation, both locally and globally. We envision a moratorium similar to the Moratorium On Trade In Small Arms, or the Moratorium On Commercial Whaling. See, for example, Patten, Chris and Lindh, Anna (2001). Let's Control the Small Arms Trade. In International Herald Tribune, June 30.
---
Links
Please note that the entire HumanDHS website is maintained by volunteers, since its inception in 2003, and this is mainly done by Evelin Lindner. Until 2012, she usually pasted interesting news into this Links section. From July 2012 until 2017, she tagged interesting information on delicious.com. From 2017 onward, you see Evelin's personal list of interesting web links on Twitter: Follow @evelinlindner
New UN Chief Guterres Plans to Focus on Human Dignity
NEW YORK (IDN-INS) - On December 12, 2016, António Guterres will be sworn in as the next United Nations Secretary-General. In his vision for the post, Guterres - a former Prime Minister of Portugal and UN High Commissioner for Refugees - has said that the world body is uniquely placed to connect the dots to overcome global challenges and further strengthen the nexus between peace and security, sustainable development and human rights policies. [IDN-INPS – 11 December 2016]
An Interview With Dr. Nora Sveaass: Why Torture is Wrong
by Nilantha Ilangamuwa
... A state that allows torture to happen not only violates international human law but creates a room that is extremely destructive. It undermines the trust and confidence that every society must contain, and such practices open up for more violence and disrespect of human rights. What was attempted as part of the war against terror was to create the picture that better one guilty than many innocent. But there is absolutely no justification for torture. And this campaign has also been used as a way of getting rid of or pacifying opposition. A lot of human rights violations over the last years have taken place under the auspices of fighting terror. The campaigns to fight this are extremely important. In addition, it has been argued, especially from people trained in interrogation and forensic psychology that torture, in addition to be totally wrong, also brings about wrong or false intelligence...
Read more at http://www.counterpunch.org/2013/10/11/why-torture-is-wrong/.
The System Improvement Process
SIP was developed to solve any difficult large-scale social problem. This includes the "excessive humiliation problem." Systems Engineer Jack Harich invites all researchers to study SIP (in a personal message, 15th January 2013).
Monitoring Economic Performance, Quality of Life and Sustainability
December 2010 Joint Report as Requested by the Franco-German Ministerial Council http://www.sachverstaendigenrat-wirtschaft.de/fileadmin/dateiablage/Expertisen/2010/ex10_en.pdf.
Billions 'Wasted' by Aid System
Billions of dollars will be wasted unless there is a radical overhaul of the system of giving aid, a report from a leading aid agency warns. Care International says too much money is being spent on short-term fixes during emergencies, rather than on longer-term prevention work. The number of people living "on the edge of emergency" has nearly doubled to 220 million in two years, Care says. The report comes ahead of a high-level UN meeting on poverty goals next week. Halving poverty and hunger around the world by 2015 are key objectives of the UN's Millennium Development Goals (MDG)...
Please read more at http://news.bbc.co.uk/go/pr/fr/-/2/hi/in_depth/7622275.stm, and download the report from http://www.careinternational.org.uk/?lid=11686.
World Trade Talks End in Collapse
Marathon talks in Geneva aimed at liberalising global trade have collapsed, the head of the World Trade Organisation has said. Pascal Lamy confirmed the failure, which officials have blamed on China, India and the US failing to agree on import rules. EU Trade Commissioner Peter Mandelson said the result was "heartbreaking". The talks were launched in 2001 in Doha and were seen as providing a cornerstone for future global trade. The main stumbling block was farm import rules, which allow countries to protect poor farmers by imposing a tariff on certain goods in the event of a drop in prices or a surge in imports. India, China and the US could not agree on the tariff threshold for such an event...
Please read more at http://news.bbc.co.uk/go/pr/fr/-/1/hi/business/7531099.stm.
Gunman 'Had Links to US Suspect'
A student who gunned down eight people in a Finnish school reportedly chatted online with a teenager accused of plotting a school attack in the US. Pekka-Eric Auvinen discussed the Columbine school massacre and exchanged videos with Dillon Cossey, a lawyer for Mr Cossey told the Associated Press. Material found on Auvinen's computer suggested online contact with the US student, Finnish police said. They said they had not yet talked to US counterparts about the possible link.
Please see more at http://news.bbc.co.uk/go/pr/fr/-/1/hi/world/europe/7091539.stm.
The Earth Federation Movement
The Earth Federation Movement includes a worldwide association of World Constitution and Parliament Association (WCPA) Chapters and affiliated independent organizations, such as many youth, environmental, and human rights organizations, that affirm the creation of a non-military, democratic Earth Federation under the Constitution for the Federation of Earth. We have several web sites associated with our work for global peace with justice, environmental sustainability, and prosperity such as www.earthfederation.info.
Dr. Glen T. Martin is the Secretary-General of WCPA and President of the Institute on World Problems. Since its founding in 1958, the WCPA has focused on creating a non-military, democratic Constitution for the Federation of Earth. It has done this through four Constituent Assemblies of World Citizens meeting from 1968 to 1991, when the Constitution was finally completed in its present form.
WCPA now works to get the nations and people of the world to ratify the Constitution through the criteria specified in Article 17. The Constitution is permeated by the concept of human dignity, focused especially in Articles 12 and 13 on human rights. WCPA sees the ratification of the Earth Constitution as a central structural change, creating global democratic institutions of unity in diversity, that can facilitate the deep spiritual change toward planetary maturity that is also necessary for a world of peace, with justice and sustainability.
Joseph P. Baratta
Joseph P. Baratta (2004)
The Politics of World Federation
Vol.1: The United Nations, U.N. Reform, Atomic Control.
Vol. 2: From World Federalism to Global Governance
Westport, CT: Praeger
Please see here the Introduction to both volumes.
Please see here an editorial on the work of Joseph Baratta and Virginia Swain.
Garry Davis: World Citizenship, World Passport, World Presidency, World Service Authority, World Government of World Citizens, World Government House
Wikipedia: Sol Gareth "Garry" Davis (July 27, 1921 – July 24, 2013) was an international peace activist who created the World Passport, a fantasy travel document based on his interpretation of Article 13(2), Universal Declaration of Human Rights and on the concept of world citizenship. Previously Davis had worked as a Broadway stage actor and served as an American bomber pilot in World War II. He was a devoted World Federalist, although a consistent critic of the World Federalist Movement (quoted from Wikipedia).
Our dear Garry Davis went into hospice care on 18 July 2013, and died six days later. We mourn him in deep admiration for his life work and resonate with every word in Rene Wadlow's lovely reflection on Garry Davis: « And Now the People Have The Floor »
See also:
• Garry Davis's Speechat the 2007 Workshop on Transforming Humiliation and Violent Conflict at Columbia University in New York
• Garry Davis at the 2009 Dignity Conference in Honolulu, Hawai'i
• World Citizen Radio with Garry Davis interviewing Evelin Lindner, Global Radio Alliance, Sunday, November 11, 2012
• Garry Davis and Mariana Vergara in Dialogue on the World Passport at the 2012 Workshop on Transforming Humiliaton and Violent Conflict at Columbia University in New York: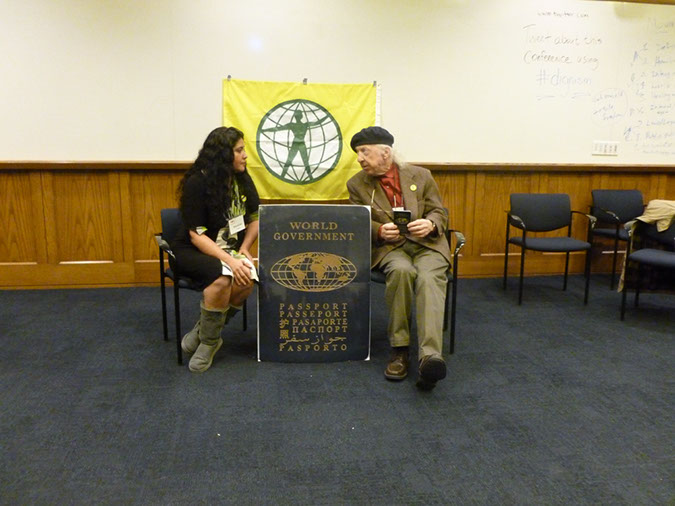 Please click on the picture above or here to see all the 177 photos of Day One of the 2012 Workshop
• Please see also The World Is My Country, and the documentary on Garry Davis by Arthur Kanegis:
Rosika Schwimmer and World Government
Rosika Schwimmer or Bédy-Schwimmer "Rózsa" Rózsika (1877-1948) set out to create a world government. In 1935 she formed the World Centre for Women's Archives with Mary Ritter Beard. She received a World Peace Prize in 1937 and formed the Campaign for World Government with Lola Maverick Lloyd. In 1947 she was nominated for Nobel Peace Prize but no one received it the next year...
Please read more on http://en.wikipedia.org/wiki/Rosika_Schwimmer, or, please read also Remarks on the History of Hungarian Feminism by Judit Acsády.
Richest 2% Own 'Half the Wealth'
By Andrew Walker
Economics correspondent, BBC World Service
The richest 2% of adults in the world own more than half of all household wealth, according to a new study by a United Nations research institute. The report, from the World Institute for Development Economics Research at the UN University, says that the poorer half of the world's population own barely 1% of global wealth. There have of course been many studies of worldwide inequality. But what is new about this report, the authors say, is its coverage.
It deals with all countries in the world - either actual data or estimates based on statistical analysis - and it deals with wealth, where most previous research has looked at income.
What they mean by wealth in this study is what people own, less what they owe - their debts. The assets include land, buildings, animals and financial assets.
Please read the entire article at http://news.bbc.co.uk/go/pr/fr/-/1/hi/business/6211250.stm.
Global Alliance for Ministries and Departments of Peace
Under the name of the People's Initiative for Departments of Peace, the Global Alliance for Ministries and Departments of Peace was launched at the first People's Summit for Departments of Peace, held in London October 18-19, 2005, with the intention of supporting national-level campaigns to establish departments of peace in governments throughout the world. The following articles provide background information on the Global Alliance for Ministries and Departments of Peace.