Global Identity and Equal Dignity (GIED)
HumanDHS is primarily grounded in academic work. We are independent of any religious or political agenda. However, we wish to bring academic work into "real life." Our research focuses on topics such as dignity (with humiliation as its violation), or, more precisely, on respect for equal dignity for all human beings in the world. This is not only our research topic, but also our core value, in line with Article 1 of the Human Rights Declaration that states that every human being is born with equal dignity (that ought not be humiliated). We agree with Shibley Telhami, Anwar Sadat Professor for Peace and Development, who advocates the building of bridges from academia as follows, "I have always believed that good scholarship can be relevant and consequential for public policy. It is possible to affect public policy without being an advocate; to be passionate about peace without losing analytical rigor; to be moved by what is just while conceding that no one has a monopoly on justice." We would like to add that we believe that good scholarship can be relevant and consequential not only for public policy, but for raising awareness in general.

Please see our idea to build Dialogue Houses for Equal Dignity around the world with the aim, among others, to provide space to people who wish to practice "global citizenship." Today's world faces global challenges. Most people, however, live their lives within national boundaries, even if they travel much. In Giving Life to the Human Family and How Becoming a Global Citizen Can Have a Healing Effect, among others, Evelin Lindner makes the point that individuals need not to wait for governments, but can, and need to face these global challenges themselves, and more directly. Dialogue Houses around the world could offer space to people who would like to train global citizenship.

See also Evelin's explanation of her global life design on Evelin's bio page:
"Today, I design my life as a global citizen, without a house of my own, moving around in the 'global village,' being housed by our HumanDHS network and supporters of our work, living digital and without paper, and with a minimum of possessions. I refuse being full-time part of any national institution. I wish to stay globally flexible. I would be the first candidate for a professorship at a World University for Equal Dignity. I am perhaps a Peripatetic (NOT the French abuse of this word), like Aristotle, who taught philosophy while walking in the Lyceum of ancient Athens. I walk in the global village, because I wish do to more than decry the world's ineptitude to address its global challenges. I wish to adapt my personal life to the world's global challenges, bring my life to scale so-to-speak. Living a global life is one of my ways of not just talk, but walk my talk."

Please read also about the "tools" necessary for a global community to function in peace, the tools to connect in humility:
• Detach! Weak Ties Can Further Social Peace (from micro - to macro level)
• Twenty-to-Two, Women and Men! Coercion and Respect Can Be Combined (macro level)

---
Leonard Ira Morgenbesser has developed ideas as to how we could discuss and brainstorm on the experiences and insights scholars and practitioners can contribute with who live as global citizens and who have developed a core identity of shared humanity that nurtures diversity.
a conference on global idenity
a journal on global identity
mentorship of global identity
---
Arie Nadler and Lindner were entertaining a discussion on identity, or, more precisely, on which kinds of personal and group identities would be beneficial for a peaceful world in the future, and which kinds of identities might be psychologically feasible. Lindner's metaphor for her personal idenity is the sunflower and the way it manifests unity in diversity by way of subsidiarity: the petals represent the diversity of her identity, her many cultural and personal connections that she has developed during her lifetime throughout the world, while at the core all diversity is brought together into her primary identity of being a fellow human being. Subsidiarity is expressed through the petals taking second place, while the core is first in importance.

Please see also an article by Koichi Nagashima on what he calls a glocal approach to developing culture throughout the world. This article is written for architecture but applies also to how to build global identity.
---
Arne Næss, in our foundational conference in 2003, in Paris, emphasized his view that all human beings, without any exception, first and foremost are human beings. He explained how he invited people from prison into his philosophy class at university, so as to demonstrate to his students that "there are no muderers" - rather, "these are human beings, who have murdered."
---
Please note that the entire HumanDHS website is maintained by volunteers, since its inception in 2003, and this is mainly done by Evelin Lindner. Until 2012, she usually pasted interesting news into this Links section. From July 2012 until 2017, she tagged interesting information on delicious.com. From 2017 onward, you see Evelin's personal list of interesting web links on Twitter: Follow @evelinlindner
New UN Chief Guterres Plans to Focus on Human Dignity
NEW YORK (IDN-INS) - On December 12, 2016, António Guterres will be sworn in as the next United Nations Secretary-General. In his vision for the post, Guterres - a former Prime Minister of Portugal and UN High Commissioner for Refugees - has said that the world body is uniquely placed to connect the dots to overcome global challenges and further strengthen the nexus between peace and security, sustainable development and human rights policies. [IDN-INPS – 11 December 2016]
Leitartikel: Kampf den Avataren, Der Spiegel 21, 19.05.2014
Google missbraucht seine Macht und muss daher von der Politik neue Regeln bekommen....Google baut digitale Avatare von uns und spielt mit denen das große Konsumspiel. Dies verletzt die Würde des Menschen, und die soll unantastbar sein, sagt das Grundgesetz. Der Europäische Gerichtshof hat eine richtige Entscheidung getroffen. Wer sich vor einem falschen oder veralteten Bild seiner Persönlichkeit schützen will, kann sich an die Suchmaschinen wenden. Aber das greift zu kurz und ist prinzipiell der falsche Ansatz. Nicht der Bürger muss sich gegen die Datenkraken stemmen, sondern der Staat. Datenschutz sollte ähnlich wie Umweltschutz zur vordringlichen Staatsaufgabe werden. Auch die Umwelt wurde über Jahrzehnte vergiftet, weil man es einer verantwortungslosen Industrie überließ, ihre Profite auf den Verbrauch natürlicher Ressourcen zu gründen, ohne dafür zu zahlen. Der Staat hat die Pflicht, nicht nur die natürlichen Ressourcen der Menschheit zu bewahren, sondern ebenso ihre persönliche Ressource, die Würde. Die Politiker müssen sich jetzt um eine digitale Weltordnung kümmern, einen Gesetzesrahmen, der Machtmissbrauch verhindert. ... Wenn nicht die Politik Google einen Rahmen setzt, dann setzt bald Google der Politik einen Rahmen. Und verändert die Demokratie, wie wir sie kennen...
Read more at http://www.spiegel.de/spiegel/print/d-127078940.html.
Globale Allmende
Der Autor, Gunther Mair, befasst sich mit Fragen, die den Umgang des Einzelnen mit Gütern der Gemeinschaft betreffen, Fragen, die globale Ausmaße annehmen (Klima, Ressourcen, Finanzmarkt). Für die Bearbeitung dieser Frage erhielt Elinor Ostrom 2009 (als erste Frau) den Wirtschaftsnobelpreis.
The System Improvement Process
SIP was developed to solve any difficult large-scale social problem. This includes the "excessive humiliation problem." Systems Engineer Jack Harich invites all researchers to study SIP (in a personal message, 15th January 2013).
Monitoring Economic Performance, Quality of Life and Sustainability
December 2010 Joint Report as Requested by the Franco-German Ministerial Council http://www.sachverstaendigenrat-wirtschaft.de/fileadmin/dateiablage/Expertisen/2010/ex10_en.pdf.
The Ranks of the Digital Nomad Are Swelling
Mr Lark told BBC News that the ranks of the digital nomad were swelling as were expectations about the functions their laptops and notebooks could perform...
Please read the entire article at http://news.bbc.co.uk/go/pr/fr/-/1/hi/technology/7557604.stm.
Net Body Issues Plea for Liberty
The overseer of the net's addressing system has asked the US government to be freed from official control. Icann made the plea in a lengthy report sent to the US Department of Commerce...
Please read more at http://news.bbc.co.uk/go/pr/fr/-/1/hi/technology/7205609.stm.
Civil Paths to Peace: Report of the Commonwealth Commission on Respect and Understanding
9 November 2007
"Group violence through systematic instigation is not only – perhaps not even primarily – a military challenge. It is fostered in our divisive world through capturing people's minds and loyalties, and through exploiting the allegiance of those who are wholly or partly persuaded." -- Amartya Sen
'$100 laptop' to Sell to Public
By Jonathan Fildes
Science and technology reporter, BBC News
Computer enthusiasts in the developed world will soon be able to get their hands on the so-called "$100 laptop".
The organisation behind the project has launched the "give one, get one" scheme that will allow US residents to purchase two laptops for $399 (£198).
Please read the entire article at http://news.bbc.co.uk/go/pr/fr/-/1/hi/technology/6994957.stm and on http://www.xogiving.org/
Globalisation for the Common Good Initiative
In 2002, the Globalisation for the Common Good Initiative began at Oxford. After six years and with six global conferences, books and many articles, as well as its own web site and the Journal of Globalization for the Common Good to its credit, the movement has become known to, and respected by, many around the world. We have developed a successful track record of bringing together a diverse collection of scholars, researchers, NGO leaders, policymakers, young people, religious and spiritual leaders from around the world for intense discussions on a spiritual and value-centred vision of globalisation and the common good. Indeed, we have now moved from research and discussion to articulate position papers and an active agenda for change in the international community and its economic and development policies.
The Earth Federation Movement
The Earth Federation Movement includes a worldwide association of World Constitution and Parliament Association (WCPA) Chapters and affiliated independent organizations, such as many youth, environmental, and human rights organizations, that affirm the creation of a non-military, democratic Earth Federation under the Constitution for the Federation of Earth. We have several web sites associated with our work for global peace with justice, environmental sustainability, and prosperity such as www.earthfederation.info.
Dr. Glen T. Martin is the Secretary-General of WCPA and President of the Institute on World Problems. Since its founding in 1958, the WCPA has focused on creating a non-military, democratic Constitution for the Federation of Earth. It has done this through four Constituent Assemblies of World Citizens meeting from 1968 to 1991, when the Constitution was finally completed in its present form.
WCPA now works to get the nations and people of the world to ratify the Constitution through the criteria specified in Article 17. The Constitution is permeated by the concept of human dignity, focused especially in Articles 12 and 13 on human rights. WCPA sees the ratification of the Earth Constitution as a central structural change, creating global democratic institutions of unity in diversity, that can facilitate the deep spiritual change toward planetary maturity that is also necessary for a world of peace, with justice and sustainability.
Joseph P. Baratta
Joseph P. Baratta (2004)
The Politics of World Federation
Vol.1: The United Nations, U.N. Reform, Atomic Control.
Vol. 2: From World Federalism to Global Governance
Westport, CT: Praeger
Please see here the Introduction to both volumes.
Please see here an editorial on the work of Joseph Baratta and Virginia Swain.
Garry Davis: World Citizenship, World Passport, World Presidency, World Service Authority, World Government of World Citizens, World Government House
Wikipedia: Sol Gareth "Garry" Davis (July 27, 1921 – July 24, 2013) was an international peace activist who created the World Passport, a fantasy travel document based on his interpretation of Article 13(2), Universal Declaration of Human Rights and on the concept of world citizenship. Previously Davis had worked as a Broadway stage actor and served as an American bomber pilot in World War II. He was a devoted World Federalist, although a consistent critic of the World Federalist Movement (quoted from Wikipedia).
Our dear Garry Davis went into hospice care on 18 July 2013, and died six days later. We mourn him in deep admiration for his life work and resonate with every word in Rene Wadlow's lovely reflection on Garry Davis: « And Now the People Have The Floor »
See also:
• Garry Davis's Speechat the 2007 Workshop on Transforming Humiliation and Violent Conflict at Columbia University in New York
• Garry Davis at the 2009 Dignity Conference in Honolulu, Hawai'i
• World Citizen Radio with Garry Davis interviewing Evelin Lindner, Global Radio Alliance, Sunday, November 11, 2012
• Garry Davis and Mariana Vergara in Dialogue on the World Passport at the 2012 Workshop on Transforming Humiliaton and Violent Conflict at Columbia University in New York: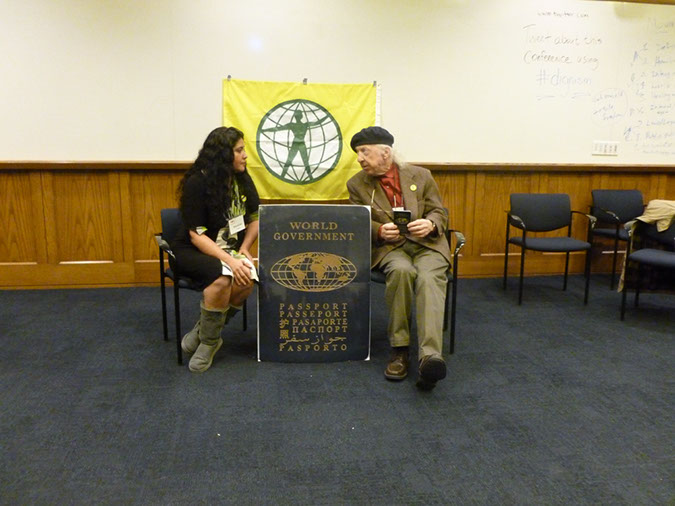 Please click on the picture above or here to see all the 177 photos of Day One of the 2012 Workshop
• Please see also The World Is My Country, and the documentary on Garry Davis by Arthur Kanegis:
Rosika Schwimmer and World Government
Rosika Schwimmer or Bédy-Schwimmer "Rózsa" Rózsika (1877-1948) set out to create a world government. In 1935 she formed the World Centre for Women's Archives with Mary Ritter Beard. She received a World Peace Prize in 1937 and formed the Campaign for World Government with Lola Maverick Lloyd. In 1947 she was nominated for Nobel Peace Prize but no one received it the next year...
Please read more on http://en.wikipedia.org/wiki/Rosika_Schwimmer, or, please read also Remarks on the History of Hungarian Feminism by Judit Acsády.
Thunderbird
Introduction and Mission Statement from Thunderbird's Website:
Founded in 1946, Thunderbird is the oldest graduate management school focused exclusively on global business. Regarded as the world's leading institution in the education of global managers, the curriculum is based on the principle that to do business on a global scale, executives must not only know the intricacies of business, but also understand the customs of other countries and be able to communicate with different cultures. Worldwide, 35,500 Thunderbird alumni live and work in more than 140 countries.
Thunderbird's unique mission is grounded in our steadfast commitment to furthering worldwide prosperity by educating the leaders of global enterprises. Summed up in the phrase, "borders frequented by trade seldom need soldiers," the worldwide Thunderbird community is the living embodiment of the belief that global management can be a force for positive economic and social change.
To prepare global managers to fulfill this mission, Thunderbird offers a unique and powerful educational experience that teaches the application of management knowledge across cultures, borders, and socio-economic systems. This ability to work successfully with individuals from diverse cultures and to manage effectively in different social, economic, and political environments is both the core value we provide and the essential characteristic that sets T-birds apart from their peers.
While Thunderbird has remained consistent in its mission, the School has a long history of anticipating market needs. Thunderbird's founding was itself visionary, coming long before the need for global management talent was widely recognized. In the six decades since, Thunderbird has continuously met the challenges of a dynamic global market and rightfully earned its reputation as the world's top-ranked school of global management.
Today, the continuous march of globalization means the Thunderbird mission has never been more relevant and in demand. We will seize this opportunity to enhance our rich legacy to firmly establish Thunderbird as the world's foremost learning community for global managers and global enterprises.
Virtual Pals 'Soar in Importance'
Virtual communities are as important as their real-world counterparts, many members of online communities believe. A survey found 43% of online networkers from the US felt "as strongly" about their web community as they did about their real-world friends.
It also revealed net-users had made an average of 4.6 virtual pals this year.
The survey, from the US-based Center for the Digital Future, of 2,000 individuals forms part of a six-year study into attitudes to the web...
Please read the entire article at http://news.bbc.co.uk/go/pr/fr/-/1/hi/technology/6158935.stm.
The Pixel Press
At PixelPress our intent is to encourage documentary photographers, writers, filmmakers, artists, human rights workers and students to explore the world in ways that take advantage of the new possibilities provided by digital media. We seek a new paradigm of journalism, one that encourages an active dialogue between the author and reader and, also, the subject. Our online magazine features projects that use a variety of linear and non-linear strategies, attempting to articulate visions of human possibility even while confirming human frailty. For us the digital revolution is a revolution in consciousness, not in commerce. We work with organizations such as Crimes of War, Human Rights Watch, World Health Organization and UNICEF to create Web sites that deal directly with contemporary issues in complex and innovative ways that circumvent media sensationalism and simplification. We also try to factor in ways that the viewer can help remedy social problems, rather than remain a spectator. Recently we completed a site focusing on how to end polio worldwide; another trying to aid an orphanage in Rwanda; one trying to reclaim the Brazilian forest; and a site featuring the images of photographers from the Vietnam War. And we also create books with photographers such as Machiel Botman, Kent Klich and Sebastião Salgado on social themes, as well as traveling exhibitions using both digital and conventional processes.
Zahid Shahab Ahmed (personal message, 22nd March 2006):
Recently, I saw one of the Indian movies Lakshya, which is based on the most recent war (1999) between India and Pakistan. In the movie a soldier replied to the following question: why we go for a war? By saying, the one who created this planet, created it equal and undivided for everyone. But we human being divided it with weapons I am glad moon is not on our planet otherwise we could have divided it too.
...
We really have to encounter nationalism with globalism. I was thinking why not to give this nationality to people globalism or EWNS, because many must not be feeling comfortable carrying special passports while feeling being identified as a global citizen. Therefore, EWNS came into my mind: East West North South; means from all over the world.
The Experiment in International Living
In 1932, a small group of young Americans sailed across the Atlantic fueled by the power of an idea. Their mission was to foster peace through understanding, communication, and cooperation. After 73 years and more than 65,000 participants, The Experiment in International Living continues to be a leader in the field of international cross-cultural education for high school students. Experiment in International Living programs challenge young people to open their hearts and minds to the world. Each program in 27 countries around the globe immerses participants in the daily life of another culture. For three to five weeks, Experimenters focus on themes such as community service, language study, ecology, travel, or the arts, as they enjoy life with their host families and participate in activities with their group. The centerpiece of this cutting-edge exchange program is the homestay -- based on the belief that the best way to understand another culture is to live as a member of one of its families. Supported by experienced group leaders and in-country guides, students build communication skills, increase their self-confidence, and enhance their global awareness. Whatever their destination and focus, all Experiment programs engage students in a profoundly moving educational journey of cultural exploration and discovery.