Global Ethics for Equal Dignity (GEthicsED)
HumanDHS is primarily grounded in academic work. We are independent of any religious or political agenda. However, we wish to bring academic work into "real life." Our research focuses on topics such as dignity (with humiliation as its violation), or, more precisely, on respect for equal dignity for all human beings in the world. This is not only our research topic, but also our core value, in line with Article 1 of the Human Rights Declaration that states that every human being is born with equal dignity (that ought not be humiliated). We agree with Shibley Telhami, Anwar Sadat Professor for Peace and Development, who advocates the building of bridges from academia as follows, "I have always believed that good scholarship can be relevant and consequential for public policy. It is possible to affect public policy without being an advocate; to be passionate about peace without losing analytical rigor; to be moved by what is just while conceding that no one has a monopoly on justice." We would like to add that we believe that good scholarship can be relevant and consequential not only for public policy, but for raising awareness in general.

---
We look for interested people, who would like to develop our GEthicsED page. Please see our Call for Creativity.

---
Article 1 of the Universal Declaration of Human Rights of 1948 states that "all human beings are born free and equal in dignity and rights." Global ethical norms are "not utopian. They are a realistic vision of hope," posits theologian Hans Küng (2004). Global ethical norms play out as injunctions and commitments, whereof the last is as follows: "Not to abuse sexuality, cheat, humiliate or dishonor, but to commit to a culture of partnership and equal dignity for men and women" (italics added).
---


Links
Please note that the entire HumanDHS website is maintained by volunteers, since its inception in 2003, and this is mainly done by Evelin Lindner. Until 2012, she usually pasted interesting news into this Links section. From July 2012 until 2017, she tagged interesting information on delicious.com. From 2017 onward, you see Evelin's personal list of interesting web links on Twitter: Follow @evelinlindner
New UN Chief Guterres Plans to Focus on Human Dignity
NEW YORK (IDN-INS) - On December 12, 2016, António Guterres will be sworn in as the next United Nations Secretary-General. In his vision for the post, Guterres - a former Prime Minister of Portugal and UN High Commissioner for Refugees - has said that the world body is uniquely placed to connect the dots to overcome global challenges and further strengthen the nexus between peace and security, sustainable development and human rights policies. [IDN-INPS – 11 December 2016]
Globale Allmende
Der Autor, Gunther Mair, befasst sich mit Fragen, die den Umgang des Einzelnen mit Gütern der Gemeinschaft betreffen, Fragen, die globale Ausmaße annehmen (Klima, Ressourcen, Finanzmarkt). Für die Bearbeitung dieser Frage erhielt Elinor Ostrom 2009 (als erste Frau) den Wirtschaftsnobelpreis.
The System Improvement Process
SIP was developed to solve any difficult large-scale social problem. This includes the "excessive humiliation problem." Systems Engineer Jack Harich invites all researchers to study SIP (in a personal message, 15th January 2013).
The Attraction of Tax Breaks Switzerland Grows into Global Commodities Hub
By Alexander Jung and Anne Seith, 06/29/2012
Switzerland has quietly developed into the global center of commodities trading. Critics say the industry's business practices in countries such as Congo and Zambia are immoral, and that it puts profits before people... Read more.
China Communists Get New Ethics
By Quentin Sommerville BBC News, Beijing
In China, the Communist Party has issued a new 52-point ethics code, in an attempt to control growing corruption among officials. The code bans members from property speculation, money-making deals, and lavish expenditure. The last set of rules was issued 13 years ago. Corruption has become an increasingly hot topic among the public - graft often tops the list of issues of most concern for ordinary Chinese citizens.
Lavish lives: Party officials should work hard to serve the people and avoid accepting gifts or using their influence to benefit family members, according to the new ethics code. The guide bans lavish weddings and funerals, and overseas tours. Officials should also stay out of profit-making deals, the code says. But few do. Some of the most senior party officials in China have been on the take - property speculation has been particularly popular. The richer the country gets the bigger the sums involved. Spending lavish amounts on government buildings or flash cars is also banned. In some provinces, party and government headquarters are indistinguishable from plush five star hotels. The latest luxury sedans are often used to ferry around officials. China's one-party system has struggled to deal with endemic corruption, much to the annoyance of the general public....
Please read more at http://news.bbc.co.uk/go/pr/fr/-/2/hi/asia-pacific/8533410.stm.
Niger Ex-slave Wins Landmark Case
A West African court has found Niger's government guilty of failing to protect a woman from slavery in a landmark case for the region. The court found in favour of Hadijatou Mani, who says she was sold aged 12 and made to work for 10 years. A judge ordered the government - which says it has done all it can to eradicate slavery - to pay Ms Mani 10m CFA francs (£12,430; $19,750). Despite being outlawed, slavery also persists in other West African states...
Please read more at http://news.bbc.co.uk/go/pr/fr/-/2/hi/africa/7692396.stm.
Internet Game for Survivors of War
A charity has launched an internet game to raise awareness about victims of war, in which the object is to help a displaced Ugandan boy find his mother. The British Red Cross game is among the first charity Alternative Reality Games (ARG), with clues on various websites. Traces of Hope aims to engage players in treasure-hunt style game-play as they use detective skills to compete. The game is set in northern Uganda, where a 20-year rebellion has forced two million people to flee their homes. Having just arrived in a camp for displaced people called "Hopetown", Joseph, 16, has 24 hours to track down a Red Cross messenger who might have news from his mother. The Red Cross works to reconnect families separated by conflict. After signing up for the game, players will have to wait for Joseph to contact them with news of his situation. The game's designers say they have placed clues and solutions around the internet in order to blur the boundaries between the game and the real world. Players go to real websites as they try to help Joseph. The game was scripted by one of the creators of KateModern, the UK's biggest online interactive drama series...
Please read more at http://news.bbc.co.uk/2/hi/africa/7638581.stm.
Australia Abandons Asylum Policy
The new Australian government has abandoned the country's controversial policy of jailing all asylum seekers. In a major overhaul of immigration rules, the policy of detaining would-be asylum seekers in often remote jails will now be used only as a last resort. Children will no longer be held, and adults who are detained will have their situation evaluated every three months. Immigration Minister Chris Evans called the decision a move towards "more humane" treatment of asylum seekers. Human rights groups welcomed the announcement. Amnesty International called the reforms a "welcome step forward" that would bring Australia's system "into line with other Western democracies".
'Human dignity':
The strict policy of detaining asylum seekers and visitors who overstayed their visas was brought in by a former Labor government in the 1990s. But it was its hard-line enforcement by conservative leader John Howard that drew criticism from rights groups and the United Nations.
Please read more at http://news.bbc.co.uk/go/pr/fr/-/1/hi/world/asia-pacific/7530156.stm.
World Trade Talks End in Collapse
Marathon talks in Geneva aimed at liberalising global trade have collapsed, the head of the World Trade Organisation has said. Pascal Lamy confirmed the failure, which officials have blamed on China, India and the US failing to agree on import rules. EU Trade Commissioner Peter Mandelson said the result was "heartbreaking". The talks were launched in 2001 in Doha and were seen as providing a cornerstone for future global trade. The main stumbling block was farm import rules, which allow countries to protect poor farmers by imposing a tariff on certain goods in the event of a drop in prices or a surge in imports. India, China and the US could not agree on the tariff threshold for such an event...
Please read more at http://news.bbc.co.uk/go/pr/fr/-/1/hi/business/7531099.stm.
2007 State of the Future
By Jerome C. Glenn and Theodore J. Gordon
Article by Yuwei Zhang in the UN Chronicle Online Edition:
Providing a comprehensive overview of global trends and challenges, the 2007 State of the Future was launched at UN Headquarters in New York on 10 September 2007.
Produced by the Millennium Project, under the auspices of the World Federation of UN Associations (WFUNA), the State of the Future report contains insights into the Project's work from a variety of creative and knowledgeable people, obtaining information from and getting feed back on emerging crises, opportunities, strategic priorities and the feasibility of actions. The report comes in two parts: an extensive 99-page executive summary, and a compact disc containing over 6,000 pages of research, including the Millennium Project's 11 years of cumulative research.
"The Millennium Project brings together futurists, scholars, business partners and policymakers who work for international organizations, Governments, non-governmental organizations (NGOs) and universities," said UN Under-Secretary-General for Communications and Public Information Kiyo Akasaka, who hosted the book launch. As one of the primary products of the Millennium Project, "it collects and assesses judgments from several hundred participants to produce the annual State of the Future report", he remarked.
"All of us have been in situations where we've been asked to provide a big picture of economics, education, politics … but that is extremely difficult to do", Jerome Glenn pointed out, adding that producing such a complex annual report was a daunting task when he first started the research in 1992. He explained: "We can document a range of potential futures and we have an ongoing and continuous feedback system with our nodes around the world." It is a decentralized and globalized think tank, said Mr. Glenn, who has over 30 years of experience in futures research for Governments, international organizations and private industry. Co-founder and Director of the Millennium Project, Mr. Glenn told the UN Chronicle that it was an ongoing and accumulative project with specialized studies for each year's report. Chapter 3 of the 2007 report presents 19 possibilities that could influence future education and learning by the year 2030 in a special study which distills insights from more than 200 participants from around the world.
A new idea mentioned in the report is "trans-institution", according to Mr. Glenn, which is a kind of new institutional invention that allows independent organizations—Governments, corporations, NGOs, universities, individuals and the United Nations or international organizations—to act like a trans-institution and cooperate with each other. The report states: "Each trans-institution could improve global resilience as coalitions of the willing, composed of national resilience officers and their counterparts in corporations, NGOs, universities and international organizations." Mr. Glenn also suggested that trans-institutions should be created for each of the Millennium Development Goals (MDGs), which are referred to throughout the report.
Speaking at the book launch, Stephen Schlesinger, former Director of the World Policy Institute at the New School University, said: "This is quite an extraordinary project. It is a balanced, nuanced, forward-looking and prerogative document." The 2007 State of Future report is about bringing nations together and working in unison. "The notion of the UN itself is collective security, which is about nations working together for the benefit of all humankind", Professor Schlesinger noted. Hoping the report will be well-circulated both within and outside the Organization, he said that as we are reaching the end of the first decade of the twenty-first century, it would be a most reliable guide, which would help form the UN agenda for the future.
For more information on the Millennium Project, please visit: http://www.millennium-project.org
The Executive Summary of the report can be viewed at:
http://www.millennium-project.org/millennium/sof2007-exec-summ.pdf.
'$100 laptop' to Sell to Public
By Jonathan Fildes
Science and technology reporter, BBC News
Computer enthusiasts in the developed world will soon be able to get their hands on the so-called "$100 laptop".
The organisation behind the project has launched the "give one, get one" scheme that will allow US residents to purchase two laptops for $399 (£198).
Please read the entire article at http://news.bbc.co.uk/go/pr/fr/-/1/hi/technology/6994957.stm and on http://www.xogiving.org/.
The Earth Federation Movement
The Earth Federation Movement includes a worldwide association of World Constitution and Parliament Association (WCPA) Chapters and affiliated independent organizations, such as many youth, environmental, and human rights organizations, that affirm the creation of a non-military, democratic Earth Federation under the Constitution for the Federation of Earth. We have several web sites associated with our work for global peace with justice, environmental sustainability, and prosperity such as www.earthfederation.info.
Dr. Glen T. Martin is the Secretary-General of WCPA and President of the Institute on World Problems. Since its founding in 1958, the WCPA has focused on creating a non-military, democratic Constitution for the Federation of Earth. It has done this through four Constituent Assemblies of World Citizens meeting from 1968 to 1991, when the Constitution was finally completed in its present form.
WCPA now works to get the nations and people of the world to ratify the Constitution through the criteria specified in Article 17. The Constitution is permeated by the concept of human dignity, focused especially in Articles 12 and 13 on human rights. WCPA sees the ratification of the Earth Constitution as a central structural change, creating global democratic institutions of unity in diversity, that can facilitate the deep spiritual change toward planetary maturity that is also necessary for a world of peace, with justice and sustainability.
Joseph P. Baratta
Joseph P. Baratta (2004)
The Politics of World Federation
Vol.1: The United Nations, U.N. Reform, Atomic Control.
Vol. 2: From World Federalism to Global Governance
Westport, CT: Praeger
Please see here the Introduction to both volumes.
Please see here an editorial on the work of Joseph Baratta and Virginia Swain.
Garry Davis: World Citizenship, World Passport, World Presidency, World Service Authority, World Government of World Citizens, World Government House
Wikipedia: Sol Gareth "Garry" Davis (July 27, 1921 – July 24, 2013) was an international peace activist who created the World Passport, a fantasy travel document based on his interpretation of Article 13(2), Universal Declaration of Human Rights and on the concept of world citizenship. Previously Davis had worked as a Broadway stage actor and served as an American bomber pilot in World War II. He was a devoted World Federalist, although a consistent critic of the World Federalist Movement (quoted from Wikipedia).
Our dear Garry Davis went into hospice care on 18 July 2013, and died six days later. We mourn him in deep admiration for his life work and resonate with every word in Rene Wadlow's lovely reflection on Garry Davis: « And Now the People Have The Floor »
See also:
• Garry Davis's Speechat the 2007 Workshop on Transforming Humiliation and Violent Conflict at Columbia University in New York
• Garry Davis at the 2009 Dignity Conference in Honolulu, Hawai'i
• World Citizen Radio with Garry Davis interviewing Evelin Lindner, Global Radio Alliance, Sunday, November 11, 2012
• Garry Davis and Mariana Vergara in Dialogue on the World Passport at the 2012 Workshop on Transforming Humiliaton and Violent Conflict at Columbia University in New York: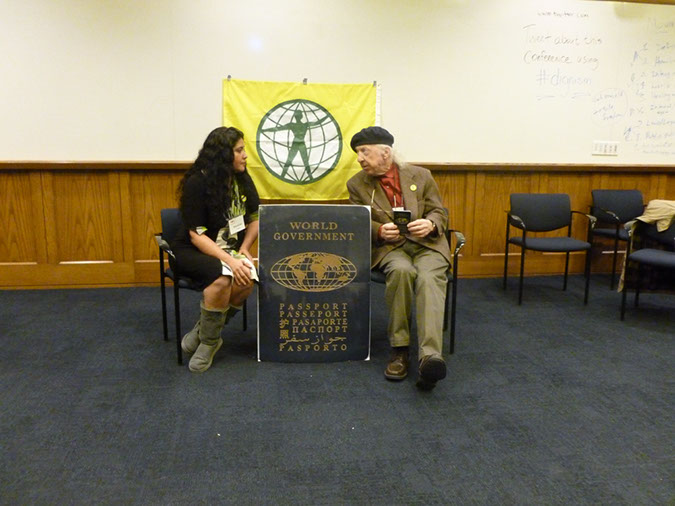 Please click on the picture above or here to see all the 177 photos of Day One of the 2012 Workshop
• Please see also The World Is My Country, and the documentary on Garry Davis by Arthur Kanegis:
Rosika Schwimmer and World Government
Rosika Schwimmer or Bédy-Schwimmer "Rózsa" Rózsika (1877-1948) set out to create a world government. In 1935 she formed the World Centre for Women's Archives with Mary Ritter Beard. She received a World Peace Prize in 1937 and formed the Campaign for World Government with Lola Maverick Lloyd. In 1947 she was nominated for Nobel Peace Prize but no one received it the next year...
Please read more on http://en.wikipedia.org/wiki/Rosika_Schwimmer, or, please read also Remarks on the History of Hungarian Feminism by Judit Acsády.
Richest 2% Own 'Half the Wealth'
By Andrew Walker
Economics correspondent, BBC World Service
The richest 2% of adults in the world own more than half of all household wealth, according to a new study by a United Nations research institute. The report, from the World Institute for Development Economics Research at the UN University, says that the poorer half of the world's population own barely 1% of global wealth. There have of course been many studies of worldwide inequality. But what is new about this report, the authors say, is its coverage.
It deals with all countries in the world - either actual data or estimates based on statistical analysis - and it deals with wealth, where most previous research has looked at income.
What they mean by wealth in this study is what people own, less what they owe - their debts. The assets include land, buildings, animals and financial assets.
Please read the entire article at http://news.bbc.co.uk/go/pr/fr/-/1/hi/business/6211250.stm.
The Pixel Press
At PixelPress our intent is to encourage documentary photographers, writers, filmmakers, artists, human rights workers and students to explore the world in ways that take advantage of the new possibilities provided by digital media. We seek a new paradigm of journalism, one that encourages an active dialogue between the author and reader and, also, the subject. Our online magazine features projects that use a variety of linear and non-linear strategies, attempting to articulate visions of human possibility even while confirming human frailty. For us the digital revolution is a revolution in consciousness, not in commerce. We work with organizations such as Crimes of War, Human Rights Watch, World Health Organization and UNICEF to create Web sites that deal directly with contemporary issues in complex and innovative ways that circumvent media sensationalism and simplification. We also try to factor in ways that the viewer can help remedy social problems, rather than remain a spectator. Recently we completed a site focusing on how to end polio worldwide; another trying to aid an orphanage in Rwanda; one trying to reclaim the Brazilian forest; and a site featuring the images of photographers from the Vietnam War. And we also create books with photographers such as Machiel Botman, Kent Klich and Sebastião Salgado on social themes, as well as traveling exhibitions using both digital and conventional processes.
Global Information Media
The Global Community has now streamlined the Global Information Media and have a new webpage for the Global Information Media.
Codes of Ethics Online (Center for the Study of Ethics in the Professions, Illinois Institute of Technology)
Index of Codes:
Agriculture
Animal Breeding and Care
Arts
Business
Communications
Computing and Information Systems
Construction
Education Academia
Engineering
Finance
Fraternal Social Organizations
Government Military
Health Care
Industrial
Law and Legal
Management
Media
Other Professions
Real Estate
Religion
Service
Science
Sports and Athletics
Travel and Transportation
Global Ethic Foundation
Professor Hans Küng is the Director of the Global Ethic Foundation, Tübingen, Germany. He was the author of the original Declaration Toward a Global Ethic adopted by the Assembly of Religious and Spiritual Leaders at the 1993 Parliament of the World's Religions (Chicago). His article on A Global Ethic was first presented at the multi-religious conference, "A Global Ethic and Its Relevance for the United Kingdom," hosted by the University of Glasgow,UK, November 2001. It has been published in Interreligious Insight: A Journal of Dialogue and Engagement.
Hopefull realist Hans Küng points pathway to global ethics (2004): "All of the world's main creeds sanction the humane treatment of each person and the observance of the Golden Rule. From these two principles stem core standards and values, which, if followed, will deliver the peace and justice the world dreams of and avoid the clash of civilizations that thinkers less optimistic than Küng have predicted.
These two sweeping ethical norms are "not utopian. They are a realistic vision of hope," he told NCR. They play themselves out as injunctions and commitments:
• Not to murder, torture, torment or wound, but to commit oneself to a culture of nonviolence and reverence for life;
• Not to lie, deceive, forge, manipulate, but to speak truthfully and act tolerantly;
• Not to steal, exploit, bribe or corrupt but to work toward a culture of fairness and a just economic order;
• Not to abuse sexuality, cheat, humiliate or dishonor, but to commit to a culture of partnership and equal dignity for men and women."