World Dialogue for Equal Dignity (WDialogueED)
HumanDHS is primarily grounded in academic work. We are independent of any religious or political agenda. However, we wish to bring academic work into "real life." Our research focuses on topics such as dignity (with humiliation as its violation), or, more precisely, on respect for equal dignity for all human beings in the world. This is not only our research topic, but also our core value, in line with Article 1 of the Human Rights Declaration that states that every human being is born with equal dignity (that ought not be humiliated). We agree with Shibley Telhami, Anwar Sadat Professor for Peace and Development, who advocates the building of bridges from academia as follows, "I have always believed that good scholarship can be relevant and consequential for public policy. It is possible to affect public policy without being an advocate; to be passionate about peace without losing analytical rigor; to be moved by what is just while conceding that no one has a monopoly on justice." We would like to add that we believe that good scholarship can be relevant and consequential not only for public policy, but for raising awareness in general.

Our quest for dignity aims at building bridges from social science to other areas of life. We wish to envision novel ways for people around the world to build relationships across frontiers and learn from each other. To promote the vision of a world of equal dignity for all, away from practices of humiliation, we have to work for dialogue, locally and globally.

---
We look for interested people, who would like to develop our WDialogueED page. Please see our Call for Creativity.
---
Please read here, by Richard Evanoff, A Communicative Approach to Intercultural Dialogue on Ethics, paper presented at the 2005 Aoyama Symposium on International Communication "Exploring the Current Status and Future Direction of International Communication as a Field of Study," 5th March 2005, at the School of International Politics and Economics, Aoyama Gakuin University, Tokyo, Japan.

And read also The Dialogue on Humiliation by Sultan H. Somjee, September 2004.

---
Links
Please note that the entire HumanDHS website is maintained by volunteers, since its inception in 2003, and this is mainly done by Evelin Lindner. Until 2012, she usually pasted interesting news into this Links section. From July 2012 until 2017, she tagged interesting information on delicious.com. From 2017 onward, you see Evelin's personal list of interesting web links on Twitter: Follow @evelinlindner
'$100 laptop' to Sell to Public
By Jonathan Fildes
Science and technology reporter, BBC News
Computer enthusiasts in the developed world will soon be able to get their hands on the so-called "$100 laptop".
The organisation behind the project has launched the "give one, get one" scheme that will allow US residents to purchase two laptops for $399 (£198).
Please read the entire article at http://news.bbc.co.uk/go/pr/fr/-/1/hi/technology/6994957.stm and on http://www.xogiving.org/.
Net Gains for Tiny Pacific Nation
An atoll in the South Pacific has come up with a novel way of making money via its domain name .TK. Tokelau may only have 1,500 inhabitants and be a two-day boat trip from its nearest neighbour but selling its .TK domain is reaping benefits.
Read the entire article at http://news.bbc.co.uk/go/pr/fr/-/1/hi/technology/6991719.stm.
Mobile System Promises Free Calls
A new way of making calls directly between phones, for free, is being trialled by a Swedish company. It is hoping to dramatically improve communications in the developing world. Swedish company TerraNet has developed the idea using peer-to-peer technology that enables users to speak on its handsets without the need for a mobile phone base station. The technology is designed for remote areas of the countryside or desert where base stations are unfeasible. Projects backed by TerraNet recently launched in Tanzania and Ecuador...
Please read the entire article at http://news.bbc.co.uk/go/pr/fr/-/1/hi/technology/6987784.stm.
The Earth Federation Movement
The Earth Federation Movement includes a worldwide association of World Constitution and Parliament Association (WCPA) Chapters and affiliated independent organizations, such as many youth, environmental, and human rights organizations, that affirm the creation of a non-military, democratic Earth Federation under the Constitution for the Federation of Earth. We have several web sites associated with our work for global peace with justice, environmental sustainability, and prosperity such as www.earthfederation.info.
Dr. Glen T. Martin is the Secretary-General of WCPA and President of the Institute on World Problems. Since its founding in 1958, the WCPA has focused on creating a non-military, democratic Constitution for the Federation of Earth. It has done this through four Constituent Assemblies of World Citizens meeting from 1968 to 1991, when the Constitution was finally completed in its present form.
WCPA now works to get the nations and people of the world to ratify the Constitution through the criteria specified in Article 17. The Constitution is permeated by the concept of human dignity, focused especially in Articles 12 and 13 on human rights. WCPA sees the ratification of the Earth Constitution as a central structural change, creating global democratic institutions of unity in diversity, that can facilitate the deep spiritual change toward planetary maturity that is also necessary for a world of peace, with justice and sustainability.
Joseph P. Baratta
Joseph P. Baratta (2004)
The Politics of World Federation
Vol.1: The United Nations, U.N. Reform, Atomic Control.
Vol. 2: From World Federalism to Global Governance
Westport, CT: Praeger
Please see here the Introduction to both volumes.
Please see here an editorial on the work of Joseph Baratta and Virginia Swain.
Garry Davis: World Citizenship, World Passport, World Presidency, World Service Authority, World Government of World Citizens, World Government House
Wikipedia: Sol Gareth "Garry" Davis (July 27, 1921 – July 24, 2013) was an international peace activist who created the World Passport, a fantasy travel document based on his interpretation of Article 13(2), Universal Declaration of Human Rights and on the concept of world citizenship. Previously Davis had worked as a Broadway stage actor and served as an American bomber pilot in World War II. He was a devoted World Federalist, although a consistent critic of the World Federalist Movement (quoted from Wikipedia).
Our dear Garry Davis went into hospice care on 18 July 2013, and died six days later. We mourn him in deep admiration for his life work and resonate with every word in Rene Wadlow's lovely reflection on Garry Davis: « And Now the People Have The Floor »
See also:
• Garry Davis's Speechat the 2007 Workshop on Transforming Humiliation and Violent Conflict at Columbia University in New York
• Garry Davis at the 2009 Dignity Conference in Honolulu, Hawai'i
• World Citizen Radio with Garry Davis interviewing Evelin Lindner, Global Radio Alliance, Sunday, November 11, 2012
• Garry Davis and Mariana Vergara in Dialogue on the World Passport at the 2012 Workshop on Transforming Humiliaton and Violent Conflict at Columbia University in New York: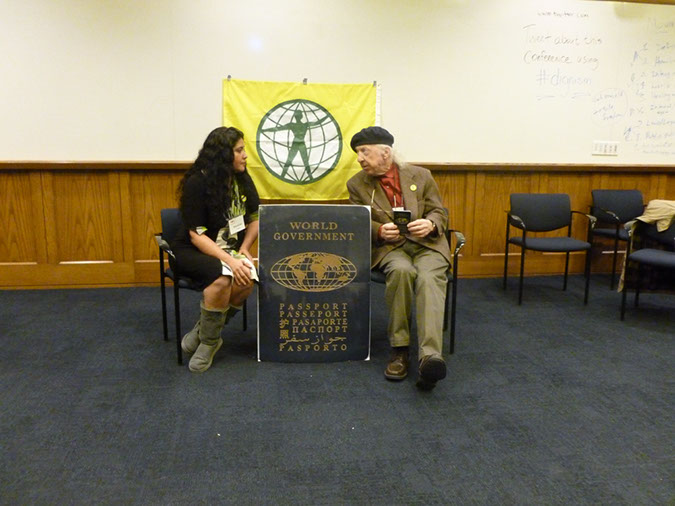 Please click on the picture above or here to see all the 177 photos of Day One of the 2012 Workshop
• Please see also The World Is My Country, and the documentary on Garry Davis by Arthur Kanegis:
Rosika Schwimmer and World Government
Rosika Schwimmer or Bédy-Schwimmer "Rózsa" Rózsika (1877-1948) set out to create a world government. In 1935 she formed the World Centre for Women's Archives with Mary Ritter Beard. She received a World Peace Prize in 1937 and formed the Campaign for World Government with Lola Maverick Lloyd. In 1947 she was nominated for Nobel Peace Prize but no one received it the next year...
Please read more on http://en.wikipedia.org/wiki/Rosika_Schwimmer, or, please read also Remarks on the History of Hungarian Feminism by Judit Acsády.
Teens 'Turn to Social Websites'
More than half of all net-using American teenagers use social networking sites, research suggests. The study for the Pew Internet Project involved 935 teenagers and found 55% of American youths aged 12-17 had accounts at sites such as MySpace and Facebook. It found that the sites were more popular with older teenage girls who tend to use them to keep in touch with their existing friends. By contrast, boys were much more likely to use the sites to find new friends. Websites such as MySpace give users a chunk of webspace they can personalise with images, video and blog entries. To this they add a messaging system that lets members keep in touch with friends on the same network.
Please read the entire article at http://news.bbc.co.uk/go/pr/fr/-/1/hi/technology/6235503.stm.
Parisian Neighbours Meet Online
By David Reid
Reporter, BBC Click
Cities may cram people together like sardines in a supermarket, but many of those living an urban life can end up feeling more lonely than on a picnic on Pluto. But one French networking website is trying to change all that. Just as most Parisians are too cool to visit the Eiffel Tower, most of us ignore the possibilities for friendships immediately outside our front door. French social networking website Peuplade aims to bridge that small but often insurmountable gap by putting neighbours in touch with each other. It also wants you to meet people different from your usual crowd. "In life today we get to meet people in a very specific situation and social background. You meet people from your school, from your family or from your work," said Jérémie Chouraqui, a lawyer and one of the founders of Peuplade....
Please read the entire article on http://news.bbc.co.uk/go/pr/fr/-/1/hi/programmes/click_online/6233429.stm.
One Laptop Per Child Project
$100 laptop project launches 2007
The first batch of computers built for the One Laptop Per Child project could reach users by July this year. The scheme is hoping to put low-cost computers into the hands of people in developing countries. Ultimately the project's backers hope the machines could sell for as little as $100 (£55). The first countries to sign up to buying the machine include Brazil, Argentina, Uruguay, Nigeria, Libya, Pakistan and Thailand. The so-called XO machine is being pioneered by Nicholas Negroponte, who launched the project at the Massachusetts Institute of Technology's Media Lab in 2004. Test machines are expected to reach children in February as the project builds towards a more formal launch.
Please read the entire article at http://news.bbc.co.uk/go/pr/fr/-/1/hi/technology/6224183.stm.
Virtual Pals 'Soar in Importance'
Virtual communities are as important as their real-world counterparts, many members of online communities believe. A survey found 43% of online networkers from the US felt "as strongly" about their web community as they did about their real-world friends.
It also revealed net-users had made an average of 4.6 virtual pals this year.
The survey, from the US-based Center for the Digital Future, of 2,000 individuals forms part of a six-year study into attitudes to the web...
Please read the entire article at http://news.bbc.co.uk/go/pr/fr/-/1/hi/technology/6158935.stm.