World Democracy for Equal Dignity (WDemocracyED)
HumanDHS is primarily grounded in academic work. We are independent of any religious or political agenda. However, we wish to bring academic work into "real life." Our research focuses on topics such as dignity (with humiliation as its violation), or, more precisely, on respect for equal dignity for all human beings in the world. This is not only our research topic, but also our core value, in line with Article 1 of the Human Rights Declaration that states that every human being is born with equal dignity (that ought not be humiliated). We agree with Shibley Telhami, Anwar Sadat Professor for Peace and Development, who advocates the building of bridges from academia as follows, "I have always believed that good scholarship can be relevant and consequential for public policy. It is possible to affect public policy without being an advocate; to be passionate about peace without losing analytical rigor; to be moved by what is just while conceding that no one has a monopoly on justice." We would like to add that we believe that good scholarship can be relevant and consequential not only for public policy, but for raising awareness in general.

---
We look for interested people, who would like to develop our DemocracyED page. Please see our Call for Creativity.
---

Some Basic Principles for an Enabling Future
The Earth Charter's principles
I. RESPECT AND CARE FOR THE COMMUNITY OF LIFE
1. Respect Earth and life in all its diversity.
a. Recognize that all beings are interdependent and every form of life has value regardless of its worth to human beings.
b. Affirm faith in the inherent dignity of all human beings and in the intellectual, artistic, ethical, and spiritual potential of humanity.
2. Care for the community of life with understanding, compassion, and love.
a. Accept that with the right to own, manage, and use natural resources comes the duty to prevent environmental harm and to protect the rights of people.
b. Affirm that with increased freedom, knowledge, and power comes increased responsibility to promote the common good.
3. Build democratic societies that are just, participatory, sustainable, and peaceful.
a. Ensure that communities at all levels guarantee human rights and fundamental freedoms and provide everyone an opportunity to realize his or her full potential.
b. Promote social and economic justice, enabling all to achieve a secure and meaningful livelihood that is ecologically responsible.
4. Secure Earth's bounty and beauty for present and future generations.
a. Recognize that the freedom of action of each generation is qualified by the needs of future generations.
b. Transmit to future generations values, traditions, and institutions that support the long-term flourishing of Earth's human and ecological communities.
In order to fulfill these four broad commitments, it is necessary to:
II. ECOLOGICAL INTEGRITY
III. SOCIAL AND ECONOMIC JUSTICE
IV. DEMOCRACY, NONVIOLENCE, AND PEACE
"Road Map To Good Governance - The Nine 'I' Model" by Syed Ahsanul Alam
Syed Ahsanul Alam, in his article "Road Map To Good Governance - The Nine 'I' Model" explains that "Democracy cannot flourish in the absence of good governance."
He explains: "The pre-condition for good governance is effective democratic institutions for democratizing the society. Improvement of the living standard of people cannot happen where people cannot participate in governance, human rights are not respected, information does not flow, and civil society and the judiciary are weak. Nine criteria of good governance may be used to determine whether any country qualifies to have good governance are:
1. INDEPENDENT AND NON PARTISAN ELECTION COMMISSION
2. INDEPENDENT JUDICIARY AND THE RULE OF LAW
3. INDEPENDENT MEDIA AND FREEDOM OF SPEECH
4. INDEPENDENT ANTI-CORRUPTION COMMISSION
5. INVESTING IN THE PEOPLE
6. INDEPENDENT AND EFFECTIVE PARLIAMENT
7. INDEPENDENT HUMAN RIGHTS COMMISSION
8. INDEPENDENT OMBUDSMAN SYSTEM
9. INVESTMENT FRIENDLY GOVERNMENT."
"Road Map To Good Governance - The Nine 'I' Model" ( www.goodgovernancebd.org). Syed Ahsanul Alam is Associate Professor of marketing at the Univ. of Chittagong, & Chairman - Center for Good Governance.
Eight Principles by David Held
David Held, Graham Wallas Chair in Political Science, London School of Economics and Political Science, United Kingdom, sets out a number of principles which he believes can be universally shared, and can form the basis for the protection and nurturing of each person's equal significance in the moral realm of humanity. Eight principles are paramount. They are the principles of:
1. equal worth and dignity;
2. active agency;
3. personal responsibility and accountability;
4. consent;
5. collective decision making about public matters through voting procedures;
6. inclusiveness and subsidiarity;
7. avoidance of serious harm; and
8. sustainability.
Held, D. (2004a) Global Covenant: The Social Democratic Alternative to the Washington
Consensus. Cambridge: Polity Press.
Held, D. (2004b) 'Future Globalizations', a plenary talk given at the Inaugural Conference of
Globalization Studies Network, The University of Warwick, Coventry, UK, 20 August 2004.
Held, D. (2005) 'Principles of Cosmopolitan Order', in G. Brock and H. Brighouse (eds): The
Political Philosophy of Cosmopolitanism. Cambridge: Cambridge University Press.
Creating an Inclusive Society: Practical Strategies to Promote Social Integration
Summary of E-dialogue, 23 May – 20 June 2007, organized by the Division for Social Policy and Development (DSPD) of the United Nations Department of Economic and Social Affairs (UNDESA), in collaboration with UNESCO and UN-HABITAT.
Please read more at http://www.un.org/esa/socdev.
Synthesis of the views expressed by participants:
• Critical Elements Necessary for Creating an Inclusive Society
• Rule of Law
• Judiciary
• Education
• Shared Common Goal /Vision
• Cultural Pluralism/Respect for diversity
• Strong Civil Society ( civil rights , civic responsibility, civic engagement, citizenship and mutual trust)
• Equal Opportunities for Active Participation
• Equitable Distribution of Economic and Social Resources
• Inclusive Policies and Institutions
• Good Governance and Representative Leadership
• Equal access to Pubic Information, Public Infrastructures and Facilities
• Effective Urban Management
Principles for Global Sustainability
David Krieger is President of the Nuclear Age Peace Foundation and a Councilor on the World Future Council
• Responsibility to allocate resources so that greed for the few does not eclipse need for the many. (Survival Principle; Democracy Principle)
• Responsibility to preserve the planet and its resources for future generations. (Intergenerational Equity Principle)
• Responsibility to do no irreparable harm to the planet and its inhabitants. (Precautionary Principle)
• Responsibility to foster diversity of species and ideas. (Anti-Monopoly Principle)
• Responsibility to make war a last resort, not a first resort of the powerful. (Nonviolence Priority Principle)
• Responsibility to hold accountable the perpetrators of war crimes, crimes against peace, and crimes against humanity, including genocide. (Nuremberg Principles; International Criminal Court)
• Responsibility to guarantee basic human rights for all individuals. (Human Rights Principle: Universal Universal Declaration of Human Rights, Torture Convention, etc.)
• Responsibility to cooperate across national borders to achieve these ends. (State Cooperation Principle: Global problems are incapable of solution by single states, no matter how powerful.)
• Responsibility to choose hope over despair. (Hope Principle; Perseverance Principle)
• Responsibility to leave the planet a better place than you found it. (Individual Action Principle; Horace Mann Principle: "Be ashamed to die until you have won some victory for humanity.")
• Responsibility to educate for global sustainability. (Education Principle; Critical Thinking Principle)

In sum, I would encourage you to seek to advance global sustainability by adopting a planetary perspective, doing no harm, engaging in doing good for the planet and its present and future inhabitants, choosing hope, and persisting. If we accept these responsibilities as individuals and work to implement them in our national and international policies, we can turn Earth Day into a year-around commitment to creating a planet we can be proud to pass on to future generations.
Ten Commandments
Evo Morales appearances at American University and the OAS.
See 10 commandments.
Worldchanging
Worldchanging is a 501(c)3 media organization that comprises a global network of independent journalists, designers and thinkers covering the world's most intelligent solutions to today's problems. We inspire readers around the world with stories of the most important and innovative new tools, models and ideas for building a bright green future. Our readers are ready to change the world, and Worldchanging links them to the first steps.
The Equality Trust
The Equalit Trust is an independent, evidence based campaign working to reduce income inequality in order to improve the quality of life in the UK.
UK income inequality is among the highest in the developed world and evidence shows that this is bad for almost everyone.
People in more equal societies live longer, have better mental health and are more socially mobile. Community life is stronger where the income gap is narrower, children do better at school and they are less likely to become teenage parents. When inequality is reduced people trust each other more, there is less violence and rates of imprisonment are lower.
If we want to build a better society, it is essential we take action now to reduce the gap between rich and poor. The Equality Trust is working with others to build a social movement for change. We analyse and disseminate the latest research, promote robust evidence-based arguments and support a dynamic network of campaign groups across the country.
---

Links
Please note that the entire HumanDHS website is maintained by volunteers, since its inception in 2003, and this is mainly done by Evelin Lindner. Until 2012, she usually pasted interesting news into this Links section. From July 2012 until 2017, she tagged interesting information on delicious.com. From 2017 onward, you see Evelin's personal list of interesting web links on Twitter: Follow @evelinlindner
Leitartikel: Kampf den Avataren, Der Spiegel 21, 19.05.2014
Google missbraucht seine Macht und muss daher von der Politik neue Regeln bekommen....Google baut digitale Avatare von uns und spielt mit denen das große Konsumspiel. Dies verletzt die Würde des Menschen, und die soll unantastbar sein, sagt das Grundgesetz. Der Europäische Gerichtshof hat eine richtige Entscheidung getroffen. Wer sich vor einem falschen oder veralteten Bild seiner Persönlichkeit schützen will, kann sich an die Suchmaschinen wenden. Aber das greift zu kurz und ist prinzipiell der falsche Ansatz. Nicht der Bürger muss sich gegen die Datenkraken stemmen, sondern der Staat. Datenschutz sollte ähnlich wie Umweltschutz zur vordringlichen Staatsaufgabe werden. Auch die Umwelt wurde über Jahrzehnte vergiftet, weil man es einer verantwortungslosen Industrie überließ, ihre Profite auf den Verbrauch natürlicher Ressourcen zu gründen, ohne dafür zu zahlen. Der Staat hat die Pflicht, nicht nur die natürlichen Ressourcen der Menschheit zu bewahren, sondern ebenso ihre persönliche Ressource, die Würde. Die Politiker müssen sich jetzt um eine digitale Weltordnung kümmern, einen Gesetzesrahmen, der Machtmissbrauch verhindert. ... Wenn nicht die Politik Google einen Rahmen setzt, dann setzt bald Google der Politik einen Rahmen. Und verändert die Demokratie, wie wir sie kennen...
Read more at http://www.spiegel.de/spiegel/print/d-127078940.html.
openDemocracy
openDemocracy is a digital commons, a shared resource, resisting both the web's permissiveness as well as corporate efforts to enclose it.
The openDemocracy model is to be an open, federal organisation that reflects openDemocracy values in the architecture of the website and the way they operate, with Sections that are editorially independent, do their own publishing and raise their own funding - while the Main Site publishes on all general issues, inspires and hosts new debates, encourages guest editors and manages production and the business side. Sections:
oDRussia – on liberty in the post-Soviet world
50.50 – on inclusion and gender equality
OurKingdom – on the crisis of democracy in Britain
openSecurity – on conflict and peace in our age
Transformation
The System Improvement Process
SIP was developed to solve any difficult large-scale social problem. This includes the "excessive humiliation problem." Systems Engineer Jack Harich invites all researchers to study SIP (in a personal message, 15th January 2013).
Global Voices
Global Voices is a community of more than 300 bloggers and translators around the world who work together to bring you reports from blogs and citizen media everywhere, with emphasis on voices that are not ordinarily heard in international mainstream media. Global Voices seeks to aggregate, curate, and amplify the global conversation online - shining light on places and people other media often ignore. We work to develop tools, institutions and relationships that will help all voices, everywhere, to be heard. Millions of people are blogging, podcasting, and uploading photos, videos, and information across the globe, but unless you know where to look, it can be difficult to find respected and credible voices. Our international team of volunteer authors and part-time editors are active participants in the blogospheres they write about on Global Voices. Global Voices is incorporated in the Netherlands as Stichting Global Voices, a nonprofit foundation. We do not have an office, but work as a virtual community across multiple time zones, meeting in person only when the opportunity arises (usually during our Summits). We rely on grants, sponsorships, editorial commissions, and donations to cover our costs. Our Projects Global Voices is translated into more than 30 languages by volunteer translators, who have formed the Lingua project. Additionally, Global Voices has an Advocacy website and network to help people speak out online in places where their voices are censored. We also have an outreach project called Rising Voices to help marginalized communities use citizen media to be heard, with an emphasis on the developing world. Read more.
Youku
Youku is a video hosting service based in People's Republic of China.
Monitoring Economic Performance, Quality of Life and Sustainability
December 2010 Joint Report as Requested by the Franco-German Ministerial Council http://www.sachverstaendigenrat-wirtschaft.de/fileadmin/dateiablage/Expertisen/2010/ex10_en.pdf.
Bribes Cost Ivory Coast '$300m'
At least $300m (£200m) is paid in bribes at checkpoints in Ivory Coast each year, a business leader says. "Every Ivorian today... has been asked to pay at a road-block," Chamber of Commerce President Jean-Louis Billon told the BBC. He blamed "mafias" operating within both the army and the former rebel New Forces, who still control northern Ivory Coast, for the extortion racket.
Read more at http://news.bbc.co.uk/go/pr/fr/-/2/hi/africa/8660679.stm.
World Trade Talks End in Collapse
Marathon talks in Geneva aimed at liberalising global trade have collapsed, the head of the World Trade Organisation has said. Pascal Lamy confirmed the failure, which officials have blamed on China, India and the US failing to agree on import rules. EU Trade Commissioner Peter Mandelson said the result was "heartbreaking". The talks were launched in 2001 in Doha and were seen as providing a cornerstone for future global trade. The main stumbling block was farm import rules, which allow countries to protect poor farmers by imposing a tariff on certain goods in the event of a drop in prices or a surge in imports. India, China and the US could not agree on the tariff threshold for such an event...
Please read more at http://news.bbc.co.uk/go/pr/fr/-/1/hi/business/7531099.stm.
Rosika Schwimmer and World Government
Rosika Schwimmer or Bédy-Schwimmer "Rózsa" Rózsika (1877-1948) tried to create a world government. In 1935 she formed the World Centre for Women's Archives with Mary Ritter Beard. She received a World Peace Prize in 1937 and formed the Campaign for World Government with Lola Maverick Lloyd. In 1947 she was nominated for Nobel Peace Prize but no one received it the next year...
Please read more on http://en.wikipedia.org/wiki/Rosika_Schwimmer, or, please read also Remarks on the History of Hungarian Feminism by Judit Acsády.
'$100 laptop' to Sell to Public
By Jonathan Fildes
Science and technology reporter, BBC News
Computer enthusiasts in the developed world will soon be able to get their hands on the so-called "$100 laptop".
The organisation behind the project has launched the "give one, get one" scheme that will allow US residents to purchase two laptops for $399 (£198).
Please read the entire article at http://news.bbc.co.uk/go/pr/fr/-/1/hi/technology/6994957.stm and on http://www.xogiving.org/
The Earth Federation Movement
The Earth Federation Movement includes a worldwide association of World Constitution and Parliament Association (WCPA) Chapters and affiliated independent organizations, such as many youth, environmental, and human rights organizations, that affirm the creation of a non-military, democratic Earth Federation under the Constitution for the Federation of Earth. We have several web sites associated with our work for global peace with justice, environmental sustainability, and prosperity such as www.earthfederation.info.
Dr. Glen T. Martin is the Secretary-General of WCPA and President of the Institute on World Problems. Since its founding in 1958, the WCPA has focused on creating a non-military, democratic Constitution for the Federation of Earth. It has done this through four Constituent Assemblies of World Citizens meeting from 1968 to 1991, when the Constitution was finally completed in its present form.
WCPA now works to get the nations and people of the world to ratify the Constitution through the criteria specified in Article 17. The Constitution is permeated by the concept of human dignity, focused especially in Articles 12 and 13 on human rights. WCPA sees the ratification of the Earth Constitution as a central structural change, creating global democratic institutions of unity in diversity, that can facilitate the deep spiritual change toward planetary maturity that is also necessary for a world of peace, with justice and sustainability.
Joseph P. Baratta
Joseph P. Baratta (2004)
The Politics of World Federation
Vol.1: The United Nations, U.N. Reform, Atomic Control.
Vol. 2: From World Federalism to Global Governance
Westport, CT: Praeger
Please see here the Introduction to both volumes.
Please see here an editorial on the work of Joseph Baratta and Virginia Swain.
Garry Davis: World Citizenship, World Passport, World Presidency, World Service Authority, World Government of World Citizens, World Government House
Wikipedia: Sol Gareth "Garry" Davis (July 27, 1921 – July 24, 2013) was an international peace activist who created the World Passport, a fantasy travel document based on his interpretation of Article 13(2), Universal Declaration of Human Rights and on the concept of world citizenship. Previously Davis had worked as a Broadway stage actor and served as an American bomber pilot in World War II. He was a devoted World Federalist, although a consistent critic of the World Federalist Movement (quoted from Wikipedia).
Our dear Garry Davis went into hospice care on 18 July 2013, and died six days later. We mourn him in deep admiration for his life work and resonate with every word in Rene Wadlow's lovely reflection on Garry Davis: « And Now the People Have The Floor »
See also:
• Garry Davis's Speechat the 2007 Workshop on Transforming Humiliation and Violent Conflict at Columbia University in New York
• Garry Davis at the 2009 Dignity Conference in Honolulu, Hawai'i
• World Citizen Radio with Garry Davis interviewing Evelin Lindner, Global Radio Alliance, Sunday, November 11, 2012
• Garry Davis and Mariana Vergara in Dialogue on the World Passport at the 2012 Workshop on Transforming Humiliaton and Violent Conflict at Columbia University in New York: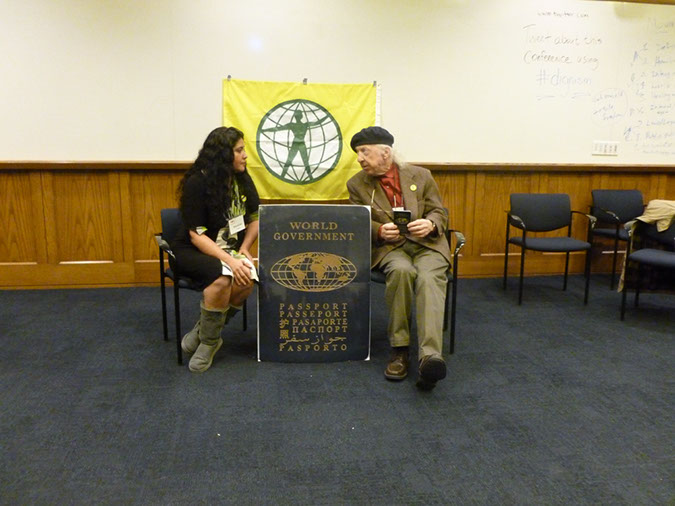 Please click on the picture above or here to see all the 177 photos of Day One of the 2012 Workshop
• Please see also The World Is My Country, and the documentary on Garry Davis by Arthur Kanegis:
Rosika Schwimmer and World Government
Rosika Schwimmer or Bédy-Schwimmer "Rózsa" Rózsika (1877-1948) set out to create a world government. In 1935 she formed the World Centre for Women's Archives with Mary Ritter Beard. She received a World Peace Prize in 1937 and formed the Campaign for World Government with Lola Maverick Lloyd. In 1947 she was nominated for Nobel Peace Prize but no one received it the next year...
Please read more on http://en.wikipedia.org/wiki/Rosika_Schwimmer, or, please read also Remarks on the History of Hungarian Feminism by Judit Acsády.
Creating an Inclusive Society: Practical Strategies to Promote Social Integration
Summary of E-dialogue, 23 May – 20 June 2007, organized by the Division for Social Policy and Development (DSPD) of the United Nations Department of Economic and Social Affairs (UNDESA), in collaboration with UNESCO and UN-HABITAT.
Please read more at http://www.un.org/esa/socdev.
Americans Embrace Politics Online
Americans are increasingly using the internet as their primary source of political news, a study has found. The report from the Pew Internet and American Life Project also found that more people are contributing to political debate via their own blogs. While it stops short of claiming the net has politicised Americans, the report sees a growing online influence on how people think about civic issues. The prevalence of broadband in US homes is one reason for the growth. Nearly half of US homes now have a broadband connection and the internet is playing an increasing role in daily lives... Increasingly Americans are turning to international online news sources to get a perspective on how domestic political life is played out on the wider stage. "The BBC News website is among the most popular," said Mr Rainie...
Please read the entire article at http://news.bbc.co.uk/go/pr/fr/-/1/hi/technology/6272431.stm.
UN Official to Push Burma Reform
UN official Ibrahim Gambari has arrived in Burma to press the military rulers to commit to democratic reforms. During his four-day trip, he will meet military leader Than Shwe as well as opposition leader Aung San Suu Kyi, who is currently under house arrest. The international community is piling pressure on Burma to make serious changes to its harsh regime.
But so far there has been been little indication that the ruling generals are willing to co-operate. Mr Gambari last visited Burma in May, when he was given the rare opportunity of meeting Aung San Suu Kyi, the detained democracy leader who is seen as a symbol of resistance to Burma's ruling military junta. It was the first time in more than two years that a foreigner had been allowed to meet her, and the visit fuelled hopes that she would soon be released, and that the military might finally make some concessions to international demands. But almost as soon as Mr Gambari left the country, such hopes were dashed.
The government extended Aung San Suu Kyi's detention for another year, and continued to clamp down on her National League for Democracy Party (NLD) and other groups protesting against the regime. A group of protesters were jailed only recently for compiling a petition against the government, to coincide with the re-opening of the country's national convention.
The convention, made up of delegates selected by the military junta from across the country, has been touted by the government as a forum in which to discuss Burma's future.
But the convention has been widely criticised as a tool for legitimising the military's hold on power, and the NLD has boycotted the proceedings...
Read the entire article at http://news.bbc.co.uk/go/pr/fr/-/2/hi/asia-pacific/6131202.stm.
UN Initiates Arms Trade Agreement
A United Nations committee has voted overwhelmingly to begin work on drawing up an international arms trade treaty. The measure would close loopholes in existing laws which mean guns still end up in conflict zones despite arms embargoes and export controls.
It could also stop the supply of weapons to countries whose development is being hampered by arms spending. Only the US - a major arms manufacturer - voted against the treaty, saying it wanted to rely on existing agreements. A total of 139 states voted for the motion. There were 24 abstentions...
Please read the entire article at http://news.bbc.co.uk/go/pr/fr/-/1/hi/world/americas/6088200.stm.
African Prize for Good Governance
Mobile phone magnate Mo Ibrahim funds a new prize to honor African leaders who stand out in a continent sapped by corruption...
See http://www.cpu.org.uk/latestnews.html, or http://www.guardian.co.uk/, or http://www.time.com/time/.
Global Alliance for Ministries and Departments of Peace
Under the name of the People's Initiative for Departments of Peace, the Global Alliance for Ministries and Departments of Peace was launched at the first People's Summit for Departments of Peace, held in London October 18-19, 2005, with the intention of supporting national-level campaigns to establish departments of peace in governments throughout the world. The following articles provide background information on the Global Alliance for Ministries and Departments of Peace.
The Pixel Press
At PixelPress our intent is to encourage documentary photographers, writers, filmmakers, artists, human rights workers and students to explore the world in ways that take advantage of the new possibilities provided by digital media. We seek a new paradigm of journalism, one that encourages an active dialogue between the author and reader and, also, the subject. Our online magazine features projects that use a variety of linear and non-linear strategies, attempting to articulate visions of human possibility even while confirming human frailty. For us the digital revolution is a revolution in consciousness, not in commerce. We work with organizations such as Crimes of War, Human Rights Watch, World Health Organization and UNICEF to create Web sites that deal directly with contemporary issues in complex and innovative ways that circumvent media sensationalism and simplification. We also try to factor in ways that the viewer can help remedy social problems, rather than remain a spectator. Recently we completed a site focusing on how to end polio worldwide; another trying to aid an orphanage in Rwanda; one trying to reclaim the Brazilian forest; and a site featuring the images of photographers from the Vietnam War. And we also create books with photographers such as Machiel Botman, Kent Klich and Sebastião Salgado on social themes, as well as traveling exhibitions using both digital and conventional processes.
Code of Conduct for NGOs
Survival International and ten other leading charities have launched a ground-breaking code of conduct for NGOs (non-governmental organisations).
Seventeen Early Peace Psychologists
By Rudmin, Floyd Webster (1991), in Journal of Humanistic Psychology, 31 (2, Spring), pp. 12-43.
Global Information Media
The Global Community has now streamlined the Global Information Media and have a new webpage for the Global Information Media.
Zahid Shahab Ahmed (personal message, 22nd March 2006)
Recently, I saw one of the Indian movies Lakshya, which is based on the most recent war (1999) between India and Pakistan. In the movie a soldier replied to the following question: why we go for a war? By saying, the one who created this planet, created it equal and undivided for everyone. But we human being divided it with weapons I am glad moon is not on our planet otherwise we could have divided it too.
...
We really have to encounter nationalism with globalism. I was thinking why not to give this nationality to people globalism or EWNS, because many must not be feeling comfortable carrying special passports while feeling being identified as a global citizen. Therefore, EWNS came into my mind: East West North South; means from all over the world.
The Globalist's Global Education Initiative
In a world of rising uncertainty — no matter where we live — the key question before all of us is this: How can the debate on global issues become more inclusive and better informed? How can people develop a better understanding of what connects — and divides — nations, societies and cultures in today's world? To address these issues, The Globalist has launched the Global Education Initiative.
By working with project partners around the world, our Global Education Initiative seeks to promote true global understanding between different cultures.
Strategic Foresight Group (SFG)
Strategic Foresight Group (SFG) is a think tank that helps policy makers to anticipate and shape, the future in uncertain times. It produces fresh perspectives, by combining research with policy change and conflict-resolution initiatives. SFG brings out confidential and public research reports. Its in-depth scenarios in the context of the war in Iraq, instability in Central Asia, religious extremism in Pakistan and India's economy has earned SFG, a reputation for correct projections.
The Arab Reform Initiative (ARI)
Statement of Purpose:
The Arab Reform Initiative is a network of independent Arab research and policy institutes, with partners from the United States and Europe. Its goal is to mobilize the Arab research capacity to advance knowledge and develop a program for democratic reform in the Arab World which is realistic and home grown. The Initiative also aims to produce policy recommendations that can help promote reform in the region.
The broad consensus on the need for reform of Arab socio-economic and political systems has created a momentum that can be seen as a progress in and of itself. However, the content and the modalities of this reform process have yet to be defined: how to start? Which forces to mobilize? What obstacles are to be overcome? How to prevent various forces - governmental, opposition or outside parties - from instrumentalizing it to serve narrow or short-term interests? How to avoid mistakes? How these and other challenges will be met is largely a function of who produces the knowledge and formulates the issues, both conceptually and practically.
The initiative is based on three main principles:
1- The Arab world needs to develop its own conception of reform, based on its present realities and rooted in its history. While there are basic universal criteria that apply to a process of democratic reform in any given society, the initiative seeks to generate knowledge by those who are the prime targets of reform.
2- Reform is a comprehensive process which can only succeed if the interaction between the political, economic, societal and cultural spheres is fully recognized. In the quest to build free, just and democratic societies, the initiative privileges issues of democratization and good governance, socio-economic and cultural transformations, and social justice.
3- The network's conception of reform fully recognizes that Arab countries present very diverse situations and that this diversity is likely to become more salient as societies engage in a path of liberalization. Thanks to its composition, with member institutes and scholars from all countries of the region, the initiative is well positioned to produce analyses and recommend diverse solutions relevant to the specificities of each society.
The role of each member institute within its own national context is to foster an informed debate on reform inclusive of a wide range of representatives from various sectors of society and government. Policy options produced by the Arab Reform Initiative will be addressed to political leaders, elites and civil society groups in the Arab world with a view to generate knowledge and deepen the ongoing debate in the region. The Initiative also aims to promote a dialogue between policy institutes in the Arab world, the United States and Europe with a view to forge a shared vision which can advance the understanding of western different groups on issues of reform in the Arab world.
Finally, the Arab Reform Initiative aims to raise awareness in the Arab world about successful transitions to democracy in other parts of the world, and of the mechanisms and compromises which made such successful transitions possible.
The network's recommendations will be formulated by experts and scholars from the Arab region. Partner institutions from the United States and Europe will serve to facilitate the collaboration through organizational backing for the project and will help convey the message of the network to the relevant constituencies in their own countries.
The initiative engages in a range of activities, all conducted collaboratively between its members. Its agenda includes producing policy briefs, thematic and country studies, conducting comparative public opinion surveys, organizing workshops and conferences, and sponsoring occasional task forces, all with the aim of formulating policy recommendations that can advance reform in the Arab world.
The Founding Members of the network:
The Arab Institutes:
Al Ahram Center for Political and Strategic Studies, Egypt.
Center D'Etudes et de Recherches en Sciences Sociales (CERSS), Morocco.
King Faisal Center for Research and Islamic Studies, Saudi Arabia.
The Arab Reform Forum at the Bibliotheca Alexandrina, Alexandria, Egypt.
The Center for Strategic and Future Studies, Kuwait.
The Center for Strategic Studies, Jordan.
The Center for Sudanese Studies, Sudan.
The Lebanese Center for Policy Studies, Lebanon.
The Palestinian Center for Political and Survey Research, Palestine.
The Gulf Research Center, Dubaï, UAE.
American and European Partners:
Fundacion Para Las Relaciones Internationales Y El Dialogo Exterior (FRIDE), Madrid, Spain.
Hellenic Foundation for European and Foreign Policy (ELIAMEP), Athens, Greece.
The Center for European Reform, London, Great-Britain.
The Council on Foreign Relations, New York, USA.
The European Institute for Security Studies, based in Paris, France.
UN reform proposals put forward as action plan by UN Secretary General Kofi Annan on March 21, 2005: Towards Development, Security and Human Rights for All
Executive Summary
III. Freedom to live in dignity
In the Millennium Declaration, Member States said they would spare no effort to promote democracy and strengthen the rule of law, as well as respect for all internationally recognized human rights and fundamental freedoms. And over the last six decades, an impressive treaty-based normative framework has been advanced.
But without implementation, these declarations ring hollow. Without action, promises are meaningless. People who face war crimes find no solace in the unimplemented words of the Geneva Conventions. Treaties prohibiting torture are cold comfort to prisoners abused by their captors, particularly if the international human rights machinery enables those responsible to hide behind friends in high places. War-weary populations despair when, even though a peace agreement has been signed, there is little progress towards government under the rule of law. Solemn commitments to strengthen democracy remain empty words to those who have never voted for their rulers, and who see no sign that things are changing.
Therefore, the normative framework that has been so impressively advanced over the last six decades must be strengthened. Even more important, concrete steps are required to reduce selective application, arbitrary enforcement and breach without consequence. The world must move from an era of legislation to implementation.
Action is called for in the following priority areas:
.. Rule of law: The international community should embrace the "responsibility to protect", as a basis for collective action against genocide, ethnic cleansing and crimes against humanity. All treaties relating to the protection of civilians should be ratified and implemented. Steps should be taken to strengthen cooperation with the International Criminal Court and other international or mixed war crimes tribunals, and to strengthen the International Court of Justice. The Secretary-General also intends to strengthen the Secretariat's capacity to assist national efforts to re-establish the rule of law in conflict and post-conflict societies.
.. Human rights: The Office of the High Commissioner for Human Rights should be strengthened with more resources and staff, and should play a more active role in the deliberations of the Security Council and of the proposed Peacebuilding Commission. The human rights treaty bodies of the UN system should also be rendered more effective and responsive.
.. Democracy: A Democracy Fund should be created at the UN to provide assistance to countries seeking to establish or strengthen their democracy.
The Club of Madrid
The Club of Madrid is an independent organization dedicated to strengthening democracy around the world by drawing on the unique experience and resources of its Members - democratic former heads of state and government. In partnership with other organizations and governments that share its democracy-promotion goals, the Club of Madrid provides peer to peer counsel, strategic support and technical advice to leaders and institutions working towards democratic transition and consolidation.
The first Club of Madrid delegation led by Antonio Guterres, former Primer Minister of Portugal, Valentín Paniagua, former President of Peru, and Petre Roman, former Prime Minister of Romania, held a series of meeting in Bolivia on April 25-27, 2005. The focus of the project is to support the development of a new Constituent Assembly through which the Bolivian government seeks much-needed socio-political consensus and to consolidate democracy in the country. The project aims to provide strategic advice to the country's political leadership.Another Club of Madrid Project was launched on June 5-8, 2005, at the "Presidential Leadership and Democratization" summit held in Bamako, Mali. The summit gathered 20 former presidents of African countries, including 6 members of Club of Madrid, as well as number of development leaders from around the world. This initiative was taken in partnership with the National Democratic Institute in response to the tendency for African presidents to cling to power beyond constitutionally and democratically tolerable limits because life post-presidency is seen to offer little in comparison to the riches of power and influence that come with rule. The project aims to offer outlets for African statesmen to encourage and work on democratization and development efforts throughout Africa and beyond. The experiences of Club of Madrid members, all former heads of state and government, and their continuing work for the public good, provide inspiring examples of "lives after office."