World Architecture for Equal Dignity (WAED)
Links
Please note that the entire HumanDHS website is maintained by volunteers, since its inception in 2003, and this is mainly done by Evelin Lindner. Until 2012, she usually pasted interesting news into this Links section. From July 2012 until 2017, she tagged interesting information on delicious.com. From 2017 onward, you see Evelin's personal list of interesting web links on Twitter: Follow @evelinlindner
Auroville Green Practices Summer School
Presentation by Auroville GreenPractices, Working at Auroville, India on Aug 11, 2013. This presentation documents the work of twenty-two students and young professionals that participated in the Auroville Green Practices Summer Schools 2013 'Building for a Dignified Living.'
Cradle to Cradle
As a society we are starting to understand that we are making to great a claim on the earth's biodiversity and natural recourses. If the boundaries are already reached, what may we expect now that the earth's population is growing rapidly and millions of people desire to copy western consumerism. Do we still have an economically abundant future ahead of us? Ore may we expect an ecological and therefore economical disaster ?
The Cradle to Cradle concept shows that we do not have to choose between economical and ecological prosperity. Economy and ecology can reinforce each other. To achieve this we will have to design our products, processes, buildings, cities, etc. more intelligently.
If we do this in accordance with the principles of Cradle to Cradle, production processes will be clean, ecosystems will be integrated in our buildings and cities, products may be completely disassembled into raw materials and consumers will no longer be polluters.
Cradle to Cradle is therefore not only a revolutionary ecological concept but also (and even more so) a totally new business model. The first experiences with the concept within city developments and industry show that the concept is very profitable.
Philanthropic Architecture
Philanthropic Architecture: Nongovernmental Development Projects in Latin America
Essay by Marga Jann, and Stephen Platt for the 13th Annual Conference of Human Dignity and Humiliation Studies "World Peace through Humiliation-Free Global Human Interactions" in Honolulu, Hawaii, August 20 to 23, 2009.
Ethylene Tetrafluoroethylene (ETFE)
Ethylene Tetrafluoroethylene (ETFE), a fluorocarbon-based polymer, is a durable, adaptable plastic that is opening new horizons for artists and builders.
Shelter
We think of our homes mostly in terms of memory and emotion - a magnificent meal prepared in the kitchen, a child's first steps across the living room, a basement that gives us the shivers. The longer we live in a home, the more the structure that once represented new beginnings and great milestones fades into the background. Our lives unfold within it, but we tend to forget about all the ways we continue to interact with and depend on the services our home provides. At its most basic, a house is a tool for living, but most homes today are blunt, poorly designed tools. But better homes are on the way. A confluence of new technologies and approaches is beginning to allow us to create buildings of a whole new stamp.
What a Waste!
"What a Waste!" is a BBC World series looking at how the world is going to cope as the demand for power and energy grows and grows.
Seen in July 2008:
- Vaitheeswaran, Vijay V. (2003). Power to the People: How the Coming Energy Revolution Will Transform an Industry, Change Our Lives, and Maybe Even Save the Planet. New York, NY: Farrar, Straus and Giroux.
- Yeang, Ken (2008). Eco Skyscrapers. Mulgrave, VIC, Australia: Images.
- Rolf Disch, Die Solarsiedlung in Freiburg.
- Rocky Mountain Institute, established in 1982 by resource analysts L. Hunter Lovins and Amory B. Lovins.
- Nanyang Technology University, Singapore.
- Nokia Headquarters in China.
Bionic Buildings
"Charlie Luxton goes back to nature's drawing board to explore how architects, designers and engineers are beginning to create bionic buildings." (Showing on Saturday 2nd February, 2008, on BBC World Television.)
Luxton presents, among others:
• Commerzbank Tower
"One of the landmarks of the highrise centre of Frankfurt, the Commerzbank Tower is currently the tallest building in Europe. The striking exterior with its curving corner is topped by a mast which brings the building to nearly 300 metres tall.
A triangular atrium rises through the entire building from the ground floor, divided by glass partitions. The atrium opens to the exterior wall at different levels, forming 9 large gardens."
Foster + Partners are the architects. They present themselves as follows:
"Foster + Partners' architecture is driven by the pursuit of quality - a belief that our surroundings directly influence the quality of our lives, whether in the work place, at home or the public spaces in between. It is not just buildings but urban design that affects our well-being. We are concerned with the physical context of a project, sensitive to the culture and climate of their place. We have applied the same priorities to public infrastructure world-wide - in our airports, railway stations, metros, bridges, communication towers, regional plans and city centres. The quest for quality embraces the physical performance of buildings."
Psychogeography: Disentangling the Modern Conundrum of Psyche and Place
by Will Self (Author) and Ralph Steadman (Illustrator)
Please listen to an interview with the author at http://www.studio360.org/episodes/2007/12/07.
Solar City - wohnen wie im Urlaub
Film von Doris Fercher
Erstausstrahlung
In der Industriestadt Linz wurde unlängst ein viel beachteter Versuch nachhaltigen Bauens verwirklicht: Die "Solar City" im Süden der Stadt, geplant als Modell für eine "Stadt des 21. Jahrhunderts", ist ein Musterbeispiel ökologischer Stadtentwicklung. Wie in einem Katalog können hier alle neuen Bauformen studiert werden. Dabei ist die architektonische Qualität der Wohnbauten und Infrastrukturgebäude beachtlich: International bekannte Architekten wie Norman Forster und Richard Rogers haben für "Solar City" Niedrigenergiehäuser entwickelt - und das zum annähernd gleichen Preis wie beim traditionellen Wohnbau. Außerdem bietet "Solar City" die komplette Infrastruktur einer Stadt mit Marktplatz, Geschäften, Schulen, Kindergarten, Kirche, Cafés und Restaurants, Spielplätzen und Sportanlagen für rund 3.000 Bewohner. Mit öffentlichen Verkehrsmitteln erschlossen ist "Solar City" weitgehend autofrei und verfügt - am Rand der Donauauen gelegen - sogar über einen eigenen Badesee.
Doris Fercher stellt "Solar City" vor.
William McDonough & Michael Braungart
In 1999 Time Magazine called him "Hero for the Planet." In 2002, he wrote (with Michael Braungart) Cradle to Cradle: Remaking the Way We Make Things. As of 2005 McDonough is pursuing urban design work for the Chinese government including a model village called Huangbaiyu.
See also:
• The Cradle to Cradle Community
• The Next Industrial Revolution, a Documentary film about William McDonough and Michael Braungart
• Hannover Principles
GreatBuildings.com
This gateway to architecture around the world and across history documents a thousand buildings and hundreds of leading architects, with 3D models, photographic images and architectural drawings, commentaries, bibliographies, web links, and more, for famous designers and structures of all kinds. For up-to-the-moment coverage of the latest buildings, designers, ideas, and trends, GreatBuildings.com is richly cross-linked with ArchitectureWeek, the leading architecture magazine online, and Archiplanet, the community-created all-buildings collection.
Wayne Hemingway
In 1999, Wayne and his wife Gerardine set up HemingwayDesign, which specializes in affordable and social design. The highest profile project is The Staiths South Bank, a 800 property mass market housing project on Tyneside for George Wimpey Homes where HemingwayDesign are involved from the master planning and architecture through to the landscaping and marketing of this groundbreaking project. Wayne is the Chairman of Building for Life, a CABE (Commission for Architecture and The Built Environment) funded organization that promotes excellence in the quality of design of new housing[1]. He is a Professor in the Built Environment department of Northumbria University, a Doctor of Design at Wolverhampton, a writer for architectural and housing publications as well as a judge of international design competitions including the regeneration of Byker in Newcastle and Salford in Greater Manchester and the Stirling Prize, Europan and a TV design commentator. He has also just received an MBE.
Living Tomorrow, Brussels, Belgium
A unique vision of the future World of Tomorrow together with prominent companies...
See more at http://www.livtom.dotnet35.hostbasket.com/corporate.aspx?node=259.
Simone Swan
Simone Swan has received recognition for initiating, funding, and managing a range of endeavors concerned with architectural and environmental concepts. Early in her career Simone established Withers Swan, a public relations agency in New York committed to public information on art, architecture, and the environment. Clients were museums and universities. She later served as founding director of the Menil Foundation where, beyond art endeavors, she initiated energy conservation and alternative energy programs.
In the 1970s, Simone apprenticed to Hassan Fathy, renowned environmental architect and author of Architecture for the Poor and Natural Energy and Vernacular Architecture, inspired by his use of earthen materials and his interest in reviving indigenous building techniques for owner-built cooperative housing.
In the late 1990s, Simone established the Adobe Alliance in the Big Bend area of West Texas in order to realize low-cost housing in the border region. After much local research on environmental climate and culture, she decided to target Presidio County, with a 37% unemployment rate. The Alliance has since constructed houses on both sides of the border that demonstrate the innovative use of earthen materials to create a new building standard for environmentally compatible, sustainable homes and communities.
Simone dreams of the day when the group erects a billboard advertising Adobe Immobile Homes in Presidio where trailers abound. She also looks forward to building in New Mexico or wherever invited, like South Africa, Namibia, Afghanistan, Yemen, and any desert climate.
The Adobe Alliance is a non-profit group dedicated to:
helping communities apply cooperative building techniques in earth architecture;
educate groups in fulfilling the widespread need for low cost, salubrious, energy efficient, sustainable housing;
enhance rather than blemish landscapes by designing solid contemporary structures of simple design which respect local climatic, environmental and cultural traditions
within desert environments.
53 Papers in Social Architecture: 1965-2005
Henry Sanoff
Aardvark Publishing Company
ISBN: 1-59971-813-8
This collection of papers spans a period of four decades representing my academic and professional career. In searching for a common theme titles such as design research or environment and behavior were considered, however, social architecture appeared to be a better fit. Although several papers focus on a search for knowledge in an effort to explain people's environmentally related attitudes and behavior, the main thrust of my work is aimed at proposing methods for reshaping the design process in my belief that architects should improve the world-- before somebody fouls it up even further. In a democratic and open society like ours, peoples needs and preferences are ignored only at great peril.
The proliferation of journals, conferences, and interest groups related to environment and behavior issues that marked the past several decades can be conceived as being fragmented or disjointed efforts. Yet, specialization also allowed more researchers to find a niche, ultimately increasing opportunities for their involvement. However, a considerable number of papers that represent this research effort are located in obscure publications, some of which are out-of-print and no longer accessible. Recognizing that my work, too, may be lost in forgotten publications, I assembled this volume to allow others who follow to build upon my efforts.This anthology addresses a wide variety of topics concerning social architecture. Naming just a few of the papers included in this compilation are such topics as Gaming Methods, Youth's Perception of Residential Cues, User Assessments, Building Evaluation, House Form and Preference, Behavior Settings, and Neighborhood Perception.
Shores of the Mediterranean: Architecture as a Language of Peace
Shores of the Mediterranean: Architecture as a Language of Peace, 2005, co-edited by Ashraf Salama with colleagues from Napoli, Italy, Donatella Mazzoleni, Giuseppe Anzani, Marichela Sepe, and Maria Maddalena Simone, Intra Moenia, Rome and Naples, Italy: Edizioni.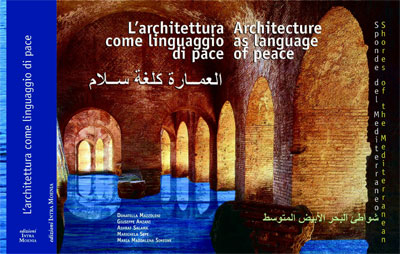 Shelter: Cultural & Ecological Designing
"Any housing solution that involves paying for industrially produced building materials and commercial building contractors is doomed to certain failure. If houses are to be built at all, in sufficient quantity, they must be built without money. We must go right outside the framework of the money system, bypass the factories, and ignore the contractors."
-- Hassan Fathy
Ishmael Jay Taylor made us aware of http://www.eco-living.net/.
At 08:50 02.08.2005,

Ashraf Salama kindly comments (8th August 2005):
My dear Ishmael; Many thanks for your message and Hassan Fathy's quote. You might be interested in having a look at Nabeel Hamdy, Afghani architect and professor, who wrote a book in the early 1990s named Housing Without Houses; there is another one by Clare Cooper Marcuse Housing as if People Mattered both complements some of the ideas generated by Fathy.
International Association of Human Habitat-IAHH
International Association for People-Environment Studies-IAPS
Environmental Psychology in the UK-EPUK
Architecture and Behavior - Colloquia


Ishmael Jay Taylor's contribution on Hassan Fathy and his work
Design Research Connections News Letter
Top Five Design Mistakes Even Good Designers Make - and how to avoid them. Retrieved from Design Research Connections News Letter with the permission of the editors, October 2004.
New Book: At War With the City, edited by Paola Somma
Ashraf Salama
Skill-Based / Knowledge-Based Architectural Pedagogies: An Argument for Creating Humane Environments
Paper given at the 7th International Conference on Humane Habitat-ICHH-05 – The International Association of Humane Habitat IAHH, Rizvi College of Architecture, Mumbai, India, January 29-31, 2005.