Home | Who we are | A very warm welcome from the HumanDHS Network
A very warm welcome, dear newcomer, to the HumanDHS network!


by Ken Williams, London, UK, June 2007
supported by:
Brian Ward, Timaru, New Zealand
Evelin Lindner, Osaka, Japan

If you're new to the idea of humiliation and its role in inter-human communication,
then we invite you to see our little "Welcome" film and then read on!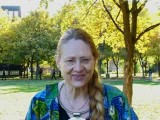 Read more about this video clip here
Annette Engler welcomes you!

Annette Anderson-Engler, Ph.D., is a Member of the HumanDHS Global Core Team, the HumanDHS Research Team, our HumanDHS Research Team, and our Global Coordinating Team, generously offering to support us in nurturing the relationships in our network. We call this relationship-building work "Global Appreciative Culturing"!

Annette earned her doctorate in 2008 at Saybrook Graduate School in San Francisco, California. Her research focused on secondary trauma and displaced identity in daughters of U.S. Vietnam War veterans. She specialized in using narrative analysis as a method of inquiry by examining how daughters of war-traumatized veterans use narratives to construct social and personal meaning to their lived experiences. [read more]

If you write to us for hiring opportunities, you might wish to look at web sites such as www.higheredjobs.com, www.academiccareers.com, www.indeed.com, and the Chronicle of Higher Education (please note that HumanDHS, by referring to these web sites, does NOT mean to endorse them). Annette Anderson-Engler will kindly guide you.

Let us now give you an intuition of what our work is about!

Linda and Evelin make the following "Dignity Pledge to Self in Service of Others" to ourselves everyday:
1. I am committed, to the best of my abilities, to realizing the values enshrined in the first sentence of Article 1 of the Universal Declaration of Human Rights (UDHR): "All human beings are born free and equal in dignity and rights."
2. I am committed, to the best of my abilities, to striving for self-reflection and alliance with like-minded friends to detect where I might be blind to my own shortcomings.
3. I am committed, to the best of my abilities, to encouraging and supporting the dignity of all people, and to counteracting and transforming practices of humiliation at all levels, from personal to systemic levels.

Brian Ward explains his vision and aims as follows:
Article 1 of the Universal Declaration of Human Rights (UDHR) reads: "All human beings are born free and equal in dignity and rights."
1. I wish to understand what Article 1 means for myself and in my relationships with others
2. I wish to pursue the understanding of all forms of humiliation.
3. I wish to openly and freely share thoughts, ideas and actions with others wherever possible.

Anthony J. Marsella calls upon everybody to:
Show, by your actions, that you choose peace over war, freedom over oppression, voice over silence, service over self-interest, respect over advantage, cooperation over competition, action over passivity, diversity over uniformity, and justice over all.
- Marsella, Anthony J. (2006). Justice in a Global Age: Becoming Counselors to the World. In Counselling Psychology Quarterly, 19 (2, June), 121-132, on page 131

The Human Dignity and Humiliation Studies Network (HumanDHS) is a global network of people which is independent of any religious or political agenda. We wish to to promote dignity and transcend humiliation (to say it very short!) We invite you to have a look at this little example (you may already have seen this!) to get a very general feel for what we mean when we speak about humiliation and dignity, and about coming out of humiliation into dignity.

After having watched this video clip, please see here is a short introduction which outlines who we are and what we do. And be inspired by the video Yes, We Can!

The main HumanDHS website is built around a backbone of academic and scholarly work and research, and much of the content necessarily reflects that. However, everyone has to begin at the beginning, and HumanDHS assumes no previous knowledge. Academics are invited as much as practitioners, which includes everybody, irrespective of diplomas or degrees, who identifies with the HumanDHS vision and walks the talk.

It would be fantastic indeed if everyone could just 'respect each other's human dignity', and get on with building a decent society. However, the concepts are not yet part of general awareness, and hence they must be taught or acquired. Therefore we lovingly invite you to familiarise yourself with our work.

For some people, the words 'teaching' and 'education' may come with connotations of coercion, so perhaps the phrase 'facilitating acquisition' is more in keeping with the spirit of HumanDHS.

To begin, it is important to understand that the field of humiliation studies is very new. In our network, only three people have had the topic of humiliation at the core of their work since more than ten years, Don Klein, Linda Hartling, and Evelin Lindner. However, they do not wish to dominate the field with their approaches. We invite you to contribute in whatever ways you wish to contribute, because we believe that our motto of Unity in Diversity needs to be applied not just to the world, but also in our work.

If you wish to familiarise yourself with the approach chosen by Evelin G. Lindner, the founder of HumanDHS, please see her publications, a short overview of humiliation or her Summary of Humiliation Theory. For Linda Hartling's approach, please see her page on this website, as well as her foundational article, written with Tracy Luchetta in 1999: Humiliation: Assessing the Impact of Derision, Degradation, and Debasement, first published by: The Journal of Primary Prevention, 19(4): 259-278. For Don Klein's approach, please see downloadable material on his page on this website, as well as his 2001 book (with Kathleen Morrow), New Vision, New Reality - A Guide to Unleashing Energy, Joy, and Creativity in Your Life.

The idea of equal dignity (with humiliation as its violation) is very wide. There are some core subjects which relate to this topic and contribute both to a rounded understanding of human communication and also to personal development. These subjects are interesting in their own right, and make fascinating reading in and of themselves. The reason they also contribute to personal development is because they have transformative potential. That is, they have the potential to instigate a deep, structural shift in basic thoughts, feelings, and actions that permanently alters our way of being in the world.

And ideally, it is the individual who actualises that potential.

There are a number of online publications available (in PDF format) which address a wide variety of related issues and give a broader view. See also an overview over work on humiliation and related themes.' And whenever new books are published that are interesting for our network, we post an announcement on our News Section! And please help us update our Reference List!

Because we are all part of a network, we wish to communicate in ways that profoundly respect our human dignity. In other words, we wish to 'walk our talk.'

Emailing (and other evolving technologies) are currently the methods in use. With this in mind, Appreciative Nurturing is an example of a work in progress which details practical ways to incorporate concepts of equal dignity into emails.

Anybody, regardless of skill and ability, can look at ways in which they may participate in the vision of HumanDHS should they so wish. Any person - regardless of background - who genuinely tries to live in a way that respects equal dignity is someone we would call an equal dignity practitioner. Being a practitioner isn't about having ability or skill; it's more about having an attitude, coupled with an aspiration.

Please see also our collection of experiences to which you are warmly invited to contribute!

And lastly, but absolutely not least, feel free to contact us if you have any queries or comments.

Warmest regards,

Ken Williams, on behalf of the entire HumanDHS Network, London, UK, June 2007
Supported by Brian Ward, Timaru, New Zealand, and Evelin Lindner, Japan, June 2007

Some suggestions for core subjects that are related to the topic of dignity and humiliation:

1. These are the topics listed in our Journal of Human Dignity and Humiliation Studies:

• Migration
• Globalization
• Peace and Conflict
• Human Rights
• History and Conflict
• Cycles of Violence
• Gender Issues
• Public Policy Planning
2. These are some suggestion by Ken Williams:

• Humiliation:
The 'Nuclear Bomb of the emotions'. How feelings of humiliation can be the result of even the most benign of intentions.

• Intercultural Communication:
Brings into awareness aspects of communication that are normally acquired unconsciously, and thus opens up a much wider range of perceptions when interacting with others.

• Gender and Stereotypes:
These subjects lead towards a serious challenge of the popularly accepted stance of unbridgeable differences.

• Emotional Intelligence:
Brings to awareness the huge role our moods and emotions play in how we think and respond in the world. Emotional intelligence enhances all human interactions, and is vital when negotiating conflict.

• Identity:
Developing more sophisticated concepts of identity gives us the opportunity to re-orient our sense of who we are beyond our nationalities.